Home & Net Log | Archive | #APRSThursday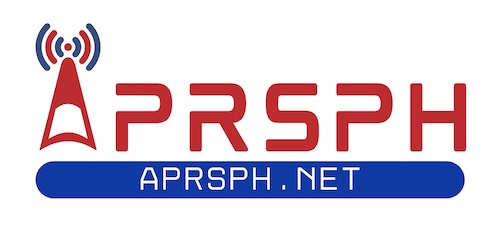 These are the #APRSThursday log archives since APRSPH started providing automated log support. See the main #APRSThursday tab on this website for the current month's logs.
About #APRSThursday
#APRSThursday is a net managed by Michael KC8OWL. It is held every Thursday with the aim of growing message activity on APRS across the world. Note: #APRSThursday is a unique and separate net from the APRSPH net. These logs below are a collaboration between Michael KC8OWL (net manager of #APRSThursday) and Angelo DU2XXR/N2RAC (net manager of APRSPH) to ensure easy access to information and traffic. DU2XXR also partcipates in #APRSThursday. This website started logging #APRSThursday beginning Thursday, December 8, 2022, #APRSThursday checkins are automatically logged by the APRSPH bot as long as it is subscribed to HOTG. These are tagged with [#APRSThursday]. Messages sent to the HOTG group on ANSRVR will also be logged here during the rest of the week, but without the tag. If you are part of #APRSThursday, I am also inviting you to check out our APRSPH net, too. Instructions for joining the APRSPH net and other bot commands are on the home page: aprsph.net.
How to join #APRSThursday
#APRSThursday is held every Thursday from 0000Z to 2359Z. To join, send an APRS message to ANSRVR in the following format: CQ [space] HOTG [space] Your message Your message will then be sent to all callsigns currently joined to the ANSRVR group called HOTG (which stands for "hams on the gram"). You will also then receive any subsequent messages sent to the group within a 12-hour period. If you are already checked in but wish to unsubscribe to subequent messages, you can send the following to ANSRVR: U HOTG For any questions, feel free to email Michael at kc8owl@yahoo.com or message kc8owl-7 (FT5 hand held) / kc8owl-9 (FTM400 mobile)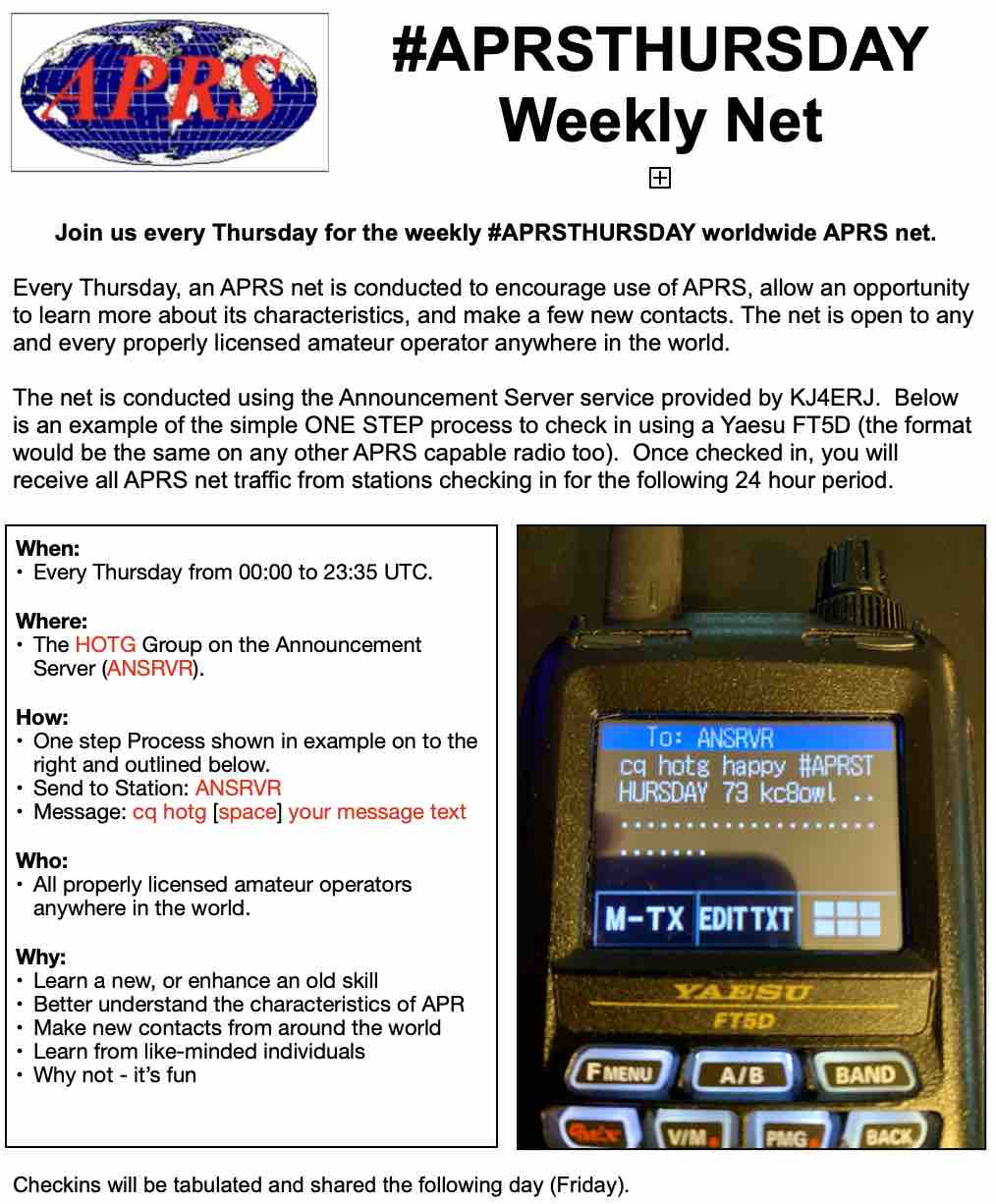 #APRSThursday logs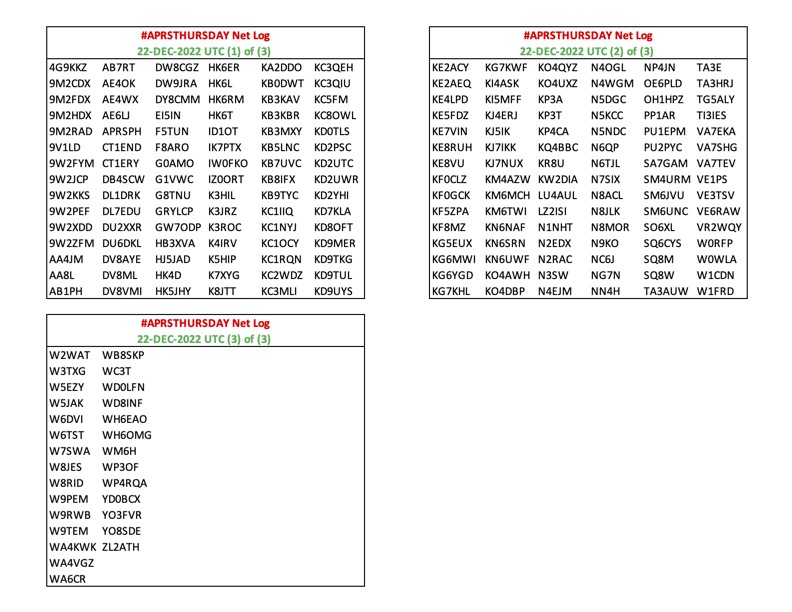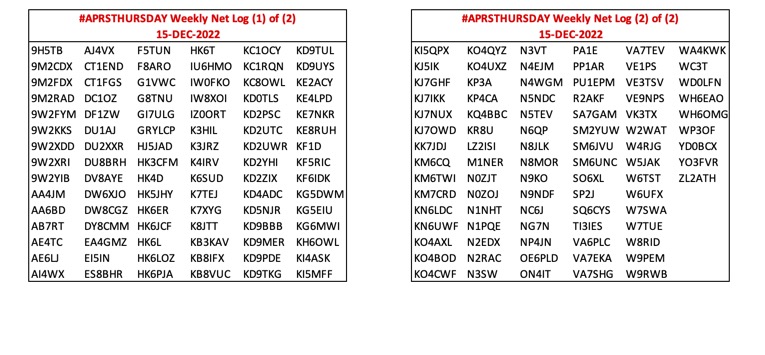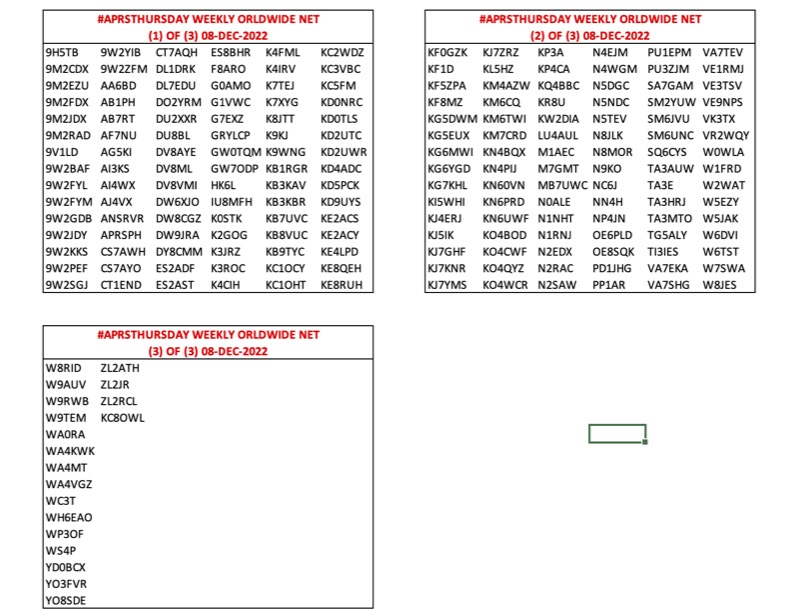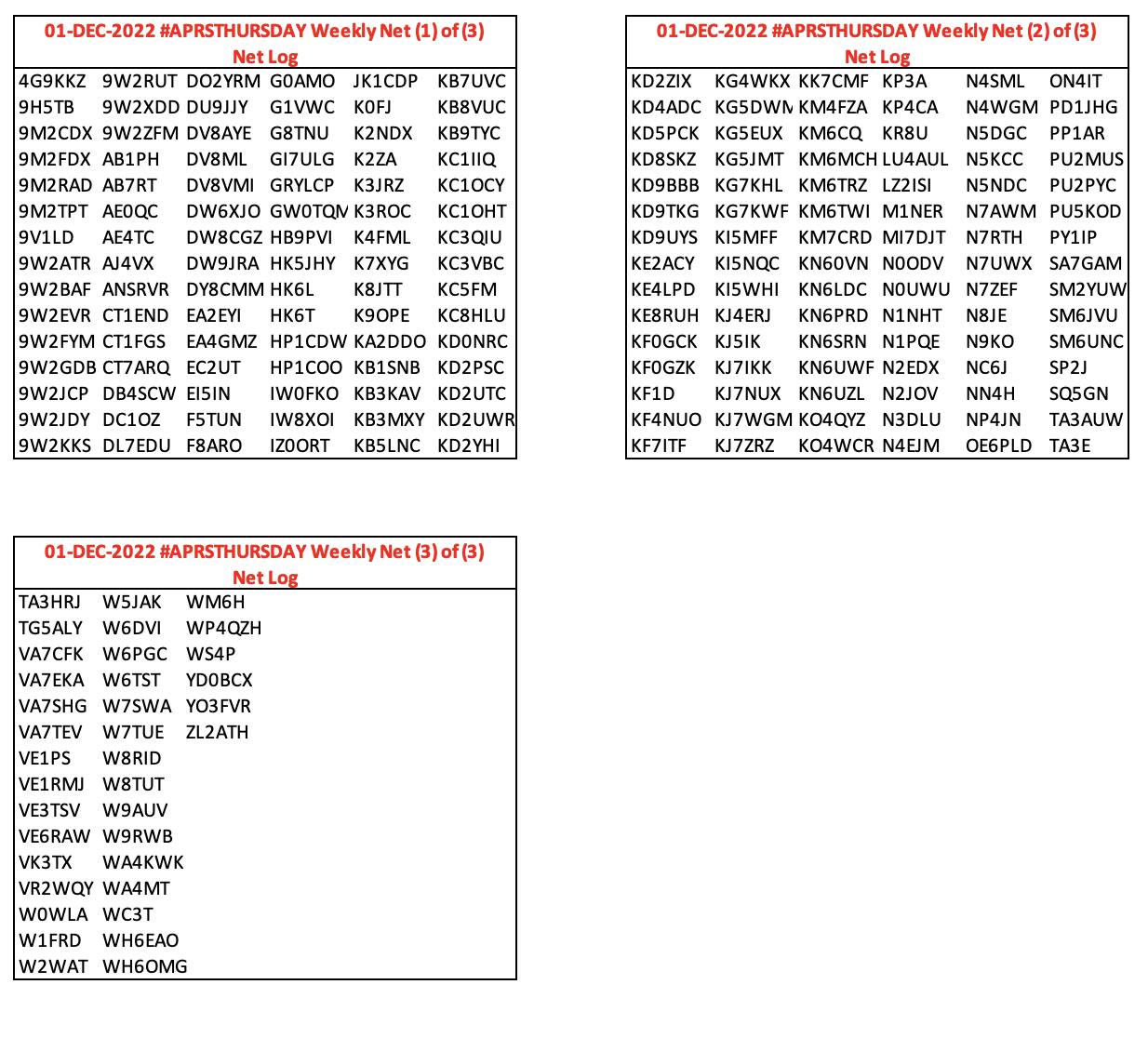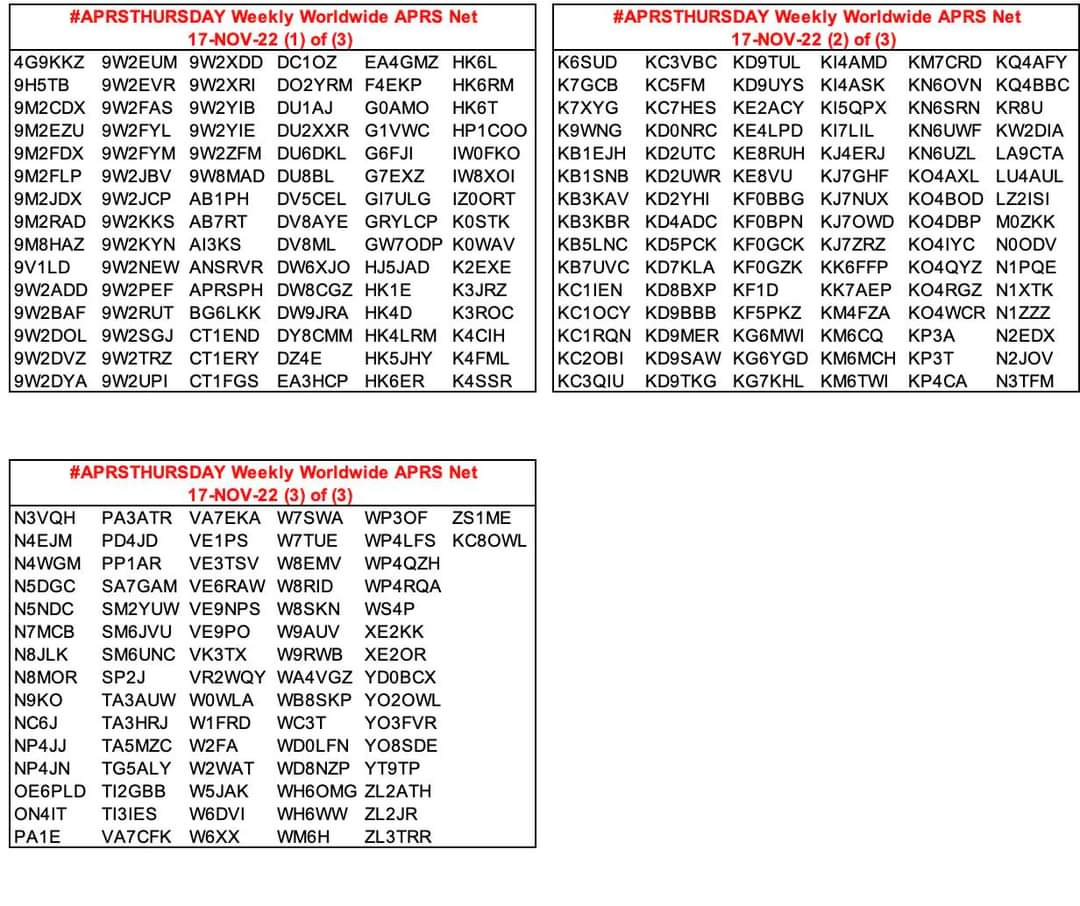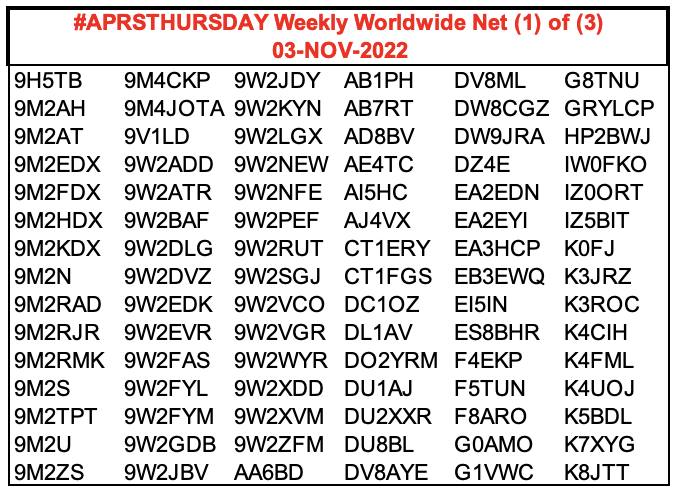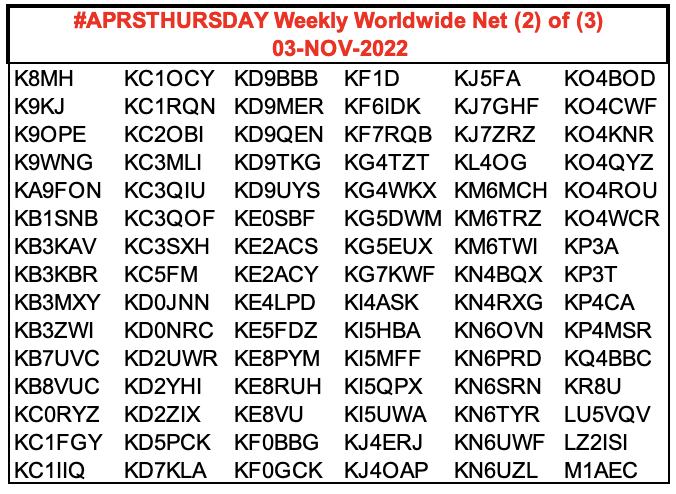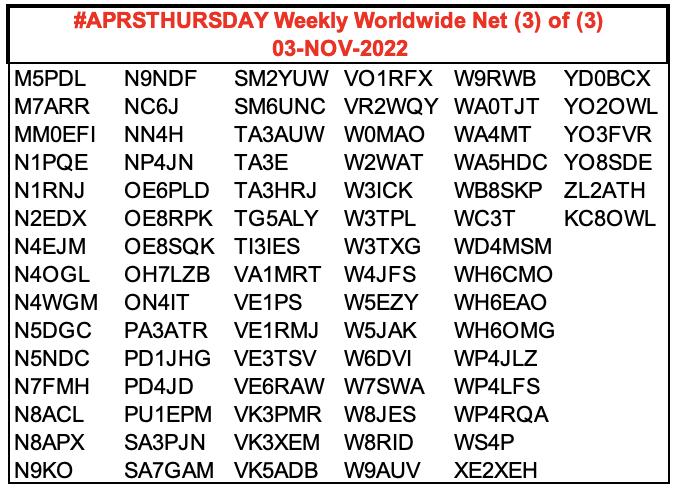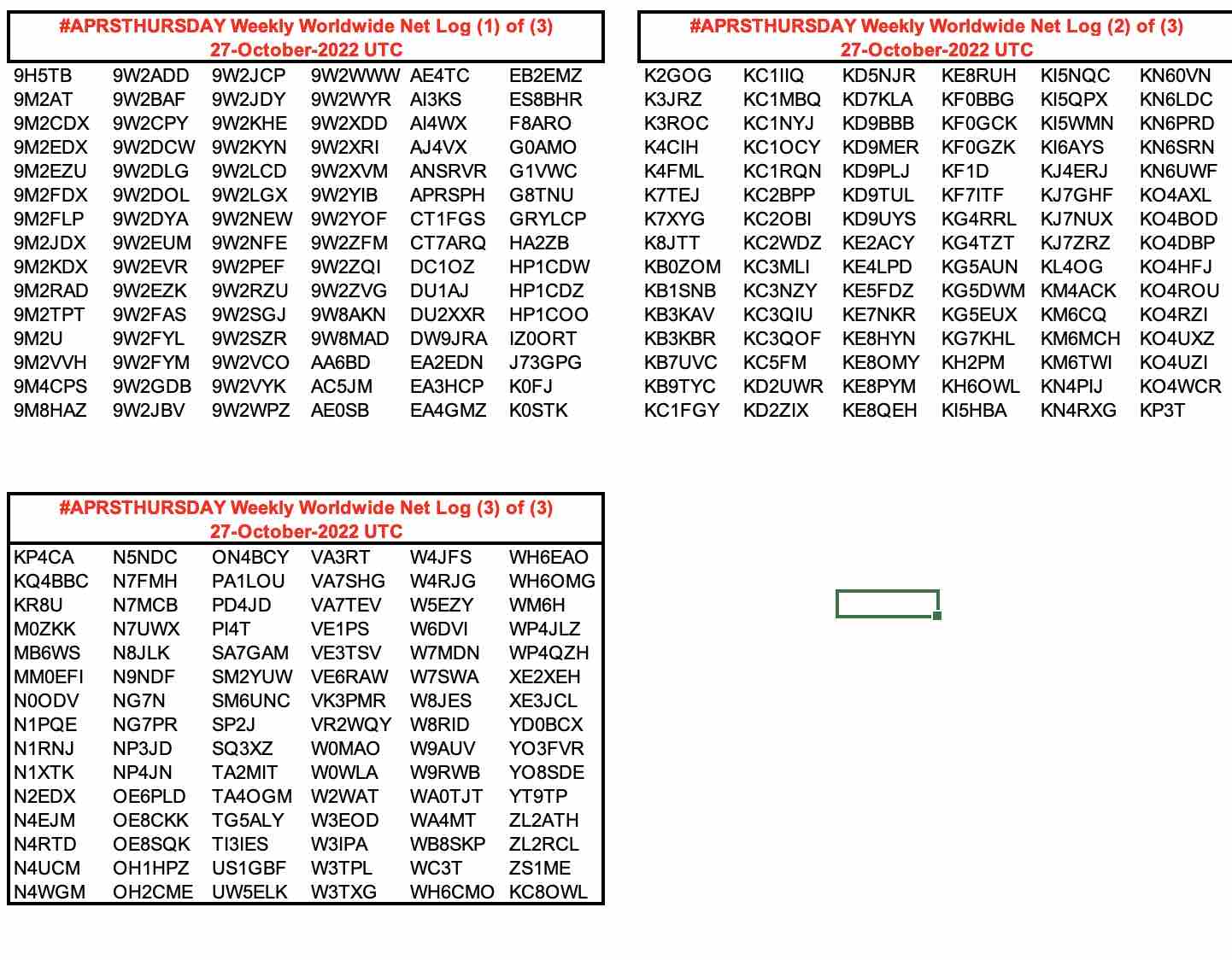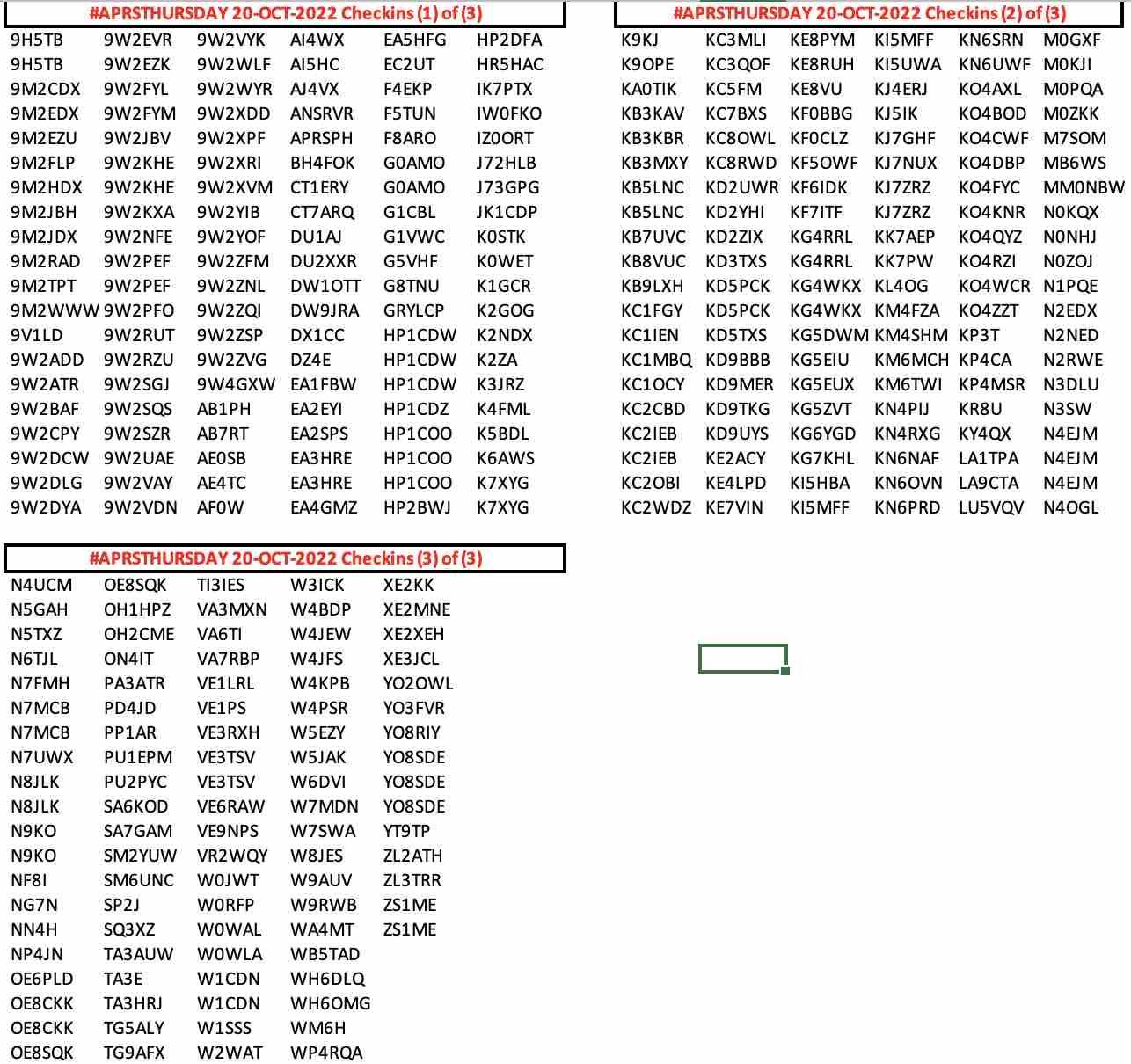 2023-01-19 06:13:02 HKT DU2XXR-7:this is a test [#APRSThursday] 2023-01-19 06:17:33 HKT DV8ML-5:happy #APRSTHURSDAY 73 dv8ml [#APRSThursday] 2023-01-19 06:18:07 HKT DV8ML-5:happy #APRSTHURSDAY 73 dv8ml [#APRSThursday] 2023-01-19 07:28:47 HKT K7XYG-9:this is the real K7XYG in Phoenix! 73 to the APRSgang C/S [#APRSThursday] 2023-01-19 07:29:27 HKT K7XYG-9:this is the real K7XYG in Phoenix! 73 to the APRSgang C/S [#APRSThursday] 2023-01-19 08:00:15 HKT W2WAT-7:W2WAT NJ APRS Sea level ham [#APRSThursday] 2023-01-19 08:01:17 HKT TG5ALY-14:#APRSTHURSDAY 73 from TG5ALY German [#APRSThursday] 2023-01-19 08:01:35 HKT TG5ALY-14:Hello everyone from Guatemala [#APRSThursday] 2023-01-19 08:01:50 HKT TG5ALY-14:#APRSTHURSDAY 73 from TG5ALY German [#APRSThursday] 2023-01-19 08:02:38 HKT 9W2JDY-5:GO #APRSTHURSDAY [#APRSThursday] 2023-01-19 08:03:08 HKT 9W2JDY-5:GO #APRSTHURSDAY [#APRSThursday] 2023-01-19 08:05:56 HKT K7XYG-9:this is the real K7XYG in Phoenix! 73 to the APRSgang C/S [#APRSThursday] 2023-01-19 08:07:39 HKT K7XYG-9:C/S old school slang.SW USA "Con Safos" means WITH RESPECT [#APRSThursday] 2023-01-19 08:10:26 HKT CT1ERY:hello all happy #aprsthursday 73 from Portugal IM67CA [#APRSThursday] 2023-01-19 08:11:10 HKT KJ5IK-9:Greetings from KJ5IK Bob currently in Canyon Lake, TX [#APRSThursday] 2023-01-19 08:11:11 HKT CT1ERY:hello all happy #aprsthursday 73 from Portugal IM67CA [#APRSThursday] 2023-01-19 08:11:13 HKT KJ5IK-9:Greetings from KJ5IK Bob currently in Canyon Lake, TX [#APRSThursday] 2023-01-19 08:12:14 HKT CT1ERY:hello all happy #aprsthursday 73 from Portugal IM67CA [#APRSThursday] 2023-01-19 08:12:26 HKT KJ5IK-9:Greetings from KJ5IK Bob currently in Canyon Lake, TX [#APRSThursday] 2023-01-19 08:12:52 HKT CT1ERY:hello all happy #aprsthursday 73 from Portugal IM67CA [#APRSThursday] 2023-01-19 08:26:32 HKT M0NPQ-9:Happy APRSThursday ,73 [#APRSThursday] 2023-01-19 08:37:28 HKT KC0NAH-9:Name some favorite aprs tips/tricks to share with newbies. [#APRSThursday] 2023-01-19 08:37:33 HKT KN6NAF-9:happy aprsthusday #hotg [#APRSThursday] 2023-01-19 08:38:08 HKT KC0NAH-9:Name some favorite aprs tips/tricks to share with newbies. [#APRSThursday] 2023-01-19 08:38:43 HKT KC8OWL-7:its that time again! #aprsthursday. 73 all kc8owl [#APRSThursday] 2023-01-19 08:40:25 HKT VA3TTC-12:GREETINGS FROM WASAGA BEACH ONTARIO CANADA [#APRSThursday] 2023-01-19 08:40:36 HKT KC8OWL-7:its that time again! #aprsthursday. 73 all kc8owl [#APRSThursday] 2023-01-19 08:42:06 HKT KC0NAH-9:Name some favorite aprs tips/tricks to share with newbies. [#APRSThursday] 2023-01-19 08:51:49 HKT KO4FZZ-7:hello [#APRSThursday] 2023-01-19 08:54:43 HKT 9M2RAD-5:hppy #aprsthursday from Kuala Lumpur #aprsdroid 73 [#APRSThursday] 2023-01-19 09:02:47 HKT K7XYG-7:For more info follow @mapd44256 & @k7xyg_official Instagram [#APRSThursday] 2023-01-19 09:07:01 HKT 9W2FYM-5:check in for #aprsthursday net de 9W2FYM from West Malaysia [#APRSThursday] 2023-01-19 09:07:48 HKT NA5X:Happy #APRSTHURSDAY [#APRSThursday] 2023-01-19 09:08:41 HKT 9W2FYM-5:check in for #aprsthursday net de 9W2FYM from West Malaysia [#APRSThursday] 2023-01-19 09:10:36 HKT NA5X:Happy #APRSTHURSDAY [#APRSThursday] 2023-01-19 09:18:10 HKT 9W2BAF-1:happy #APRSTHURSDAY 73 9w2baf [#APRSThursday] 2023-01-19 09:18:38 HKT 9W2BAF-1:good morning selamat pagi de 9w2baf west Malaysia [#APRSThursday] 2023-01-19 09:19:59 HKT 9W2BAF-1:happy #APRSTHURSDAY 73 9w2baf [#APRSThursday] 2023-01-19 09:20:03 HKT 9W2BAF-1:good morning selamat pagi de 9w2baf west Malaysia [#APRSThursday] 2023-01-19 09:23:51 HKT 9W2VDN-5:happy aprsthursday de 9w2vdn [#APRSThursday] 2023-01-19 09:30:20 HKT VA3TTC-12:va3goc testing [#APRSThursday] 2023-01-19 09:30:42 HKT 9W2VDN-5:happy aprsthursday de 9w2vdn [#APRSThursday] 2023-01-19 09:31:58 HKT VA3TTC-12:va3goc testing [#APRSThursday] 2023-01-19 09:32:11 HKT 9W2VDN-5:happy aprsthursday de 9w2vdn [#APRSThursday] 2023-01-19 09:32:41 HKT VA3TTC-12:va3goc testing [#APRSThursday] 2023-01-19 09:32:47 HKT VA3TTC-12:va3ttc-12 testing [#APRSThursday] 2023-01-19 09:33:09 HKT 9W2VDN-5:happy aprsthursday de 9w2vdn [#APRSThursday] 2023-01-19 09:33:17 HKT VA3TTC-12:va3goc testing [#APRSThursday] 2023-01-19 09:33:21 HKT VA3TTC-12:va3ttc-12 testing [#APRSThursday] 2023-01-19 09:33:54 HKT 9W2VDN-5:happy aprsthursday de 9w2vdn [#APRSThursday] 2023-01-19 09:33:55 HKT VA3TTC-12:va3goc testing [#APRSThursday] 2023-01-19 09:35:04 HKT 9W2VDN-5:happy aprsthursday de 9w2vdn [#APRSThursday] 2023-01-19 09:36:37 HKT VA3TTC-12:va3ttc-12 testing [#APRSThursday] 2023-01-19 09:36:38 HKT VA3TTC-12:VA3TTC-12 TESTING [#APRSThursday] 2023-01-19 09:41:13 HKT GRYLCP-12:AB1PH Don Walp[ole MA via RF Only [#APRSThursday] 2023-01-19 09:48:30 HKT AB1PH-7:AB1PH Don Walpole, MA via ARPS-IS [#APRSThursday] 2023-01-19 10:02:28 HKT W2WAT-7:W2WAT NJ APRS Sea level ham [#APRSThursday] 2023-01-19 10:03:43 HKT KO4ZZT-5:happy APRS Thursday from KO4ZZT Location Crossnore NC [#APRSThursday] 2023-01-19 10:03:45 HKT W2WAT-7:W2WAT NJ APRS Sea level ham [#APRSThursday] 2023-01-19 10:04:18 HKT KO4ZZT-5:happy APRS Thursday from KO4ZZT Location Crossnore NC [#APRSThursday] 2023-01-19 10:05:01 HKT 9W2XVM-5:Happy #APRS thursday and have a nice day [#APRSThursday] 2023-01-19 10:05:01 HKT 9W2XVM-5:aprs check in and have a nice day [#APRSThursday] 2023-01-19 10:05:26 HKT KO4ZZT-5:happy APRS Thursday from KO4ZZT Location Crossnore NC [#APRSThursday] 2023-01-19 10:05:55 HKT 9W2XVM-5:Happy #APRS thursday and have a nice day [#APRSThursday] 2023-01-19 10:06:01 HKT KB5LNC-8:Happy APRSThursday - Fredericksburg VA. KB5LNC [#APRSThursday] 2023-01-19 10:06:18 HKT KO4ZZT-5:happy APRS Thursday from KO4ZZT Location Crossnore NC [#APRSThursday] 2023-01-19 10:07:29 HKT 9W2XVM-5:Happy #APRS thursday and have a nice day [#APRSThursday] 2023-01-19 10:07:30 HKT 9W2XVM-5:aprs check in and have a nice day [#APRSThursday] 2023-01-19 10:08:16 HKT 9W2XVM-5:Happy #APRS thursday and have a nice day [#APRSThursday] 2023-01-19 10:09:24 HKT 9W2XVM-5:aprs check in and have a nice day [#APRSThursday] 2023-01-19 10:10:16 HKT 9W2XVM-5:Happy #APRS thursday and have a nice day [#APRSThursday] 2023-01-19 10:11:37 HKT 9W2XVM-5:aprs check in and have a nice day [#APRSThursday] 2023-01-19 10:11:39 HKT 9W2XVM-5:Happy #APRS thursday and have a nice day [#APRSThursday] 2023-01-19 10:11:54 HKT W9RWB-1:W9RWB to #APRSThursday Hello from SatGate W9RWB-1 [#APRSThursday] 2023-01-19 10:12:45 HKT 9W2XVM-5:Happy #APRS thursday and have a nice day [#APRSThursday] 2023-01-19 10:13:18 HKT W9RWB-1:W9RWB to #APRSThursday Hello from SatGate W9RWB-1 [#APRSThursday] 2023-01-19 10:14:02 HKT 9W2XVM-5:Happy #APRS thursday and have a nice day [#APRSThursday] 2023-01-19 10:14:04 HKT W9RWB-1:W9RWB to #APRSThursday Hello from SatGate W9RWB-1 [#APRSThursday] 2023-01-19 10:14:57 HKT 9W2XVM-5:Happy #APRS thursday and have a nice day [#APRSThursday] 2023-01-19 10:22:20 HKT DZ4E-4:check in 73 #aprsthursday [#APRSThursday] 2023-01-19 10:23:07 HKT SM6JVU:Greetings from sweden westcoast 73 de sm6jvu Anders via rf [#APRSThursday] 2023-01-19 10:24:39 HKT SM6JVU:Greetings from sweden westcoast 73 de sm6jvu Anders via rf [#APRSThursday] 2023-01-19 10:24:55 HKT DZ4E-4:check in 73 #aprsthursday [#APRSThursday] 2023-01-19 10:31:30 HKT SM6JVU:Greetings from sweden westcoast 73 de sm6jvu Anders via rf [#APRSThursday] 2023-01-19 10:33:53 HKT DZ4E-4:check in 73 #aprsthursday [#APRSThursday] 2023-01-19 10:43:53 HKT KJ5IK-9:Greetings from KJ5IK Bob currently in Canyon Lake, TX [#APRSThursday] 2023-01-19 10:48:10 HKT K0STK-5:Good evening from EN16 [#APRSThursday] 2023-01-19 10:48:10 HKT KJ5IK-9:Greetings from KJ5IK Bob currently in Canyon Lake, TX [#APRSThursday] 2023-01-19 10:49:39 HKT K0STK-5:Good evening from EN16 [#APRSThursday] 2023-01-19 10:53:47 HKT KJ5IK-9:Greetings from KJ5IK Bob currently in Canyon Lake, TX [#APRSThursday] 2023-01-19 10:53:58 HKT K0STK-5:Good evening from EN16 [#APRSThursday] 2023-01-19 10:55:49 HKT KJ5IK-9:Greetings from KJ5IK Bob currently in Canyon Lake, TX [#APRSThursday] 2023-01-19 10:56:11 HKT 9W2VCO-5:happy APRSTHURDAY net [#APRSThursday] 2023-01-19 10:56:43 HKT K0STK-5:Good evening from EN16 [#APRSThursday] 2023-01-19 10:56:59 HKT 9W2VCO-5:happy APRSTHURDAY net [#APRSThursday] 2023-01-19 10:57:57 HKT K0STK-5:Good evening from EN16 [#APRSThursday] 2023-01-19 10:58:12 HKT KJ5IK-9:Greetings from KJ5IK Bob currently in Canyon Lake, TX [#APRSThursday] 2023-01-19 10:58:20 HKT 9W2VCO-5:happy APRSTHURDAY net [#APRSThursday] 2023-01-19 10:58:25 HKT KF1D-11:KF1D CHECKING IN [#APRSThursday] 2023-01-19 10:58:30 HKT KF1D-11:KF1D CHECKING IN1 [#APRSThursday] 2023-01-19 10:59:05 HKT KF1D-11:KF1D CHECKING IN [#APRSThursday] 2023-01-19 10:59:10 HKT K0STK-5:Good evening from EN16 [#APRSThursday] 2023-01-19 10:59:39 HKT 9W2VCO-5:happy APRSTHURDAY net [#APRSThursday] 2023-01-19 10:59:41 HKT KF1D-11:KF1D CHECKING IN [#APRSThursday] 2023-01-19 10:59:49 HKT KF1D-11:KF1D CHECKING IN1 [#APRSThursday] 2023-01-19 11:00:14 HKT K0STK-5:Good evening from EN16 [#APRSThursday] 2023-01-19 11:00:32 HKT KJ5IK-9:Greetings from KJ5IK Bob currently in Canyon Lake, TX [#APRSThursday] 2023-01-19 11:01:01 HKT K0STK-5:Good evening from EN16 [#APRSThursday] 2023-01-19 11:02:13 HKT 9W2VCO-5:happy APRSTHURDAY net [#APRSThursday] 2023-01-19 11:02:49 HKT KF1D-11:KF1D CHECKING IN [#APRSThursday] 2023-01-19 11:02:52 HKT KF1D-11:KF1D CHECKING IN1 [#APRSThursday] 2023-01-19 11:02:52 HKT KF1D-11:KF1D CHECKING IN [#APRSThursday] 2023-01-19 11:02:57 HKT 9W2VCO-5:happy APRSTHURDAY net [#APRSThursday] 2023-01-19 11:03:35 HKT KF1D-11:KF1D CHECKING IN1 [#APRSThursday] 2023-01-19 11:03:51 HKT K0STK-5:Good evening from EN16 [#APRSThursday] 2023-01-19 11:04:10 HKT KJ5IK-9:Greetings from KJ5IK Bob currently in Canyon Lake, TX [#APRSThursday] 2023-01-19 11:04:49 HKT K0STK-5:Good evening from EN16 [#APRSThursday] 2023-01-19 11:05:04 HKT KF1D-11:KF1D CHECKING IN [#APRSThursday] 2023-01-19 11:05:13 HKT KJ5IK-9:Greetings from KJ5IK Bob currently in Canyon Lake, TX [#APRSThursday] 2023-01-19 11:07:24 HKT KF1D-11:KF1D CHECKING IN [#APRSThursday] 2023-01-19 11:09:10 HKT KF1D-11:KF1D CHECKING IN1 [#APRSThursday] 2023-01-19 11:10:30 HKT KF1D-11:KF1D CHECKING IN [#APRSThursday] 2023-01-19 11:12:17 HKT KF1D-11:KF1D CHECKING IN1 [#APRSThursday] 2023-01-19 11:12:39 HKT KF1D-11:KF1D CHECKING IN [#APRSThursday] 2023-01-19 11:16:54 HKT W2WAT-7:W2WAT NJ APRS Sea level ham [#APRSThursday] 2023-01-19 11:18:22 HKT KN6LDC:happy #APRSTHURSDAY 73 KN6LDC [#APRSThursday] 2023-01-19 11:18:40 HKT 9W2VCO-5:happy APRSTHURDAY net [#APRSThursday] 2023-01-19 11:18:59 HKT W2WAT-7:W2WAT NJ APRS Sea level ham [#APRSThursday] 2023-01-19 11:20:27 HKT 9M2EZU-9:selamat hari aprsthursday oi. Jom makan dulu. de 9M2EZU 73 [#APRSThursday] 2023-01-19 11:30:17 HKT W2WAT-7:W2WAT NJ APRS Sea level ham [#APRSThursday] 2023-01-19 11:33:28 HKT KC8OWL-7:welcome to aprsthursday fellow operators. 73 kc8owl [#APRSThursday] 2023-01-19 11:33:36 HKT W2WAT-7:W2WAT NJ APRS Sea level ham [#APRSThursday] 2023-01-19 11:34:46 HKT KC8OWL-7:welcome to aprsthursday fellow operators. 73 kc8owl [#APRSThursday] 2023-01-19 11:35:37 HKT W2WAT-7:W2WAT NJ APRS Sea level ham [#APRSThursday] 2023-01-19 11:35:48 HKT 9M2EZU-9:selamat hari aprsthursday oi. Jom makan dulu. de 9M2EZU 73 [#APRSThursday] 2023-01-19 11:36:01 HKT KC8OWL-7:welcome to aprsthursday fellow operators. 73 kc8owl [#APRSThursday] 2023-01-19 11:36:22 HKT W2WAT-7:W2WAT NJ APRS Sea level ham [#APRSThursday] 2023-01-19 11:36:28 HKT 9M2VVH-5:HAPPY #APRSTHURDAY 73 DE 9M2VVH [#APRSThursday] 2023-01-19 11:36:57 HKT W2WAT-7:W2WAT NJ APRS Sea level ham [#APRSThursday] 2023-01-19 11:37:18 HKT 9M2VVH-5:HAPPY #APRSTHURDAY 73 DE 9M2VVH [#APRSThursday] 2023-01-19 11:37:18 HKT 9M2EZU-9:selamat hari aprsthursday oi. Jom makan dulu. de 9M2EZU 73 [#APRSThursday] 2023-01-19 11:37:18 HKT 9M2VVH-5:HAPPY #APRSTHURDAY 73 DE 9M2VVH [#APRSThursday] 2023-01-19 11:37:21 HKT 9M2EZU-9:selamat hari aprsthursday oi. Jom makan dulu. de 9M2EZU 73 [#APRSThursday] 2023-01-19 11:38:19 HKT W2WAT-7:W2WAT NJ APRS Sea level ham [#APRSThursday] 2023-01-19 11:38:52 HKT KC8OWL-7:welcome to aprsthursday fellow operators. 73 kc8owl [#APRSThursday] 2023-01-19 11:39:10 HKT N1PQE-3:happy #aprsthursday! From SoCal, 73 N1PQE [#APRSThursday] 2023-01-19 11:39:13 HKT 9M2EZU-9:selamat hari aprsthursday oi. Jom makan dulu. de 9M2EZU 73 [#APRSThursday] 2023-01-19 11:39:40 HKT N1PQE-3:happy #aprsthursday! From SoCal, 73 N1PQE [#APRSThursday] 2023-01-19 11:40:33 HKT KC8OWL-7:welcome to aprsthursday fellow operators. 73 kc8owl [#APRSThursday] 2023-01-19 11:46:34 HKT KO4DBP-5:Happy #APRSThurday These loops are making me dizzy! Hihi 73 [#APRSThursday] 2023-01-19 11:46:56 HKT WD0LFN-9:Is it time for another #APRSThursday. [#APRSThursday] 2023-01-19 11:47:10 HKT 9W2VAY-5:HAPPY #APRSTHURSDAY , from 9W2VAY in Malaysia 73 [#APRSThursday] 2023-01-19 11:49:36 HKT 9M2VVH-5:HAPPY #APRSTHURDAY 73 DE 9M2VVH [#APRSThursday] 2023-01-19 11:49:44 HKT 9W2VAY-5:HAPPY #APRSTHURSDAY , from 9W2VAY in Malaysia 73 [#APRSThursday] 2023-01-19 11:50:36 HKT 9M2VVH-5:HAPPY #APRSTHURDAY 73 DE 9M2VVH [#APRSThursday] 2023-01-19 11:51:02 HKT 9W2VAY-5:HAPPY #APRSTHURSDAY , from 9W2VAY in Malaysia 73 [#APRSThursday] 2023-01-19 11:52:10 HKT 9M2VVH-5:HAPPY #APRSTHURDAY 73 DE 9M2VVH [#APRSThursday] 2023-01-19 11:52:43 HKT N1PQE-3:happy #aprsthursday! From SoCal, 73 N1PQE [#APRSThursday] 2023-01-19 12:02:04 HKT 9W2LGX-10:Salam from Malaysia. 73 [#APRSThursday] 2023-01-19 12:02:44 HKT 9W2LGX-10:Salam dari Malaysia. 73 [#APRSThursday] 2023-01-19 12:02:45 HKT KN4BQX-1:happy weekly test during #aprsthursday, 73 KN4BQX [#APRSThursday] 2023-01-19 12:09:25 HKT 9W2LGX-10:Salam from Malaysia. 73 [#APRSThursday] 2023-01-19 12:10:09 HKT 9W2LGX-10:Salam dari Malaysia. 73 [#APRSThursday] 2023-01-19 12:10:10 HKT 9W2LGX-10:Salam from Malaysia. 73 [#APRSThursday] 2023-01-19 12:10:27 HKT KN4BQX-1:happy weekly test during #aprsthursday, 73 KN4BQX [#APRSThursday] 2023-01-19 12:11:35 HKT 9W2LGX-10:Salam from Malaysia. 73 [#APRSThursday] 2023-01-19 12:11:42 HKT 9W2LGX-10:Salam dari Malaysia. 73 [#APRSThursday] 2023-01-19 12:12:30 HKT KN4BQX-1:happy weekly test during #aprsthursday, 73 KN4BQX [#APRSThursday] 2023-01-19 12:18:25 HKT 9W2LGX-10:Salam from Malaysia. 73 [#APRSThursday] 2023-01-19 12:20:34 HKT KM4FZA-1:happy #APRSTHURSDAY 73 KM4FZA [#APRSThursday] 2023-01-19 12:22:28 HKT W4AMR-G:happy #APRSTHURSDAY 73 w4amr [#APRSThursday] 2023-01-19 12:22:32 HKT W4AMR-7:happy #APRSTHURSDAY 73 w4amr [#APRSThursday] 2023-01-19 12:22:35 HKT W4AMR:happy #APRSTHURSDAY 73 w4amr [#APRSThursday] 2023-01-19 12:22:39 HKT KN4BQX-1:happy weekly test during #aprsthursday, 73 KN4BQX [#APRSThursday] 2023-01-19 12:26:24 HKT VK3TX-9:happy #APRSTHURSDAY 73 VK3TX [#APRSThursday] 2023-01-19 12:27:16 HKT ZL1LAC-5:happy aprs Thursday, these loops spin me right round baby.. [#APRSThursday] 2023-01-19 12:29:28 HKT 9W2LGX-10:Salam from Malaysia. 73 [#APRSThursday] 2023-01-19 12:30:13 HKT KM4FZA-1:happy #APRSTHURSDAY 73 KM4FZA [#APRSThursday] 2023-01-19 12:30:19 HKT KB5LNC-7:#APRSTHURSDAY [#APRSThursday] 2023-01-19 12:31:03 HKT KM4FZA-1:happy #APRSTHURSDAY 73 KM4FZA [#APRSThursday] 2023-01-19 12:31:37 HKT W4AMR:happy #APRSTHURSDAY 73 w4amr [#APRSThursday] 2023-01-19 12:31:43 HKT KN4BQX-1:happy weekly test during #aprsthursday, 73 KN4BQX [#APRSThursday] 2023-01-19 12:31:44 HKT 9W2LGX-10:Salam dari Malaysia. 73 [#APRSThursday] 2023-01-19 12:32:25 HKT KM4FZA-1:happy #APRSTHURSDAY 73 KM4FZA [#APRSThursday] 2023-01-19 12:32:32 HKT W4AMR-7:happy #APRSTHURSDAY 73 w4amr [#APRSThursday] 2023-01-19 12:32:40 HKT W4AMR:happy #APRSTHURSDAY 73 w4amr [#APRSThursday] 2023-01-19 12:32:53 HKT KN4BQX-1:happy weekly test during #aprsthursday, 73 KN4BQX [#APRSThursday] 2023-01-19 12:32:56 HKT 9W2LGX-10:Salam dari Malaysia. 73 [#APRSThursday] 2023-01-19 12:33:21 HKT KB5LNC-7:#APRSTHURSDAY [#APRSThursday] 2023-01-19 12:37:50 HKT KI5FQQ-9:Greeting fellow humaniod [#APRSThursday] 2023-01-19 12:38:39 HKT KN4BQX-1:happy weekly test during #aprsthursday, 73 KN4BQX [#APRSThursday] 2023-01-19 12:40:52 HKT VK3TX-9:happy #APRSTHURSDAY 73 VK3TX [#APRSThursday] 2023-01-19 12:40:54 HKT ZL1LAC-5:happy aprs Thursday, these loops spin me right round baby.. [#APRSThursday] 2023-01-19 12:43:55 HKT 9W2LGX-10:Salam from Malaysia. 73 [#APRSThursday] 2023-01-19 12:47:02 HKT KB5LNC-7:#APRSTHURSDAY [#APRSThursday] 2023-01-19 12:47:02 HKT KM4FZA-1:happy #APRSTHURSDAY 73 KM4FZA [#APRSThursday] 2023-01-19 12:47:03 HKT KB5LNC-7:#APRSTHURSDAY [#APRSThursday] 2023-01-19 12:47:10 HKT KM4FZA-1:happy #APRSTHURSDAY 73 KM4FZA [#APRSThursday] 2023-01-19 12:47:35 HKT KB5LNC-7:#APRSTHURSDAY [#APRSThursday] 2023-01-19 12:48:12 HKT NN4H-5:happy #APRSTHURSDAY de NN4H EM76 Kentucky [#APRSThursday] 2023-01-19 12:48:20 HKT KB5LNC-7:#APRSTHURSDAY [#APRSThursday] 2023-01-19 12:48:24 HKT NN4H-5:happy #APRSTHURSDAY de NN4H EM76 Kentucky [#APRSThursday] 2023-01-19 12:48:59 HKT KJ4ERJ:Adding to the fray [#APRSThursday] 2023-01-19 12:49:04 HKT NN4H-5:happy #APRSTHURSDAY de NN4H EM76 Kentucky [#APRSThursday] 2023-01-19 12:49:54 HKT KJ4ERJ:Adding to the fray [#APRSThursday] 2023-01-19 12:55:17 HKT K7XYG-7:Pete & Repeat were on a boat. Pete fell out,who was left? [#APRSThursday] 2023-01-19 12:56:10 HKT KH2PM-7:Hello from United Pilot training center [#APRSThursday] 2023-01-19 13:00:43 HKT KH2PM-7:Hello from United Pilot training center01 [#APRSThursday] 2023-01-19 13:00:45 HKT KH2PM-7:Hello from United Pilot training center [#APRSThursday] 2023-01-19 13:00:49 HKT KH2PM-7:Hello from United Pilot training center01 [#APRSThursday] 2023-01-19 13:01:01 HKT KI5FQQ-9:Greeting fellow humaniod [#APRSThursday] 2023-01-19 13:02:26 HKT KH2PM-7:Hello from United Pilot training center [#APRSThursday] 2023-01-19 13:02:28 HKT KH2PM-7:Hello from United Pilot training center01 [#APRSThursday] 2023-01-19 13:02:36 HKT KH2PM-7:Hello from United Pilot training centerSMSGTE>APSMS1,HB9AM-+ [#APRSThursday] 2023-01-19 13:02:36 HKT KH2PM-7:10*::KN6BDH :Ok ?????? [#APRSThursday] 2023-01-19 13:02:37 HKT KH2PM-7:Hello from United Pilot training centerSMSGTE>APSMS1,HB9AM-+ [#APRSThursday] 2023-01-19 13:02:38 HKT KH2PM-7:10*::KN6BDH :Ok ?????? [#APRSThursday] 2023-01-19 13:03:15 HKT NN4H-5:happy #APRSTHURSDAY de NN4H EM76 Kentucky [#APRSThursday] 2023-01-19 13:04:49 HKT KJ4ERJ:Adding to the fray [#APRSThursday] 2023-01-19 13:11:46 HKT KH2PM-7:Hello from United Pilot training center01 [#APRSThursday] 2023-01-19 13:11:53 HKT KH2PM-7:Hello from United Pilot training center [#APRSThursday] 2023-01-19 13:12:29 HKT KH2PM-7:Hello from United Pilot training center01 [#APRSThursday] 2023-01-19 13:16:08 HKT KH2PM-7:Hello from United Pilot training center [#APRSThursday] 2023-01-19 13:16:17 HKT KH2PM-7:Hello from United Pilot training center01 [#APRSThursday] 2023-01-19 13:17:11 HKT KH2PM-7:Hello from United Pilot training center [#APRSThursday] 2023-01-19 13:17:36 HKT KH2PM-7:Hello from United Pilot training center01 [#APRSThursday] 2023-01-19 13:17:40 HKT KH2PM-7:Hello from United Pilot training centerSMSGTE>APSMS1,HB9AM-+ [#APRSThursday] 2023-01-19 13:17:40 HKT KH2PM-7:10*::KN6BDH :Ok ?????? [#APRSThursday] 2023-01-19 13:17:40 HKT KH2PM-7:Hello from United Pilot training center01 [#APRSThursday] 2023-01-19 13:17:44 HKT KH2PM-7:Hello from United Pilot training centerSMSGTE>APSMS1,HB9AM-+ [#APRSThursday] 2023-01-19 13:17:45 HKT KH2PM-7:10*::KN6BDH :Ok ?????? [#APRSThursday] 2023-01-19 13:21:12 HKT K7XYG-7:Pete & Repeat were on a boat. Pete fell out,who was left? [#APRSThursday] 2023-01-19 13:22:12 HKT 9W2XRI-7:happy #APRSTHURSDAY [#APRSThursday] 2023-01-19 13:22:30 HKT K7XYG-7:Pete & Repeat were on a boat. Pete fell out,who was left? [#APRSThursday] 2023-01-19 13:22:45 HKT 9W2XRI-7:happy #APRSTHURSDAY [#APRSThursday] 2023-01-19 13:22:52 HKT KH2PM-7:Hello from United Pilot training center01 [#APRSThursday] 2023-01-19 13:23:44 HKT 9W2XRI-7:happy #APRSTHURSDAY [#APRSThursday] 2023-01-19 13:23:49 HKT KH2PM-7:Hello from United Pilot training center01 [#APRSThursday] 2023-01-19 13:25:44 HKT KH2PM-7:Hello from United Pilot training center [#APRSThursday] 2023-01-19 13:25:47 HKT 9W2XRI-7:happy #APRSTHURSDAY [#APRSThursday] 2023-01-19 13:26:28 HKT KH2PM-7:Hello from United Pilot training center [#APRSThursday] 2023-01-19 13:27:47 HKT KH2PM-7:Hello from United Pilot training center01 [#APRSThursday] 2023-01-19 13:35:37 HKT KN6LDC:happy #APRSTHURSDAY 73 KN6LDC [#APRSThursday] 2023-01-19 13:36:51 HKT 9W2XRI-7:happy #APRSTHURSDAY [#APRSThursday] 2023-01-19 13:37:09 HKT KN6LDC:happy #APRSTHURSDAY 73 KN6LDC [#APRSThursday] 2023-01-19 13:40:30 HKT 9W2XRI-7:happy #APRSTHURSDAY [#APRSThursday] 2023-01-19 13:40:31 HKT KN6LDC:happy #APRSTHURSDAY 73 KN6LDC [#APRSThursday] 2023-01-19 14:03:00 HKT 9W2PEF:#APRSTHURSDAY had all [#APRSThursday] 2023-01-19 14:10:57 HKT W7MDN-7:Happy New Year! de W7MDN [#APRSThursday] 2023-01-19 14:14:36 HKT OE3TWH-7:happy #aprsthursday! 73 de Wolfgang [#APRSThursday] 2023-01-19 14:15:26 HKT W7MDN-7:Happy New Year! de W7MDN [#APRSThursday] 2023-01-19 14:29:46 HKT DY8CMM-5:happy aprs day to all 73 mabuhay [#APRSThursday] 2023-01-19 14:29:50 HKT KK7AZD-5:#APRSThursday simply checking in from South Central Oregon [#APRSThursday] 2023-01-19 14:30:21 HKT DY8CMM-5:happy aprs day to all 73 mabuhay [#APRSThursday] 2023-01-19 14:30:21 HKT KK7AZD-5:#APRSThursday simply checking in from South Central Oregon [#APRSThursday] 2023-01-19 14:31:09 HKT W7MDN-7:aprs test? not rx msgs [#APRSThursday] 2023-01-19 14:31:24 HKT F5TUN-1:Geo [#APRSThursday] 2023-01-19 14:31:52 HKT DY8CMM-5:happy aprs day to all 73 mabuhay [#APRSThursday] 2023-01-19 14:31:53 HKT KK7AZD-5:#APRSThursday simply checking in from South Central Oregon [#APRSThursday] 2023-01-19 14:34:06 HKT DY8CMM-5:happy aprs day to all 73 mabuhay [#APRSThursday] 2023-01-19 14:38:32 HKT KK7AZD-5:#APRSThursday simply checking in from South Central Oregon [#APRSThursday] 2023-01-19 14:40:34 HKT DY8CMM-5:happy aprs day to all 73 mabuhay [#APRSThursday] 2023-01-19 14:40:47 HKT KK7AZD-5:#APRSThursday simply checking in from South Central Oregon [#APRSThursday] 2023-01-19 14:41:37 HKT DY8CMM-5:happy aprs day to all 73 mabuhay [#APRSThursday] 2023-01-19 14:41:38 HKT KK7AZD-5:#APRSThursday simply checking in from South Central Oregon [#APRSThursday] 2023-01-19 14:41:39 HKT W7MDN-7:aprs test? not rx msgs [#APRSThursday] 2023-01-19 14:41:39 HKT F5TUN-1:Geo [#APRSThursday] 2023-01-19 14:41:40 HKT DY8CMM-5:happy aprs day to all 73 mabuhay [#APRSThursday] 2023-01-19 14:41:41 HKT KK7AZD-5:#APRSThursday simply checking in from South Central Oregon [#APRSThursday] 2023-01-19 14:41:42 HKT DY8CMM-5:happy aprs day to all 73 mabuhay [#APRSThursday] 2023-01-19 14:41:44 HKT KK7AZD-5:#APRSThursday simply checking in from South Central Oregon [#APRSThursday] 2023-01-19 14:48:48 HKT SM4URM-2:happy aprsthursday from sweden [#APRSThursday] 2023-01-19 15:10:32 HKT N7ZEF-3:hOWDY FROM BIG WYOMING 73 N7ZEF [#APRSThursday] 2023-01-19 15:16:33 HKT N8JLK-5:Another #APRSthursday! Greetings! N8JLK [#APRSThursday] 2023-01-19 15:19:20 HKT 9W8AKN-10:de 9W8AKN [#APRSThursday] 2023-01-19 15:19:51 HKT DV8CER-7:happy #APRSTHURSDAY PJ18rp RS0ISS [#APRSThursday] 2023-01-19 15:19:54 HKT DV8CER-7:happy #APRSTHURSDAY PJ18rp RS0ISS [#APRSThursday] 2023-01-19 15:20:39 HKT N8JLK-5:Greetings. Using new Libre Potato as TNC (DireWolf). :-) [#APRSThursday] 2023-01-19 15:20:43 HKT 9W8AKN-10:de 9W8AKN [#APRSThursday] 2023-01-19 15:21:31 HKT LY3PH-7:Greetings and 73 from LY3PH [#APRSThursday] 2023-01-19 15:23:36 HKT DV8AYE-5:#APRSTHURSDAY checking in. happy thurday. 73 [#APRSThursday] 2023-01-19 15:28:30 HKT GI7ULG-10:happy aprsthursday de sean gi7ulg belfast [#APRSThursday] 2023-01-19 15:28:43 HKT DV8AYE-5:#APRSTHURSDAY checking in. happy thurday. 73 [#APRSThursday] 2023-01-19 15:29:01 HKT KB3KBR-6:GREETINGS #APRSTHURSDAY PEEPS! FROM NWP VIA RF ON APRSIS32! [#APRSThursday] 2023-01-19 15:30:41 HKT N8JLK-5:Have a good week. N8JLK [#APRSThursday] 2023-01-19 15:31:50 HKT N8JLK-5:Happy #APRSthursday by RF through new Libre Potato TNC [#APRSThursday] 2023-01-19 15:33:10 HKT KI5FQQ-9:Greeting fellow humaniod [#APRSThursday] 2023-01-19 15:37:35 HKT N8JLK-5:73 from Cleveland, Ohio. N8JLK [#APRSThursday] 2023-01-19 15:41:31 HKT CT7AQH-1:hello dr friends.Happy APRSTHURSDAY. 73 de Miguel. [#APRSThursday] 2023-01-19 15:42:09 HKT CT7AQH-1:Hello Dr friends.Happy APRSTHURSDAY.73 de Miguel. [#APRSThursday] 2023-01-19 15:42:30 HKT CT7AQH-1:Checking in. Happy APRSTHURSDAY.73 [#APRSThursday] 2023-01-19 15:43:07 HKT KD0JNN-10:Hello to the APRS net from Windsor MO USA [#APRSThursday] 2023-01-19 15:44:11 HKT CT7AQH-1:Checking in. Happy APRSTHURSDAY.73 [#APRSThursday] 2023-01-19 15:44:52 HKT KD0JNN-10:Hello to the APRS net from Windsor MO USA [#APRSThursday] 2023-01-19 15:51:14 HKT AB7RT-7:#APRSTHURSDAY RF in Hawaii de AB7RT [#APRSThursday] 2023-01-19 15:57:24 HKT KC0RYZ-1:Happy #APRSThursday 73 James in Omaha NE USA (EN11) [#APRSThursday] 2023-01-19 16:07:36 HKT M0NPQ-9:GO #APRSTHURSDAY ,op Nerijus,73 [#APRSThursday] 2023-01-19 16:08:56 HKT KC0RYZ-1:Happy #APRSThursday 73 James in Omaha NE USA (EN11) [#APRSThursday] 2023-01-19 16:09:35 HKT KM6SRB-10:Happy Thursday from San Antonio, Tx! [#APRSThursday] 2023-01-19 16:13:56 HKT M0NPQ-9:GO #APRSTHURSDAY ,op Nerijus,73 [#APRSThursday] 2023-01-19 16:14:57 HKT KC0RYZ-1:Happy #APRSThursday 73 James in Omaha NE USA (EN11) [#APRSThursday] 2023-01-19 16:20:54 HKT M0NPQ-9:GO #APRSTHURSDAY ,op Nerijus,73 [#APRSThursday] 2023-01-19 16:23:27 HKT KC0RYZ-1:Happy #APRSThursday 73 James in Omaha NE USA (EN11) [#APRSThursday] 2023-01-19 16:24:24 HKT M0NPQ-9:GO #APRSTHURSDAY ,op Nerijus,73 [#APRSThursday] 2023-01-19 16:28:52 HKT KC0RYZ-1:Happy #APRSThursday 73 James in Omaha NE USA (EN11) [#APRSThursday] 2023-01-19 16:30:58 HKT M0NPQ-9:GO #APRSTHURSDAY ,op Nerijus,73 [#APRSThursday] 2023-01-19 16:33:00 HKT KC0RYZ-1:Happy #APRSThursday 73 James in Omaha NE USA (EN11) [#APRSThursday] 2023-01-19 16:34:53 HKT KI5HBA-7:happy #aprsthursday y'all! [#APRSThursday] 2023-01-19 16:36:50 HKT KC5BIL-12:hello world! [#APRSThursday] 2023-01-19 16:37:39 HKT KC0RYZ-1:Happy #APRSThursday 73 James in Omaha NE USA (EN11) [#APRSThursday] 2023-01-19 16:38:31 HKT M0NPQ-9:GO #APRSTHURSDAY ,op Nerijus,73 [#APRSThursday] 2023-01-19 16:40:32 HKT KC0RYZ-1:Happy #APRSThursday 73 James in Omaha NE USA (EN11) [#APRSThursday] 2023-01-19 16:40:34 HKT M0NPQ-9:GO #APRSTHURSDAY ,op Nerijus,73 [#APRSThursday] 2023-01-19 16:40:35 HKT KC0RYZ-1:Happy #APRSThursday 73 James in Omaha NE USA (EN11) [#APRSThursday] 2023-01-19 16:40:37 HKT KI5HBA-7:happy #aprsthursday y'all! [#APRSThursday] 2023-01-19 16:42:57 HKT M0IKV-7:de Rugby ATS [#APRSThursday] 2023-01-19 16:43:08 HKT KC0RYZ-1:Happy #APRSThursday 73 James in Omaha NE USA (EN11) [#APRSThursday] 2023-01-19 16:45:48 HKT M0NPQ-9:GO #APRSTHURSDAY ,op Nerijus,73 [#APRSThursday] 2023-01-19 16:48:28 HKT GW0TQM-10:experiment REF179G for dstar dprs #aprsthursday [#APRSThursday] 2023-01-19 16:48:32 HKT KC0RYZ-1:Happy #APRSThursday 73 James in Omaha NE USA (EN11) [#APRSThursday] 2023-01-19 16:49:35 HKT GW0TQM-10:experiment REF179G for dstar dprs #aprsthursday [#APRSThursday] 2023-01-19 16:50:29 HKT KC0RYZ-1:Happy #APRSThursday 73 James in Omaha NE USA (EN11) [#APRSThursday] 2023-01-19 16:50:30 HKT GW0TQM-10:experiment REF179G for dstar dprs #aprsthursday [#APRSThursday] 2023-01-19 16:51:52 HKT M0NPQ-9:GO #APRSTHURSDAY ,op Nerijus,73 [#APRSThursday] 2023-01-19 16:52:37 HKT KC0RYZ-1:Happy #APRSThursday 73 James in Omaha NE USA (EN11) [#APRSThursday] 2023-01-19 16:52:42 HKT GW0TQM-10:experiment REF179G for dstar dprs #aprsthursday [#APRSThursday] 2023-01-19 16:54:51 HKT KC0RYZ-1:Happy #APRSThursday 73 James in Omaha NE USA (EN11) [#APRSThursday] 2023-01-19 16:55:27 HKT KI5HBA-7:happy #aprsthursday y'all! [#APRSThursday] 2023-01-19 16:55:59 HKT F4FXL:Please help https://groups.io/g/APRS/messages/963 [#APRSThursday] 2023-01-19 16:56:18 HKT KC0RYZ-1:Happy #APRSThursday 73 James in Omaha NE USA (EN11) [#APRSThursday] 2023-01-19 16:57:00 HKT M0NPQ-9:GO #APRSTHURSDAY ,op Nerijus,73 [#APRSThursday] 2023-01-19 16:57:38 HKT KI5HBA-7:happy #aprsthursday y'all! [#APRSThursday] 2023-01-19 16:58:53 HKT KC0RYZ-1:Happy #APRSThursday 73 James in Omaha NE USA (EN11) [#APRSThursday] 2023-01-19 17:04:11 HKT F4FXL:Pls Help https://groups.io/g/APRS/topic/96251214 [#APRSThursday] 2023-01-19 17:04:36 HKT KC0RYZ-1:Happy #APRSThursday 73 James in Omaha NE USA (EN11) [#APRSThursday] 2023-01-19 17:04:57 HKT IU6HMO-7:Hi everyone from Matteo IU6HMO! #aprsthursday [#APRSThursday] 2023-01-19 17:05:16 HKT M0NPQ-9:GO #APRSTHURSDAY ,op Nerijus,73 [#APRSThursday] 2023-01-19 17:05:38 HKT KC0RYZ-1:Happy #APRSThursday 73 James in Omaha NE USA (EN11) [#APRSThursday] 2023-01-19 17:06:42 HKT M0NPQ-9:GO #APRSTHURSDAY ,op Nerijus,73 [#APRSThursday] 2023-01-19 17:07:08 HKT F4FXL:Pls Help https://groups.io/g/APRS/topic/96251214 [#APRSThursday] 2023-01-19 17:07:25 HKT M0NPQ-9:GO #APRSTHURSDAY ,op Nerijus,73 [#APRSThursday] 2023-01-19 17:08:07 HKT F4FXL:Pls Help https://groups.io/g/APRS/topic/96251214 [#APRSThursday] 2023-01-19 17:10:25 HKT GW0TQM-10:experiment REF179G for dstar dprs #aprsthursday [#APRSThursday] 2023-01-19 17:13:38 HKT KC0RYZ-1:Happy #APRSThursday 73 James in Omaha NE USA (EN11) [#APRSThursday] 2023-01-19 17:14:13 HKT M0NPQ-9:GO #APRSTHURSDAY ,op Nerijus,73 [#APRSThursday] 2023-01-19 17:15:36 HKT KC0RYZ-1:Happy #APRSThursday 73 James in Omaha NE USA (EN11) [#APRSThursday] 2023-01-19 17:20:18 HKT M0NPQ-9:GO #APRSTHURSDAY ,op Nerijus,73 [#APRSThursday] 2023-01-19 17:22:33 HKT M0NPQ-9:73 from Great Yarmouth JO02UO , cold -3C :( [#APRSThursday] 2023-01-19 17:23:38 HKT KC0RYZ-1:Happy #APRSThursday 73 James in Omaha NE USA (EN11) [#APRSThursday] 2023-01-19 17:24:39 HKT F4FXL:Pls Help https://groups.io/g/APRS/topic/96251214 [#APRSThursday] 2023-01-19 17:26:29 HKT KC0RYZ-1:Happy #APRSThursday 73 James in Omaha NE USA (EN11) [#APRSThursday] 2023-01-19 17:27:40 HKT F4FXL:Pls Help https://groups.io/g/APRS/topic/96251214 [#APRSThursday] 2023-01-19 17:31:32 HKT F4FXL:Pls Help https://groups.io/g/APRS/topic/96251214 [#APRSThursday] 2023-01-19 17:32:26 HKT 4F9INC-5:HELLO EVERYONE de 4F9INC/1 PK04MP [#APRSThursday] 2023-01-19 17:34:30 HKT GW0TQM-10:experiment REF179G for dstar dprs #aprsthursday [#APRSThursday] 2023-01-19 17:34:52 HKT KO4UXZ-9:#aprsthursday [#APRSThursday] 2023-01-19 17:35:55 HKT KC0RYZ-1:Happy #APRSThursday 73 James in Omaha NE USA (EN11) [#APRSThursday] 2023-01-19 17:36:08 HKT KO4UXZ-9:#aprsthursday [#APRSThursday] 2023-01-19 17:36:45 HKT KB3KAV-10:gm from me Pennsylvania everyone have a great day 73 [#APRSThursday] 2023-01-19 17:37:13 HKT KO4UXZ-9:#aprsthursday [#APRSThursday] 2023-01-19 17:39:00 HKT TA3AUW-5:Türkiye 73 [#APRSThursday] 2023-01-19 17:39:37 HKT KC0RYZ-1:Happy #APRSThursday 73 James in Omaha NE USA (EN11) [#APRSThursday] 2023-01-19 17:42:40 HKT KO4UXZ-9:#aprsthursday [#APRSThursday] 2023-01-19 17:42:42 HKT TA3AUW-5:Türkiye 73 [#APRSThursday] 2023-01-19 17:42:43 HKT KC0RYZ-1:Happy #APRSThursday 73 James in Omaha NE USA (EN11) [#APRSThursday] 2023-01-19 17:45:16 HKT F4FXL:Pls Help https://groups.io/g/APRS/topic/96251214 [#APRSThursday] 2023-01-19 17:46:36 HKT F4FXL:Pls Help https://groups.io/g/APRS/topic/96251214 [#APRSThursday] 2023-01-19 17:51:57 HKT SQ6CYS-7:happy #APRSThursday [#APRSThursday] 2023-01-19 18:01:23 HKT TA3E-5:best 73 from Türkiye [#APRSThursday] 2023-01-19 18:08:52 HKT DU1AJ-5:happy #APRSTHURSDAY 73 [#APRSThursday] 2023-01-19 18:13:26 HKT G8TNU-7:Happy #APRSTHURSDAY 73 G8TNU [#APRSThursday] 2023-01-19 18:21:30 HKT 9V1LD-5:checking in. 73 to all [#APRSThursday] 2023-01-19 18:34:51 HKT YD0BCX-9:happy #aprsthursday from OI33kt 73 [#APRSThursday] 2023-01-19 18:47:46 HKT DV8VMI-5:#happyAPRSthursday everyone. 73 [#APRSThursday] 2023-01-19 18:54:04 HKT F4FXL:Hi World ! [#APRSThursday] 2023-01-19 18:56:10 HKT DV8VMI-5:#happyAPRSthursday everyone. Keep safe. 73 [#APRSThursday] 2023-01-19 19:04:56 HKT 4I8WOO-10:#happyAPRSthursday to all. 73 [#APRSThursday] 2023-01-19 19:10:40 HKT KR8U-9:#APRSThursday GM all RF FM MI [#APRSThursday] 2023-01-19 19:19:57 HKT YD6HTK:#APRSTHURSDAY 73 YD6HTK [#APRSThursday] 2023-01-19 19:20:05 HKT YD6HTK:#APRSTHURSDAY 73 YD6HTK:dev 9.8KHz [#APRSThursday] 2023-01-19 19:22:57 HKT AE4WX-10:Happy #APRSThursday! 73 de AE4WX [#APRSThursday] 2023-01-19 19:25:26 HKT GW0TQM-5:using aprsdroid this time [#APRSThursday] 2023-01-19 19:44:07 HKT KD0TLS-7:#aprsthursday in Minnesota [#APRSThursday] 2023-01-19 19:52:34 HKT DL7EDU-7:Greetings from Berlin :) [#APRSThursday] 2023-01-19 19:56:43 HKT 9W2UAE-5:happy #APRSTHURSDAY 73 9W2UAE MALAYSIA [#APRSThursday] 2023-01-19 19:58:47 HKT KE2ACY-5:happy #aprsthursday from NY! 73 [#APRSThursday] 2023-01-19 20:09:02 HKT LY1JG:Best regards from Lithuania de Giedrius KO14VW 73! [#APRSThursday] 2023-01-19 20:09:36 HKT AB1PH-7:AB1PH Don Walpole MA US via APRS-IS [#APRSThursday] 2023-01-19 20:13:36 HKT WP3OF-9:Happy #APRSTHURSDAY from Puerto Rico [#APRSThursday] 2023-01-19 20:16:07 HKT KW2DIA-7:Hello fr Harlem NYC FN30 [#APRSThursday] 2023-01-19 20:16:36 HKT TA3HRJ-5:Happy #aprsthursday! [#APRSThursday] 2023-01-19 20:16:42 HKT 4F9INC-5:Happy #APRSThursday 73 4F9INC/1 PK04MP [#APRSThursday] 2023-01-19 20:17:10 HKT KW2DIA-7:Hello fr Harlem NYC FN30 [#APRSThursday] 2023-01-19 20:18:13 HKT 4F9INC-5:Happy #APRSThursday 73 4F9INC/1 PK04MP [#APRSThursday] 2023-01-19 20:32:50 HKT KP4CA-1:Happy #APRSTHURSDAY Enjoy your day! 73 [#APRSThursday] 2023-01-19 20:37:12 HKT W8RID:Happy APRS Thursday from W8RID Twinsburg, OH [#APRSThursday] 2023-01-19 20:41:33 HKT KC5FM-9:Happy Gun Appreciation Day. 73 [#APRSThursday] 2023-01-19 20:44:21 HKT OE6PLD:happy #aprsthursday and have fun you all [#APRSThursday] 2023-01-19 20:58:20 HKT KQ4BBC-9:Happy APRS Thursday from Huntersville NC 73 KQ4BBC [#APRSThursday] 2023-01-19 20:59:13 HKT K3JRZ:HAPPY #APRSThursday de K3JRZ in Delaware! [#APRSThursday] 2023-01-19 20:59:18 HKT K3JRZ:HAPPY #APRSThursday de K3JRZ in Delawa$PKWDPOS,125916,A,393+ [#APRSThursday] 2023-01-19 20:59:18 HKT K3JRZ:3.9480,N,07552.3939,W,0.30,96,190123,26.7*29 [#APRSThursday] 2023-01-19 20:59:19 HKT K3JRZ:HAPPY #APRSThursday de K3JRZ in Delawa$PKWDPOS,125916,A,393+ [#APRSThursday] 2023-01-19 20:59:20 HKT K3JRZ:3.9480,N,07552.3939,W,0.30,96,190123,26.7*29 [#APRSThursday] 2023-01-19 21:00:23 HKT AA4JM:Hi from EL98! [#APRSThursday] 2023-01-19 21:01:15 HKT KG5DWM-7:Happy Thursday from Conroe TX! kg5dwm [#APRSThursday] 2023-01-19 21:02:21 HKT KQ4BBC-9:Happy APRS Thursday from Huntersville NC 73 KQ4BBC [#APRSThursday] 2023-01-19 21:03:02 HKT W0CBP-7:hello all from DN94 [#APRSThursday] 2023-01-19 21:04:14 HKT DU8BL-5:happy #APRSTHURSDAY, 73 [#APRSThursday] 2023-01-19 21:05:05 HKT W0CBP-7:hello all from DN94 [#APRSThursday] 2023-01-19 21:06:52 HKT N2EDX-7:Greetings from Daytona Beach, Fl sun 59dF [#APRSThursday] 2023-01-19 21:07:17 HKT W0CBP-7:hello all from DN94 [#APRSThursday] 2023-01-19 21:07:55 HKT N2EDX-7:Greetings from Daytona Beach, Fl sun 59dF [#APRSThursday] 2023-01-19 21:08:23 HKT W0CBP-7:hello all from DN94 [#APRSThursday] 2023-01-19 21:09:14 HKT YO3FVR-10:#APRSthursday Best 73! [#APRSThursday] 2023-01-19 21:11:59 HKT N3VT-5:hello world happy #APRSThursday [#APRSThursday] 2023-01-19 21:15:12 HKT LU4AUL-7:happy #APRSTHURSDAY from LU4AUL Argentina. 73! [#APRSThursday] 2023-01-19 21:18:07 HKT GRYLCP-12:AB1PH don Walpole, MA, US via RF only [#APRSThursday] 2023-01-19 21:20:52 HKT HK6L-4:73 desde Colombia [#APRSThursday] 2023-01-19 21:21:08 HKT DW6XJO:good eve 73 [#APRSThursday] 2023-01-19 21:21:54 HKT K7XYG-7:good morning from Arizona 73 [#APRSThursday] 2023-01-19 21:22:39 HKT DW6XJO:good eve 73 [#APRSThursday] 2023-01-19 21:24:16 HKT DU6DKL-1:happy ARPSTHURSDAY to all from Negros PH PK10lr [#APRSThursday] 2023-01-19 21:24:21 HKT VA6PLC-7:happy #aprsthursday from Lethbridge AB VA6PLC [#APRSThursday] 2023-01-19 21:24:50 HKT DW6XJO:good eve 73 [#APRSThursday] 2023-01-19 21:37:20 HKT WP4LFS-5:from Ponce PR 73' [#APRSThursday] 2023-01-19 21:40:57 HKT KP3A-7:KP3A [#APRSThursday] 2023-01-19 21:48:42 HKT KB8VUC-10:happy #APRSThursday 73 KB8VUC [#APRSThursday] 2023-01-19 21:51:50 HKT KI4ASK-15:Hello from Joe in Atlanta, GA [#APRSThursday] 2023-01-19 22:02:25 HKT WC3T-5:fm WC3T happy #APRSthursday in FN20 [#APRSThursday] 2023-01-19 22:03:12 HKT N4EJM-5:#APRSTHURSDAY via iOS app N4EJM=twitter&ig [#APRSThursday] 2023-01-19 22:05:19 HKT WA4KWK:hi to all de wa4kwk [#APRSThursday] 2023-01-19 22:13:02 HKT SA6AUU-10:check in 73 de Sa6auu [#APRSThursday] 2023-01-19 22:17:26 HKT AC9TR-4:#APRSTHURSDAY Happy Thursday! [#APRSThursday] 2023-01-19 22:18:42 HKT 9M2FDX-5:From West Malaysia DE 9M2FDX 73 [#APRSThursday] 2023-01-19 22:18:47 HKT WP4RQA:#APRSTHURSDAY 73. [#APRSThursday] 2023-01-19 22:25:51 HKT OE8SQK-7:Happy #APRSTHURSDAY from Carinthia! 73 OE8SQK [#APRSThursday] 2023-01-19 22:28:43 HKT KJ7NUX-5:Happy #APRSThursday from CN84. Listening to Ngozi Family! [#APRSThursday] 2023-01-19 22:36:57 HKT W1CDN-13:Happy #APRSthursday! [#APRSThursday] 2023-01-19 22:43:41 HKT N5DGC:#aprsthursday n5dgc [#APRSThursday] 2023-01-19 22:45:08 HKT K3ROC-2:Morning Everyone from the Dirty 479 [#APRSThursday] 2023-01-19 22:49:55 HKT KK7IQG-1:Happy Aprsthursday 73s [#APRSThursday] 2023-01-19 22:51:50 HKT AJ4VX-10:Happy #APRSTHURSDAY from Sunny Lookout MTN GA 73 [#APRSThursday] 2023-01-19 22:52:52 HKT KD9TUL-7:Overloading 1 packet at a time. Happy#aprsthursday [#APRSThursday] 2023-01-19 22:53:26 HKT KK7IQG-1:Happy Aprsthursday 73s [#APRSThursday] 2023-01-19 22:54:06 HKT 9W2FAS-5:happy Thursday all de 9w2fas west malaysia [#APRSThursday] 2023-01-19 22:54:17 HKT KO4WIL-9:hello from TN [#APRSThursday] 2023-01-19 22:55:04 HKT KK7IQG-1:Happy Aprsthursday 73s [#APRSThursday] 2023-01-19 22:55:12 HKT 9W2FAS-5:happy Thursday all de 9w2fas west malaysia [#APRSThursday] 2023-01-19 22:55:30 HKT KO4WIL-9:hello from TN [#APRSThursday] 2023-01-19 22:56:45 HKT KK7IQG-1:Happy Aprsthursday 73s [#APRSThursday] 2023-01-19 22:57:12 HKT 9W2FAS-5:happy Thursday all de 9w2fas west malaysia [#APRSThursday] 2023-01-19 22:57:27 HKT KK7IQG-1:Happy Aprsthursday 73s [#APRSThursday] 2023-01-19 22:57:36 HKT KO4WIL-9:hello from TN [#APRSThursday] 2023-01-19 22:58:26 HKT KK7IQG-1:Happy Aprsthursday 73s [#APRSThursday] 2023-01-19 22:58:27 HKT KK7IQG-1:Happy Aprsthursday 73s [#APRSThursday] 2023-01-19 22:59:05 HKT 9W2FAS-5:happy Thursday all de 9w2fas west malaysia [#APRSThursday] 2023-01-19 15:01:01 UTC KE4LPD-7:Howdy from Tx 73 de ke4lpd [#APRSThursday] 2023-01-19 15:01:20 UTC KK7IQG-1:Happy Aprsthursday 73s [#APRSThursday] 2023-01-19 15:01:55 UTC KE4LPD-7:Howdy from Tx 73 de ke4lpd [#APRSThursday] 2023-01-19 15:01:57 UTC KK7IQG-1:Happy Aprsthursday 73s [#APRSThursday] 2023-01-19 15:01:57 UTC KE4LPD-7:Howdy from Tx 73 de ke4lpd [#APRSThursday] 2023-01-19 15:01:58 UTC KK7IQG-1:Happy Aprsthursday 73s [#APRSThursday] 2023-01-19 15:01:59 UTC 9W2FAS-5:happy Thursday all de 9w2fas west malaysia [#APRSThursday] 2023-01-19 15:03:02 UTC KE4LPD-7:Howdy from Tx 73 de ke4lpd [#APRSThursday] 2023-01-19 15:03:12 UTC 9W2FAS-5:happy Thursday all de 9w2fas west malaysia [#APRSThursday] 2023-01-19 15:04:07 UTC KE4LPD-7:Howdy from Tx 73 de ke4lpd [#APRSThursday] 2023-01-19 15:04:14 UTC KK7IQG-1:Happy Aprsthursday 73s [#APRSThursday] 2023-01-19 15:04:32 UTC N4RTD:de N4RTD Russ in Lakeland, FL [#APRSThursday] 2023-01-19 15:04:38 UTC KE4LPD-7:Howdy from Tx 73 de ke4lpd [#APRSThursday] 2023-01-19 15:04:44 UTC 9W2FAS-5:happy Thursday all de 9w2fas west malaysia [#APRSThursday] 2023-01-19 15:05:11 UTC KE4LPD-7:Howdy from Tx 73 de ke4lpd [#APRSThursday] 2023-01-19 15:06:52 UTC KK7IQG-1:Happy Aprsthursday 73s [#APRSThursday] 2023-01-19 15:06:58 UTC AB4WS-9:hello from KY [#APRSThursday] 2023-01-19 15:08:02 UTC 9W2FAS-5:happy Thursday all de 9w2fas west malaysia [#APRSThursday] 2023-01-19 15:08:08 UTC N4RTD:de N4RTD Russ in Lakeland, FL [#APRSThursday] 2023-01-19 15:08:18 UTC KK7IQG-1:Happy Aprsthursday 73s [#APRSThursday] 2023-01-19 15:08:19 UTC AB4WS-9:hello from KY [#APRSThursday] 2023-01-19 15:08:19 UTC KK7IQG-1:Happy Aprsthursday 73s [#APRSThursday] 2023-01-19 15:11:52 UTC VE7DCF-10:Happy APRS Thursday Everyone 73 VE7DCF [#APRSThursday] 2023-01-19 15:14:28 UTC KK7IQG-1:Happy Aprsthursday 73s [#APRSThursday] 2023-01-19 15:15:50 UTC 9W2FAS-5:happy Thursday all de 9w2fas west malaysia [#APRSThursday] 2023-01-19 15:18:01 UTC KE4LPD-7:Howdy from Tx 73 de ke4lpd [#APRSThursday] 2023-01-19 15:18:03 UTC KK7IQG-1:Happy Aprsthursday 73s [#APRSThursday] 2023-01-19 15:18:20 UTC VA7SHG-9:Happy #APRSThursday (via RF Droid MobilinkdTNC3) CN99ae 73 [#APRSThursday] 2023-01-19 15:18:47 UTC KE4LPD-7:Howdy from Tx 73 de ke4lpd [#APRSThursday] 2023-01-19 15:19:28 UTC NG7PR-9:#aprsthursday from seattle wa de NG7PR [#APRSThursday] 2023-01-19 15:19:40 UTC KE4LPD-7:Howdy from Tx 73 de ke4lpd [#APRSThursday] 2023-01-19 15:19:43 UTC VA7SHG-9:Happy #APRSThursday (via RF Droid MobilinkdTNC3) CN99ae 73 [#APRSThursday] 2023-01-19 15:20:20 UTC KK7IQG-1:Happy Aprsthursday 73s [#APRSThursday] 2023-01-19 15:22:13 UTC KK7IQG-1:Happy Aprsthursday 73s [#APRSThursday] 2023-01-19 15:23:45 UTC 9W2FAS-5:happy Thursday all de 9w2fas west malaysia [#APRSThursday] 2023-01-19 15:24:51 UTC KM6TWI-5:happy #aprsthursday almost to the weekend 73 all de KM6TWI [#APRSThursday] 2023-01-19 15:25:55 UTC 9W2FAS-5:happy Thursday all de 9w2fas west malaysia [#APRSThursday] 2023-01-19 15:26:52 UTC KK7IQG-1:Happy Aprsthursday 73s [#APRSThursday] 2023-01-19 15:27:41 UTC 9W2FAS-5:happy Thursday all de 9w2fas west malaysia [#APRSThursday] 2023-01-19 15:27:53 UTC KE4RCO-1:Happy Thursday from NC [#APRSThursday] 2023-01-19 15:29:14 UTC KK7IQG-1:Happy Aprsthursday 73s [#APRSThursday] 2023-01-19 15:29:38 UTC 9W2FAS-5:happy Thursday all de 9w2fas west malaysia [#APRSThursday] 2023-01-19 15:29:47 UTC VE1RMJ-15:Hi everyone! 73 from Oxford NS FN85br [#APRSThursday] 2023-01-19 15:30:18 UTC KK7IQG-1:Happy Aprsthursday 73s [#APRSThursday] 2023-01-19 15:30:48 UTC VE3TSV-9:happy Thursday from ve3tsv in Canada [#APRSThursday] 2023-01-19 15:31:19 UTC KE4LPD-7:Howdy from Tx 73 de ke4lpd [#APRSThursday] 2023-01-19 15:31:21 UTC KK7IQG-1:Happy Aprsthursday 73s [#APRSThursday] 2023-01-19 15:31:21 UTC KE4LPD-7:Howdy from Tx 73 de ke4lpd [#APRSThursday] 2023-01-19 15:32:18 UTC CS7AYO-5:#HappyAPRSThursday [#APRSThursday] 2023-01-19 15:32:36 UTC KK7IQG-1:Happy Aprsthursday 73s [#APRSThursday] 2023-01-19 15:33:10 UTC AB4WS-9:hello from KY [#APRSThursday] 2023-01-19 15:34:17 UTC 9W2FAS-5:happy Thursday all de 9w2fas west malaysia [#APRSThursday] 2023-01-19 15:35:14 UTC N9KO-1:Hello from NE Illinois. Taking a break from going down+ [#APRSThursday] 2023-01-19 15:35:26 UTC KP4JPB:#APRSTHURSDAY 73 DE KP4JPB. [#APRSThursday] 2023-01-19 15:37:59 UTC KC5BIL-9:hello from LA CA. [#APRSThursday] 2023-01-19 15:38:39 UTC KD9UYS-10:Happy #APRSThursday! Happy to add to the congestion haha [#APRSThursday] 2023-01-19 15:39:49 UTC KK7IQG-1:Happy Aprsthursday 73s [#APRSThursday] 2023-01-19 15:40:16 UTC KC5BIL-9:hello from LA CA. [#APRSThursday] 2023-01-19 15:40:24 UTC KK7IQG-1:Happy Aprsthursday 73s [#APRSThursday] 2023-01-19 15:42:35 UTC KF0CTR-10:#APRSTHURSDAY COLD & WINDY 73 [#APRSThursday] 2023-01-19 15:42:48 UTC KK7IQG-1:Happy Aprsthursday 73s [#APRSThursday] 2023-01-19 15:46:19 UTC NC6J-1:happy #aprsthursday [#APRSThursday] 2023-01-19 15:48:18 UTC VE3TSV-9:Cold and freezing rain storm here today [#APRSThursday] 2023-01-19 15:49:19 UTC W7SWA-9:happy #APRSTHURDAY de w7swa via rf qth las vegas [#APRSThursday] 2023-01-19 15:50:36 UTC W7SWA-9:happy #APRSTHURDAY de w7swa via rf qth las vegas [#APRSThursday] 2023-01-19 15:54:57 UTC AI4WX-8:73 to all from Walton, KY, USA. [#APRSThursday] 2023-01-19 16:01:14 UTC KC5BIL-9:hello from LA CA. [#APRSThursday] 2023-01-19 16:01:51 UTC KB7UVC:Greetings from Belfair WA [#APRSThursday] 2023-01-19 16:02:06 UTC KC5BIL-9:hello from LA CA. [#APRSThursday] 2023-01-19 16:04:09 UTC NP4JN-7:np4jn 73 rf via kp4dog packet network puerto rico. [#APRSThursday] 2023-01-19 16:04:23 UTC KC5BIL-9:hello from LA CA. [#APRSThursday] 2023-01-19 16:05:17 UTC NP4JN-7:np4jn 73 rf via kp4dog packet network puerto rico. [#APRSThursday] 2023-01-19 16:05:35 UTC KC5BIL-9:hello from LA CA. [#APRSThursday] 2023-01-19 16:15:21 UTC DU2XXR-7:test [#APRSThursday] 2023-01-19 16:20:23 UTC DU2XXR-7:test [#APRSThursday] 2023-01-19 16:23:56 UTC K0AKV-9:73 all [#APRSThursday] 2023-01-19 16:25:41 UTC KN6PRD-4:checking in iOS, happy #APRSTHURSDAY 73 DE KN6PRD [#APRSThursday] 2023-01-19 16:27:55 UTC YO8SDE-4:hello to everybody from Romania! [#APRSThursday] 2023-01-19 16:31:10 UTC PP1AR-9:Hello from Brazil.GG99uo 73 de PP1AR [#APRSThursday] 2023-01-19 16:31:21 UTC KJ7OWD-9:Hello frm my new qth, KY! Happy #aprsthursday [#APRSThursday] 2023-01-19 16:33:17 UTC K0FJ-12:Good Morning 73 K0FJ [#APRSThursday] 2023-01-19 16:43:35 UTC K9EZ-12:de K9EZ at the beaches of North Carolina [#APRSThursday] 2023-01-19 16:46:33 UTC KD5NJR-7:happy #aprsthursday de okla !de rf [#APRSThursday] 2023-01-19 16:59:01 UTC YO2OWL-7:#APRSTHURSDAY 73 yo2owl [#APRSThursday] 2023-01-19 17:13:54 UTC KO4WCR-5:The Swiss can't beat me! [#APRSThursday] 2023-01-19 17:14:51 UTC AE6LJ:Lamar in Calif. Wishing us all a nice APRS-Day. [#APRSThursday] 2023-01-19 17:16:24 UTC KF5GGX:#APRSTHURSDAY 73 KF5GGX 1/19/23 [#APRSThursday] 2023-01-19 17:21:43 UTC LZ2ISI-1:#APRSTHURSDAY [#APRSThursday] 2023-01-19 17:21:52 UTC TA5AHO-5:#APRSTHURSDAY 73 TA5AHO TURKIYE [#APRSThursday] 2023-01-19 17:22:46 UTC LZ2ISI-10:#APRSTHURSDAY [#APRSThursday] 2023-01-19 17:24:45 UTC KM7CRD-5:Greetings from North Central WA. Via droid [#APRSThursday] 2023-01-19 17:28:30 UTC YO8RIY-10:FROM POPRICANI,ROMANIA VIA RF [#APRSThursday] 2023-01-19 17:31:36 UTC HK6T-7:happy #APRSTHURSDAY Kissimmee FL 73 HK6T/W4 [#APRSThursday] 2023-01-19 17:34:25 UTC WH6CMO:happy #APRSTHURSDAY over rf 73 WH6CMO [#APRSThursday] 2023-01-19 17:47:20 UTC WM6H-4:#APRSTHURSDAY using iOS APRS app [#APRSThursday] 2023-01-19 17:48:03 UTC WM6H-4:test [#APRSThursday] 2023-01-19 17:52:52 UTC KD2PSC-9:happy #APRSTHURSDAY KD2PSC from WNY GO BILLS [#APRSThursday] 2023-01-19 17:57:11 UTC W1FRD-7:#APRSTHURDAY73 W1FRD Fairfield, California [#APRSThursday] 2023-01-19 18:01:23 UTC KK7GAB:1st time here 73 KK7GAB [#APRSThursday] 2023-01-19 18:07:05 UTC KD2RZW-9:First check-in to the net! Did I make it? haha 73 all [#APRSThursday] 2023-01-19 18:09:12 UTC KE8PYM-9:whats up world de ke8pym [#APRSThursday] 2023-01-19 18:09:20 UTC SP2U-9:73 de SP2U op. Marcin [#APRSThursday] 2023-01-19 18:18:51 UTC WH6OMG-7:HAPPY THURSDAY [#APRSThursday] 2023-01-19 18:19:56 UTC N5NDC-12:Happy APRSthursday! [#APRSThursday] 2023-01-19 18:26:02 UTC KC5BIL-12:hello world! [#APRSThursday] 2023-01-19 18:27:40 UTC VA7TEV:73 de VA7TEV [#APRSThursday] 2023-01-19 18:29:58 UTC VA1MRT-9:DE VA1MRT Mobile 73 [#APRSThursday] 2023-01-19 18:40:34 UTC KI7KUI-7:Happy #aprsthursday! Cheers and 73 from the soggy PNW. [#APRSThursday] 2023-01-19 18:42:17 UTC TI3IES-9:73 from Costa Rica via DMR [#APRSThursday] 2023-01-19 18:43:04 UTC N4OGL-7:#APRSTHURSDAY - Yippee! [#APRSThursday] 2023-01-19 18:43:19 UTC DV5CEL-9:HAPPY #APRSTHURSDAY!QTH OFF SURINAME COAST.MM. 73 [#APRSThursday] 2023-01-19 18:47:10 UTC F8ARO-10:73 de Leszek Fortress of Guentrange [#APRSThursday] 2023-01-19 18:50:51 UTC K4SBC:Happy #APRSThursday de K4SBC. Denver, NC, US [#APRSThursday] 2023-01-19 18:54:49 UTC KH6OWL-9:aloha happy aprs thursday have a greay day! [#APRSThursday] 2023-01-19 19:01:02 UTC SM6UNC-9:Greetings from Sweden with FTM300 [#APRSThursday] 2023-01-19 19:01:53 UTC SM2YUW-5:Greetings from Kiruna, Sweden via Android. 73 de SM2YUW. [#APRSThursday] 2023-01-19 19:04:02 UTC HK6ER-10:Greetings from Colombia #aprsthursday, 73 [#APRSThursday] 2023-01-19 19:05:12 UTC HK6RM-10:Greetings from Colombia #aprsthursday, 73 [#APRSThursday] 2023-01-19 19:06:31 UTC AJ4VX-7:Happy #APRSTHURSDAY via TH-D74 [#APRSThursday] 2023-01-19 19:07:52 UTC SM2YUW-7:Happy #aprsthursday!73 de SM2YUW [#APRSThursday] 2023-01-19 19:08:27 UTC HK4LRM-10:Greetings from Colombia #aprsthursday, 73 [#APRSThursday] 2023-01-19 19:10:09 UTC N2RAC-10:Optimizations made to the logs at APRSPH.net/aprsthursday [#APRSThursday] 2023-01-19 19:18:14 UTC KD2YHI-7:its thursday #APRSTHURSDAY kd2yhi [#APRSThursday] 2023-01-19 19:18:54 UTC HK4D-7:#aprsthursday 73 [#APRSThursday] 2023-01-19 19:21:49 UTC HK6JCF-7:#aprsthursday 73 [#APRSThursday] 2023-01-19 19:29:35 UTC TB3HBA-5:Turkiye 73 [#APRSThursday] 2023-01-19 19:37:28 UTC K5BDL-7:de K5BDL in Tyler, TX. EM22IH. Happy Thursday [#APRSThursday] 2023-01-19 19:41:20 UTC KF0GCK-7:THX 4 net! 73 KF0GCK [#APRSThursday] 2023-01-19 19:42:14 UTC KD0NRC-5:73de @4x0nn via AprsDroid. Wifi is still RF, right? [#APRSThursday] 2023-01-19 19:42:16 UTC KC2WDZ-2:#APRSThursday Gene in Vegas. Sending via RF using+ [#APRSThursday] 2023-01-19 19:48:50 UTC KO4BOD-5:#aprsthursday from CenFlo aprs.fi/iPhone KO4BOD [#APRSThursday] 2023-01-19 19:49:12 UTC N1NHT:greetings from conway sc [#APRSThursday] 2023-01-19 19:49:19 UTC VE1PS-9:FRM CYHZ [#APRSThursday] 2023-01-19 19:51:13 UTC VE9NPS-5:GOOD DAY FROM EAST COAST OF CANADA. HAVE GREAT DAY! [#APRSThursday] 2023-01-19 19:53:53 UTC VA7EKA-8:cheers and 73! [#APRSThursday] 2023-01-19 19:56:12 UTC G0AMO-7:G0AMO Mike in Andover UK #aprsthursday [#APRSThursday] 2023-01-19 20:03:06 UTC KD9PDE-1:Happy APRS Thursday. Gloomy weather here in Windy City [#APRSThursday] 2023-01-19 20:15:09 UTC KM6MCH-7:DE KM6MCH DM04wa [#APRSThursday] 2023-01-19 20:19:11 UTC AK9RT-10:happy Thursday to all from AK9RT. Wishing all well. [#APRSThursday] 2023-01-19 20:19:29 UTC KD9VWO:Hello and please add KD9VWO 73 [#APRSThursday] 2023-01-19 20:23:35 UTC DC1OZ-7:happy #APRSTHURSDAY 73 Pavel, BW, DE [#APRSThursday] 2023-01-19 20:28:31 UTC K7XYG-7:K7XYG rocking FT3d INSTAGRAM @ k7xyg_official [#APRSThursday] 2023-01-19 20:31:40 UTC KI5WHI-7:hi from nw arkansas, 73 [#APRSThursday] 2023-01-19 20:35:52 UTC KJ6PYV:good aftenoon [#APRSThursday] 2023-01-19 20:44:30 UTC F4EGX:hello happy #APRSthursday de Nicolas F4EGX, France [#APRSThursday] 2023-01-19 21:00:28 UTC WA4MT-10:Happy APRS Thursday. Doing my part in overloading the APRS+ [#APRSThursday] 2023-01-19 21:08:03 UTC N8JLK-5:Happy #APRSthursday via RF and new TNC Libre Potato. N8JLK [#APRSThursday] 2023-01-19 21:16:33 UTC AI5HC-5:via aprsdroid aprs-is [#APRSThursday] 2023-01-19 21:20:48 UTC HK5JHY-9:happy #APRSTHURSDAY 73 HK5JHY CAICEDONIA COLOMBIA [#APRSThursday] 2023-01-19 21:25:49 UTC N8JLK-5:Anyone want also WinLink N8JLK@winlink.org 73 [#APRSThursday] 2023-01-19 21:31:56 UTC NG7N-12:GA from Seattle - running a D700 with keyboard interface [#APRSThursday] 2023-01-19 21:33:31 UTC G5DKT-9:happy xmas and aprs thu 73 dale G5DKT [#APRSThursday] 2023-01-19 21:37:41 UTC G5DKT-9:happy aprs thu guys hope all is good your end 73 G5DKT [#APRSThursday] 2023-01-19 21:39:52 UTC IU6HMO-7:Hi everyone from Matteo IU6HMO! #aprsthursday [#APRSThursday] 2023-01-19 21:44:04 UTC ES8BHR-5:happy #aprsthursday check-in via aprsdroid [#APRSThursday] 2023-01-19 21:52:20 UTC KC8OWL-7:its a busy day in aprsland! thanks for the great support. [#APRSThursday] 2023-01-19 21:56:10 UTC HP1COO-9:73s de Alejandro PANAMA [#APRSThursday] 2023-01-19 21:56:14 UTC EI5IN-7:hello from keith in Ireland 73 [#APRSThursday] 2023-01-19 21:59:52 UTC VE6RAW-9:hello from wintery yeg [#APRSThursday] 2023-01-19 22:01:43 UTC KD9BBB:Happy #APRS Thursday from Chicago 73 [#APRSThursday] 2023-01-19 22:07:06 UTC R2BBS-9:from moscow with love 73! de R2BBS msk [#APRSThursday] 2023-01-19 22:19:02 UTC K4CIH-7:HAPPY #APRSTHURSDAY! 73 K4CIH [#APRSThursday] 2023-01-19 22:26:20 UTC VA6GAC-9:First time user from Calgary Alberta Canada [#APRSThursday] 2023-01-19 22:30:52 UTC KD9TKG-15:#APRS THURSDAY Hello Everyone! [#APRSThursday] 2023-01-19 22:37:55 UTC KO4QYZ-5:checking in [#APRSThursday] 2023-01-19 22:42:26 UTC N5TXZ-1:exercising the network on #APRSTHURSDAY 73! [#APRSThursday] 2023-01-19 22:48:09 UTC KD8OFT-5:Happy APRS Thursday and 73s from WINDY Columbus Ohio [#APRSThursday] 2023-01-19 22:49:47 UTC M0IJS-7:Hi from Hannover [#APRSThursday] 2023-01-19 22:52:18 UTC KC3QEH-7:Happy #aprsthursday from PA [#APRSThursday] 2023-01-19 22:56:56 UTC M1NER-7:Happy APRS Thursday everybody! 73 M1NER [#APRSThursday] 2023-01-19 23:04:42 UTC KC3QIU-7:happy thursday [#APRSThursday] 2023-01-19 23:05:06 UTC K7XYG-7:big shout out to KJ4ERJ for allowing us to use ANSRVR 73 [#APRSThursday] 2023-01-19 23:07:53 UTC KD2UWR-7:on vacation in WY. UV5R [#APRSThursday] 2023-01-19 23:16:00 UTC WA4VGZ-9:#APRSTHURSDAY Grid EM66 73 [#APRSThursday] 2023-01-19 23:25:39 UTC W4AMR:happy #APRSTHURSDAY 73 W4AMR [#APRSThursday] 2023-01-19 23:26:47 UTC K4FML-7:de K4FML FM16 [#APRSThursday] 2023-01-19 23:31:24 UTC YD6HTK:MORNING 73 YD6HTK [#APRSThursday] 2023-01-19 23:31:25 UTC YD6HTK:MORNING 73 YD6HTK:dev 9.7KHz [#APRSThursday] 2023-01-19 23:38:53 UTC KB9TYC-9:Hello fqom northern Wisconsin! 73 KB9TYC [#APRSThursday] 2023-01-19 23:46:00 UTC HJ5JAD-7:happy #APRSTHURSDAY 73 HJ5jAD Caicedonia Colombia [#APRSThursday] 2023-01-20 00:36:57 UTC K8JTT-7:Hello from Brownstown,MI_73 de K8JTT #APRSTHURSDAY [#APRSThursday] 2023-01-20 00:38:34 UTC N7SIX-7:mabuhay! #aprsthursday 73 [#APRSThursday] 2023-01-20 01:42:36 UTC KC1RPA-7:happy aprs thursday! [#APRSThursday] 2023-01-20 01:44:38 UTC N7UWX:Happy Thursday from Utah DN41cr. [#APRSThursday] 2023-01-20 01:49:58 UTC K1SU-9:happy #APRSTHURSDAY 73 k1su [#APRSThursday] 2023-01-20 02:00:36 UTC AE6LJ:Hope to see you all again next week. [#APRSThursday] 2023-01-20 02:14:55 UTC N8MOR:73 de N8MOR [#APRSThursday] 2023-01-20 02:20:42 UTC KC1IIQ-7:de KC1IIQ [#APRSThursday] 2023-01-20 02:27:59 UTC K7XYG-5:for more info bang that MF follow button IG @k7xyg_official [#APRSThursday] 2023-01-20 02:40:40 UTC N8JLK-4:Greetings. Testing out TNC and radio. N8JLK [#APRSThursday] 2023-01-20 04:13:25 UTC KM6CQ-7:#APRSHURDAY de Dan Washoe Valley NV [#APRSThursday] 2023-01-20 04:20:28 UTC KN6OVN-7:Hi from la C A [#APRSThursday] 2023-01-20 07:06:27 UTC LY1JG:YAESU FTM-400XD Luthuania KO14VW 73! [#APRSThursday] 2023-01-25 20:00:15 UTC K7XYG-9:This is Kilo 7 Xray Yankee Golf FTM-200 Phoenix & mobile 73 [#APRSThursday] 2023-01-25 21:34:20 UTC K7XYG-9:hi this is a reminder that your car`s warranty is expired [#APRSThursday] 2023-01-25 21:59:32 UTC DV8ML-5:happy #APRSTHURSDAY 73 dv8ml [#APRSThursday] 2023-01-25 23:15:30 UTC K7XYG-7:K7XYG blasting 1 angry watt-FT3d->my Digi @QTH 73 #aprsgang [#APRSThursday] 2023-01-25 23:28:35 UTC KF1D-3:CHECKING IN FROM MASSACHUSETTS, USA. [#APRSThursday] 2023-01-25 23:45:36 UTC DV8ML-5:happy #APRSTHURSDAY 73 dv8ml [#APRSThursday] 2023-01-25 23:58:33 UTC W2WAT-7:#net night W2WAT [#APRSThursday] 2023-01-26 00:02:44 UTC KC8OWL-7:the #aprsthursday lines are open! send your packets and 73 [#APRSThursday] 2023-01-26 00:04:38 UTC CT7AQH-1:Happy #APRSTHURDAY Miguel checking in. 73 from Lisbon. [#APRSThursday] 2023-01-26 00:04:53 UTC TG5ALY-14:Check-in from Guatemala [#APRSThursday] 2023-01-26 00:05:18 UTC TG5ALY-14:Greetings everyone from Guatemala [#APRSThursday] 2023-01-26 00:12:31 UTC CT7AQH-1:Happy #APRSTHURSDAY.Miguel checking in.73 from Lisbon. [#APRSThursday] 2023-01-26 00:14:40 UTC CT7AQH-1:Happy #APRSTHURSADAY.73 [#APRSThursday] 2023-01-26 00:15:10 UTC W9RWB-1:W9RWB to #APRSThursday Hello from SatGate W9RWB-1 [#APRSThursday] 2023-01-26 00:15:39 UTC CT7AQH-1:Happy #APRSTHURSDAY. 73 [#APRSThursday] 2023-01-26 00:19:54 UTC WM6H-4:#APRSTHURSDAY using iOS APRS app [#APRSThursday] 2023-01-26 00:21:56 UTC VR2WQY-9:Happy APRS Thursday this is VR2WQY from Hong Kong Android [#APRSThursday] 2023-01-26 00:29:20 UTC N5XMT-1:Dave from Sedro-Woolley, Washington [#APRSThursday] 2023-01-26 00:31:07 UTC KB3KBR-1:happy #aprsthursday to all!! sending a very large message+ [#APRSThursday] 2023-01-26 00:36:35 UTC KI5MFF-9:#aprsthursday Belen NM USA WiresX? [#APRSThursday] 2023-01-26 00:42:08 UTC KD9BBB:Happy APRS Thursday [#APRSThursday] 2023-01-26 00:46:02 UTC KB3KBR-11:more aprsthursday shenanigans on ft1d rf only [#APRSThursday] 2023-01-26 00:47:53 UTC N5XMT-1:N5XMT via RF [#APRSThursday] 2023-01-26 00:50:26 UTC 9W2XVM-5:- Happy #APRS THURSDAY from Malaysia. [#APRSThursday] 2023-01-26 00:54:34 UTC NN4H-5:happy #APRSTHURSDAY FROM EM76 in Kentucky [#APRSThursday] 2023-01-26 00:57:44 UTC KD9MER-10:KD9MER 73 from INDIANA [#APRSThursday] 2023-01-26 01:01:36 UTC DW9JRA-7:Happy #APRSTHURSDAY. De DW9JRA from Davao Philippines [#APRSThursday] 2023-01-26 01:02:09 UTC KJ5IK-9:Greetings from KJ5IK Bob currently in Amarillo, TX [#APRSThursday] 2023-01-26 01:04:02 UTC GRYLCP-12:AB1PH Don Walpole MA via RF only [#APRSThursday] 2023-01-26 01:06:45 UTC DY8CMM-5:happy aprs day to all 73 [#APRSThursday] 2023-01-26 01:12:10 UTC AB1PH-7:AB1PH Don Walple MA via APRSIS [#APRSThursday] 2023-01-26 01:12:54 UTC KC3MLI:Happy #APRSThursday! [#APRSThursday] 2023-01-26 01:13:20 UTC 9W2FYM-5:check in for #aprsthursday net de 9W2FYM from West Malaysia [#APRSThursday] 2023-01-26 01:13:52 UTC AC4AG-7:First time check in 73 [#APRSThursday] 2023-01-26 01:31:28 UTC KJ5IK-7:Howdy from my UVII+ ! [#APRSThursday] 2023-01-26 01:37:37 UTC VE7DCF-7:73 Everyone [#APRSThursday] 2023-01-26 01:44:09 UTC KI5FQQ-9:Greeting fellow humaniod [#APRSThursday] 2023-01-26 01:44:53 UTC W3TXG-7:on the air in Pittsburgh, PA USA . #aprsthursday [#APRSThursday] 2023-01-26 01:45:51 UTC KC8OWL-7:blasting out the packets at the speed of light. 73 kc8owl [#APRSThursday] 2023-01-26 01:50:16 UTC DU2XXR-7:Happy #aprsthursday from Antipolo ct, Philippines. 73! [#APRSThursday] 2023-01-26 01:54:35 UTC N5XMT-9:N5XMT from Android Sedro-Woolley, Washington [#APRSThursday] 2023-01-26 01:59:53 UTC K7XYG-7:doomsday clock @ 90 secs in part because of APRS THURSDAY [#APRSThursday] 2023-01-26 02:02:51 UTC NC6J-5:#aprsthursday from Sacramento [#APRSThursday] 2023-01-26 02:07:03 UTC KJ4OAP-9:hello from swVA! 36 F here! [#APRSThursday] 2023-01-26 02:08:20 UTC KN4BQX-1:glad I can participate in the weekly test! 73, KN4BQX [#APRSThursday] 2023-01-26 02:10:43 UTC KD7KLA:APRS Thursday. 73 fm WA. [#APRSThursday] 2023-01-26 02:12:32 UTC DV8AYE-5:#APRSTHURSDAY checking in. happy thursday. 73 [#APRSThursday] 2023-01-26 02:20:40 UTC 9W2XDD-5:APRSTHURDAY DE OJ03QD [#APRSThursday] 2023-01-26 02:43:07 UTC KO4DBP-5:Happy #APRSThursday Hope the loops are short and sweet [#APRSThursday] 2023-01-26 02:53:00 UTC K7XYG-9:#APRSThursday: Hotter than a Craigslist catalytic converter [#APRSThursday] 2023-01-26 02:54:32 UTC KF1D-3:Checking in, KF1D Bryan [#APRSThursday] 2023-01-26 03:11:18 UTC K7XYG-7:#APRSThursday is best configured WIDE-13,WIDE-69 path [#APRSThursday] 2023-01-26 03:14:31 UTC DV8VMI-5:#happyAPRSthursday everyone. de DV8VMI from Philippines. 73 [#APRSThursday] 2023-01-26 03:14:40 UTC N7WDZ-2:Good #aprsthursday to all! New Call N7WDZ formerly KC2WDZ [#APRSThursday] 2023-01-26 03:15:32 UTC KC3QIU-7:Happy Thurs KC3QIU [#APRSThursday] 2023-01-26 03:16:17 UTC KD5UEW:WINLINK [#APRSThursday] 2023-01-26 03:23:03 UTC KD5UEW:TEXAS RACES [#APRSThursday] 2023-01-26 03:24:26 UTC W9AUV-8:HAMACTIVE DOT COM [#APRSThursday] 2023-01-26 03:24:51 UTC K7XYG-7:just kidding please doNt do that.your radio will explode [#APRSThursday] 2023-01-26 03:28:23 UTC K7XYG-7:find me on Instagram-----------@k7xyg_official [#APRSThursday] 2023-01-26 03:48:13 UTC VE7EPT:Winter Field Day this weekend! [#APRSThursday] 2023-01-26 04:06:11 UTC NA5X-9:#APRSTHURSDAY 73 de NA5X Waco TX [#APRSThursday] 2023-01-26 04:14:04 UTC HK4LRM-10:have a nice day #aprsthursday, 73 [#APRSThursday] 2023-01-26 04:31:35 UTC HK6ER-10:#aprsthursday, 73 [#APRSThursday] 2023-01-26 04:35:57 UTC HK6RM-10:#aprsthursday, 73 [#APRSThursday] 2023-01-26 04:52:46 UTC VA6GAC-9:Sending message as soon as possible to troubleshoot [#APRSThursday] 2023-01-26 04:59:03 UTC VA6GAC-9:Greetings from Calgary Alberta Canada [#APRSThursday] 2023-01-26 05:22:33 UTC AJ4VX-10:Happy #APRSTHURSDAY from Visalia CA USA 73 de AJ4VX [#APRSThursday] 2023-01-26 05:46:44 UTC 9W8AKN-10:happy thursday day de 9W8AKN [#APRSThursday] 2023-01-26 05:48:37 UTC N7AWM-7:Hello from Washington State N7AWM [#APRSThursday] 2023-01-26 05:51:33 UTC KK7AZD-5:#APRSTHURSDAY happy national peanut brittle day de KK7AZD [#APRSThursday] 2023-01-26 05:58:52 UTC VA6PLC-7:#aprsthursday Greetings from Lethbridge Alberta VA6PLC [#APRSThursday] 2023-01-26 06:00:18 UTC 9W8PRO-5:Hi this is 9W8PRO from Malaysia. Happy APRSThursday. 73. [#APRSThursday] 2023-01-26 06:04:14 UTC 9W8EDY-10:HI this is 9w8EDY from Malaysia. Happy APRSThursday.73 [#APRSThursday] 2023-01-26 06:13:01 UTC OE3TWH-7:#aprsthursday 73 de Wolfgang [#APRSThursday] 2023-01-26 06:17:09 UTC 9M2FDX-5:From West Malaysia DE 9M2FDX 73 [#APRSThursday] 2023-01-26 06:28:38 UTC VA6GAC-9:KD5UEW can you see this? [#APRSThursday] 2023-01-26 06:29:34 UTC VA7OTC:Let the stres s test begin [#APRSThursday] 2023-01-26 06:45:43 UTC F5TUN-1:Geo [#APRSThursday] 2023-01-26 06:50:18 UTC M0NPQ-9:Happy #APRSThursday GL ,73 [#APRSThursday] 2023-01-26 06:57:16 UTC N8JLK-3:Happy #APRSthursday via RF. N8JLK [#APRSThursday] 2023-01-26 07:00:22 UTC CT7AQH-1:Happy #APRSTHRSDAY.73 from Lisbon. [#APRSThursday] 2023-01-26 07:02:45 UTC N8JLK-3:APRSPH working? [#APRSThursday] 2023-01-26 07:32:15 UTC TA3AUW-5:Türkiye 73 [#APRSThursday] 2023-01-26 07:32:37 UTC ZL2ATH-7:Happy #APRSTHURSDAY [#APRSThursday] 2023-01-26 07:41:14 UTC KC5BIL-12:please say hello - Steve in USA [#APRSThursday] 2023-01-26 07:44:10 UTC KF5JRV-15:Hello de KF5JRV [#APRSThursday] 2023-01-26 07:48:30 UTC TA3AZV-7:Happy #APRSTHURSDAY! Turkey 73 [#APRSThursday] 2023-01-26 08:05:33 UTC TA3E-5:best 73&88 de TA3E [#APRSThursday] 2023-01-26 08:06:26 UTC AB7RT-7:#APRSTHURSDAY RF in Hawaii de AB7RT [#APRSThursday] 2023-01-26 08:13:59 UTC 9W2XRI-5:#aprsthursday [#APRSThursday] 2023-01-26 08:14:16 UTC G8TNU-7:Happy #APRSTHURSDAY 73 G8TNU [#APRSThursday] 2023-01-26 08:24:46 UTC M0IJS-7:Hi from [#APRSThursday] 2023-01-26 08:24:47 UTC M0IJS-7:Hi from Rugby,UK [#APRSThursday] 2023-01-26 08:25:50 UTC M0IJS-7:Hi from [#APRSThursday] 2023-01-26 08:25:52 UTC M0IJS-7:Hi from Rugby,UK [#APRSThursday] 2023-01-26 08:26:53 UTC M0IJS-7:Hi from [#APRSThursday] 2023-01-26 08:26:54 UTC M0IJS-7:Hi from Rugby,UK [#APRSThursday] 2023-01-26 08:28:29 UTC M0IKV-7:de Rugby ATS [#APRSThursday] 2023-01-26 08:30:10 UTC 9W2YIB-5:#APRSTHURSDAY de 9w2yib,west malaysia [#APRSThursday] 2023-01-26 08:46:09 UTC ZS1ME-5:#APRSTHURSDAY. Greetings from ZA. 73, ZS1Me. [#APRSThursday] 2023-01-26 08:52:01 UTC DU6DKL:Checking in from Negros Philippines [#APRSThursday] 2023-01-26 09:00:57 UTC SM6WKB-7:73 from Alingsas Sweden [#APRSThursday] 2023-01-26 09:22:22 UTC F4FXL:Hello APRSThursday from France JN38TT via RF [#APRSThursday] 2023-01-26 09:24:12 UTC SM6JVU:Greetings from sweden westcoast 73 de sm6jvu Anders via rf [#APRSThursday] 2023-01-26 09:39:35 UTC LY1JG:#APRSThursday Best wishes from KO14VW Lithuania de Giedrius [#APRSThursday] 2023-01-26 09:39:51 UTC DW6XJO:HAPPY APRS THURS [#APRSThursday] 2023-01-26 09:45:21 UTC KD5PCK-5:good morning from the Bayou State! 73, KD5PCK [#APRSThursday] 2023-01-26 09:48:14 UTC SQ6CYS-7:happy #APRSThursday [#APRSThursday] 2023-01-26 09:51:39 UTC GW0TQM-7:DSTAR trial REF179G for dprs. happy #aprsthursday [#APRSThursday] 2023-01-26 10:16:41 UTC 9W2VIS-5:ASSALAMUALAIKUM [#APRSThursday] 2023-01-26 10:26:38 UTC YD6HTK:hello. GREETINGS FR MEDAN INDONESIA de YD6HTK [#APRSThursday] 2023-01-26 10:32:28 UTC 9W2KLG-9:hello [#APRSThursday] 2023-01-26 10:39:33 UTC LZ2ISI-10:#aprsthursdsy [#APRSThursday] 2023-01-26 10:43:58 UTC PD4JD:Happy #APRSThursday. Using #PinPoint APRS-client. 73 [#APRSThursday] 2023-01-26 10:46:22 UTC KW2DIA-7:Hello fr Harlem NYC FN30at [#APRSThursday] 2023-01-26 10:57:05 UTC 9W2SGJ-9:I'm at Genting Highlands [#APRSThursday] 2023-01-26 11:09:42 UTC KP3T-9:#happyaprs via RF DE KP3T [#APRSThursday] 2023-01-26 11:09:45 UTC KP3T-9:#happyaprs via RF DE KP3T 25 [#APRSThursday] 2023-01-26 11:10:42 UTC KP3T-9:#happyaprs via RF DE KP3T [#APRSThursday] 2023-01-26 11:13:26 UTC KP3T-7:#aprsthurday de KP3T VIA RF [#APRSThursday] 2023-01-26 11:14:18 UTC KD5PCK-5:happy APRS Thursday. [#APRSThursday] 2023-01-26 11:15:24 UTC KE2ACY-5:happy #aprsthursday from upstate NY! 73 [#APRSThursday] 2023-01-26 11:26:41 UTC YD0BCX-9:happy #aprsthursday OI33kt 74 [#APRSThursday] 2023-01-26 11:34:05 UTC K7XYG-9:Kilo 7 Xray Yankee Golf FTM-200 Phoenix RF mobile 0432 loc [#APRSThursday] 2023-01-26 11:35:51 UTC WP3OF-9:#aprsthursday from Puerto Rico [#APRSThursday] 2023-01-26 11:37:25 UTC R2BBS-9:from moscow with love r2bbs 73! [#APRSThursday] 2023-01-26 11:49:36 UTC KD0TLS-7:Gopher Radio Club in Minnesota [#APRSThursday] 2023-01-26 11:54:21 UTC KI4ASK-15:- Joe in Atlanta [#APRSThursday] 2023-01-26 11:56:44 UTC N8JLK-3:Good morning #APRSthursday. N8JLK [#APRSThursday] 2023-01-26 11:57:49 UTC KD2PSC-9:happy #APRSthursday follow me on twitter @KD2PSC WNY [#APRSThursday] 2023-01-26 11:59:50 UTC N8JLK-3:Also on WinLink N8JLK@winlink.org 73 [#APRSThursday] 2023-01-26 12:01:56 UTC AE4WX-5:Happy #APRSThursday! 73 de AE4WX [#APRSThursday] 2023-01-26 12:11:07 UTC W9PEM-5:Another fun APRSThursday! W9PEM in Cedarburg, Wisconsin USA [#APRSThursday] 2023-01-26 12:13:08 UTC HK6L-4:73 desde Colombia [#APRSThursday] 2023-01-26 12:15:06 UTC KF5GGX:#APRSTHURSDAY 73 KF5GGX 1/26/23 [#APRSThursday] 2023-01-26 12:22:16 UTC MM0NBW-7:73 DE SCOTLAND [#APRSThursday] 2023-01-26 12:24:28 UTC CS7AYO-5:#HappyAPRSThursdayfrj [#APRSThursday] 2023-01-26 12:25:00 UTC CS7AYO-5:#HappyAPRSThursday friends 73 [#APRSThursday] 2023-01-26 12:33:20 UTC R3PIJ-7:hello all! [#APRSThursday] 2023-01-26 12:38:00 UTC N5NDC-7:APRSthu 73 de N5NDC in East Texas [#APRSThursday] 2023-01-26 12:40:12 UTC 4G9KKZ-5:happy #aprsthursday from the philippines, 73 [#APRSThursday] 2023-01-26 12:40:40 UTC N5NDC-7:#APRSthursday 73 de N5NDC in East Texas [#APRSThursday] 2023-01-26 12:43:04 UTC AA4JM:hi from the space coast! [#APRSThursday] 2023-01-26 12:46:26 UTC KC8OWL-7:have a great #aprsthursday. 73 kc8owl las vegas, nv usa [#APRSThursday] 2023-01-26 12:53:24 UTC K3JRZ:Happy #APRSThursday de K3JRZ in Delaware! 73! [#APRSThursday] 2023-01-26 12:53:31 UTC LU4AUL-7:happy #APRSTHURSDAY from Argentina LU4AUL. 73! [#APRSThursday] 2023-01-26 13:00:51 UTC EI5IN-7:hello from keith in Ireland 73 [#APRSThursday] 2023-01-26 13:09:47 UTC N2EDX-7:Greetings from Daytona Beach, Fl sun 62dF [#APRSThursday] 2023-01-26 13:14:40 UTC CT1END-2:#APRSTHURSDAY Best regards, 73 CT1END [#APRSThursday] 2023-01-26 13:16:39 UTC CT1END-2:#APRSTHURSDAY From Belas, Portugal IM58is, 73 Carlos CT1END [#APRSThursday] 2023-01-26 13:20:43 UTC KB8VUC-10:Happy #APRSThursday 73 DE KB8VUC - Network Congestion Test! [#APRSThursday] 2023-01-26 13:24:13 UTC F4FXL:Hi all! Wish you all a good APRS Thursday! Enjoy it! 73 !!! [#APRSThursday] 2023-01-26 13:30:21 UTC KD9SPR-7:73 de en60 [#APRSThursday] 2023-01-26 13:33:27 UTC F4FXL:So far all system nominal here! Only One small glitch. [#APRSThursday] 2023-01-26 13:38:04 UTC KB5LNC-7:#APRSTHURSDAY [#APRSThursday] 2023-01-26 13:41:13 UTC VA2OM-10:Happy #APRSTHURSDAY, 73 VA2OM/W5 [#APRSThursday] 2023-01-26 13:42:37 UTC N4EJM-5:#aprsthursday Follow me on Twitter, IG & Mastodon N4EJM 73 [#APRSThursday] 2023-01-26 13:42:54 UTC KP3A-7:KP3A [#APRSThursday] 2023-01-26 13:45:54 UTC N1NHT:greetings from conway sc [#APRSThursday] 2023-01-26 13:46:07 UTC KB5LNC-8:#APRSThursday is on a roll, live from Fredericksburg VA [#APRSThursday] 2023-01-26 13:48:45 UTC AI3KS-5:happy Thursday from York PA [#APRSThursday] 2023-01-26 13:49:20 UTC KG7KHL-1:via APRS.fi iOS USA! [#APRSThursday] 2023-01-26 13:57:25 UTC KF5THB-7:Henrietta Texas, howdy all! [#APRSThursday] 2023-01-26 14:01:02 UTC KD9TUL-9:Happy #aprsthursday from chicago! [#APRSThursday] 2023-01-26 14:03:06 UTC KD5NJR-7:happy #aprsthursday de okla !de rf de kd5njr [#APRSThursday] 2023-01-26 14:05:46 UTC K7XYG-9:Fun fact-HOTG stands for "Hams on the Gram" [instagram] 1/2 [#APRSThursday] 2023-01-26 14:11:03 UTC K7XYG-9:a small group of hams who connected on the app end of 2019 [#APRSThursday] 2023-01-26 14:16:58 UTC K7XYG-9:"hams on the gram" was started by 2E0HXS @hamzahradio on IG [#APRSThursday] 2023-01-26 14:23:51 UTC N3VT-5:Happy #aprsthursday de Blacksburg Va 73 Tom [#APRSThursday] 2023-01-26 14:25:02 UTC KG7KHL-9:VIA RF [#APRSThursday] 2023-01-26 14:29:23 UTC HB9TQJ-7:73 to all [#APRSThursday] 2023-01-26 14:31:27 UTC KM6TWI-5:Good morning net happy #aprsthursday de snowy Fort Wayne 73 [#APRSThursday] 2023-01-26 14:33:07 UTC N5DGC:All cold in the 505! #aprsthursday N5DGC [#APRSThursday] 2023-01-26 14:33:24 UTC HK5JHY-9:happy #APRSTHURSDAY 73 HK5JHY CAICEDONIA COLOMBIA [#APRSThursday] 2023-01-26 14:34:27 UTC KC8OWL-7:blasting packets round the globe! #aprsthursday. 73 [#APRSThursday] 2023-01-26 14:36:23 UTC KR8U-10:#APRSThursday checking in from SW MI [#APRSThursday] 2023-01-26 14:38:07 UTC WA4KWK:73 de Florida wa4kwk [#APRSThursday] 2023-01-26 14:41:14 UTC W4RJG-10:special traffic test today #aprsthursday [#APRSThursday] 2023-01-26 14:41:27 UTC KC1OCY:Good #aprsthursday to all! 73 from Boston, MA FN42 [#APRSThursday] 2023-01-26 14:43:57 UTC KK7IQG-1:Happy Aprsthursday 73s [#APRSThursday] 2023-01-26 14:44:25 UTC KE7NKR-7:#aprs_thursday checkin [#APRSThursday] 2023-01-26 14:44:41 UTC W4RJG-9:#aprsthursday [#APRSThursday] 2023-01-26 14:45:40 UTC 9M2EZU-9:Selamat malam! Happy #aprsthursday . de 9M2EZU,KL. 73 [#APRSThursday] 2023-01-26 14:45:50 UTC KE8PYM-9:hello from the mitten ke8pym [#APRSThursday] 2023-01-26 14:47:50 UTC W4RJG-1:#aprsthursday [#APRSThursday] 2023-01-26 14:53:29 UTC HJ5JAD-7:happy #APRSTHURSDAY 73 HJ5jAD Caicedonia Colombia [#APRSThursday] 2023-01-26 14:57:55 UTC W4RJG-2:3rd APRS station testing messaging system for #aprsthursday [#APRSThursday] 2023-01-26 15:01:00 UTC KC5FM-9:Spouses Day. 73 from www.sunflowernet.us [#APRSThursday] 2023-01-26 15:03:46 UTC KI7LIL-5:#aprsthursday. Good morning from Arizona. 73 KI7LIL Pete [#APRSThursday] 2023-01-26 15:07:39 UTC KJ4ERJ-4:rf from d74 [#APRSThursday] 2023-01-26 15:08:50 UTC K4CIH-7:HAPPY #APRSTHURSDAY! 73 K4CIH [#APRSThursday] 2023-01-26 15:10:27 UTC K7TEJ-7:Greetings HOTG from Glendale AZ [#APRSThursday] 2023-01-26 15:16:53 UTC OE3TWH-7:happy #aprsthursday 73 de Wolfgang [#APRSThursday] 2023-01-26 15:18:16 UTC OE3TWH-7:happy #aprsthursday! 73 de Wolfgang [#APRSThursday] 2023-01-26 15:19:17 UTC OE3TWH-7:happy #aprsthursday 73 de Wolfgang [#APRSThursday] 2023-01-26 15:19:20 UTC OE3TWH-7:happy #aprsthursday! 73 de Wolfgang [#APRSThursday] 2023-01-26 15:20:06 UTC OE3TWH-7:happy #aprsthursday 73 de Wolfgang [#APRSThursday] 2023-01-26 15:20:08 UTC OE3TWH-7:happy #aprsthursday! 73 de Wolfgang [#APRSThursday] 2023-01-26 15:24:09 UTC VA7SHG-9:Good Morning and Happy #APRSThursday Chilliwack BC [#APRSThursday] 2023-01-26 15:25:00 UTC HB9EYZ-7:from cold hike in JN37VL [#APRSThursday] 2023-01-26 15:26:26 UTC KD9UYS-10:Happy #APRSThursday! Hello from Illinois! [#APRSThursday] 2023-01-26 15:36:25 UTC KJ4ERJ:Greetings from the -IS [#APRSThursday] 2023-01-26 15:42:40 UTC 9W2PEF-9:#APRSTHURSDAY HELLO ALL HAM [#APRSThursday] 2023-01-26 15:42:59 UTC W8RID:Happy #APRSThursday Bob W8RID Twinsburg OH [#APRSThursday] 2023-01-26 15:44:26 UTC TI3IES-9:73 from Costa Rica via DMR [#APRSThursday] 2023-01-26 15:44:34 UTC VE1NPS-5:GD FRM WINDY RAINY HALIFAX / CYHZ FN84DP [#APRSThursday] 2023-01-26 15:48:38 UTC TA3HRJ-5:#aprsthursday Very Happy Chinese Lunar New Year All! [#APRSThursday] 2023-01-26 15:49:15 UTC CT1ERY:happy #APRSTHURSDAY everyone 73 from Portugal FTM400 via RF [#APRSThursday] 2023-01-26 15:50:29 UTC KF5ZPA-7:73s from Oklahoma [#APRSThursday] 2023-01-26 16:00:22 UTC VA2HST-7:73 from Quebec [#APRSThursday] 2023-01-26 16:04:34 UTC KB7UVC:Greetings from Belfair WA [#APRSThursday] 2023-01-26 16:07:33 UTC KB8M-5:Greetings all from KB8M via APRSdroid [#APRSThursday] 2023-01-26 16:09:13 UTC KN6HTD-4:happy APRS Thursday! [#APRSThursday] 2023-01-26 16:14:27 UTC KE4LPD-7:Howdy from Tx 73 de ke4lpd [#APRSThursday] 2023-01-26 16:16:39 UTC VA7TEV:73 from Vancouver [#APRSThursday] 2023-01-26 16:18:22 UTC AB1PH-7:AB1PH Don Walpole MA via APRS-IS [#APRSThursday] 2023-01-26 16:27:14 UTC KI5HBA-7:happy #aprsthursday y'all! [#APRSThursday] 2023-01-26 16:35:25 UTC DC1OZ-7:happy #APRSTHURSDAY 73 Pavel, BW, DE [#APRSThursday] 2023-01-26 16:44:30 UTC DC1OZ-5:happy #APRSTHURSDAY 73 Pavel via aprs.fi iOS App [#APRSThursday] 2023-01-26 16:52:40 UTC GI7ULG-10:happy aprsthursday de sean gi7ulg belfast [#APRSThursday] 2023-01-26 16:56:51 UTC KC3VBC-7:#aprsthursday from FN20jq (PA) 73 [#APRSThursday] 2023-01-26 16:59:59 UTC N7SIX-10:Mabuhay! Hello Hams! Happy #APRSThursday 73 [#APRSThursday] 2023-01-26 17:30:40 UTC VA3TTC-12:va3goc testing [#APRSThursday] 2023-01-26 17:45:25 UTC KJ6PYV:CHECK IN [#APRSThursday] 2023-01-26 17:55:04 UTC XE2AD-7:greetings from david xe2ad [#APRSThursday] 2023-01-26 17:55:52 UTC N4OGL-7:It's #APRSTHURSDAY! de N4OGL [#APRSThursday] 2023-01-26 18:03:03 UTC K7XYG-9:dont you panic panoramic companion [#APRSThursday] 2023-01-26 18:05:59 UTC KO4AWH-4:Happy Thursday [#APRSThursday] 2023-01-26 18:08:18 UTC KD4ADC-1:Hello #APRSthursday from KD4ADC EM74. [#APRSThursday] 2023-01-26 18:14:37 UTC WH6OMG-7:HAPPY THURSDAY [#APRSThursday] 2023-01-26 18:23:26 UTC AK9RT-10:Happy Thursday from AK9RT in NW Indiana. [#APRSThursday] 2023-01-26 18:24:15 UTC PU1EPM-7:happy #APRSTHURSDA 73 pu1epm paulo from Vitoria Br [#APRSThursday] 2023-01-26 18:31:29 UTC KJ7ZRZ-7:CHECKING IN FROM AZ [#APRSThursday] 2023-01-26 18:32:41 UTC K0FTZ-7:hello from k0ftz [#APRSThursday] 2023-01-26 18:36:53 UTC HK4D-7:#aprsthursday 73 [#APRSThursday] 2023-01-26 18:39:29 UTC KJ7OWD-9:Hello frm my new qth, KY! Happy #aprsthursday [#APRSThursday] 2023-01-26 18:43:17 UTC KJ7NUX:#APRSthursday Hello from CN84. GWAR lives! [#APRSThursday] 2023-01-26 18:43:49 UTC KG5DWM-7:Happy Thursday from Conroe TX! kg5dwm [#APRSThursday] 2023-01-26 18:44:46 UTC SM4URM-2:happy aprsthursday from sweden [#APRSThursday] 2023-01-26 18:45:34 UTC N5ATR-7:Dallas Texas [#APRSThursday] 2023-01-26 18:49:06 UTC KI7KUI-7:Happy #aprsthursday Cheers and 73 from Western WA [#APRSThursday] 2023-01-26 18:50:08 UTC KC3QEH-7:#aprsthursday 73 from PA [#APRSThursday] 2023-01-26 18:55:03 UTC KN6NAF-9:#happyaprsthursday [#APRSThursday] 2023-01-26 18:55:21 UTC HK4D-7:congratulation 5k6rm #aprsthursday [#APRSThursday] 2023-01-26 18:55:29 UTC HK4D-7:congratulation 5k6rm #aprsthursday 73 matias [#APRSThursday] 2023-01-26 18:55:33 UTC HK4D-7:congratulation 5k6rm #aprsthursday 73 [#APRSThursday] 2023-01-26 18:55:41 UTC K4SBC-7:happy #aprsthursday de k4sbc! [#APRSThursday] 2023-01-26 18:56:20 UTC HK4D-7:#aprsthursday 73 [#APRSThursday] 2023-01-26 18:56:30 UTC HK4D-7:happy new year #aprsthursday 73 [#APRSThursday] 2023-01-26 18:57:35 UTC HK4D-7:congratulation 5k6rm #aprsthursday 73 matias [#APRSThursday] 2023-01-26 18:59:38 UTC KC8OWL-7:spanning the globe at 1200 bps. kc8owl #aprsthursday [#APRSThursday] 2023-01-26 19:05:35 UTC W1FRD-7:#APRSTHURDAY73 W1FRD Fairfield, California [#APRSThursday] 2023-01-26 19:08:36 UTC KJ7WGM-10:Have a good APRS Thursday and a good winter feild day! 73. [#APRSThursday] 2023-01-26 19:11:36 UTC KO4AXL-10:KO4AXL checking in via aprs-is em95 [#APRSThursday] 2023-01-26 19:16:36 UTC HK4D-7:#aprsthursday 73 [#APRSThursday] 2023-01-26 19:17:21 UTC HK6JCF-7:#aprsthursday 73 [#APRSThursday] 2023-01-26 19:18:05 UTC HK6DX-7:#aprsthursday 73 [#APRSThursday] 2023-01-26 19:19:09 UTC WA4VGZ-9:#APRSTHURSDAY 73 [#APRSThursday] 2023-01-26 19:20:31 UTC HK6DX:#aprsthursday, 73 [#APRSThursday] 2023-01-26 19:21:42 UTC HK6NHE:#aprsthursday, 73 [#APRSThursday] 2023-01-26 19:22:33 UTC HK6JIL:#aprsthursday, 73 [#APRSThursday] 2023-01-26 19:24:37 UTC LA1TPA-7:73 from Norway [#APRSThursday] 2023-01-26 19:24:54 UTC HK6LOZ:#aprsthursday, 73 [#APRSThursday] 2023-01-26 19:27:44 UTC HK6PJA-2:saludos desde manizales caldas #aprsthursday, 73 [#APRSThursday] 2023-01-26 19:27:51 UTC VE1RMJ-15:Rob Oxford NS via AprsDroid 73! [#APRSThursday] 2023-01-26 19:28:31 UTC K4SBC-7:Thank you to those who worked the looping issue. [#APRSThursday] 2023-01-26 19:30:01 UTC SO6XL-7:happy #APRSTHURSDAY [#APRSThursday] 2023-01-26 19:30:31 UTC KK6FFP-10:Hello from Sin City [#APRSThursday] 2023-01-26 19:32:30 UTC F8ARO-10:Bonjour de France [#APRSThursday] 2023-01-26 19:32:37 UTC VA3TTC-12:va3goc greetings from orillia ontario canada 73 [#APRSThursday] 2023-01-26 19:38:51 UTC SM6UNC-1:Happy APRSTHURSDAY via RF TMD710 [#APRSThursday] 2023-01-26 19:43:49 UTC ES8BHR-5:happy #aprsthursday check-in via aprsdroid [#APRSThursday] 2023-01-26 19:45:41 UTC WA4VGZ-5:#APRSTHURSDAY #APRSDROID 73 [#APRSThursday] 2023-01-26 19:51:40 UTC KH6OWL-9:haooy thursday hope server is fixed aloha [#APRSThursday] 2023-01-26 19:59:24 UTC WC3T-5:fm WC3T happy #APRSthursday in FN20 [#APRSThursday] 2023-01-26 20:02:30 UTC N8JLK-3:Happy #APRSthursday via RF. N8JLK@winlink.org 73 [#APRSThursday] 2023-01-26 20:02:57 UTC HK6T-7:happy #APRSTHURSDAY Kissimmee FL 73 HK6T/W4 [#APRSThursday] 2023-01-26 20:03:42 UTC W6DVI-9:greetings from Los Angeles 73 to all de W6DVI [#APRSThursday] 2023-01-26 20:05:45 UTC KJ7IKK-9:KJ7IKK PHX AZ USA [#APRSThursday] 2023-01-26 20:18:00 UTC KD2UCJ-2:hello from fort riley ks 73kd2ucj [#APRSThursday] 2023-01-26 20:32:38 UTC HK1E-5:Happy #APRSTHURSDAY from FK21NA 73 [#APRSThursday] 2023-01-26 20:38:42 UTC WA4MT-9:greetings from Georgia. 73s WA4MT-9 [#APRSThursday] 2023-01-26 20:46:21 UTC W0CBP-7:hello from south dakota! [#APRSThursday] 2023-01-26 20:46:57 UTC KD2UWR-7:KD2UWR mobile, uv5r [#APRSThursday] 2023-01-26 20:51:33 UTC VA3MXN-9:73 @tiburon.hd toronto canada [#APRSThursday] 2023-01-26 21:07:59 UTC SA6KOD-7:Hello from Sweden! 73 de SA6KOD [#APRSThursday] 2023-01-26 21:11:27 UTC SM6XTV:Hello,new on APRS Thursday.73 de SM6XTV Henrik. [#APRSThursday] 2023-01-26 21:12:06 UTC WH6EAO-9:aloha 73 [#APRSThursday] 2023-01-26 21:13:27 UTC KO4UXZ:#happyaprsthursday 73 KO4UXZ [#APRSThursday] 2023-01-26 21:20:32 UTC VA7BWX-9:Happy Thursday to the APRS weekly net participants [#APRSThursday] 2023-01-26 21:20:49 UTC TB3HBA-5:Turkiye 73 [#APRSThursday] 2023-01-26 21:26:24 UTC KC0NAH-9:Looking forward to Winter Field Day this weekend [#APRSThursday] 2023-01-26 21:27:22 UTC KJ4ERJ:https://www.winterfieldday.com/ [#APRSThursday] 2023-01-26 21:34:45 UTC NP4JN-7:np4jn 73 rf via kp4dog packet network puerto rico. [#APRSThursday] 2023-01-26 21:40:25 UTC K9EZ-7:de K9EZ at the beaches of North Carolina [#APRSThursday] 2023-01-26 21:48:01 UTC KO4AWH-7:hi all [#APRSThursday] 2023-01-26 21:50:28 UTC K3ROC-2:K3ROC still making it in for #APRSThursday. Carry on. [#APRSThursday] 2023-01-26 22:00:14 UTC K4FML-7:de K4FML FM16 [#APRSThursday] 2023-01-26 22:05:28 UTC KC2OBI-14:rf Mobile [#APRSThursday] 2023-01-26 22:06:02 UTC VA7EKA-8:73 from CN89 [#APRSThursday] 2023-01-26 22:07:55 UTC PP1AR-9:Hello from Brazil.GG99uo 73 de PP1AR [#APRSThursday] 2023-01-26 22:11:14 UTC KO4QYZ-7:checking in [#APRSThursday] 2023-01-26 22:11:26 UTC KD8OFT-5:Happy #APRSThursday and 73s from central Ohio [#APRSThursday] 2023-01-26 22:19:26 UTC K7XYG-9:UTC time is 22:16 & so far #aprsthursday hasnt killed stuff [#APRSThursday] 2023-01-26 22:21:07 UTC KB3MXY-9:happy aprs thursday all you wonderful people [#APRSThursday] 2023-01-26 22:22:45 UTC N7UWX:Happy Thursday from Utah DN41cr. [#APRSThursday] 2023-01-26 22:31:03 UTC KN6UZL-7:happy aprsthursday from santa cruz california [#APRSThursday] 2023-01-26 22:35:17 UTC WS4P:Howdy folks! [#APRSThursday] 2023-01-26 22:36:58 UTC R3PIJ-9:happy #aprsthursday 73! r3pij [#APRSThursday] 2023-01-26 22:43:07 UTC AB4WS-2:#aprsthursday [#APRSThursday] 2023-01-26 22:47:12 UTC KB9TYC-2:Hello from Northern Wisconsin! 73 KB9TYC [#APRSThursday] 2023-01-26 22:47:26 UTC KF0CTR-10:#APRSthursday stlwx extremely cold [#APRSThursday] 2023-01-26 22:50:56 UTC KK6BEB-9:https://ham.live 73s [#APRSThursday] 2023-01-26 22:56:45 UTC KC2CBD:#APRSTHURSDAY Hello Everyone [#APRSThursday] 2023-01-26 22:59:00 UTC KM6MCH:de KM6MCH DM04wa on #APRSTHURSDAY via TH-D72A [#APRSThursday] 2023-01-26 22:59:23 UTC N9KO-1:Hello from NE Illinois [#APRSThursday] 2023-01-26 23:00:26 UTC KD2ZIX-9:checking in via ftm300 in jersey! [#APRSThursday] 2023-01-26 23:04:16 UTC KE7VIN-7:#APRSTHURSDAY de KE7VIN [#APRSThursday] 2023-01-26 23:13:32 UTC N5TEV-1:Greetings from central FL [#APRSThursday] 2023-01-26 23:36:04 UTC KC1RQN-5:#aprsthursday check-in. Happy to help test the network. [#APRSThursday] 2023-01-26 23:37:36 UTC KQ4CUX:happ APRS Thurs [#APRSThursday] 2023-01-26 23:57:06 UTC 9W2JDY-5:#aprsthursday late check 73 [#APRSThursday] 2023-01-27 00:06:56 UTC K5LGF-9:happy #APRSTHURSDAY 73 K5LGF [#APRSThursday] 2023-01-27 00:07:44 UTC AE4WX-10:Happy #APRSThursday 73 de AE4WX [#APRSThursday] 2023-01-27 00:10:54 UTC AE4WX-10:Please join me in congratulating KQ4FTC! [#APRSThursday] 2023-01-27 00:13:35 UTC W6TST-1:#APRSTHURSDAY 73 W6TST [#APRSThursday] 2023-01-27 00:14:58 UTC KC8OWL-7:congradulations kq4ftc! [#APRSThursday] 2023-01-27 00:23:49 UTC KC5BIL-12:hi from KC5BIL [#APRSThursday] 2023-01-27 00:37:58 UTC VE1PS-9:FRM CYHZ [#APRSThursday] 2023-01-27 01:18:47 UTC KC1RPA-7:happy aprs thursday!! [#APRSThursday] 2023-01-27 01:20:50 UTC K1SU-9:happy #APRSTHURSDAY 73 k1su [#APRSThursday] 2023-01-27 01:58:22 UTC AE6LJ:Time for me to pack-et up and go now. CU all next wk. 73 [#APRSThursday] 2023-01-27 02:15:00 UTC KO4CWF-7:happy #APRSThursday 73 from Columbia, SC [#APRSThursday] 2023-01-27 02:24:29 UTC DX1CC-1:good morning from General Trias City, Cavite PH 73 [#APRSThursday] 2023-01-27 03:01:12 UTC KB8IFX-9:HAPPY #APRS thursday 73 KB8IFX [#APRSThursday] 2023-01-27 04:00:55 UTC NX1Q-5:Happy APRS Thursday 73 de nx1q [#APRSThursday] 2023-01-27 04:19:44 UTC K0STK-5:Good evening from EN16 [#APRSThursday] 2023-01-27 04:20:13 UTC KN6OVN-7:Hi from la C A [#APRSThursday] 2023-01-27 04:21:53 UTC K0STK-5:#APRSTHURSDAY be more than a tracker! [#APRSThursday] 2023-01-27 04:33:44 UTC N1DJS-7:jeff here [#APRSThursday] 2023-01-27 04:44:13 UTC KN6OVN-7:Hi from la C A #aprsthusday [#APRSThursday] 2023-01-27 08:50:43 UTC F4FXL:Hi All [#APRSThursday] 2023-01-27 14:33:48 UTC KC8OWL-7:259 checkins for the net yesterday. [#APRSThursday] 2023-01-27 15:38:27 UTC DU2XXR-7:Cngrts #APRSThursday. Great work with finding bugs&issues [#APRSThursday] 2023-01-27 17:33:42 UTC K7XYG-9:happy friday APRSGang 73 de K7XYG IG @ k7xyg_official [#APRSThursday] 2023-01-28 01:55:18 UTC K7XYG-9:mobbing to Tucson en route swerving I-10 s/b 73 [#APRSThursday] 2023-02-01 20:40:26 UTC AC5JM-1:GREETING FROM NORTHEAST OKLAHOMA [#APRSThursday] 2023-02-01 20:41:21 UTC AC5JM-1:GREETINGS FROM NE OKLAHOMA [#APRSThursday] 2023-02-01 22:13:21 UTC K7XYG-9:DUI Net 14 this Sat!Feb 4 @ 2000 UTC YSF #73583/DMR 23444 [#APRSThursday] 2023-02-01 22:13:25 UTC K7XYG-9:DUI Net 14 this Sat!Feb 4 @ 2000 $GPRMC,221324.00,A,3337.59+ [#APRSThursday] 2023-02-01 22:13:26 UTC K7XYG-9:846,N,11226.02901,W,0.191,,010223,,,A*63 [#APRSThursday] 2023-02-01 22:13:31 UTC K7XYG-9:DUI Net 14 this Sat!Feb 4 @ 2000 $GPRMC,221324.00,A,3337.59+ [#APRSThursday] 2023-02-01 22:13:32 UTC K7XYG-9:846,N,11226.02901,W,0.191,,010223,,,A*63 [#APRSThursday] 2023-02-01 23:17:56 UTC DV8ML-5:happy # APRSTHURSDAY 73 dv8ml [#APRSThursday] 2023-02-01 23:41:51 UTC KN6UZL-7:happy aprsthursday from santa cruz california [#APRSThursday] 2023-02-01 23:54:48 UTC DV8ML-5:happy #APRSTHURSDAY 73 dv8ml [#APRSThursday] 2023-02-01 23:58:44 UTC K7XYG-7:73 all Digital mode net 4-Feb-2023 2000 UTC Ysf ref 73583 [#APRSThursday] 2023-02-02 00:00:27 UTC TG5ALY-14:Check-in from Guatemala [#APRSThursday] 2023-02-02 00:02:02 UTC IU3RCC-7:happy #APRSTHURSDAY 73 IU3RCC [#APRSThursday] 2023-02-02 00:05:20 UTC KJ5IK-9:Greetings from KJ5IK Bob currently in Canyon Lake, TX. [#APRSThursday] 2023-02-02 00:08:38 UTC K4CIH-7:HAPPY #APRSTHURSDAY! 73 K4CIH [#APRSThursday] 2023-02-02 00:15:39 UTC KN6NAF-9:#aprsthusday 73 from apple valley ca [#APRSThursday] 2023-02-02 00:16:02 UTC KC8OWL-7:what day is it? #aprsthursday all day. 73 kc8owl yeasu ft5d [#APRSThursday] 2023-02-02 00:20:58 UTC 9W2XDD-1:hello happy APRSTHUDAY de 9W2XDD OJ03QD via RF 73 [#APRSThursday] 2023-02-02 00:26:40 UTC 9W2FYM-5:check in for #aprsthursday net de 9W2FYM from West Malaysia [#APRSThursday] 2023-02-02 00:32:58 UTC W2WAT-7:W2WAT NJ APRS Sea level ham [#APRSThursday] 2023-02-02 00:37:09 UTC W2WAT-7:W2WAT NJ APRS Sea level ham 73 [#APRSThursday] 2023-02-02 00:40:16 UTC N1NHT:greetings from conway sc [#APRSThursday] 2023-02-02 00:50:39 UTC VA2OM-10:73 from VA2OM/W5, RGV Texas [#APRSThursday] 2023-02-02 00:56:36 UTC 9M2FDX-5:From West Malaysia DE 9M2FDX 73 [#APRSThursday] 2023-02-02 01:03:25 UTC DV8CER-9:happy #APRSTHURSDAY Dipolog, PHILIPPINES [#APRSThursday] 2023-02-02 01:04:53 UTC KN4BQX-1:weekly APRS test 73, KN4BQX [#APRSThursday] 2023-02-02 01:31:07 UTC KC3QIU-7:Happy Thursday de KC3QIU [#APRSThursday] 2023-02-02 01:41:59 UTC K7XYG-7:find me on IG @ k7xyg_official #APRSGANG #APRSThursday [#APRSThursday] 2023-02-02 01:42:50 UTC PU1EPM-7:PU1EPM Paulo from Vitoria Br [#APRSThursday] 2023-02-02 01:43:35 UTC KR4Q:Happy #APRSTHURSDAY [#APRSThursday] 2023-02-02 01:48:22 UTC NC6J-1:happy aprs thursday [#APRSThursday] 2023-02-02 02:03:49 UTC KC3QEH:Happy #APRSThursday 73 around the net [#APRSThursday] 2023-02-02 02:05:53 UTC KR4Q-5:Happy #APRSTHURSDAY [#APRSThursday] 2023-02-02 02:07:10 UTC KB5LNC-8:#APRSThursday. Fredericksburg VA [#APRSThursday] 2023-02-02 02:28:45 UTC 9W2FAS-5:happy day today Thursday de 9w2fas west malaysia. [#APRSThursday] 2023-02-02 02:29:13 UTC DU6DKL-1:Hello all happy thursday everyone from Negros [#APRSThursday] 2023-02-02 02:40:17 UTC K7XYG-9:#APRSThursday is sponsored this week by Tapatio Hot Sauce [#APRSThursday] 2023-02-02 02:52:42 UTC W3TXG-7:Greetings from Pittsburgh, PA USA for APRSThursday [#APRSThursday] 2023-02-02 02:54:54 UTC AB1PH-7:AB1PH Don Walpole MA via APRS-IS [#APRSThursday] 2023-02-02 03:05:03 UTC N3VT-5:de Blacksburg Va EM97se 73 Tom N3VT [#APRSThursday] 2023-02-02 03:14:05 UTC KC0NAH-9:did anyone use aprs to help with winter field day? how? [#APRSThursday] 2023-02-02 03:15:08 UTC GRYLCP-12:AB1PH Don Walpole MA via RF only [#APRSThursday] 2023-02-02 03:20:07 UTC KC8OWL-7:i made an aprs winter fd contact [#APRSThursday] 2023-02-02 03:49:45 UTC DW9JRA-7:Happy #APRSTHURSDAY. De DW9JRA from Davao Philippines [#APRSThursday] 2023-02-02 03:50:17 UTC M0NPQ-9:HAPPY TURSDAY! [#APRSThursday] 2023-02-02 04:14:38 UTC K5BDL-7:#aprsthursday [#APRSThursday] 2023-02-02 04:24:05 UTC HK6RM-10:HAVE A NICE DAY #APRSTHURSDAY, 73 [#APRSThursday] 2023-02-02 04:25:57 UTC HK6ER-10:have a hice day #aprsthursday, 73 [#APRSThursday] 2023-02-02 04:27:33 UTC HK4LRM-10:Have a nice day, #aprsthursday, 73 [#APRSThursday] 2023-02-02 04:39:02 UTC KD7KLA:Hello fm Rainier. 73 [#APRSThursday] 2023-02-02 04:55:03 UTC N2RAC-10:happy [#APRSThursday] 2023-02-02 04:55:35 UTC N2RAC-10:73 to all. Using aprsdroid as backup to RF. [#APRSThursday] 2023-02-02 04:56:10 UTC N2RAC-10:will unsubs now but still monitoring APRSPH for the logs. [#APRSThursday] 2023-02-02 04:59:45 UTC N7AWM-7:Hello from Washington State N7AWM [#APRSThursday] 2023-02-02 05:16:58 UTC K7XYG-7:APRSThursday slingin packets for all the hoodrats 73 K7XYG [#APRSThursday] 2023-02-02 05:32:33 UTC 9W2XRI-5:Happy AprsThursday from Selangor Malaysia [#APRSThursday] 2023-02-02 05:39:42 UTC KK7AZD-5:#APRSTHURSDAY Happy Groundhogs Day de south central Oregon [#APRSThursday] 2023-02-02 05:44:46 UTC 9W8AKN-10:DE 9W8AKN [#APRSThursday] 2023-02-02 05:47:44 UTC F4FXL:Hi everyone! [#APRSThursday] 2023-02-02 05:47:57 UTC F4FXL:hi everyone! [#APRSThursday] 2023-02-02 05:49:14 UTC R2BBS-9:anton moscow Opel Zafira C [#APRSThursday] 2023-02-02 05:57:33 UTC SM6JVU:Greetings from sweden westcoast 73 de sm6jvu Anders via rf [#APRSThursday] 2023-02-02 06:02:35 UTC 9W2JCP-5:good morning #happy aprs Thursday from 9w2jcp [#APRSThursday] 2023-02-02 06:11:50 UTC KB8IFX-9:HAPPY #APRS thursday 73 KB8IFX [#APRSThursday] 2023-02-02 06:38:59 UTC SM4URM-2:happy aprsthursday from sweden [#APRSThursday] 2023-02-02 06:46:28 UTC 9H5TB-2:73 to all from Malta [#APRSThursday] 2023-02-02 06:47:51 UTC TA3AZV-7:Greetings from Turkey 73! [#APRSThursday] 2023-02-02 06:53:24 UTC SM6WKB-7:Greetings from Alingsas Sweden 73 de SM6WKB Peter [#APRSThursday] 2023-02-02 06:55:45 UTC DY8CMM-5:hello fellow hams happy aprs day 73 [#APRSThursday] 2023-02-02 07:16:17 UTC ZL2ATH-7:Happy #APRSTHURSDAY [#APRSThursday] 2023-02-02 07:17:06 UTC 9W8ZAL-9:Hi, 9W8ZAL from Malaysia, Happy Thursday #aprsthursday [#APRSThursday] 2023-02-02 07:25:50 UTC AB7RT-7:#APRSTHURSDAY RF in Hawaii de AB7RT [#APRSThursday] 2023-02-02 07:35:15 UTC CT7AQH-1:Happy APRSTHURSDAY.Miguel checking in.73 [#APRSThursday] 2023-02-02 07:36:47 UTC KI5FQQ-9:Konniwa [#APRSThursday] 2023-02-02 07:44:23 UTC F5TUN-1:Geo [#APRSThursday] 2023-02-02 07:45:12 UTC DV8VMI-5:#happyAPRSthursday everyone. 73 [#APRSThursday] 2023-02-02 07:48:50 UTC 4F9INC-5:HAPPY #APRSTHURDAY.MABUHAY FROM PHILIPPINES.73 [#APRSThursday] 2023-02-02 08:01:00 UTC N7WDZ-2:Coming in hot from Las Vegas! #aprsthursday [#APRSThursday] 2023-02-02 08:02:32 UTC TA3AUW-5:Türkiye 73 [#APRSThursday] 2023-02-02 08:10:11 UTC GW0TQM-7:73 IO83 de Carl #aprsthursday correct address this time! [#APRSThursday] 2023-02-02 08:11:22 UTC DF6PA-6:Hello from Mainz, Germany 73 Stephan [#APRSThursday] 2023-02-02 08:15:31 UTC SA6AUU:check in 73 de SA6AUU [#APRSThursday] 2023-02-02 08:32:15 UTC KC2OBI-14:rf Mobile [#APRSThursday] 2023-02-02 08:39:11 UTC TA3E-5:73 from Türkiye [#APRSThursday] 2023-02-02 08:42:10 UTC HB9EYZ-2:from cloudy JN37VL. 73 de Tom [#APRSThursday] 2023-02-02 08:42:45 UTC M0IJS-7:Greetings from Rugby ATS [#APRSThursday] 2023-02-02 08:46:28 UTC M0IKV-7:de Rugby ATS [#APRSThursday] 2023-02-02 08:49:32 UTC DV8AYE-5:#APRSTHURSDAY Checkin in from the Phils. my 73 de DV8AYE [#APRSThursday] 2023-02-02 08:58:45 UTC YO3FVR-10:#APRSthursday Check-in using APRSdroid, over IS. 73! [#APRSThursday] 2023-02-02 09:00:38 UTC G8DLX-7:from rugbyATs [#APRSThursday] 2023-02-02 09:06:06 UTC G8DLX-7:From RugbyATs [#APRSThursday] 2023-02-02 09:07:06 UTC G8DLX-7:from rugbyATs [#APRSThursday] 2023-02-02 09:07:09 UTC G8DLX-7:From RugbyATs [#APRSThursday] 2023-02-02 09:36:45 UTC SA6AUU:good day to all. 73 de SA6AUU [#APRSThursday] 2023-02-02 09:59:50 UTC KB3KAV-10:gm everyone 15° here have a great day 73 [#APRSThursday] 2023-02-02 10:16:24 UTC 4I8WOO-10:#happyAPRSthursday to all. 73 [#APRSThursday] 2023-02-02 10:30:00 UTC J69DS-9:Good day from Saint Lucia. Checking in [#APRSThursday] 2023-02-02 10:34:28 UTC KC1JFN-5:#APRSTHURSDAY Greetings from West Haven, CT 73 [#APRSThursday] 2023-02-02 10:41:18 UTC J69DS-9:Wx Sunny 25 CKeep itelcius, light breeze. safe [#APRSThursday] 2023-02-02 10:41:30 UTC YD0BCX-9:happy #aprsthursday from jakarta 73 [#APRSThursday] 2023-02-02 10:47:15 UTC 9W2EUM-5:happy APRSTHURDAY i am form west malaysia [#APRSThursday] 2023-02-02 10:49:46 UTC R3PIJ-7:hello from Russia, Venyov city! [#APRSThursday] 2023-02-02 11:12:30 UTC WC3T-5:fm WC3T happy Groundhog Day and #APRSthursday in FN20 [#APRSThursday] 2023-02-02 11:12:53 UTC KP3T-9:#aprsthursday KP3T [#APRSThursday] 2023-02-02 11:17:14 UTC KE2ACY-5:happy #aprsthursday from upstate NY! 73 [#APRSThursday] 2023-02-02 11:25:54 UTC W9RWB-1:W9RWB to #APRSThursday Hello from SatGate W9RWB-1 [#APRSThursday] 2023-02-02 11:40:19 UTC KW2DIA-7:73 fr Harlem NYC FN30 [#APRSThursday] 2023-02-02 11:43:23 UTC CT1ERY:hello #APRSTHURSDAY 73 from Portugal YAEST FTM400 via RF [#APRSThursday] 2023-02-02 11:50:01 UTC KD2PSC-9:happy #aprsthursday from wny KD2PSC [#APRSThursday] 2023-02-02 11:51:29 UTC KD0TLS-1:Half way to spring! [#APRSThursday] 2023-02-02 11:51:46 UTC KB8VUC-10:#aprsthursday Good Morning from EN72er 73 KB8VUC [#APRSThursday] 2023-02-02 12:16:26 UTC N7SIX-10:Mabuhay! Hello hams, Happy #APRSThursday 73 [#APRSThursday] 2023-02-02 12:34:26 UTC KR8U-5:#APRSThursday hello from SW MI [#APRSThursday] 2023-02-02 12:44:25 UTC HK5JHY-9:happy #APRSTHURSDAY 73 HK5JHY CAICEDONIA COLOMBIA [#APRSThursday] 2023-02-02 12:50:18 UTC M1AQX-7:1.913 20-00 UTC friday RATS UK [#APRSThursday] 2023-02-02 12:56:19 UTC N2EDX-7:Greetings from Daytona Beach, Fl sunny 67dF [#APRSThursday] 2023-02-02 12:56:45 UTC HJ5JAD-7:happy #APRSTHURSDAY 73 HJ5jAD Caicedonia Colombia [#APRSThursday] 2023-02-02 12:58:09 UTC 9W2GDB:Hello everyone. Happy #APRSthursday have a nice day [#APRSThursday] 2023-02-02 13:00:00 UTC VA6PLC-7:#aprsthursday greetings Lethbridge AB 73s VA6PLC [#APRSThursday] 2023-02-02 13:10:24 UTC KD9SPR-8:#aprsthursday [#APRSThursday] 2023-02-02 13:13:31 UTC KB3KBR-6:happy #aprsthursday! gonna be cold!! [#APRSThursday] 2023-02-02 13:20:03 UTC KC8OWL-7:good morning all. 73 kc8owl las vegas, nv usa [#APRSThursday] 2023-02-02 13:20:29 UTC KP4KYG-7:KP4KYG 73 Puerto Rico [#APRSThursday] 2023-02-02 13:24:39 UTC N5NDC-7:#APRSthursday 73 de N5NDC in East Texas [#APRSThursday] 2023-02-02 13:29:23 UTC AE4WX-5:Happy #APRSThursday! 73 de AE4WX [#APRSThursday] 2023-02-02 13:32:46 UTC VR2WQY-9:Happy APRS Thursday this is VR2WQY from Hong Kong Android [#APRSThursday] 2023-02-02 13:33:29 UTC AI3KS-5:good morning all from York pa [#APRSThursday] 2023-02-02 13:34:08 UTC OE3TWH-7:happy #aprsthursday! 73 de Wolfgang [#APRSThursday] 2023-02-02 13:34:18 UTC KB9LBP-9:Hello From KB9LBP-9 in Alabama [#APRSThursday] 2023-02-02 13:36:46 UTC KC5FM-9:Happy Tater Tot Day. www.sunflowernet.us 73 [#APRSThursday] 2023-02-02 13:37:33 UTC N8JLK-3:Happy #APRSthursday ! N8JLK [#APRSThursday] 2023-02-02 13:38:16 UTC N8JLK-3:Happy #APRSthursday via RF. N8JLK [#APRSThursday] 2023-02-02 13:44:41 UTC CS7AYO-5:Hello friends.Happy #APRSThursday.73 from Portugal [#APRSThursday] 2023-02-02 13:44:59 UTC SA6KOD-7:Hello from Sweden! 73 de SA6KOD [#APRSThursday] 2023-02-02 13:47:25 UTC W6TST-9:happy #APRSTHURSDAY 73 W6TST [#APRSThursday] 2023-02-02 13:49:31 UTC N8JLK-3:Another wonderful #APRSthursday ! RF de N8JLK [#APRSThursday] 2023-02-02 13:55:51 UTC KG7KHL-9:VIA RF [#APRSThursday] 2023-02-02 13:56:00 UTC GW0TQM-5:Afternoon from Betws ( op Carl ) [#APRSThursday] 2023-02-02 13:56:26 UTC KD9TKG-9:#APRSTHURSDAY Hello from Mattoon, IL [#APRSThursday] 2023-02-02 14:00:00 UTC CT7AQH-1:Cpying everyone perfectly.73 from Vila Franca de Xira. [#APRSThursday] 2023-02-02 14:01:08 UTC N2SAW-7:Happy thursday and hello net [#APRSThursday] 2023-02-02 14:01:53 UTC KO4CWF-7:happy #APRS thursday [#APRSThursday] 2023-02-02 14:08:45 UTC KO4ROU-7:greetings de SC [#APRSThursday] 2023-02-02 14:18:29 UTC YO8SDE-4:hello from Romania [#APRSThursday] 2023-02-02 14:19:28 UTC K9EZ-7:de K9EZ at the beaches of North Carolina [#APRSThursday] 2023-02-02 14:22:55 UTC WA4KWK:73 from sunny florida [#APRSThursday] 2023-02-02 14:23:00 UTC KM6TRZ-9:Checking in from DL518 at SNA 73 Don KM6TRZ [#APRSThursday] 2023-02-02 14:23:56 UTC KO4WIL:hello from East TN! Using APRS.fi on iPhone today. [#APRSThursday] 2023-02-02 14:29:34 UTC KG5EUX:73 FORM ICU CENTRAL NORTH TEXAS -DE KG5EUX [#APRSThursday] 2023-02-02 14:29:51 UTC KM6TWI-5:work sucks happy #aprsthursday 73 all [#APRSThursday] 2023-02-02 14:34:09 UTC KG5EUX:73 FROM FROZEN NORTH CENTRAL TEXAS [#APRSThursday] 2023-02-02 14:38:51 UTC AA4JM:via RF in Florida [#APRSThursday] 2023-02-02 14:40:40 UTC KG5EUX:73 FROM THE FROZEN EM12VH - DE KG5EUX [#APRSThursday] 2023-02-02 14:42:30 UTC NI6V-5:Happy APRS Thursday from APRS.fi mobile app San Diego [#APRSThursday] 2023-02-02 14:49:57 UTC WS4P:Howdy from SC USA! [#APRSThursday] 2023-02-02 14:55:10 UTC K3ROC-2:Hell hath frozen over here in the dirty south. [#APRSThursday] 2023-02-02 14:56:56 UTC WP3OF-9:#aprsthursday from Puerto Rico [#APRSThursday] 2023-02-02 14:57:31 UTC K4SBC:Happy #APRSThursday from NC, US 73's de k4sbc [#APRSThursday] 2023-02-02 15:02:28 UTC K7TEJ-7:CQ de K7TEJ from DM33 pse k [#APRSThursday] 2023-02-02 15:04:02 UTC N4EJM:RF(HF-20M) FROM JS8CALL SE NC [#APRSThursday] 2023-02-02 15:07:09 UTC KK7IQG-1:Happy Aprsthursday 73s! [#APRSThursday] 2023-02-02 15:10:37 UTC KC8OWL:CHK IN VIA 40M JS8CALL [#APRSThursday] 2023-02-02 15:10:46 UTC N9NDF-3:happy #aprsthursday via RF [#APRSThursday] 2023-02-02 15:10:50 UTC N5DGC:#aprsthursday N5DGC [#APRSThursday] 2023-02-02 15:11:01 UTC K7GCB:73 k7gcb [#APRSThursday] 2023-02-02 15:15:47 UTC KD9UYS-10:Happy APRSThursday!! [#APRSThursday] 2023-02-02 15:19:40 UTC OE3SZA-9:vy73 de OE3SZA Austria [#APRSThursday] 2023-02-02 15:26:54 UTC VA7SHG-9:Happy Aprs Thursday from CN99, Chilliwack CAN [#APRSThursday] 2023-02-02 15:37:11 UTC KD9BBB:APRS Thursday checkin from Chicago de Ben KD9BBB [#APRSThursday] 2023-02-02 15:37:16 UTC KE4LPD-7:Howdy from Tx 73 de ke4lpd [#APRSThursday] 2023-02-02 15:41:32 UTC DF6PA-6:Have a nice #APRSTHURSDAY. Going qrt for now. 73 Stephan [#APRSThursday] 2023-02-02 15:46:12 UTC KD9MER-1:DE KD9MER 73 [#APRSThursday] 2023-02-02 15:49:41 UTC KD4ADC-1:Hello #APRSthursday from KD4ADC EM74. [#APRSThursday] 2023-02-02 15:52:02 UTC AB1PH-7:AB1PH Don Walpole, MA via APRS-IS only [#APRSThursday] 2023-02-02 15:55:37 UTC KC8OWL-7:what day is it? #aprsthursday all day. 73 kc8owl yeasu ft5d [#APRSThursday] 2023-02-02 15:58:17 UTC W4IIA:#APRSThursday FM17, 73 de W4IIA [#APRSThursday] 2023-02-02 15:59:09 UTC N4EJM-5:follow on Twitter & IG N4EJM also on Mastodon [#APRSThursday] 2023-02-02 16:01:45 UTC KD5NJR-7:howdy de scott in em26 via rf [#APRSThursday] 2023-02-02 16:02:35 UTC PP1AR-9:Hello from Brazil.GG99uo 73 de PP1AR [#APRSThursday] 2023-02-02 16:03:58 UTC KP4CA-9:Happy #APRSTHURSDAY you all!!! [#APRSThursday] 2023-02-02 16:10:11 UTC WA4MT-9:greetings from Waco Ga. 73s WA4MT-9 [#APRSThursday] 2023-02-02 16:16:29 UTC NP4JN-7:np4jn 73 rf via kp4dog packet network puerto rico. [#APRSThursday] 2023-02-02 16:22:53 UTC VE7DCF-7:Happy APRS Thursday [#APRSThursday] 2023-02-02 16:24:13 UTC AE6LJ:Lamar in No.West California. Ready, set... [#APRSThursday] 2023-02-02 16:25:11 UTC KC3VBC-7:#aprsthursday from FN20jq (PA) 73 [#APRSThursday] 2023-02-02 16:26:05 UTC KP3T-9:#aprsthursday RF KP3T [#APRSThursday] 2023-02-02 16:27:38 UTC VE7DCF-10:Happy APRS Thursday [#APRSThursday] 2023-02-02 16:27:50 UTC KM4FZA-1:happy #APRSTHURSDAY 73 KM4FZA [#APRSThursday] 2023-02-02 16:29:51 UTC NA5X-9:#aprsthursday thawing out [#APRSThursday] 2023-02-02 16:31:48 UTC WH6OMG-7:HAPPY THURSDAY [#APRSThursday] 2023-02-02 16:41:46 UTC KF5JRV-15:Hello [#APRSThursday] 2023-02-02 16:41:47 UTC AE4TC-9:Scott AE4TC mobile in Richmond VA [#APRSThursday] 2023-02-02 16:48:25 UTC KG5EUX:U [#APRSThursday] 2023-02-02 17:00:59 UTC KE4BML-7:happy #APRSTHURSDAY 73 de ke4bml [#APRSThursday] 2023-02-02 17:16:50 UTC KN6SRN:HAPPY NEW YEAR! [#APRSThursday] 2023-02-02 17:20:42 UTC HK6L-5:happy #APRSTHURSDAY 73 HK6L [#APRSThursday] 2023-02-02 17:24:50 UTC TA3MTO-7:#APRSTHURSDAY73 [#APRSThursday] 2023-02-02 17:31:04 UTC LZ2ISI-10:#aprsthursday [#APRSThursday] 2023-02-02 17:31:15 UTC K7XYG-9:digital mode net Sat Feb 4 2000 utc YSF ref 73583 dmr 23444 [#APRSThursday] 2023-02-02 17:41:32 UTC KB9LBP-9:Hello from KB9LBP-9 RF in Alabama [#APRSThursday] 2023-02-02 17:44:10 UTC KB1SNB-1:happy aprs thursday 73 [#APRSThursday] 2023-02-02 17:45:41 UTC KJ6PYV:HAPPY GROUNDHOG DAY [#APRSThursday] 2023-02-02 17:54:22 UTC AA4JM:florida via rf message testing [#APRSThursday] 2023-02-02 18:01:01 UTC KO4DBP-5:Happy #APRSThursday from Western NC, US [#APRSThursday] 2023-02-02 18:03:40 UTC VA6GAC-9:First time user from Calgary Alberta Canada [#APRSThursday] 2023-02-02 18:05:16 UTC VA6GAC-9:#aprsthursday Happy Day! [#APRSThursday] 2023-02-02 18:09:27 UTC GI7ULG-10:happyaprstyhursday de sean gi7ulg belfast [#APRSThursday] 2023-02-02 18:09:56 UTC K5AMJ:Happy APRS Thursday stay RAD! 73K5AMJ [#APRSThursday] 2023-02-02 18:15:05 UTC KA2DDO:greetings from eastern PA - Andrew [#APRSThursday] 2023-02-02 18:24:02 UTC K3JRZ:Happy #APRSThursday de K3JRZ in DELAWARE! 73! [#APRSThursday] 2023-02-02 18:24:03 UTC K0CSN-1:Happy #APRSTHURSDAY 73 [#APRSThursday] 2023-02-02 18:24:08 UTC N3JF-9:#aprsthursday Hello all! [#APRSThursday] 2023-02-02 18:24:18 UTC VA7TEV:happy thursday from Vancouver [#APRSThursday] 2023-02-02 18:28:22 UTC K4FML-7:de K4FML FM16 [#APRSThursday] 2023-02-02 18:28:37 UTC VE3TSV-9:happy Thursday from ve3tsv in Canada [#APRSThursday] 2023-02-02 18:45:32 UTC KJ7NUX:#APRSthursday Hello from Salem OR. I miss Frank Z! [#APRSThursday] 2023-02-02 18:47:33 UTC KM6MCH:de KM6MCH DM04wa #aprsthursday [#APRSThursday] 2023-02-02 18:48:49 UTC F8ARO-10:Just coming [#APRSThursday] 2023-02-02 18:51:53 UTC KI4HDU:thanks KT7RUN and KM4ACK [#APRSThursday] 2023-02-02 18:58:10 UTC WA4VGZ-9:#APRSTHURSDAY Grid EM66 73 from TN [#APRSThursday] 2023-02-02 19:02:33 UTC KI5HBA-7:happy #aprsthursday y'all! [#APRSThursday] 2023-02-02 19:18:27 UTC KE4RCO-1:fm NC [#APRSThursday] 2023-02-02 19:21:40 UTC KJ7NWK-7:#aprsthursday 73 KJ7NWK [#APRSThursday] 2023-02-02 19:22:02 UTC AE6LJ:Maybe I'll get the hang of this one day. [#APRSThursday] 2023-02-02 19:30:13 UTC KN6PRD-4:checking in iOS, happy #APRSTHURSDAY 73 DE KN6PRD [#APRSThursday] 2023-02-02 19:30:52 UTC VE1NPS-5:73 FROM FN84DP. [#APRSThursday] 2023-02-02 19:33:20 UTC WA4VGZ-7:#APRSTHURSDAY 73 from TN [#APRSThursday] 2023-02-02 19:35:04 UTC WC2F-7:Happy #APRSTHURSDAY 73 WC2F [#APRSThursday] 2023-02-02 19:39:54 UTC KO4UXZ:happy #aprsthursday 73 KO4UXZ [#APRSThursday] 2023-02-02 19:40:40 UTC W0WLA-9:Happy #APRSthursday via rf from Colorado [#APRSThursday] 2023-02-02 19:40:43 UTC W0WLA-9:trouble checking in again 73 from Colorado [#APRSThursday] 2023-02-02 19:41:43 UTC W0WLA-9:Happy #APRSthursday via rf from Colorado [#APRSThursday] 2023-02-02 19:41:47 UTC W0WLA-9:trouble checking in again 73 from Colorado [#APRSThursday] 2023-02-02 19:42:47 UTC W0WLA-9:Happy #APRSthursday via rf from Colorado [#APRSThursday] 2023-02-02 19:42:49 UTC W0WLA-9:trouble checking in again 73 from Colorado [#APRSThursday] 2023-02-02 19:43:22 UTC HK6T-7:happy #APRSTHURSDAY Kissimmee FL 73 HK6T/W4 [#APRSThursday] 2023-02-02 19:43:50 UTC W0WLA-9:Happy #APRSthursday via rf from Colorado [#APRSThursday] 2023-02-02 19:43:55 UTC W0WLA-9:trouble checking in again 73 from Colorado [#APRSThursday] 2023-02-02 19:44:55 UTC W0WLA-9:Happy #APRSthursday via rf from Colorado [#APRSThursday] 2023-02-02 19:52:15 UTC WC2F-7:#APRS THURSDAY 73 WC2F [#APRSThursday] 2023-02-02 19:55:31 UTC KN6LDC:happy #APRSTHURSDAY 73 KN6LDC [#APRSThursday] 2023-02-02 19:59:34 UTC AF6FB-7:hi socal [#APRSThursday] 2023-02-02 20:01:41 UTC WC2F-7:happy #APRSTHURSDAY 73 wc2f [#APRSThursday] 2023-02-02 20:04:30 UTC WD0LFN-9:- aprs and python: tinyurl.com/39jj3hex [#APRSThursday] 2023-02-02 20:05:16 UTC KJ4ERJ:Hoping it's a quieter Thursday [#APRSThursday] 2023-02-02 20:05:46 UTC M1NER-7:Happy APRS Thursday everybody! 73 M1NER [#APRSThursday] 2023-02-02 20:07:44 UTC SM6UNC-1:Happy APRSTHURSDAY via RF TMD710 [#APRSThursday] 2023-02-02 20:11:24 UTC W0CBP-7:hello from south dakota! [#APRSThursday] 2023-02-02 20:14:00 UTC K5LGF-9:happy #APRSTHURSDAY 73 K5LGF [#APRSThursday] 2023-02-02 20:15:24 UTC N4OGL-7:#APRSTHURSDAY - Yippee! [#APRSThursday] 2023-02-02 20:27:16 UTC ON7TA-2:Greetings from Belgium 73 ON7TA [#APRSThursday] 2023-02-02 20:28:24 UTC KF5GGX:#APRSTHURSDAY 73 KF5GGX 2/02/23 [#APRSThursday] 2023-02-02 20:30:10 UTC KB7SVP:Glory to Christ the King! [#APRSThursday] 2023-02-02 20:38:03 UTC NN4H-5:happy #APRSTHURSDAY de NN4H EM76 Kentucky [#APRSThursday] 2023-02-02 21:02:50 UTC K4CDN-15:Happy Thursday Y'all 73 K4CDN [#APRSThursday] 2023-02-02 21:05:39 UTC KD0NRC-9:73 de @4x0nn from Lenexa KS [#APRSThursday] 2023-02-02 21:14:59 UTC KQ4CUX:APRS-Thursday Check-In!! [#APRSThursday] 2023-02-02 21:15:36 UTC K7XYG-9:K7XYG here sorry for any REJ my inbox was full crazy day 73 [#APRSThursday] 2023-02-02 21:17:10 UTC SM6XTV:Hello,new on APRS Thursday.73 de SM6XTV Henrik. [#APRSThursday] 2023-02-02 21:21:03 UTC F4EGX-7:73 all [#APRSThursday] 2023-02-02 21:22:33 UTC KC8OWL-7:blasting packets round the globe. 73 kc8owl [#APRSThursday] 2023-02-02 21:22:58 UTC J69DS-4:Sunny 25 celcius In the Caribbean [#APRSThursday] 2023-02-02 21:23:48 UTC KG5DWM-7:Happy Thursday from Conroe TX! kg5dwm [#APRSThursday] 2023-02-02 21:26:09 UTC OH7LZB-4:Greetings from Finland, aprs.fi department! 🌍 [#APRSThursday] 2023-02-02 21:29:19 UTC KP4JPB:#aprsthursday 73 de KP4JPB [#APRSThursday] 2023-02-02 21:33:10 UTC KM7CRD-5:Greetings from North Central WA, via droid [#APRSThursday] 2023-02-02 21:38:13 UTC KB9TYC-9:Hello fqom northern Wisconsin! 73 KB9TYC [#APRSThursday] 2023-02-02 21:40:47 UTC KC8OWL-7:go to youtuae & srch WMUR-TV. ham radio rescue story [#APRSThursday] 2023-02-02 21:41:04 UTC 9M2HDX-9:Happy Thursday to all. From MYS de 9M2HDX Ross [#APRSThursday] 2023-02-02 21:42:57 UTC AK9RT-9:Happy Thursday from NW Indiana 73 AK9RT [#APRSThursday] 2023-02-02 21:49:29 UTC N5TEV-1:Greetings from central FL [#APRSThursday] 2023-02-02 21:53:04 UTC VE1PS-9:GD FRM CYHZ [#APRSThursday] 2023-02-02 21:54:58 UTC KD2UTC:hello from Matawan NJ [#APRSThursday] 2023-02-02 22:04:38 UTC AC9TR-2:APRSTHURSDAY de AC9TR [#APRSThursday] 2023-02-02 22:08:45 UTC KH6OWL-9:aloha aprs thursday [#APRSThursday] 2023-02-02 22:12:53 UTC K9JDM:hello all first timer [#APRSThursday] 2023-02-02 22:14:29 UTC AK9RT-10:Happy Thursday from NW Indiana 73 AK9RT [#APRSThursday] 2023-02-02 22:19:17 UTC KO4QYZ-7:checking in [#APRSThursday] 2023-02-02 22:20:30 UTC N1PQE-9:happy #aprsthursday from socal 73s N1PQE [#APRSThursday] 2023-02-02 22:24:38 UTC K8JTT-7:Hello from Brownstown,MI_73 de K8JTT #APRSTHURSDAY [#APRSThursday] 2023-02-02 22:25:08 UTC W4RJG-10:#aprsthursday [#APRSThursday] 2023-02-02 22:34:58 UTC K4JBH-9:hello from va 73 K4JBH [#APRSThursday] 2023-02-02 22:38:40 UTC DL7EDU-7:Greetings from Berlin :) [#APRSThursday] 2023-02-02 22:42:15 UTC KL5HZ-10:73 from Anchorage AK [#APRSThursday] 2023-02-02 22:45:44 UTC XE2XEH-5:Hello from DL95vs! [#APRSThursday] 2023-02-02 22:47:24 UTC VE1RMJ-15:Rob, FN85br, Oxford NS CAN. APRSdroid 73! VE1RMJ [#APRSThursday] 2023-02-02 22:50:03 UTC WH6EAO-7:aloha fr da hwn islands 73 [#APRSThursday] 2023-02-02 22:56:54 UTC KF0KFL-1:Happy #APRSThursday ! -73 KF0KFL [#APRSThursday] 2023-02-02 22:58:39 UTC KN4PIJ-5:Happy APRS Thursday from sunny Orlando, FL. 73 KN4PIJ [#APRSThursday] 2023-02-02 23:05:14 UTC N7DIB-7:Hello, im new at APRS. 73 [#APRSThursday] 2023-02-02 23:18:58 UTC AI5HC-8:htx on ft3 [#APRSThursday] 2023-02-02 23:22:55 UTC SM0PQB-7:#APRSTHURSDAY 73 Jacek [#APRSThursday] 2023-02-02 23:25:58 UTC AD0MO-8:#aprsthursday 73 ad0mo [#APRSThursday] 2023-02-02 23:26:58 UTC KD8OFT-5:Happy #aprsthursday [#APRSThursday] 2023-02-02 23:30:26 UTC KC1PFA-9:Happy Thursday, via RF [#APRSThursday] 2023-02-02 23:35:36 UTC J73GPG-5:happy aprs day from the tropical island, Dominica. [#APRSThursday] 2023-02-02 23:37:50 UTC DV5CEL-9:HAPPY #APRSTHURSDAY!QTH EAST ARGENTINE SEABOARD.MM. 73 [#APRSThursday] 2023-02-02 23:40:09 UTC AI5HC:ftm400 [#APRSThursday] 2023-02-02 23:52:45 UTC KF5THB-7:Henrietta Texas, howdy all! [#APRSThursday] 2023-02-02 23:56:47 UTC KD2UWR:GREETINGS FROM KD2UWR NY VIA 40M JS8 5WATT [#APRSThursday] 2023-02-02 23:57:03 UTC KI5MFF-9:#aprsthursday Belen NM USA WiresX? [#APRSThursday] 2023-02-02 23:59:01 UTC K4TXN-4:APRSThursday checkin K4TXN [#APRSThursday] 2023-02-03 00:01:54 UTC KB7UVC:Greetings from Belfair WA [#APRSThursday] 2023-02-03 00:15:30 UTC K7XYG-9:#aprsthursday---just got posted up by---HAM RADIO OUTLET [#APRSThursday] 2023-02-03 00:18:03 UTC KI7KUI-7:Happy #aprsthursday 73 from WA [#APRSThursday] 2023-02-03 00:19:27 UTC KM4AZW-9:Greetings from VA! 73 [#APRSThursday] 2023-02-03 00:21:55 UTC K1JBD-1:happy #APRSTHURSDAY 73 k1jbd [#APRSThursday] 2023-02-03 00:27:35 UTC W7SWA-5:#aprsthursday Hello from APRSDroid today. [#APRSThursday] 2023-02-03 00:34:44 UTC KC8OWL-7:go checkout HRO on twitter to see a post on #aprsthursday [#APRSThursday] 2023-02-03 00:43:18 UTC KI4ASK-15:- Joe in Atlanta [#APRSThursday] 2023-02-03 00:44:50 UTC J73ESL-7:happy day [#APRSThursday] 2023-02-03 00:59:44 UTC KD2OIE-2:hi from kentucky [#APRSThursday] 2023-02-03 01:21:26 UTC W6DVI-7:Los Angeles W6DVI 73 [#APRSThursday] 2023-02-03 01:28:35 UTC N7ZJL-7:Hello from Oregon [#APRSThursday] 2023-02-03 01:35:16 UTC KC9AWW-9:this time chk in!! :o) [#APRSThursday] 2023-02-03 02:01:15 UTC N7ZJL:hello from OR [#APRSThursday] 2023-02-03 02:14:56 UTC KM6QPV-9:hello everyone, checking in from Rancho Cucamonga, CA 73 [#APRSThursday] 2023-02-03 02:26:47 UTC WM6H-4:#APRSTHURSDAY using iOS APRS app [#APRSThursday] 2023-02-03 03:23:24 UTC KF0FVP:#APRSTHURSDAY Salutations from Liberty, MO [#APRSThursday] 2023-02-03 04:27:18 UTC KN6OVN-7:Hi from la C A #aprsthusday [#APRSThursday] 2023-02-03 04:38:16 UTC KN6OVN-7:hi all at #aprsthursday [#APRSThursday] 2023-02-03 04:55:23 UTC K7XYG-7:73 TO THE APRS-ers worldwide K7XYG QRT [#APRSThursday] 2023-02-03 04:56:54 UTC 9M2CDX-7:hi from oj11 West Malaysia [#APRSThursday] 2023-02-03 05:21:32 UTC KJ7URX-7:checking in! [#APRSThursday] 2023-02-03 06:00:41 UTC N7VGK-9:greetings from vegas 73's de N7VGK!! [#APRSThursday] 2023-02-08 22:01:32 UTC VA3TTC-12:va3goc greetings from orillia ontario canada 73 [#APRSThursday] 2023-02-08 22:39:55 UTC 4F9INC-5:#APRSTHURSDAY.MABUHAY FROM PHILIPPINES.73 [#APRSThursday] 2023-02-08 22:42:14 UTC N8JLK-8:Greetings de N8JLK via DMR RF Anytone AT-D878UVII+ . [#APRSThursday] 2023-02-08 23:19:20 UTC K7XYG-7:73 to all my brothers in Christ APRSThursday is here [#APRSThursday] 2023-02-08 23:29:25 UTC 9W2FAS-5:happy day today Thursday de 9w2fas west malaysia. [#APRSThursday] 2023-02-08 23:39:18 UTC 9W2FYM-5:check in for #aprsthursday net de 9W2FYM from West Malaysia [#APRSThursday] 2023-02-08 23:42:14 UTC SM7WDL-9:73'de Ron in Sweden [#APRSThursday] 2023-02-08 23:56:32 UTC GW0TQM-7:73 IO83 de Carl #aprsthursday bit early test [#APRSThursday] 2023-02-08 23:57:38 UTC DV8ML-5:happy #HAPPYTHURSDAY 73 dv8ml [#APRSThursday] 2023-02-09 00:01:27 UTC TG5ALY-14:Check-in from Guatemala [#APRSThursday] 2023-02-09 00:01:28 UTC TG5ALY-14:Happy #APRSTHURSDAY [#APRSThursday] 2023-02-09 00:01:46 UTC TG5ALY-14:Check-in from [#APRSThursday] 2023-02-09 00:03:07 UTC TG5ALY-14:LIST [#APRSThursday] 2023-02-09 00:06:42 UTC W3TXG-7:hello from albuqurpue nm usa [#APRSThursday] 2023-02-09 00:09:33 UTC W2WAT-7:W2WAT NJ APRS Sea level ham 73 [#APRSThursday] 2023-02-09 00:11:59 UTC 9W2XVM-5:#APRS THURSDAY NET and have a nice day. [#APRSThursday] 2023-02-09 00:13:44 UTC AB1PH-7:AB1PH Don Walpole MA via ARPS-IS [#APRSThursday] 2023-02-09 00:15:05 UTC AB1PH-7:AB1PH Don Walpole MA via APRS-IS [#APRSThursday] 2023-02-09 00:17:32 UTC 9W2EUM-5:happy APRSTHURDAY i am form west malaysia [#APRSThursday] 2023-02-09 00:18:57 UTC GRYLCP-12:AB1PH Don Walpole MA via RF [#APRSThursday] 2023-02-09 00:22:56 UTC KJ7ZRZ-7:CHECKING IN DE ARIZONA [#APRSThursday] 2023-02-09 00:35:03 UTC KC8OWL-7:aprs greetings from kc8owl in las vegas, nv usa yeasu ft5d [#APRSThursday] 2023-02-09 00:42:23 UTC DY8CMM-5:happy aprs day73 mabuhay [#APRSThursday] 2023-02-09 00:42:30 UTC KD7KLA:APRS Thur. Hello fm WA. 73 [#APRSThursday] 2023-02-09 00:42:37 UTC KB2HSH:Greetings from FN03 [#APRSThursday] 2023-02-09 00:44:51 UTC DY8CMM-5:happy aprs day to all 73 mabuhay [#APRSThursday] 2023-02-09 00:45:02 UTC DK8AP-7:73 from northern germany [#APRSThursday] 2023-02-09 01:03:24 UTC 9W2BAF-1:happy #APRSTHURSDAY 73 9w2baf [#APRSThursday] 2023-02-09 01:07:04 UTC KB3HWM:#aprsthursday hello all!! KB3HWM in MD [#APRSThursday] 2023-02-09 01:14:21 UTC KQ4JDJ:hello to #aprsthursday [#APRSThursday] 2023-02-09 01:27:50 UTC KE2ACY-5:happy #aprsthursday from upstate NY! 73 [#APRSThursday] 2023-02-09 01:28:06 UTC AA8VG-7:de AA8VG [#APRSThursday] 2023-02-09 01:35:41 UTC KC8OWL-7:each wk we get chk-ins frm turkey. hope they are ok [#APRSThursday] 2023-02-09 01:40:21 UTC W9AUV-8:WINLINK TEST [#APRSThursday] 2023-02-09 01:42:02 UTC KB2HSH:APRS QSOs without a satellite...lots of fun! [#APRSThursday] 2023-02-09 01:53:54 UTC NC6J-1:happy #aprsthursday [#APRSThursday] 2023-02-09 01:57:21 UTC NC6J-7:happy aprs thursday [#APRSThursday] 2023-02-09 02:07:24 UTC N9KO-1:Hello from NE Illinois. 73 Calvin N9KO [#APRSThursday] 2023-02-09 02:07:37 UTC KN6NAF-9:#aprsthursday from kn6naf [#APRSThursday] 2023-02-09 02:16:47 UTC KD2OIE-2:hi from Ken tucky [#APRSThursday] 2023-02-09 02:18:42 UTC KJ4OAP-9:hello from swVA! 58 F here! [#APRSThursday] 2023-02-09 02:19:28 UTC KG5EIU-15:hell [#APRSThursday] 2023-02-09 02:38:42 UTC KI5FQQ-9:Konniwa Mamaste Ola [#APRSThursday] 2023-02-09 02:39:53 UTC N8JLK-8:#APRSthursday AllStar 48269-EchoLnk 44134-Wires-X 54806-Win [#APRSThursday] 2023-02-09 02:45:41 UTC N8JLK-8:#APRSthursday WinLink N8JLK@winlink.org AT-D878UVii+ 73 . [#APRSThursday] 2023-02-09 02:46:56 UTC KJ5IK-9:Greetings from KJ5IK in Canyon Lake, TX, USA [#APRSThursday] 2023-02-09 02:47:31 UTC 9M2FDX-5:From West Malaysia DE 9M2FDX 73 [#APRSThursday] 2023-02-09 02:49:56 UTC N8JLK-8:Greetings de N8JLK via DMR RF Anytone AT-D878UVii+ N8JLK 73 [#APRSThursday] 2023-02-09 02:53:15 UTC KQ4JDJ:hello [#APRSThursday] 2023-02-09 02:54:55 UTC KN4BQX-1:weekly APRS test day! 73, KN4BQX [#APRSThursday] 2023-02-09 03:01:25 UTC KB3KBR-11:happy #aprsthursday! [#APRSThursday] 2023-02-09 03:26:10 UTC DV8AYE-5:happy #APRSTHURSDAY Checkin in from the Phils. 73 [#APRSThursday] 2023-02-09 03:27:11 UTC KO4DBP-7:Happy #AprsThusday God Bless all [#APRSThursday] 2023-02-09 03:33:10 UTC NN4H-5:happy #APRSTHURSDAY de NN4H EM76 Kentucky [#APRSThursday] 2023-02-09 03:51:13 UTC N6QP-7:check in [#APRSThursday] 2023-02-09 03:57:00 UTC VA2OM-10:73 from VA2OM/W5, RGV Texas using JnosAprs Client [#APRSThursday] 2023-02-09 03:59:05 UTC W0WLA-9:#APRSthursday B-Day check in from CO [#APRSThursday] 2023-02-09 04:04:45 UTC M0NPQ-9:Happy Day APRSThursday# [#APRSThursday] 2023-02-09 04:08:21 UTC DW8CGZ-5:supporting the APRS net 73 [#APRSThursday] 2023-02-09 04:14:15 UTC KL4OG-8:#aprsthursday on the road HT [#APRSThursday] 2023-02-09 04:32:20 UTC K7XYG-7:APRSThursday around the world faster than a chinese balloon [#APRSThursday] 2023-02-09 04:36:22 UTC 9W2PEF-9:#HAPPYAPRSTHURSDAY FROM MALAYSIA [#APRSThursday] 2023-02-09 04:41:46 UTC KM6MCH-7:DE KM6MCH ON 878UVII PLUS #APRSTHURSDAY DM04wa [#APRSThursday] 2023-02-09 04:50:01 UTC VA6GAC-9:Happy #APRSTHURSDAY. [#APRSThursday] 2023-02-09 04:50:26 UTC HK4LRM-10:have a nice day #aprsthursday, 73 [#APRSThursday] 2023-02-09 04:52:45 UTC HK6RM-10:have a nice day #aprsthursday, 73 [#APRSThursday] 2023-02-09 04:54:19 UTC VA6GAC-9:I hope everyone has a GREAT Day! [#APRSThursday] 2023-02-09 04:54:45 UTC HK6ER-10:have a nice day #aprsthursday, 73 [#APRSThursday] 2023-02-09 04:57:38 UTC W7SWA-9:happy #APRSTHURDAY de w7swa via rf qth las vegas [#APRSThursday] 2023-02-09 05:34:38 UTC DW6XJO:A GOOD APRSTHURSDAY TO ALL 73 [#APRSThursday] 2023-02-09 05:35:15 UTC SM7WDL-9:73'de Ron in Sweden qrz.com [#APRSThursday] 2023-02-09 05:52:58 UTC W3TXG-7:hello from albuqurpue nm usa. on travel but want to checkin [#APRSThursday] 2023-02-09 05:55:31 UTC DW9JRA-7:Happy #APRSTHURSDAY. De DW9JRA from Davao Philippines [#APRSThursday] 2023-02-09 06:04:49 UTC KK7AZD-5:#APRSTHURSDAY happy chocolate day [#APRSThursday] 2023-02-09 06:21:14 UTC 9W8AKN-10:DE 9W8AKN [#APRSThursday] 2023-02-09 06:23:16 UTC KH6OWL-9:aloha aprs thursday [#APRSThursday] 2023-02-09 06:33:04 UTC SM4URM-2:greetings from sweden [#APRSThursday] 2023-02-09 06:44:14 UTC YO3FVR-15:#APRSthursday check-in. Best 73! [#APRSThursday] 2023-02-09 07:17:17 UTC 9W8PRO-5:Hi this is 9W8PRO from Malaysia. Happy APRSThursday. 73. [#APRSThursday] 2023-02-09 07:26:35 UTC GW0TQM-7:73 IO83 de Carl #aprsthursday [#APRSThursday] 2023-02-09 07:29:44 UTC LY3PH-7:Happy #APRSthursday 73 LY3PH from Lithuania [#APRSThursday] 2023-02-09 07:32:23 UTC F4FXL:Today is a special #APRSThursday, WB4APR SK 1 Year Ago [#APRSThursday] 2023-02-09 07:35:44 UTC AB7RT-7:#APRSTHURSDAY RF in Hawaii de AB7RT [#APRSThursday] 2023-02-09 07:47:33 UTC SM6JVU:Greetings from sweden westcoast 73 de sm6jvu Anders via rf [#APRSThursday] 2023-02-09 07:58:52 UTC HB9EYZ-2:Greetings from Switzerland, JN37VL: -5.6 degrees. QSL? [#APRSThursday] 2023-02-09 08:00:32 UTC M0ZKK-7:CQ from France 73s [#APRSThursday] 2023-02-09 08:04:32 UTC 2E0NVL-7:first check in, 73. [#APRSThursday] 2023-02-09 08:10:14 UTC M0IJS-7:Sunsh [#APRSThursday] 2023-02-09 08:11:32 UTC F5TUN-1:Geo [#APRSThursday] 2023-02-09 08:14:15 UTC M0IJS-7:Sunshine in IO92 [#APRSThursday] 2023-02-09 08:16:46 UTC G8REM-7:check in finally [#APRSThursday] 2023-02-09 08:35:34 UTC M0IKV-7:de Rugby ATS [#APRSThursday] 2023-02-09 08:49:36 UTC SA6AUU-10:happy #aprsthursday from Sweden [#APRSThursday] 2023-02-09 08:51:45 UTC G8DLX-7:From RugbyATs [#APRSThursday] 2023-02-09 08:54:57 UTC G8DLX-7:From RugbyATs IO92ii [#APRSThursday] 2023-02-09 08:55:59 UTC G8DLX-7:From RugbyATs [#APRSThursday] 2023-02-09 08:56:02 UTC G8DLX-7:From RugbyATs IO92ii [#APRSThursday] 2023-02-09 08:56:03 UTC G8DLX-7:From RugbyATs [#APRSThursday] 2023-02-09 08:56:04 UTC G8DLX-7:From RugbyATs IO92ii [#APRSThursday] 2023-02-09 09:14:22 UTC 9W2XDD-1:hello happy APRSTHUDAY de 9W2XDD OJ03QD via RF 73 [#APRSThursday] 2023-02-09 09:55:50 UTC KB3KAV-10:gm everyone happy APRSTHURSDAY 73 fm Mike KB3KAV [#APRSThursday] 2023-02-09 09:58:14 UTC DV8CER-9:happy #APRSTHURSDAY Dipolog, PHILIPPINES [#APRSThursday] 2023-02-09 09:59:23 UTC DV8CER-7:happy #aprsThursday via satellite [#APRSThursday] 2023-02-09 10:01:23 UTC N8JLK-8:Happy #APRSthursday de N8JLK via DMR RF Anytone AT-D878UVII [#APRSThursday] 2023-02-09 10:02:19 UTC N8JLK-8:#APRSthursday AllStar 48269-EchoLnk 44134-Wires-X 54806-Win [#APRSThursday] 2023-02-09 10:03:16 UTC N8JLK-8:Greetings de N8JLK via DMR RF Anytone AT-D878UVii+ N8JLK 73 [#APRSThursday] 2023-02-09 10:04:26 UTC N8JLK-8:Happy #APRSthursday de N8JLK via DMR RF Anytone AT-D878UVii [#APRSThursday] 2023-02-09 10:07:35 UTC OE3TWH-7:happy #aprsthursday! 73 de Wolfgang [#APRSThursday] 2023-02-09 10:08:58 UTC 9W2XRI-5:#AprsThursday [#APRSThursday] 2023-02-09 10:12:06 UTC KB5LNC-8:#APRSThursday. Fredericksburg VA [#APRSThursday] 2023-02-09 10:13:45 UTC PD0SBH-8:Happy #APRSThursday [#APRSThursday] 2023-02-09 10:33:11 UTC AE4WX-10:Happy #APRSThursday! 73 from FM05 de AE4WX [#APRSThursday] 2023-02-09 10:34:57 UTC CT1END-2:#APRSTHURSDAY Good morning, 73 CT1END [#APRSThursday] 2023-02-09 10:38:17 UTC YD0BCX-9:happy #APRSTHURSDAY from OI33kt 73 [#APRSThursday] 2023-02-09 10:39:26 UTC HK1E-5:#APRSTHURSDAY Happy Day. 73 [#APRSThursday] 2023-02-09 10:41:35 UTC CT1END-2:#APRSTHURSDAY From IM58is, Belas, Portugal, 73 CT1END [#APRSThursday] 2023-02-09 10:53:51 UTC KQ4FTC-5:happy #aprsthursday 73 de kq4ftc [#APRSThursday] 2023-02-09 10:58:05 UTC DF6PA-6:Nice #aprsthursday from Mainz 73 Stephan [#APRSThursday] 2023-02-09 10:59:02 UTC WC3T-12:fm WC3T happy #APRSThursday and RIP WB4APR in FN20 [#APRSThursday] 2023-02-09 11:14:01 UTC AD8BV-1:Happy Net Thursday de AD8BV [#APRSThursday] 2023-02-09 11:16:01 UTC SQ6CYS-7:happy #APRSThursday [#APRSThursday] 2023-02-09 11:16:38 UTC M0ZKK-7:via the ISS (RS0ISS) 73s [#APRSThursday] 2023-02-09 11:20:43 UTC AE4WX-4:Happy #APRSThursday! 73 de AE4WX [#APRSThursday] 2023-02-09 11:31:53 UTC ZL1LAC-5:happy aprs Thursday 73 de ZL1LAC [#APRSThursday] 2023-02-09 11:35:00 UTC W8RID-10:Happy #aprsthursday from W8RID in Disney World [#APRSThursday] 2023-02-09 11:37:05 UTC KP3T-9:#happyaprs RF DE KP3T [#APRSThursday] 2023-02-09 11:37:53 UTC KE8TES-5:#APRSTHURSDAY First time check-in [#APRSThursday] 2023-02-09 11:37:54 UTC KC0NAH-9:APRS THURSDAY [#APRSThursday] 2023-02-09 11:43:50 UTC KD2PSC-9:happy #APRSThursday follow me on twitter @KD2PSC [#APRSThursday] 2023-02-09 11:49:45 UTC GW7ODP-7:happy aprs thursday from South Wales UK 73 Mike GW7ODP [#APRSThursday] 2023-02-09 11:54:25 UTC KW2DIA-7:Hello fr Harlem NYC FN30at65 [#APRSThursday] 2023-02-09 12:00:54 UTC N2EDX-7:Greetings from Daytona Beach, Fl clear skies 64dF [#APRSThursday] 2023-02-09 12:09:49 UTC GRYLCP-12:AB1PH Don Walpole MA via RF, "Hello World!" [#APRSThursday] 2023-02-09 12:13:29 UTC KF0KFL-1:Happy #APRSThursday from White Bear Lake, MN [#APRSThursday] 2023-02-09 12:13:39 UTC KC8OWL-7:aprs greetings from kc8owl in las vegas, nv usa yeasu ft5d [#APRSThursday] 2023-02-09 12:15:46 UTC W9PEM-5:Hello, World! Happy Thursday from Cedarburg, Wisconsin USA [#APRSThursday] 2023-02-09 12:22:47 UTC DW6XJO:good eve 73 [#APRSThursday] 2023-02-09 12:25:28 UTC N4EJM-5:#aprsthursday #wb4apr Thank you Bob! #oneyearsk via iOS [#APRSThursday] 2023-02-09 13:01:17 UTC K3JRZ:HAPPY #APRSThursday de K3JRZ in Delaware! 73! [#APRSThursday] 2023-02-09 13:04:52 UTC KC8OWL-7:happy #aprsthursday 73 kc8owl las vegas, nv usa. [#APRSThursday] 2023-02-09 13:05:29 UTC K7XYG-9:Thanks Bob- #APRSThursday WB4APR73 everyone K7XYG [#APRSThursday] 2023-02-09 13:12:05 UTC K7GPS-6:Greetings from Montana [#APRSThursday] 2023-02-09 13:15:09 UTC LU4AUL-7:#APRSTHURSDAY from Buenos Aires. 73! LU4AUL [#APRSThursday] 2023-02-09 13:15:26 UTC AI5HC:ftm400 [#APRSThursday] 2023-02-09 13:16:36 UTC KC1OCY-9:Good morning from Boston MA US FN42 [#APRSThursday] 2023-02-09 13:28:30 UTC HB9PVI:73 from Switzerland [#APRSThursday] 2023-02-09 13:28:47 UTC KJ7OWD-7:its that time again! #aprsthursday from Lexington KY [#APRSThursday] 2023-02-09 13:31:22 UTC N2SAW-7:Happy thursday and hello net [#APRSThursday] 2023-02-09 13:31:58 UTC N8CNZ-5:hello [#APRSThursday] 2023-02-09 13:36:56 UTC N3VT-5:de Blacksburg Va EM97se via TCPIP [#APRSThursday] 2023-02-09 13:37:50 UTC W4RJG-10:#aprsthursday too warm Central VA. Cold coming for balance [#APRSThursday] 2023-02-09 13:38:27 UTC N4RTD:#aprsthursday Russ in FL youtube.com/@spurious_emissions [#APRSThursday] 2023-02-09 13:41:18 UTC W9DNE-7:My first APRSThursday checkin! [#APRSThursday] 2023-02-09 13:46:48 UTC KD2ZIX-9:#aprsthursday de KD2ZIX [#APRSThursday] 2023-02-09 13:51:31 UTC KG7KHL-9:VIA RF [#APRSThursday] 2023-02-09 13:52:25 UTC KG5DWM-7:Happy Thursday from Conroe TX! kg5dwm [#APRSThursday] 2023-02-09 13:54:23 UTC KC8OWL-7:thank you wb4apr (sk) for giving us aprs. . [#APRSThursday] 2023-02-09 13:59:34 UTC AA0DY:greetings de paul, CO USA [#APRSThursday] 2023-02-09 14:02:34 UTC K5BDL-7:hello everyone! #aprsthursday [#APRSThursday] 2023-02-09 14:06:12 UTC W4IIA:#APRSThursday FM17, 73 de W4IIA [#APRSThursday] 2023-02-09 14:06:40 UTC VE7EPT:in memory of WB4APR [#APRSThursday] 2023-02-09 14:07:50 UTC KK6FFP-9:epstein didnt kill himself [#APRSThursday] 2023-02-09 14:08:11 UTC AE4WX-5:Remembering SK WB4APR- thx Bob we got the watch 73 de AE4WX [#APRSThursday] 2023-02-09 14:10:50 UTC M1AQX-7:tx 70-450 10 UTC weekdays [#APRSThursday] 2023-02-09 14:12:50 UTC VR2UDP:GREETING FRQM HK. 73 DE VR2UDP [#APRSThursday] 2023-02-09 14:15:51 UTC W0RFP-7:73 W0RFP [#APRSThursday] 2023-02-09 14:17:11 UTC KR8U-9:GM all happy #APRSThursday RF SWMI [#APRSThursday] 2023-02-09 14:26:15 UTC KO4ROU-8:greetings de SC [#APRSThursday] 2023-02-09 14:38:57 UTC TI3IES-9:73 from Costa Rica via DMR [#APRSThursday] 2023-02-09 14:41:12 UTC KM6TWI-5:sales meetings suck go play radio #aprsthursday 73 all [#APRSThursday] 2023-02-09 14:41:35 UTC AA4JM:testing APRSIS32 on WINE/RF [#APRSThursday] 2023-02-09 14:48:22 UTC K8JTT-5:#APRSThursday 73 K8JTT [#APRSThursday] 2023-02-09 14:51:53 UTC WA4KWK:73 from florida [#APRSThursday] 2023-02-09 14:54:18 UTC KK7IQG-1:Happy Aprsthursday 73s! [#APRSThursday] 2023-02-09 14:55:16 UTC KD2UWR-7:KD2UWR in Taiwan on uv5r 144 640 [#APRSThursday] 2023-02-09 14:56:38 UTC KP4KYG-7:#APRSTHURSDAY KP4KYG PUERTO RICO 73 [#APRSThursday] 2023-02-09 15:08:13 UTC VA6PLC-7:#aprsthursday greetings from Lethbridge AB [#APRSThursday] 2023-02-09 15:09:01 UTC KO4CWF-11:Happy #APRSThursday 73 from SC [#APRSThursday] 2023-02-09 15:09:24 UTC KB8VUC-10:#APRSThursday 73 de KB8VUC [#APRSThursday] 2023-02-09 15:14:43 UTC HK6L-5:happy #APRSTHURSDAY 73 HK6L [#APRSThursday] 2023-02-09 15:16:04 UTC G7EXZ-5:#aprsthursday Hi all 73 from Cloudy Salisbury UK [#APRSThursday] 2023-02-09 15:18:56 UTC HK6L-7:happy #APRSTHURSDAY 73 HK6L [#APRSThursday] 2023-02-09 15:20:09 UTC KV9E-1:Gretting from TN 73 de KV9E [#APRSThursday] 2023-02-09 15:21:03 UTC N5DGC:#aprsthursday N5DGC [#APRSThursday] 2023-02-09 15:27:50 UTC N5NDC-7:#APRSthursday 73 de N5NDC in East Texas [#APRSThursday] 2023-02-09 15:30:33 UTC KB3KAV-7:de kb3kav testing rf xin 73 [#APRSThursday] 2023-02-09 15:31:39 UTC WP3OF-9:#aprsthursday from Puerto Rico [#APRSThursday] 2023-02-09 15:40:32 UTC KD9UYS-10:Happy APRSThursday via Yaesu 8900R!! [#APRSThursday] 2023-02-09 15:47:18 UTC KB9LBP-10:Hello From AL 73 [#APRSThursday] 2023-02-09 15:51:52 UTC VA2HST-7:hello from Québec via aprs-is [#APRSThursday] 2023-02-09 15:55:02 UTC IW0FKO:#aprsthursday 73 to everyone fm Italy via RF [#APRSThursday] 2023-02-09 15:56:42 UTC N7DIB-7:good morning everyone, happy #APRSThursday from Arizona [#APRSThursday] 2023-02-09 16:01:30 UTC KI5MFF-9:#aprsthursday Belen NM USA WiresX? [#APRSThursday] 2023-02-09 16:01:53 UTC KD9BBB:Greetings #aprsthursday from Chicago [#APRSThursday] 2023-02-09 16:11:26 UTC VE3TSV-9:Happy Thursday from VE3TSV [#APRSThursday] 2023-02-09 16:14:46 UTC KA2DDO:Greetings from eastern Pennsylvania [#APRSThursday] 2023-02-09 16:15:21 UTC HK6T-7:happy #APRSTHURSDAY Kissimmee FL 73 HK6T/W4 [#APRSThursday] 2023-02-09 16:17:42 UTC AE6LJ:The 1 day a week I can pretend to be popular [#APRSThursday] 2023-02-09 16:19:17 UTC KJ7NUX-5:Yo, it's #APRSthursday in CN84. Behemoth Rulez! [#APRSThursday] 2023-02-09 16:28:42 UTC KP4CA-9:Here making 1200 cool again. 73 [#APRSThursday] 2023-02-09 16:29:43 UTC WH6OMG-7:HAPPY THURSDAY [#APRSThursday] 2023-02-09 16:31:25 UTC AK9RT-10:Happy Thursday from NW Indiana AK9RT [#APRSThursday] 2023-02-09 16:40:28 UTC CT1END-2:#APRSTHURSDAY From Portugal, IM58is, 73 CT1END [#APRSThursday] 2023-02-09 16:41:51 UTC AI3KS-5:Happy Thursday from York PA [#APRSThursday] 2023-02-09 16:59:34 UTC KB7UVC:Greetings from Belfair WA [#APRSThursday] 2023-02-09 16:59:35 UTC KE4LPD-7:Howdy from Tx 73 de ke4lpd [#APRSThursday] 2023-02-09 17:02:36 UTC KO4HRU-15:Happy #APRSTHURSDAY 73s KO4HRU [#APRSThursday] 2023-02-09 17:05:48 UTC M7DXA-7:From RugbyATs [#APRSThursday] 2023-02-09 17:12:34 UTC KN6SRN:HAPPY THURSDAY from California 73 [#APRSThursday] 2023-02-09 17:13:15 UTC VA7OTC:fm CN88 [#APRSThursday] 2023-02-09 17:15:03 UTC M7DXA-7:hello world [#APRSThursday] 2023-02-09 17:26:12 UTC KE4RCO-1:ww aprs ckin [#APRSThursday] 2023-02-09 17:29:23 UTC KF5JRV-7:Hello de KF5JRV [#APRSThursday] 2023-02-09 17:37:16 UTC VA7SHG-9:73 #AprsThursday CN99 QTH.app os x [#APRSThursday] 2023-02-09 17:44:10 UTC KO4BOD-5:#aprsthursday from CenFlo aprs.fi/iPhone KO4BOD [#APRSThursday] 2023-02-09 17:46:45 UTC NP4JN-7:np4jn 73 rf via kp4dog packet network puerto rico. [#APRSThursday] 2023-02-09 17:51:53 UTC KD4ADC-1:Hello #APRSthursday from KD4ADC EM74. [#APRSThursday] 2023-02-09 17:54:35 UTC KB9LBP-10:Hello AGN From KB9LBP in AL 73 [#APRSThursday] 2023-02-09 17:56:44 UTC KD9HUR-9:73 KD9HUR [#APRSThursday] 2023-02-09 17:57:28 UTC KB9TYC-9:Hello fqom northern Wisconsin! 73 KB9TYC [#APRSThursday] 2023-02-09 18:04:30 UTC KN6UZL-9:happy aprsthursday from santa cruz california [#APRSThursday] 2023-02-09 18:11:19 UTC GI7ULG-10:happy aprsthursday de sean gi7ulg belfast [#APRSThursday] 2023-02-09 18:12:14 UTC SA6KOD-7:Hello from Sweden! 73 de SA6KOD [#APRSThursday] 2023-02-09 18:14:08 UTC EA2EYI-7:happy #APRSthursday from Spain IN82 73s [#APRSThursday] 2023-02-09 18:17:49 UTC KC3QEH-7:happy #aprsthursday from PA 73 [#APRSThursday] 2023-02-09 18:20:22 UTC XE2AD-8:hi from mexico de David [#APRSThursday] 2023-02-09 18:25:53 UTC KI7KUI-7:Happy #aprsthursday 73 everybody! [#APRSThursday] 2023-02-09 18:31:40 UTC VA7TEV:happy thursday! CN89 [#APRSThursday] 2023-02-09 18:36:39 UTC TA3AUW-5:help to Türkiye please . We need more rescue teams 73 [#APRSThursday] 2023-02-09 18:41:28 UTC WC2F-7:tlh fl 73 de wc2f [#APRSThursday] 2023-02-09 18:47:10 UTC R2AKF-5:Happy AFSK to all! !) 73! [#APRSThursday] 2023-02-09 18:50:32 UTC OH7LZB-4:Hi from Finland! Just checking if things still work [#APRSThursday] 2023-02-09 18:52:28 UTC KO4WCR-5:# APRSTHURSDAY from Virginia Beach! [#APRSThursday] 2023-02-09 18:56:19 UTC KD9SPR-7:#aprsthursday hi de windy indy [#APRSThursday] 2023-02-09 18:56:33 UTC KM4WII-8:KM4WII check in [#APRSThursday] 2023-02-09 18:59:00 UTC VE6RAW-9:hi from yyc [#APRSThursday] 2023-02-09 19:05:24 UTC KP4JPB:#APRSTHURDAY 73 [#APRSThursday] 2023-02-09 19:06:09 UTC HK4K-7:#aprsthursday 73 [#APRSThursday] 2023-02-09 19:07:29 UTC N9PMI-7:happy thursday 73 de N9PMI [#APRSThursday] 2023-02-09 19:09:19 UTC HK6JCF-7:#aprsthursday 73 [#APRSThursday] 2023-02-09 19:10:54 UTC HK6DX-7:#aprsthursday 73 [#APRSThursday] 2023-02-09 19:11:48 UTC HK6DX-7:#aprsthursday 73 [#APRSThursday] 2023-02-09 19:30:20 UTC TA3HRJ-5:#aprsthursday #earthquake Turkey and Syria need your help! [#APRSThursday] 2023-02-09 19:32:59 UTC KQ4JDJ:happy #aprsthursday de kq4jdj [#APRSThursday] 2023-02-09 19:41:50 UTC W6TST-1:#APRSTHURSDAY 73 W6TST [#APRSThursday] 2023-02-09 19:47:01 UTC N0ZJT-1:Happy Thursday [#APRSThursday] 2023-02-09 19:50:12 UTC KI6NAZ-7:greetings from 30k ft [#APRSThursday] 2023-02-09 19:50:59 UTC W6TST-1:happy thursday 73 [#APRSThursday] 2023-02-09 19:54:45 UTC 9W2GDB:Hello everyone. Happy Thursday and #aprsthursday. [#APRSThursday] 2023-02-09 20:07:49 UTC N7SIX-10:Mabuhay! Hello hams, happy #APRSThursday 73 [#APRSThursday] 2023-02-09 20:34:30 UTC KF0CLZ-7:happy #aprsthursday from snowy colorado 73 de KF0CLZ [#APRSThursday] 2023-02-09 20:41:25 UTC WP4RQA:#APRSTHURSDAY 73. [#APRSThursday] 2023-02-09 20:41:46 UTC WA4MT-9:greetings from Waco Ga. 73s. WA4MT-9 [#APRSThursday] 2023-02-09 20:43:46 UTC W6DVI-9:greetings from Los Angeles 73 to all de W6DVI [#APRSThursday] 2023-02-09 20:46:41 UTC CT7AQH-1:Hello dr friends.Miguel checking in.73 [#APRSThursday] 2023-02-09 20:47:48 UTC DL2COM-7:greetings from big up Berlin 73s de Leo DL2COM #APRSTH [#APRSThursday] 2023-02-09 20:47:49 UTC K7XYG-9:73 all K7XYG QRT [#APRSThursday] 2023-02-09 20:53:15 UTC KE6AFE-2:Greetings! 73 [#APRSThursday] 2023-02-09 20:56:51 UTC KC7DTB-7:#Learning 73 KK7JDJ [#APRSThursday] 2023-02-09 20:57:48 UTC K0AKV-1:HAVE A GREAT APRS DAY [#APRSThursday] 2023-02-09 20:57:59 UTC W0CBP-7:hello from south dakota! [#APRSThursday] 2023-02-09 20:59:08 UTC K4TXN-4:#aprsthursday check-in [#APRSThursday] 2023-02-09 21:02:51 UTC K4SBC:Happy #APRSThursday from an extra warm NC! [#APRSThursday] 2023-02-09 21:06:14 UTC N7WDZ-7:#aprsthursday Geno in Las Vegas stressing the system [#APRSThursday] 2023-02-09 21:10:45 UTC KM6MCH-7:DE KM6MCH ON [#APRSThursday] 2023-02-09 21:11:06 UTC WH6EAO-9:aloha on this very windy thursday 73 [#APRSThursday] 2023-02-09 21:11:10 UTC VE7DCF-7:73 Everyone [#APRSThursday] 2023-02-09 21:14:08 UTC KJ7NWK-7:#aprsthursday 73 KJ7NWK [#APRSThursday] 2023-02-09 21:20:29 UTC WG4USA-1:happy #APSRTHURSDAY [#APRSThursday] 2023-02-09 21:28:09 UTC VE7LRV:73 from vancouver island [#APRSThursday] 2023-02-09 21:29:57 UTC DL7EDU-7:Greetings from Berlin :) [#APRSThursday] 2023-02-09 21:32:25 UTC W1FRD-7:#APRSTHURDAY73 W1FRD Fairfield, California [#APRSThursday] 2023-02-09 21:32:47 UTC K3ROC-2:tank tops & flip flops today in hillbilly hell [#APRSThursday] 2023-02-09 21:34:21 UTC K3ROC-2:snow tomorrow. Happy #APRSTHURSDAY [#APRSThursday] 2023-02-09 21:34:48 UTC KJ4ERJ:From the -IS this week [#APRSThursday] 2023-02-09 21:35:11 UTC K1SPS:first time checking in 73 [#APRSThursday] 2023-02-09 21:36:02 UTC VA7EKA-8:73 from CN89! [#APRSThursday] 2023-02-09 21:36:40 UTC KD9UYS-10:Lots of rain here, about 3/4 inch in Chicago #APRSThursday [#APRSThursday] 2023-02-09 21:36:45 UTC AJ4VX-10:Happy #APRSTHURSDAY [#APRSThursday] 2023-02-09 21:40:23 UTC KN6LDC:happy #APRSTHURSDAY 73 KN6LDC [#APRSThursday] 2023-02-09 21:45:47 UTC PP1AR-9:Hello from Brazil.GG99uo 73 de PP1AR [#APRSThursday] 2023-02-09 21:46:40 UTC WA4VGZ-9:#APRSTHURSDAY RIP Bob WB4APR Grid EM66 73 all [#APRSThursday] 2023-02-09 21:48:05 UTC KO4NXG-10:#APRSTHURSDAY 73 from Lookout MTN, GA [#APRSThursday] 2023-02-09 21:49:15 UTC SM6UNC-1:Happy APRSTHURSDAY via RF TMD710 [#APRSThursday] 2023-02-09 21:49:27 UTC NG7N-7:GA from Seattle via VHF RF at 1.2k [#APRSThursday] 2023-02-09 21:54:39 UTC KB8IFX-9:HAPPY #APRS thursday 73 KB8IFX [#APRSThursday] 2023-02-09 21:55:50 UTC KJ6PYV:no tfc [#APRSThursday] 2023-02-09 22:13:19 UTC CT1FGS-10:happy #aprsthursday from Portugal [#APRSThursday] 2023-02-09 22:17:08 UTC WD0LFN-9:#aprsthursday [#APRSThursday] 2023-02-09 22:18:19 UTC CS7AYO-5:Hello friends.Happy #APRSThursday.73 from Portugal [#APRSThursday] 2023-02-09 22:23:01 UTC AE4TC-1:Scott AE4TC Richmond VA via RF [#APRSThursday] 2023-02-09 22:23:26 UTC KO4QYZ-7:checking in [#APRSThursday] 2023-02-09 22:23:42 UTC KC5FM-9:Happy Chocolate Day from Kansas www.sunflowernet.us [#APRSThursday] 2023-02-09 22:31:24 UTC N0KQX-15:good day everyone [#APRSThursday] 2023-02-09 22:40:13 UTC N1PQE-7:hello net from SoCal 73s Ryan [#APRSThursday] 2023-02-09 22:45:51 UTC VE7CUS:hello from delta BC [#APRSThursday] 2023-02-09 22:50:47 UTC KD2YHI-7:its thursday #APRSTHURSDAY kd2yhi [#APRSThursday] 2023-02-09 22:53:22 UTC HP1COO-9:73s de Alejandro via RF [#APRSThursday] 2023-02-09 22:54:54 UTC VE7CUS:hello from Delta BC [#APRSThursday] 2023-02-09 22:57:44 UTC KC3QIU-7:Happy Thursday from Pennsylvania [#APRSThursday] 2023-02-09 23:08:14 UTC K7JGC:hello [#APRSThursday] 2023-02-09 23:13:00 UTC KD0JNN-10:Hello from KCMO and the Fema COML class [#APRSThursday] 2023-02-09 23:19:19 UTC W5SLG:73s de W5SLG Abilene WTX [#APRSThursday] 2023-02-09 23:20:29 UTC KB2UUL-1:Raleigh NC [#APRSThursday] 2023-02-09 23:23:46 UTC KE7VIN-10:Checking in from Chandler, AZ #APRSTHURSDAY [#APRSThursday] 2023-02-09 23:31:20 UTC KK7KEK-7:first net! 73 kk7kek [#APRSThursday] 2023-02-09 23:33:23 UTC KN6IRV-9:Hello from San Pedro [#APRSThursday] 2023-02-09 23:44:01 UTC HK5JHY-9:happy #APRSTHURSDAY 73 HK5JHY CAICEDONIA COLOMBIA [#APRSThursday] 2023-02-09 23:47:17 UTC HJ5JAD-7:happy #APRSTHURSDAY 73 HJ5jAD Caicedonia Colombia [#APRSThursday] 2023-02-09 23:49:28 UTC AI5HC:from space! via ISS. EL29 [#APRSThursday] 2023-02-09 23:57:03 UTC DV5CEL-9:HAPPY #APRSTHURSDAY!QTH EAST ARGENTINE SEABOARD.MM. 73 [#APRSThursday] 2023-02-10 00:02:06 UTC KB2HSH:See everyone next week [#APRSThursday] 2023-02-10 00:09:15 UTC WA4VGZ-5:#APRSTHURSDAY RIP Bob WB4APR from Grid EM66 73 [#APRSThursday] 2023-02-10 00:12:43 UTC KC7JPC-9:kc7jpc tnx 73 [#APRSThursday] 2023-02-10 00:12:51 UTC DU2XXR-7:Prayers for our net members from Turkey.How r u TA3HRJ? [#APRSThursday] 2023-02-10 00:21:14 UTC W4BWC-10:hello from Tennessee [#APRSThursday] 2023-02-10 00:21:33 UTC DU2XXR-7:also YM5KSA,TA5AHO,TA3AZV,TB3HBA,TA3/CUN,TA3AUW,TA3HRJ,TA3E. [#APRSThursday] 2023-02-10 00:22:21 UTC VA7DDU-7:My first #aprsthursday 73 [#APRSThursday] 2023-02-10 00:37:41 UTC KC1IIQ-7:hello! [#APRSThursday] 2023-02-10 00:42:12 UTC J69DS-5:good day from suny St Lucia [#APRSThursday] 2023-02-10 00:52:18 UTC J69DS-5:wx was su nt [#APRSThursday] 2023-02-10 00:53:10 UTC J69DS-5:wx was sunny all day, 28 celcius, light breeze [#APRSThursday] 2023-02-10 00:55:55 UTC NX1Q-10:Good evening everyone ! 73 de nx1q [#APRSThursday] 2023-02-10 00:56:04 UTC N7SIX-7:hello, happy Friday! 73 [#APRSThursday] 2023-02-10 01:35:57 UTC N8JLK-6:kenwood d74 [#APRSThursday] 2023-02-10 01:37:18 UTC K1SU-9:happy #APRSTHURSDAY 73 k1su [#APRSThursday] 2023-02-10 01:47:32 UTC W5FLY-4:chk in frm nw orlns [#APRSThursday] 2023-02-10 02:09:26 UTC N9LPQ-7:first timer [#APRSThursday] 2023-02-10 02:11:03 UTC N4SML:Happy #APRSTHURSDAY from VA [#APRSThursday] 2023-02-10 02:16:16 UTC K4APR-7:Good Evening! #APRSTHURSDAY [#APRSThursday] 2023-02-10 02:19:03 UTC KD2UTC-7:Matawan NJ [#APRSThursday] 2023-02-10 02:41:07 UTC VE1NPS-5:GOOD DAY FROM CYWG AS VE1NPS/4 [#APRSThursday] 2023-02-10 02:46:24 UTC KF5THB-7:Henrietta Texas, howdy all! [#APRSThursday] 2023-02-10 02:50:36 UTC KF1D-3:KF1D CHECKING IN, BRYAN [#APRSThursday] 2023-02-10 03:01:08 UTC KB8JIU:from Marty in White Lake, MI [#APRSThursday] 2023-02-10 03:01:34 UTC KB2HSH:BUFFALO NY [#APRSThursday] 2023-02-10 03:04:34 UTC N4OGL-7:#APRSTHURSDAY - Yippee! [#APRSThursday] 2023-02-10 03:05:03 UTC N5TXZ-1:Exercising the network #APRSTHURSDAY, 73! [#APRSThursday] 2023-02-10 03:11:31 UTC K7OCR:RF(HF) #APRSTHURSDAY [#APRSThursday] 2023-02-10 03:36:12 UTC KE7NKR-7:happy #aprsthursday [#APRSThursday] 2023-02-10 04:25:21 UTC KN6OVN-7:Hi from la C A #aprsthusday [#APRSThursday] 2023-02-10 04:35:38 UTC KF4DVW-1:KF4DVW #APRSTHURSDAY 73 [#APRSThursday] 2023-02-10 04:35:43 UTC KN6OVN-7:hi all at #aprsthursday [#APRSThursday] 2023-02-10 06:45:24 UTC KN6ZEO-7:happy #aprstthursday 73 kn6zeo [#APRSThursday] 2023-02-15 22:06:38 UTC K7XYG-9:K7XYG test [#APRSThursday] 2023-02-15 22:29:12 UTC K5AMJ-9:Howdy from Houston, TX! instagram @nuclear.radio 73 K5AMJ [#APRSThursday] 2023-02-15 22:48:11 UTC KC8QDO:this is KC8QDO [#APRSThursday] 2023-02-15 22:49:19 UTC DV8AYE-5:happy #APRSTHURSDAY. 73. Mabuhay. [#APRSThursday] 2023-02-15 23:43:18 UTC DY8CMM-5:happy aprs to all [#APRSThursday] 2023-02-15 23:46:14 UTC DV8ML-5:happy #APRSTHURSDAY 73 dv8ml [#APRSThursday] 2023-02-15 23:52:33 UTC W9GIL-9:checking in for the 1st time [#APRSThursday] 2023-02-16 00:00:49 UTC KC8OWL-7:welcome to #aprsthursday! [#APRSThursday] 2023-02-16 00:04:05 UTC AA8NN-7:hello from aa8nn [#APRSThursday] 2023-02-16 00:10:55 UTC TG5ALY-14:Check-in from Guatemala [#APRSThursday] 2023-02-16 00:11:34 UTC TG5ALY-14:Happy #APRSThursday everyone from Guatemala [#APRSThursday] 2023-02-16 00:20:20 UTC 9W2JDY-5:Greetings from OJ13rx [#APRSThursday] 2023-02-16 00:37:32 UTC AA8VG-7:de AA8VG [#APRSThursday] 2023-02-16 00:44:00 UTC W9RWB-1:W9RWB to #APRSThursday Hello from SatGate W9RWB-1 [#APRSThursday] 2023-02-16 00:57:58 UTC AA8VG-7:de aa8vg [#APRSThursday] 2023-02-16 00:58:27 UTC AE4WX-10:Happy #APRSThursday! 73 de AE4WX and N4DVM in FM05 [#APRSThursday] 2023-02-16 01:10:55 UTC KB3HWM:#aprsthursday another week! 73 all de KB3HWM in MD [#APRSThursday] 2023-02-16 01:13:33 UTC KQ4JDJ:Happy #APRSThursday [#APRSThursday] 2023-02-16 01:21:46 UTC N5XMT-1:Dave from Sedro-Woolley, Washington [#APRSThursday] 2023-02-16 01:27:38 UTC W9GIL-9:heklo all de w9gil checking in for the 1st tim [#APRSThursday] 2023-02-16 01:31:11 UTC HK6IOP-7:happy #APRST HURSDAY 73 HK6IOP [#APRSThursday] 2023-02-16 01:32:21 UTC WM6H-4:#APRSTHURSDAY using iOS APRS app [#APRSThursday] 2023-02-16 01:36:05 UTC N7WDZ-1:#aprsthursday GENO IN VEGAS [#APRSThursday] 2023-02-16 01:39:10 UTC HK6RM-10:have a nice day #aprsthursday, 73 [#APRSThursday] 2023-02-16 01:44:22 UTC HK4LRM-10:have a nice day #aprsthursday, 73 [#APRSThursday] 2023-02-16 01:45:47 UTC HK6ER-10:have a nice day #aprsthursday, 73 [#APRSThursday] 2023-02-16 01:47:25 UTC HK4D-7:#aprsthursday 73 [#APRSThursday] 2023-02-16 01:47:26 UTC KD2LFW-5:first check in [#APRSThursday] 2023-02-16 01:49:05 UTC KN6NAF-9:#aprsthursday from kn6naf [#APRSThursday] 2023-02-16 01:52:44 UTC 9W2FYM-5:check in for #aprsthursday net de 9W2FYM from West Malaysia [#APRSThursday] 2023-02-16 02:05:43 UTC NC6J-7:happy aprs thursday [#APRSThursday] 2023-02-16 02:06:34 UTC GRYLCP-12:AB1PH Don Walpole MA via RF [#APRSThursday] 2023-02-16 02:15:42 UTC KN4BQX-1:Thanks for thwe weekly test! 73, KN4BQX [#APRSThursday] 2023-02-16 02:15:57 UTC KJ4OAP-9:hello from swVA! 55 F here! [#APRSThursday] 2023-02-16 02:18:07 UTC 9W2XRI-5:Happy #Aprsthursday [#APRSThursday] 2023-02-16 02:32:06 UTC AB1PH-7:AB1PH Don Walpole MA via APRS-IS [#APRSThursday] 2023-02-16 02:42:14 UTC N5NDC-7:#APRSthursday 73 de N5NDC in East Texas [#APRSThursday] 2023-02-16 02:45:13 UTC W3TXG-7:hello from pitsburgh pa usa [#APRSThursday] 2023-02-16 02:51:34 UTC KD7KLA:It is 36 deg F in WA tonight. [#APRSThursday] 2023-02-16 02:51:38 UTC W0RMT-7:greetings frColorado USA [#APRSThursday] 2023-02-16 02:52:34 UTC K7XYG-7:K7XYG /p rocking FT3d #aprsgang hope everyone is good 73 [#APRSThursday] 2023-02-16 02:56:12 UTC KB3IAI-10:Hello from KB3IAI [#APRSThursday] 2023-02-16 03:06:24 UTC N6QP-7:check in [#APRSThursday] 2023-02-16 03:13:19 UTC KC3QIU-7:Happy Thursday de KC3QIU [#APRSThursday] 2023-02-16 03:32:35 UTC KD0JNN-10:greetings to the aprs net from central mo usa [#APRSThursday] 2023-02-16 03:51:12 UTC N9NDF:will this APRSThursday message send? [#APRSThursday] 2023-02-16 03:56:59 UTC ZL2ATH-7:Happy #APRSTHURSDAY [#APRSThursday] 2023-02-16 03:58:43 UTC NN4H-5:happy #APRSTHURSDAY de NN4H EM76 Kentucky. stay WX aware+ [#APRSThursday] 2023-02-16 03:58:43 UTC NN4H-5:tomorrow. [#APRSThursday] 2023-02-16 03:58:45 UTC NN4H-5:happy #APRSTHURSDAY de NN4H EM76 Kentucky. stay WX aware+ [#APRSThursday] 2023-02-16 03:58:45 UTC NN4H-5:tomorrow. [#APRSThursday] 2023-02-16 04:08:07 UTC W0WLA-9:check in via rf 73 from Colorado [#APRSThursday] 2023-02-16 04:39:51 UTC WB5PJB:Greetings from Colorado. [#APRSThursday] 2023-02-16 04:46:13 UTC VA6GAC-9:#aprsthursday Happy Day! From Calgary AB CAN [#APRSThursday] 2023-02-16 04:55:35 UTC AA4JM:hi from florida via yaac & direwolf [#APRSThursday] 2023-02-16 04:57:47 UTC KK7AZD-5:happy #APRSTHURSDAY + Nat'l Almond Day ! 73 [#APRSThursday] 2023-02-16 04:57:54 UTC M0NPQ-9:Happy Thursday from E.England JO02UO ,73 [#APRSThursday] 2023-02-16 05:01:40 UTC DV8VMI-5:#happyAPRSthursday everyone. De DV8VMI/DU9. 73 [#APRSThursday] 2023-02-16 05:09:14 UTC 9M2RAD-5:hppy #aprsthursday from Kuala Lumpur via aprs.my 73 [#APRSThursday] 2023-02-16 05:29:46 UTC R2BBS-9:73! de R2BBS msk [#APRSThursday] 2023-02-16 05:56:14 UTC YO3FVR-9:#APRSthursday Cbeck-in with AP510+APRSdroid. 73! [#APRSThursday] 2023-02-16 06:01:32 UTC DW6XJO:#APRSTHURSDAY 73de DW6XJO [#APRSThursday] 2023-02-16 06:11:46 UTC DV8ML-5:happy #APRSTHURSDAY 73 dv8ml [#APRSThursday] 2023-02-16 06:19:49 UTC WD0LFN-9:#aprsthursday [#APRSThursday] 2023-02-16 06:26:42 UTC SM4URM-2:greetings from sweden [#APRSThursday] 2023-02-16 06:32:24 UTC 9W8AKN-10:de 9W8AKN [#APRSThursday] 2023-02-16 06:32:39 UTC 9W8PRO-5:Hi this is 9W8PRO from Malaysia. Happy APRSThursday. 73. [#APRSThursday] 2023-02-16 06:35:10 UTC F5TUN-1:Geo [#APRSThursday] 2023-02-16 06:38:36 UTC 9W8AAZ-5:HI THIS IS 9W8AAZ FROM MALAYSIA HAPPY APRSTHURSDAY 73 BYE [#APRSThursday] 2023-02-16 06:42:23 UTC 9W2EUM-5:happy APRSTHURDAY i am form west malaysia [#APRSThursday] 2023-02-16 07:21:00 UTC N4LRY:73 de N4LRY [#APRSThursday] 2023-02-16 07:33:10 UTC DZ4E-4:check in Gen. Trias City, Cavite PH #aprsthursday [#APRSThursday] 2023-02-16 08:36:51 UTC SA6AUU-10:happy #aprsthursday from a rainy Sweden 73 [#APRSThursday] 2023-02-16 08:40:48 UTC F4FXL:Hi from france ! via Rf [#APRSThursday] 2023-02-16 09:01:11 UTC JJ1LFO-10:hello all. https://jj1lfo.fc2.net/ [#APRSThursday] 2023-02-16 09:01:22 UTC DU2XXR-7:All chkins also logged at https://aprsph.net/aprsthursday [#APRSThursday] 2023-02-16 09:39:37 UTC G8DLX-5:from Rugby RATS [#APRSThursday] 2023-02-16 09:39:44 UTC SM6WKB-7:73 from Alingsas Sweden [#APRSThursday] 2023-02-16 09:41:55 UTC SM6JVU-15:GREETINGS FROM SWEDEN WESTCOAST JO57 ANDERS VIA TCP IP [#APRSThursday] 2023-02-16 10:11:57 UTC 9W2YIB-5:#aprsthursday da 9w2yib malaysia QRP [#APRSThursday] 2023-02-16 10:12:34 UTC 9W2YIB-5:#aprsthursday de 9w2yib [#APRSThursday] 2023-02-16 10:17:23 UTC M0IJS-7:Rugby ATS,UK [#APRSThursday] 2023-02-16 10:19:24 UTC YO8SDE-4:hello from Iasi, Romania [#APRSThursday] 2023-02-16 10:19:25 UTC KE4RCO-1:#aprsthursday 73 from NC [#APRSThursday] 2023-02-16 10:19:53 UTC 9W2BAF-1:happy #APRSTHURSDAY 73 9w2bafcq [#APRSThursday] 2023-02-16 10:22:57 UTC SM6JVU:Greetings from sweden westcoast loc jo57xm Anders via rf [#APRSThursday] 2023-02-16 10:29:55 UTC KD2UTC:Hello from Matawan NJ [#APRSThursday] 2023-02-16 10:40:23 UTC 9W2SGJ-5:CQ [#APRSThursday] 2023-02-16 10:54:17 UTC YD0BCX-9:happy #aprsthursday from OI33kt 73 [#APRSThursday] 2023-02-16 10:57:50 UTC TA3AUW-5:pray for Türkiye 73 [#APRSThursday] 2023-02-16 11:00:47 UTC KI7KUI-7:Rock out it's #APRSThursday 73 from WA [#APRSThursday] 2023-02-16 11:04:59 UTC KW2DIA-7:73 de KW2DIA Harlem NYC FN30at65 [#APRSThursday] 2023-02-16 11:05:38 UTC YD0BCX-9:happy #aprsthursday OI33kt 73 [#APRSThursday] 2023-02-16 11:11:23 UTC N7SIX-10:Mabuhay! Hello hams, happy #APRSThursday 73 [#APRSThursday] 2023-02-16 11:31:56 UTC KP3T-9:#aprsthursday KP3T VIA RF [#APRSThursday] 2023-02-16 11:42:08 UTC KR8U-9:#APRSTHURSDAY GM All [#APRSThursday] 2023-02-16 11:42:14 UTC KD2PSC-9:happy #APRSThursday follow me @KD2PSC on Twitter [#APRSThursday] 2023-02-16 11:52:24 UTC KD2UWR-7:happy aprsthursday via mobile digi [#APRSThursday] 2023-02-16 11:59:25 UTC J69DS-9:greetings from Saint Lucia [#APRSThursday] 2023-02-16 12:00:20 UTC KI4ASK-15:- Joe in Atlanta [#APRSThursday] 2023-02-16 12:03:23 UTC KC8OWL-7:good morning aprs operators. 73 kc8owl. [#APRSThursday] 2023-02-16 12:06:16 UTC WP4RQA:#APRSTHURSDAY 73. [#APRSThursday] 2023-02-16 12:12:23 UTC WC3T-12:on #APRSthursday 73 fm WC3T on the iOS APRS.fi app [#APRSThursday] 2023-02-16 12:15:03 UTC 9H5TB-2:Greetings from Malta!! [#APRSThursday] 2023-02-16 12:17:03 UTC KD9MER-10:KD9MER 73 from INDIANA [#APRSThursday] 2023-02-16 12:18:39 UTC KC1OCY-3:trying APRS over DMR 73 [#APRSThursday] 2023-02-16 12:19:40 UTC N2EDX-7:Greetings from Daytona Beach, Fl sunny 63dF [#APRSThursday] 2023-02-16 12:20:17 UTC N8JLK-8:Greetings de N8JLK via DMR RF . [#APRSThursday] 2023-02-16 12:22:25 UTC N8JLK-3:#APRSthursday via 6m RF. N8JLK [#APRSThursday] 2023-02-16 12:25:39 UTC SM6JVU-15:Greetings from Sweden west coast JO57 73 Anders [#APRSThursday] 2023-02-16 12:39:28 UTC 9W2PEF-9:happy #APRSTHURSDAY ALL THE BEST [#APRSThursday] 2023-02-16 12:51:10 UTC K0RQ-9:happy thursday 73 k0rq [#APRSThursday] 2023-02-16 12:53:18 UTC W8RID:#aprsthursday Bob W8RID Twinsburg, OH [#APRSThursday] 2023-02-16 13:01:46 UTC YD6HTK:greting frm medan city [#APRSThursday] 2023-02-16 13:02:04 UTC YD6HTK:greting frm medan city:dev 9.8KHz [#APRSThursday] 2023-02-16 13:07:59 UTC KP4CA-9:HAPPY APRSTHURSDAY [#APRSThursday] 2023-02-16 13:10:52 UTC K7XYG-9:BUENOS DIAS from Arizona Kilo 7 Xanax Yaesu Gang [#APRSThursday] 2023-02-16 13:13:14 UTC KD0TLS-7:From Minnesota to the world [#APRSThursday] 2023-02-16 13:13:57 UTC N8JLK-3:Have a great #APRSthursday! N8JLK@winlink.org. [#APRSThursday] 2023-02-16 13:14:02 UTC N8JLK-3:Have a great #APRSthursday! N8JLK@winlink.org [#APRSThursday] 2023-02-16 13:14:44 UTC KC1OCY-9:Now checking in by RF, 73 from Boston [#APRSThursday] 2023-02-16 13:14:58 UTC N8JLK-3:Have a great #APRSthursday! N8JLK@winlink.org. [#APRSThursday] 2023-02-16 13:15:46 UTC 9W8ZAL-9:Hi, I'm from Malaysia, Happy #aprsthursday 73. [#APRSThursday] 2023-02-16 13:15:49 UTC N8JLK-3:Have a great #APRSthursday! N8JLK@winlink.org [#APRSThursday] 2023-02-16 13:16:10 UTC N8JLK-3:APRS via six meters 52.620 N8JLK [#APRSThursday] 2023-02-16 13:16:35 UTC N8JLK-3:Have a great #APRSthursday! N8JLK@winlink.org [#APRSThursday] 2023-02-16 13:17:00 UTC N8JLK-3:APRS via six meters 50.620. N8JLK [#APRSThursday] 2023-02-16 13:18:40 UTC N8JLK-3:Have a great #APRSthursday! N8JLK@winlink.org [#APRSThursday] 2023-02-16 13:18:54 UTC N8JLK-3:Have a great #APRSthursday! N8JLK@winlink.org. [#APRSThursday] 2023-02-16 13:20:42 UTC N8JLK-3:Have a great #APRSthursday! N8JLK@winlink.org [#APRSThursday] 2023-02-16 13:20:56 UTC N8JLK-3:Have a great #APRSthursday! N8JLK@winlink.org. [#APRSThursday] 2023-02-16 13:21:58 UTC KM6MCI-7:hello all 73 KM6MCI [#APRSThursday] 2023-02-16 13:22:02 UTC K7XYG-9:monitoring DMR tg 73583 [#APRSThursday] 2023-02-16 13:25:03 UTC WC2F-7:tlh fl 73 de wc2f [#APRSThursday] 2023-02-16 13:28:33 UTC KG5EUX:73 FROM NORTH EAST TEXAS [#APRSThursday] 2023-02-16 13:29:57 UTC K4ABX-7:K4ABX checking in to aprs Thursday fashionably late [#APRSThursday] 2023-02-16 13:30:26 UTC N9KO-1:hello from NE Illinois 73 de N9KO [#APRSThursday] 2023-02-16 13:34:40 UTC KB8VUC-10:#APRSThursday Greetings from EN72er 73 de KB8VUC [#APRSThursday] 2023-02-16 13:35:10 UTC WP3OF-9:#aprsthursday from Puerto Rico [#APRSThursday] 2023-02-16 13:35:48 UTC VE3OZW-3:Good morning! Add me to the list. Thank you [#APRSThursday] 2023-02-16 13:42:19 UTC HK5JHY-9:happy #APRSTHURSDAY 73 HK5JHY CAICEDONIA COLOMBIA [#APRSThursday] 2023-02-16 13:43:21 UTC ZL1LAC-5:Hello from ZL1LAC I'm safe from cyclone Gabby [#APRSThursday] 2023-02-16 13:45:09 UTC AC3JM-1:Good Day, from Maryland, USA de joe [#APRSThursday] 2023-02-16 13:47:53 UTC AK9RT-9:Happy Thursday from NW Indiana AK9RT [#APRSThursday] 2023-02-16 13:47:59 UTC HK6L-2:73 HK6L Colombia [#APRSThursday] 2023-02-16 13:48:06 UTC KB8M-5:Good APRS-Thursday from KB8M. APRSDROID. 73! [#APRSThursday] 2023-02-16 13:48:40 UTC KC8OWL-7:is 6m fm active in anyones area? [#APRSThursday] 2023-02-16 13:49:17 UTC HJ5JAD-7:happy #APRSTHURSDAY 73 HJ5jAD Caicedonia Colombia [#APRSThursday] 2023-02-16 13:49:23 UTC KO4DBP-5:Happy #APRSThursday! Join our FB grp! Look for APRSThursday [#APRSThursday] 2023-02-16 13:50:52 UTC KB8M-5:Greetings from KB8M using aprsdroid. 73! [#APRSThursday] 2023-02-16 13:52:04 UTC 4F9INC-5:hello all stations.Mabuhay from the Philippines.73 [#APRSThursday] 2023-02-16 13:58:00 UTC KC5FM-1:Happy Do a Grouch a Favor DAY. 73 from Kansas [#APRSThursday] 2023-02-16 14:00:17 UTC N4WGM-7:FM18XS Maryland [#APRSThursday] 2023-02-16 14:02:19 UTC N1BAM-7:Happy Thursday [#APRSThursday] 2023-02-16 14:02:21 UTC R2BBS-9:moscow never sleeps [#APRSThursday] 2023-02-16 14:09:29 UTC W4IIA:#APRSThursday from FM17 73 w4iia [#APRSThursday] 2023-02-16 14:10:15 UTC KE4LPD-7:Howdy from Tx 73 de ke4lpd [#APRSThursday] 2023-02-16 14:11:31 UTC KD9TUL-9:Happy #aprsthursday from chicago! [#APRSThursday] 2023-02-16 14:20:14 UTC WP4LFS-5:#APRSTrusday From Ponce PR 73' [#APRSThursday] 2023-02-16 14:20:41 UTC K7TEJ-7:Greetings HOTG from Glendale AZ [#APRSThursday] 2023-02-16 14:20:51 UTC N5DGC:#aprsthursfay n5dgc [#APRSThursday] 2023-02-16 14:21:03 UTC K3JRZ:Happy #APRSThursday de K3JRZ in Delaware! [#APRSThursday] 2023-02-16 14:22:19 UTC N3VT-5:Happy #aprsthursday from Blacksburg VA de Tom N3VT [#APRSThursday] 2023-02-16 14:23:27 UTC KJ7NUX-5:It's #APRSThursday. Hello from Oregon USA. I need more tea! [#APRSThursday] 2023-02-16 14:26:46 UTC KK7IQG-1:Happy Aprsthursday 73s [#APRSThursday] 2023-02-16 14:36:34 UTC R2BBJ-2:YO WORLD [#APRSThursday] 2023-02-16 14:40:40 UTC KI5SKW-7:happy aprs thursday 73s to all .-ki5skw [#APRSThursday] 2023-02-16 14:43:17 UTC KB9HGI-2:happy Thurs [#APRSThursday] 2023-02-16 14:56:24 UTC K4SBC-10:check in from sunny nc, usa [#APRSThursday] 2023-02-16 14:57:17 UTC VE7DCF-10:Happy APRS Thusrday Everyone. VE7DCF [#APRSThursday] 2023-02-16 14:57:20 UTC AC9TR-2:greetings de ac9tr [#APRSThursday] 2023-02-16 15:02:40 UTC 9W2GDB:Happy #aprsthursday hv a nice day [#APRSThursday] 2023-02-16 15:03:07 UTC 9M2FDX-5:From west Malaysia DE 9M2FDX 73 [#APRSThursday] 2023-02-16 15:03:16 UTC DX1CC-1:check in #aprsthursday [#APRSThursday] 2023-02-16 15:08:07 UTC YO3FVR-9:#APRSthursday 2nd check-in with AP510+APRSdroid. 73! [#APRSThursday] 2023-02-16 15:11:43 UTC M1NER:Hello from East Anglia in England IO92wn 73 [#APRSThursday] 2023-02-16 15:12:06 UTC DW1OTT-6:check in 73 from Cavite Phils [#APRSThursday] 2023-02-16 15:34:44 UTC K1MBL-7:happy #APRSTHURSDAY 73 K1MBL [#APRSThursday] 2023-02-16 15:35:14 UTC HK6JCF-7:#aprsthursday 73 [#APRSThursday] 2023-02-16 15:35:17 UTC VE3TSV-9:Another aprsthursday greetings all from ve3tsv [#APRSThursday] 2023-02-16 15:37:14 UTC HK6DX-7:#aprsthursday 73 [#APRSThursday] 2023-02-16 15:38:30 UTC HK6PJA-7:#aprsthursday 73 [#APRSThursday] 2023-02-16 15:43:01 UTC WA4MT-9:happy APRS Thursday from Waco Ga. 73s WA4MT-9 [#APRSThursday] 2023-02-16 15:44:08 UTC W7SWA-9:happy #APRSTHURDAY de w7swa via rf qth las vegas [#APRSThursday] 2023-02-16 15:45:44 UTC K9WNG-7:snowy check-in from SE WI! 73 [#APRSThursday] 2023-02-16 15:52:18 UTC WA4KWK:#APRSTHURSDAY 73 DE WA4KWK [#APRSThursday] 2023-02-16 15:54:14 UTC KM6TWI-5:happy #APRSthursday @echothe_station on the gram 73 all [#APRSThursday] 2023-02-16 15:55:19 UTC KD0NRC-9:73 de @4x0nn from Lenexa KS [#APRSThursday] 2023-02-16 16:05:01 UTC KD2OIE-2:73 de kd2oie from kentucky [#APRSThursday] 2023-02-16 16:05:20 UTC K4CIH-7:HAPPY #APRSTHURSDAY! 73 K4CIH [#APRSThursday] 2023-02-16 16:07:08 UTC KD2UCJ-2:hello from fort drum ny 73 kd2ucj__ [#APRSThursday] 2023-02-16 16:07:58 UTC SM2YUW-7:Happy #aprsthursday!73 de SM2YUW with FT3d [#APRSThursday] 2023-02-16 16:10:01 UTC KB8M-5:73 from KB8M [#APRSThursday] 2023-02-16 16:10:20 UTC G8TNU-7:Happy #APRSTHURSDAY 73 G8TNU [#APRSThursday] 2023-02-16 16:12:37 UTC KB8M:Happy APRS Thursday from KB8M via APRS-IS [#APRSThursday] 2023-02-16 16:14:16 UTC KD4ADC-1:KD4ADC EM74 helping make 1200 baud cool again. [#APRSThursday] 2023-02-16 16:20:53 UTC AI3KS-5:Happy Thursday from York PA [#APRSThursday] 2023-02-16 16:23:12 UTC VE2PAU:Good APRSThursday to all from Paul 73 [#APRSThursday] 2023-02-16 16:25:22 UTC N3IVK-9:check in [#APRSThursday] 2023-02-16 16:28:02 UTC VE2PAU:good APRSThursday to all from Paul 73 [#APRSThursday] 2023-02-16 16:31:40 UTC KF5ZPA-7:73s from OK [#APRSThursday] 2023-02-16 16:34:52 UTC VE6CV-1:73 from DN39 [#APRSThursday] 2023-02-16 16:35:47 UTC K7XYG-9:this is Kilo 7 Xanax Yaesu Gang Phoenix Arizona USA mobile [#APRSThursday] 2023-02-16 16:36:09 UTC AE6LJ:Am I fashionably late enough to ck-in yet? [#APRSThursday] 2023-02-16 16:36:26 UTC NG7N-7:GM from Seattle via VHF RF at 1.2k it's a good day to APRS [#APRSThursday] 2023-02-16 16:37:35 UTC N3JF-9:#aprsthursday Hello from SoCal DM13 [#APRSThursday] 2023-02-16 16:37:45 UTC KD9UYS-10:Happy #APRSThursday from snowy Chicago! [#APRSThursday] 2023-02-16 16:38:03 UTC KC8OWL-7:aprsthursday will have its own FB group-stay tuned! [#APRSThursday] 2023-02-16 16:39:44 UTC KK7KEK-7:good morningfrom montana! kk7kek [#APRSThursday] 2023-02-16 16:51:18 UTC CT1END-2:#APRSTHURSDAY 73 from Portugal,CT1END [#APRSThursday] 2023-02-16 16:51:21 UTC TB3HBA-5:Turkiye 73 [#APRSThursday] 2023-02-16 16:51:39 UTC CT1END-2:#APRSTHURSDAY Hello to ALL, 73 CT1END [#APRSThursday] 2023-02-16 16:52:15 UTC KJ6ZEY-9:1st time on #APRSTHURSDAY 73 KJ6ZEY [#APRSThursday] 2023-02-16 16:57:02 UTC HK6T-7:happy #APRSTHURSDAY Kissimmee FL 73 HK6T/W4 [#APRSThursday] 2023-02-16 16:57:37 UTC HK6BRK-7:#aprsthursday 73 [#APRSThursday] 2023-02-16 17:00:20 UTC OE3TWH-7:happy #aprsthursday! 73 de Wolfgang [#APRSThursday] 2023-02-16 17:04:15 UTC KN4RXG-5:#APRSTHURSDAY 73 from KY via aprsdroid [#APRSThursday] 2023-02-16 17:15:22 UTC K0DAG-7:Thursday aprs check in [#APRSThursday] 2023-02-16 17:15:47 UTC GI7ULG-10:HAPPY APRSTHURSDAY DE SEAN GI7ULG BELFAST [#APRSThursday] 2023-02-16 17:17:43 UTC KB8IFX-9:HAPPY #APRS thursday 73 KB8IFX [#APRSThursday] 2023-02-16 17:23:44 UTC VA7TEV:73 from Vancouver CN89 [#APRSThursday] 2023-02-16 17:30:00 UTC KN6UZL-9:d [#APRSThursday] 2023-02-16 17:34:09 UTC KL4OG-8:#aprsthursday on the road HT [#APRSThursday] 2023-02-16 17:38:41 UTC VE2PAU:70 TO ALL FROM PAUL [#APRSThursday] 2023-02-16 17:49:21 UTC KN6UZL-9:Happy APRST! de KN6UZL [#APRSThursday] 2023-02-16 17:49:45 UTC WH6OMG-7:HAPPY THURSDAY [#APRSThursday] 2023-02-16 18:02:42 UTC M1AQX-7:RATS Great social last night Happy APRS from M1AQX [#APRSThursday] 2023-02-16 18:02:53 UTC F8ARO-10:Bonjour de France [#APRSThursday] 2023-02-16 18:03:03 UTC G1VWC:hello from cambridgeshire UK [#APRSThursday] 2023-02-16 18:09:19 UTC 9W8EDY-10:HI this is 9w8EDY from Malaysia. Happy APRSThursday.73 [#APRSThursday] 2023-02-16 18:11:58 UTC KJ6PYV:CHECKING IN [#APRSThursday] 2023-02-16 18:15:28 UTC KC3QEH-7:happy #aprsthursday from PA 73 [#APRSThursday] 2023-02-16 18:15:59 UTC N1RNJ-2:happy #APRSTHUTSDAY de N1RNJ VERMONT [#APRSThursday] 2023-02-16 18:23:28 UTC KW9Q:its a rainy day in IL [#APRSThursday] 2023-02-16 18:24:36 UTC KB7SVP:www.mvradio.org:8073 enjoy! [#APRSThursday] 2023-02-16 18:27:37 UTC KN6PRD-4:checking in iOS, happy #APRSTHURSDAY 73 DE KN6PRD [#APRSThursday] 2023-02-16 18:30:28 UTC W0RFP-7:73 W0RFP [#APRSThursday] 2023-02-16 18:34:10 UTC KI5MFF-9:#aprsthursday Belen NM USA WiresX? [#APRSThursday] 2023-02-16 18:36:32 UTC VE6RAW-4:hello from YYC! [#APRSThursday] 2023-02-16 18:38:55 UTC K8JTT-5:#APRSThursday 73 K8JTT Checking in from Puerto Vallarta,MX [#APRSThursday] 2023-02-16 18:46:19 UTC W0CBP-7:hello from colardo! [#APRSThursday] 2023-02-16 18:47:07 UTC VA7SHG-9:Happy #aprsthursday all, aprsdroid vhf CN99 [#APRSThursday] 2023-02-16 18:54:40 UTC LZ2ISI-1:#aprsthursday [#APRSThursday] 2023-02-16 19:01:30 UTC LU4AUL-7:from LU4AUL. Buenos Aires. 73! [#APRSThursday] 2023-02-16 19:01:55 UTC KC5BIL-7:hello from beverly hills [#APRSThursday] 2023-02-16 19:13:28 UTC N5GAH-9:aprs thusday from seminole tx DM82 [#APRSThursday] 2023-02-16 19:15:31 UTC AI5HC-5:from Houston [#APRSThursday] 2023-02-16 19:25:45 UTC K5BDL-7:hello everyone and 73 de K5BDL in Tyler, TX [#APRSThursday] 2023-02-16 19:27:52 UTC N1BAM-7:Hello from CT, USA 73 all [#APRSThursday] 2023-02-16 19:28:40 UTC SM6UNC-9:Greetings from Sweden with FTM300 [#APRSThursday] 2023-02-16 19:33:26 UTC KO4CWF-10:#HappyAPRSThursday 73 de South Carolina [#APRSThursday] 2023-02-16 19:54:10 UTC W2WAT-7:W2WAT NJ APRS Sea level ham 73 [#APRSThursday] 2023-02-16 20:05:42 UTC DL7EDU-7:Greetings from Berlin :) [#APRSThursday] 2023-02-16 20:08:37 UTC N9PMI-7:#APRSTHURSDAY from Louisville, Ky 73 [#APRSThursday] 2023-02-16 20:16:18 UTC J73GPG-9:happy APRS thursday [#APRSThursday] 2023-02-16 20:17:15 UTC NP4JN-7:np4jn 73 rf via kp4dog packet network puerto rico. [#APRSThursday] 2023-02-16 20:19:21 UTC J73GPG-5:saying hello from Dominica [#APRSThursday] 2023-02-16 20:28:24 UTC K7XYG-9:Find me on INSTAGRAM-----> @k7xyg_official [#APRSThursday] 2023-02-16 20:31:16 UTC KC8OWL-7:#aprsthursday will have its own FB group. stay tuned! [#APRSThursday] 2023-02-16 20:32:03 UTC KJ4ERJ:From East Coast of Florida, USA [#APRSThursday] 2023-02-16 20:39:42 UTC KO4BOD-5:hi & happy #aprsthursday KO4BOD aprs.fi iPhone [#APRSThursday] 2023-02-16 20:40:40 UTC KO4BOD-5:KO4BOD in Orlando, FL workin on my pi-star hotspot 2night [#APRSThursday] 2023-02-16 20:41:01 UTC F4EGX-7:happy #APRSThrursday de F4EGX QTH STRASBOURG EAST France [#APRSThursday] 2023-02-16 20:43:51 UTC AC1BC-7:Happy #APRSThursday 73 ac1bc [#APRSThursday] 2023-02-16 20:55:33 UTC F4EGX-7:hello everybody, I am very happy to make QSO #APRSThursdaY [#APRSThursday] 2023-02-16 20:56:52 UTC KJ7ZRZ-7:Checking in a little late [#APRSThursday] 2023-02-16 20:58:17 UTC R2BBS-9:welcome rr3aac 10m Moscow [#APRSThursday] 2023-02-16 20:58:58 UTC EA2EYI-7:happy #APRSthursday from Spain IN82 73s [#APRSThursday] 2023-02-16 20:59:19 UTC KB9TYC-9:19F IN NW WISCONSIN 73 KB9TYC [#APRSThursday] 2023-02-16 20:59:39 UTC KM7CRD-5:Greeting from NC WA. via. Droid [#APRSThursday] 2023-02-16 21:02:48 UTC CT1FGS-10:Happy #APRSTHURSDAY from Portugal. [#APRSThursday] 2023-02-16 21:02:51 UTC HK6LRQ-10:have a nice day #aprsthursday, 73 [#APRSThursday] 2023-02-16 21:03:10 UTC K3ROC-9:Checking in from Hillbilly Hell #APRSThursday [#APRSThursday] 2023-02-16 21:03:12 UTC WH6EAO-9:aloha #APRSThursday 73 [#APRSThursday] 2023-02-16 21:04:24 UTC K3ROC-9:these are rookie numbers. We need to pump those numbers up [#APRSThursday] 2023-02-16 21:06:30 UTC VE7LRV:73 from vancouver island [#APRSThursday] 2023-02-16 21:13:36 UTC WS4P:Howdy folks! [#APRSThursday] 2023-02-16 21:13:55 UTC W9DNE-7:Happy APRS Thurs from snowy WI! [#APRSThursday] 2023-02-16 21:20:55 UTC ES8BHR-5:happy #aprsthursday check-in via aprsdroid [#APRSThursday] 2023-02-16 21:20:57 UTC KC1NYJ:happy #aprsthursday from NH [#APRSThursday] 2023-02-16 21:21:24 UTC DV5CEL-9:HAPPY #APRSTHURSDAY!QTH PUERTO MADRYN, AR. MM. 73 [#APRSThursday] 2023-02-16 21:23:39 UTC KP4KYG-7:#APRSTHURSDAY KP4KYG PUERTO RICO 73 [#APRSThursday] 2023-02-16 21:24:03 UTC HP1COO-9:73s de Alejandro [#APRSThursday] 2023-02-16 21:28:15 UTC F4ACU-7:Happy APRSThursday from France 73 [#APRSThursday] 2023-02-16 21:30:57 UTC KJ7OWD-9:#aprsthursday 73 from the Bluegrass State! [#APRSThursday] 2023-02-16 21:31:37 UTC OH7LZB-5:Boing! [#APRSThursday] 2023-02-16 21:33:57 UTC KF5THB-7:Henrietta Texas, howdy all! [#APRSThursday] 2023-02-16 21:35:33 UTC KQ4EOS-7:happy #APRSTHURSDAY from west palm beach FL [#APRSThursday] 2023-02-16 21:49:23 UTC KF0KFL-1:Happy #APRSThursday from White Bear Lake, MN [#APRSThursday] 2023-02-16 21:50:10 UTC KM6CQ-7:#APRSHURDAY de Dan Washoe Valley NV [#APRSThursday] 2023-02-16 22:00:16 UTC KG5CEN:Happy #APRSThursday 73 de KG5CEN [#APRSThursday] 2023-02-16 22:11:53 UTC KO4QYZ-5:checking in [#APRSThursday] 2023-02-16 22:18:25 UTC N5ATR-7:Tom in Phoenix , AZ [#APRSThursday] 2023-02-16 22:19:01 UTC VE1NEL-7:first aprs thursday 73 VE1NEL [#APRSThursday] 2023-02-16 22:19:16 UTC KD2GFA-7:happy #APRSTHURSDAY 73 kd2gfa [#APRSThursday] 2023-02-16 22:26:15 UTC N5ATR-7:hello from phoenix az tom [#APRSThursday] 2023-02-16 22:26:43 UTC DU1AJ-5:happy #APRSTHURSDAY 73 [#APRSThursday] 2023-02-16 22:31:39 UTC KC8OWL-7:it looks like the last of the ft-818 raidos were sent :-( [#APRSThursday] 2023-02-16 22:34:37 UTC VA7EKA-8:73 all, have a great day/night! [#APRSThursday] 2023-02-16 22:35:17 UTC WA4VGZ-10:#APRSTHURSDAY APRSdroid 73 from Grid EM66 [#APRSThursday] 2023-02-16 22:36:19 UTC W9NED-10:Happy Thursday! #aprsthursday 73 W9NED [#APRSThursday] 2023-02-16 22:36:40 UTC W1FRD-7:#APRSTHURDAY73 W1FRD Fairfield, California [#APRSThursday] 2023-02-16 22:37:06 UTC KC1JFN-5:#APRSTHURSDAY (MESSAGE) [#APRSThursday] 2023-02-16 22:45:25 UTC CT7AQH-1:Hello dr friends.Miguel checking in. 73 [#APRSThursday] 2023-02-16 22:46:04 UTC K9CTO:snow day! K9CTO [#APRSThursday] 2023-02-16 22:46:30 UTC AD6QF-2:Hello World! [#APRSThursday] 2023-02-16 23:09:32 UTC N7UWX-14:Happy Thursday! [#APRSThursday] 2023-02-16 23:16:49 UTC KD9SPR-8:#aprsthursday via vr-n7500 iPhone app! [#APRSThursday] 2023-02-16 23:18:00 UTC VA7OTC:fm Victoria [#APRSThursday] 2023-02-16 23:18:42 UTC N6PHO:#aprsthurs [#APRSThursday] 2023-02-16 23:19:40 UTC XE2AD-8:hi from mexico de David [#APRSThursday] 2023-02-16 23:21:03 UTC KC7MDT:first aprs checkin 73 [#APRSThursday] 2023-02-16 23:30:50 UTC N6PHO:#aprsxhurs [#APRSThursday] 2023-02-16 23:37:02 UTC KB2HSH:Have a great night, everyone. 73. [#APRSThursday] 2023-02-16 23:38:28 UTC KE0ASQ-2:hello and 73 de KE0ASQ Ryan [#APRSThursday] 2023-02-16 23:49:21 UTC N1PQE-7:happy net from SoCal 73 N1PQE [#APRSThursday] 2023-02-16 23:51:02 UTC AJ4VX-10:Happy #APRSTHURSDAY 73 [#APRSThursday] 2023-02-16 23:52:05 UTC KI5FQQ-9:Aloha [#APRSThursday] 2023-02-17 00:01:25 UTC KN4PIJ-5:Greetings from sunny Orlando! 73 KN4PIJ [#APRSThursday] 2023-02-17 00:12:53 UTC KE0ASQ-3:hello! [#APRSThursday] 2023-02-17 00:18:35 UTC KB8JIU:Another #APRSTHURSDAY is here. 73 KB8JIU [#APRSThursday] 2023-02-17 00:36:36 UTC KC8OWL-7:73 till next week all. kc8owl [#APRSThursday] 2023-02-17 00:41:04 UTC N5TXZ-1:Exercising the net for #APRSTHURSDAY, 73! [#APRSThursday] 2023-02-17 00:49:43 UTC PP1AR-9:Hello from Brazil.GG99uo 73 de PP1AR [#APRSThursday] 2023-02-17 01:04:40 UTC KD8OFT-5:Good evening, visiting PA today. [#APRSThursday] 2023-02-17 01:32:24 UTC KB3KBR-6:happy #aprsthursday!! [#APRSThursday] 2023-02-17 01:35:04 UTC N8JLK-6:kenwood d74 [#APRSThursday] 2023-02-17 01:35:12 UTC KF1D-9:JUST REMEMBERED IT'S APRS THURSDAY! KF1D [#APRSThursday] 2023-02-17 01:36:25 UTC N8JLK-6:Happy APRSthurs by RF D74 [#APRSThursday] 2023-02-17 01:36:31 UTC N8JLK-6:kenwood d74 [#APRSThursday] 2023-02-17 01:36:31 UTC N8JLK-6:Happy APRSthurs by RF D74 [#APRSThursday] 2023-02-17 01:37:33 UTC N8JLK-6:kenwood d74 [#APRSThursday] 2023-02-17 01:38:11 UTC N8JLK-6:Happy APRSthurs by RF D74 [#APRSThursday] 2023-02-17 01:47:53 UTC KG5DWM-7:Happy Thursday from Conroe TX! kg5dwm [#APRSThursday] 2023-02-17 01:48:12 UTC AE5ME-10:Hello from Jeff AE5ME [#APRSThursday] 2023-02-17 01:48:26 UTC KN6LDC:happy #APRSTHURSDAY 73 KN6LDC [#APRSThursday] 2023-02-17 01:52:53 UTC AE5ME-10:Hello KG5DWM [#APRSThursday] 2023-02-17 01:55:44 UTC AE5ME-10:#APRSTHURSDAY wishes to all. [#APRSThursday] 2023-02-17 01:55:55 UTC KD2OIE-3:signing off [#APRSThursday] 2023-02-17 02:03:44 UTC N2JLH-7:HELLO FROM SAN DIEGO. #APRSTHURSDAY N2JLH [#APRSThursday] 2023-02-17 03:08:04 UTC W6DVI-7:Los Angeles W6DVI 73 [#APRSThursday] 2023-02-17 03:19:46 UTC WL7CLI:First time trying a message in UI-View32 [#APRSThursday] 2023-02-17 04:17:36 UTC KN6OVN-7:hi all at #aprsthursday don't shoot my balloon down joe [#APRSThursday] 2023-02-17 05:06:35 UTC KN6OVN-7:Hi from la C A #aprsthusday [#APRSThursday] 2023-02-17 06:42:41 UTC KB9HGI-2:KB9HGI test [#APRSThursday] 2023-02-17 09:38:50 UTC LY1JG:#APRSTHURSDAY Lithuania KO14VW [#APRSThursday] 2023-02-22 21:49:41 UTC DU2XXR-7:Checking in early,will b on the road most of today. 73! [#APRSThursday] 2023-02-22 23:08:59 UTC 9W2FAS-5:happy day today de 9w2fas west malaysia it. [#APRSThursday] 2023-02-22 23:36:03 UTC DV8ML-5:happy #APRSTHURSDAY 73 dv8ml [#APRSThursday] 2023-02-22 23:38:45 UTC 9W2FYM-5:check in for #aprsthursday net de 9W2FYM from West Malaysia [#APRSThursday] 2023-02-22 23:54:00 UTC DY8CMM-5:happy aprs day tramitting frm zamboanga city phil.73 [#APRSThursday] 2023-02-23 00:01:08 UTC TG5ALY-14:Happy#APRSTHURSDAY everyone from Guatemala [#APRSThursday] 2023-02-23 00:02:29 UTC KG4WKX-4:73 from daytona beach [#APRSThursday] 2023-02-23 00:02:30 UTC VA6GAC-9:#aprsthursday Happy Day! From Calgary AB CAN [#APRSThursday] 2023-02-23 00:15:59 UTC 9W2XVM-5:: APRS THURSDAY NET , Have a nice day from West Malaysia [#APRSThursday] 2023-02-23 00:18:15 UTC GW0TQM-7:de Carl qth Mold #aprsthursday [#APRSThursday] 2023-02-23 00:20:09 UTC AA8NN:hello and 73 aa8nn [#APRSThursday] 2023-02-23 00:22:19 UTC KE8QFP-7:73 from Ohio [#APRSThursday] 2023-02-23 00:32:32 UTC KC8OWL-7:welcome to aprsthursday! [#APRSThursday] 2023-02-23 00:35:37 UTC W9AUV-8:FROM W9AUV [#APRSThursday] 2023-02-23 00:44:45 UTC W2WAT-7:W2WAT NJ APRS Sea level ham 73 [#APRSThursday] 2023-02-23 00:45:29 UTC W2WAT-7:W2WAT NJ APRS Sea level ham 73 [#APRSThursday] 2023-02-23 00:46:29 UTC W2WAT-7:W2WAT NJ APRS Sea level ham 73 [#APRSThursday] 2023-02-23 00:47:29 UTC KN4BQX-1:happy APRS Thursday, thanks! 73 KN4BQX [#APRSThursday] 2023-02-23 00:51:53 UTC W5CAE:HELLO [#APRSThursday] 2023-02-23 00:56:20 UTC KF8MZ-5:GE from Ohio [#APRSThursday] 2023-02-23 01:05:05 UTC N9HXV-1:test 73 N9HXV [#APRSThursday] 2023-02-23 01:06:23 UTC DV8AYE-5:happy #APRSTHURSDAY. 73. Mabuhay to all... [#APRSThursday] 2023-02-23 01:08:12 UTC KB3HWM:Happy #aprsthursday everyone from MD 73 de KB3HWM [#APRSThursday] 2023-02-23 01:11:00 UTC VE7DCF-7:73 [#APRSThursday] 2023-02-23 01:11:05 UTC N9PMI-7:happy aprs tursday from Louisville KY [#APRSThursday] 2023-02-23 01:11:33 UTC KE2ACY-5:happy #aprsthursday from upstate NY! 73 [#APRSThursday] 2023-02-23 01:15:55 UTC CT7AQH-1:Hello friends.Miguel checking in from IM58mx.73 [#APRSThursday] 2023-02-23 01:16:40 UTC CS7AYO-5:Hello friends.Happy #APRSThursday.73 from Portugal [#APRSThursday] 2023-02-23 01:35:08 UTC KB3BVW-7:checkin [#APRSThursday] 2023-02-23 01:39:16 UTC W3TPL-9:Happy #APRSThursday from NJ [#APRSThursday] 2023-02-23 01:42:05 UTC 9W2VCO-5:happy APRSTHURDAY net [#APRSThursday] 2023-02-23 01:42:11 UTC NC6J-7:happy aprs thursday [#APRSThursday] 2023-02-23 01:45:19 UTC VE3OZW-3:#aprsthursday Hello to allfrom cold and icy Ontario! ENJOY! [#APRSThursday] 2023-02-23 01:48:25 UTC 4I8WOO-10:#happyAPRSthursday to all. 73 [#APRSThursday] 2023-02-23 02:07:22 UTC N0KQX-15:good day everyone [#APRSThursday] 2023-02-23 02:13:10 UTC KI5MFF-9:#aprsthursday Belen NM USA 73 all! [#APRSThursday] 2023-02-23 02:21:26 UTC VR2WQY-9:Happy APRS Thursday this is VR2WQY from Hong Kong Android [#APRSThursday] 2023-02-23 02:27:05 UTC 9W8AKN-10:de 9W8AKN [#APRSThursday] 2023-02-23 02:31:30 UTC KM4FZA-1:happy #APRSTHURSDAY 73 KM4FZA [#APRSThursday] 2023-02-23 02:33:54 UTC KD7KLA:Snow and 33 degrees in western WA. Happy APRS Thursday. [#APRSThursday] 2023-02-23 02:35:44 UTC DZ4E-4:check in Gen. Trias City, Cavite PH 73 #aprsthursday [#APRSThursday] 2023-02-23 02:40:11 UTC KD5PCK-5:happy Thursday from the Bayou State [#APRSThursday] 2023-02-23 02:45:57 UTC KJ5IK-9:Greetings from Canyon Lake, TX! [#APRSThursday] 2023-02-23 02:47:15 UTC N5NDC-7:#APRSthursday 73 de N5NDC in East Texas [#APRSThursday] 2023-02-23 03:00:48 UTC N3ZLL:greeting from Maryland 73 N3ZLL [#APRSThursday] 2023-02-23 03:05:59 UTC K5AAR:#APRSthursday 73 de K5AAR in ETX [#APRSThursday] 2023-02-23 03:13:14 UTC KN6NAF-7:aprsthursday from apple valley ca [#APRSThursday] 2023-02-23 03:15:56 UTC KO4QYZ-7:checking in [#APRSThursday] 2023-02-23 03:19:08 UTC ZL2ATH-7:Happy #APRSTHURSDAY [#APRSThursday] 2023-02-23 03:46:44 UTC K9OPE-9:happy utc Thursday [#APRSThursday] 2023-02-23 04:24:31 UTC NN4H-5:happy #APRSTHURSDAY de NN4H EM76 Kentucky. 76° F here+ [#APRSThursday] 2023-02-23 04:24:31 UTC NN4H-5:today [#APRSThursday] 2023-02-23 04:24:34 UTC NN4H-5:happy #APRSTHURSDAY de NN4H EM76 Kentucky. 76° F here+ [#APRSThursday] 2023-02-23 04:24:35 UTC NN4H-5:today [#APRSThursday] 2023-02-23 04:32:47 UTC W0WLA-9:check in via rf 73 from Colorado [#APRSThursday] 2023-02-23 04:34:06 UTC 9W2EUM-5:happy APRSTHURDAY i am form west malaysia [#APRSThursday] 2023-02-23 04:45:19 UTC KF5JRV-15:de kf5jrv [#APRSThursday] 2023-02-23 04:51:22 UTC N5XMT-1:Dave Sedro-Woolley, WA #APRSTHURSDAY [#APRSThursday] 2023-02-23 05:02:40 UTC W7SWA-9:happy #APRSTHURDAY de w7swa via rf qth las vegas [#APRSThursday] 2023-02-23 05:05:03 UTC DW6XJO-1:Good day. 73 [#APRSThursday] 2023-02-23 05:05:37 UTC N6QP-7:check in [#APRSThursday] 2023-02-23 05:05:55 UTC K1JBD-1:k1jbd fn42 [#APRSThursday] 2023-02-23 05:05:56 UTC DW9JRA-7:Happy #APRSTHURSDAY. De DW9JRA from Davao Philippines [#APRSThursday] 2023-02-23 05:11:24 UTC KK7AZD-5:happy #APRSTHURSDAY 73 kk7azd [#APRSThursday] 2023-02-23 05:24:57 UTC DX1CC-1:check in 73 Imus City Cavite PH #aprsthursday [#APRSThursday] 2023-02-23 06:05:08 UTC SQ3XZ-7:vy 73 SQ3XZ [#APRSThursday] 2023-02-23 06:17:42 UTC 9V1LD-5:checking in. 73 to all [#APRSThursday] 2023-02-23 06:41:25 UTC ZL2TOY-15:Happy Thursday from ZL [#APRSThursday] 2023-02-23 06:54:03 UTC WA7SKG:APRS THURSDAY [#APRSThursday] 2023-02-23 07:00:49 UTC TA3AUW-5:Türkiye 73 [#APRSThursday] 2023-02-23 07:17:17 UTC KD2OIE-2:Hi from Kentucky [#APRSThursday] 2023-02-23 07:34:15 UTC KD2OIE-4:73 from Lexington, KY [#APRSThursday] 2023-02-23 07:48:42 UTC KB9HGI-2:happy Thurs [#APRSThursday] 2023-02-23 07:54:18 UTC SQ6CYS-7:happy #APRSThursday de SQ6CYS over DMR [#APRSThursday] 2023-02-23 08:08:12 UTC CT7AQH-1:de CT7AQH-1 [#APRSThursday] 2023-02-23 08:16:10 UTC TB3HBA-5:Turkiye 73 [#APRSThursday] 2023-02-23 08:19:25 UTC N7SIX-10:Mabuhay! Hello hams, happy #APRSThursday 73 [#APRSThursday] 2023-02-23 08:23:38 UTC TA3E-5:73 TA3E [#APRSThursday] 2023-02-23 08:31:11 UTC M0IJS-7:Rugby ATS,UK [#APRSThursday] 2023-02-23 08:31:20 UTC AB7RT-7:#APRSTHURSDAY RF in Hawaii de AB7RT [#APRSThursday] 2023-02-23 08:35:55 UTC M0IKV-7:de Rugby ATS [#APRSThursday] 2023-02-23 08:42:48 UTC OH5KUY:happy #APRSTHURSDAY 73 oh5kuy [#APRSThursday] 2023-02-23 08:47:23 UTC CT1END-2:#APRSTHURSDAY Good morning from Portugal, 73 CT1END [#APRSThursday] 2023-02-23 08:57:42 UTC GW7ODP-10:Hello from Swansea in South Wales UK #aprsThursday [#APRSThursday] 2023-02-23 09:09:15 UTC YO3FVR-10:#APRSthursday Check-in from Milano. 73! [#APRSThursday] 2023-02-23 09:12:31 UTC KC2OBI-14:rf mobile in NJ [#APRSThursday] 2023-02-23 09:16:19 UTC M1NER-9:Hi from Fenland UK IO92wn [#APRSThursday] 2023-02-23 09:22:11 UTC 9W2XDD-1:hello happy APRSTHUDAY de 9W2XDD OJ03QD over RF 73 [#APRSThursday] 2023-02-23 09:26:03 UTC KC8UOK-7:checkin [#APRSThursday] 2023-02-23 09:27:11 UTC KO4UXZ:happy #aprsthursday from VA via RF 73 [#APRSThursday] 2023-02-23 09:27:58 UTC M0ZKK-7:Hello from France where i am workinging 73 [#APRSThursday] 2023-02-23 09:38:05 UTC KJ7ZRZ-9:early morning #APRSTHURSDAY de PHX AZ [#APRSThursday] 2023-02-23 09:38:14 UTC KJ7ZRZ-9:early mornKJ7ZRZ-9>APY200,W7MOT-10,K7XYG-10,WIDE2*::ANSRVR+ [#APRSThursday] 2023-02-23 09:38:14 UTC KJ7ZRZ-9::cq hotg early morning #APRSTHURSDAY de PHX AZ [#APRSThursday] 2023-02-23 09:38:20 UTC KJ7ZRZ-9:early mornKJ7ZRZ-9>APY200,W7MOT-10,K7XYG-10,WIDE2*::ANSRVR+ [#APRSThursday] 2023-02-23 09:38:21 UTC KJ7ZRZ-9::cq hotg early morning #APRSTHURSDAY de PHX AZ [#APRSThursday] 2023-02-23 09:41:12 UTC G8DLX-5:rugby ats [#APRSThursday] 2023-02-23 09:50:52 UTC DB1NTO-7:checkin [#APRSThursday] 2023-02-23 10:04:03 UTC KB3KAV-10:gm fm northeast Pennsylvania have a great day 73 [#APRSThursday] 2023-02-23 10:14:04 UTC DK4BU:happy #APRSTHURSDAY 73 DK4BU [#APRSThursday] 2023-02-23 10:14:15 UTC N7SIX-7:Mabuhay! Hello hams, happy #APRSThursday! 73 [#APRSThursday] 2023-02-23 10:36:15 UTC SM6JVU-15:GREETINGS FROM SWEDEN W COAST JO57 VIA TCPIP ANDERS [#APRSThursday] 2023-02-23 10:42:52 UTC YD0BCX-9:happy #APRSThursday from jakarta 73 [#APRSThursday] 2023-02-23 10:46:56 UTC SM6JVU:Greetings from sweden westcoastAnders via rf YAESU FTM 300 [#APRSThursday] 2023-02-23 10:47:57 UTC OE8SQK-7:Happy Thursday! 73 OE8SQK [#APRSThursday] 2023-02-23 10:48:30 UTC VE1CWJ-7:Happy APRS Thursday! 73 de VE1CWJ [#APRSThursday] 2023-02-23 10:54:35 UTC KW2DIA-7:73 de KW2DIA Harlem NYC FN30at65 [#APRSThursday] 2023-02-23 10:56:41 UTC KW2DIA!7:73 de KW2DIA Harlem NYC FN30at654 [#APRSThursday] 2023-02-23 11:10:41 UTC AE4WX-10:Happy #APRSThursday! 73 de AE4WX [#APRSThursday] 2023-02-23 11:14:59 UTC WC3T-12:on #APRSthursday 73 fm WC3T on the iOS APRS.fi app [#APRSThursday] 2023-02-23 11:16:26 UTC IW0FKO:#aprsthursday 73's to everyone from Rome Italy! [#APRSThursday] 2023-02-23 11:18:21 UTC IW0FKO:#aprsthursday this msg send via RF on 144.800MHz [#APRSThursday] 2023-02-23 11:29:57 UTC ZL1LAC-5:73 de ZL1LAC [#APRSThursday] 2023-02-23 11:36:40 UTC W8RID:#APRSThursday Bob Twinsburg OH [#APRSThursday] 2023-02-23 11:37:11 UTC N2EDX-7:Greetings from Daytona Beach, Fl clear sky 69dF [#APRSThursday] 2023-02-23 11:43:14 UTC KP3T-9:#aprsthursday KP3T VIA RF [#APRSThursday] 2023-02-23 11:49:10 UTC SM4URM-2:greetings from sweden [#APRSThursday] 2023-02-23 11:53:24 UTC YD0BCX-9:greetings from jakarta via local RF 73 [#APRSThursday] 2023-02-23 11:59:18 UTC KD2PSC-9:#APRSThursday from KD2PSC ICE STORM WNY [#APRSThursday] 2023-02-23 12:02:38 UTC N4TRQ-5:Good Morning RF Land #APRSTHURSDAY [#APRSThursday] 2023-02-23 12:05:19 UTC AI5HC-8:htx on ft3 [#APRSThursday] 2023-02-23 12:06:15 UTC YD6HTK:F1 POWER BOAT LAKE TOBA:dev 9.8KHz [#APRSThursday] 2023-02-23 12:07:36 UTC KC8OWL-7:good morning aprs operators. 73 kc8owl [#APRSThursday] 2023-02-23 12:16:14 UTC AK9RT-10:Happy Thursday from NW Indiana 73 AK9RT [#APRSThursday] 2023-02-23 12:17:38 UTC KD0NRC-9:73 de @4x0nn [#APRSThursday] 2023-02-23 12:26:43 UTC W0CBP-7:hello from colardo! [#APRSThursday] 2023-02-23 12:27:54 UTC KB3LEL-9:happy #aprsthursday 73 kb3lel [#APRSThursday] 2023-02-23 12:32:56 UTC VE3TSV-9:Happy aprsthursday greetings all from ve3tsv [#APRSThursday] 2023-02-23 12:33:31 UTC KR8U-5:#APRSTHURSDAY no power lots of trees took out lines fm ice [#APRSThursday] 2023-02-23 12:37:35 UTC KD4ADC-1:KD4ADC EM74 helping make 1200 baud cool again. [#APRSThursday] 2023-02-23 12:38:54 UTC 9W2YIB-5:#APRSTHURSDAY de 9w2yib [#APRSThursday] 2023-02-23 12:43:34 UTC KE8VU:FROM KE8VU [#APRSThursday] 2023-02-23 12:43:59 UTC KE8VU:FROM K8VU 5'cðAPRSHC,FN9 [#APRSThursday] 2023-02-23 12:46:06 UTC KE8VU:FROM KE8VU [#APRSThursday] 2023-02-23 12:48:29 UTC K7XYG-9:Good Morning from 7 land [#APRSThursday] 2023-02-23 12:49:19 UTC W9PEM-5:Happy #APRSThursday from W9PEM in snowy SE Wisconsin. [#APRSThursday] 2023-02-23 12:50:29 UTC LZ2ISI-10:#aprsthursday [#APRSThursday] 2023-02-23 12:54:47 UTC GW0TQM-7:#aprsthursday [#APRSThursday] 2023-02-23 12:55:45 UTC GRYLCP-12:AB1PH Don Walpole MA viar RF [#APRSThursday] 2023-02-23 12:56:58 UTC HK5JHY-9:happy #APRSTHURSDAY 73 HK5JHY CAICEDONIA COLOMBIA [#APRSThursday] 2023-02-23 12:57:11 UTC KE4LPD-7:Howdy from Tx 73 de ke4lpd [#APRSThursday] 2023-02-23 12:58:49 UTC KO4HRU-15:Happy #APRSTHURSDAY 73s KO4HRU [#APRSThursday] 2023-02-23 12:59:24 UTC VE3OZW-3:Good morning to all from cold and icy Ontario aprsthursday [#APRSThursday] 2023-02-23 13:02:49 UTC SA6AUU-10:hello from a rainy Sweden 73 [#APRSThursday] 2023-02-23 13:03:47 UTC 9W2GDB:Hello Hi. Happy #aprsthursday everyone. Have a good day [#APRSThursday] 2023-02-23 13:07:45 UTC KD9TUL-9:Happy #aprsthursday from chicago! [#APRSThursday] 2023-02-23 13:11:16 UTC WC2F-7:tlh fl 73 de wc2f [#APRSThursday] 2023-02-23 13:15:27 UTC VE3OZW-3:good morning [#APRSThursday] 2023-02-23 13:16:12 UTC KG5EUX-2:----- 73 FROM SEVEN POINTS TEXAS - EM12VH [#APRSThursday] 2023-02-23 13:16:18 UTC KG5EUX-2:----- 73 FROM SEVEN POINTS TEXAS -+ [#APRSThursday] 2023-02-23 13:16:18 UTC KG5EUX-2:EM12VH [#APRSThursday] 2023-02-23 13:16:19 UTC KG5EUX-2:----- 73 FROM SEVEN POINTS TEXAS -+ [#APRSThursday] 2023-02-23 13:16:20 UTC KG5EUX-2:EM12VH [#APRSThursday] 2023-02-23 13:16:22 UTC KG5EUX-2:----- 73 FROM SEVEN POINTS TEXAS -+ [#APRSThursday] 2023-02-23 13:16:24 UTC KG5EUX-2:EM12VH [#APRSThursday] 2023-02-23 13:16:26 UTC KG5EUX-2:----- 73 FROM SEVEN POINTS TEXAS -+ [#APRSThursday] 2023-02-23 13:16:27 UTC KG5EUX-2:EM12VH [#APRSThursday] 2023-02-23 13:16:50 UTC KG5EUX-2:----- 73 FROM SEVEN POINTS TEXAS - EM12VH [#APRSThursday] 2023-02-23 13:17:50 UTC R2AKF-5:*Good* Day ! 73! [#APRSThursday] 2023-02-23 13:18:00 UTC F5TUN-1:j [#APRSThursday] 2023-02-23 13:18:13 UTC KK5SDS-7:hi from nw arkansas, 73 [#APRSThursday] 2023-02-23 13:22:58 UTC KB3KBR-1:#aprsthursday [#APRSThursday] 2023-02-23 13:24:38 UTC 4F9INC-5:#APRSTHURSDAY, MABUHAY ALL STATIONS.73 [#APRSThursday] 2023-02-23 13:28:15 UTC N2SAW-7:Happy thursday and hello net [#APRSThursday] 2023-02-23 13:40:36 UTC G7EXZ-5:hello gang #aprsthursday 73 Steve [#APRSThursday] 2023-02-23 13:41:06 UTC VA6PLC-7:#aprsthursday hi from -30 southern Alberta VA6PLC [#APRSThursday] 2023-02-23 13:41:59 UTC W0RFP-7:73 W0RFP [#APRSThursday] 2023-02-23 13:44:21 UTC KI5SKW-7:happy aprs thursday 73s to all .-ki5skw [#APRSThursday] 2023-02-23 13:52:42 UTC KF0KFL-1:Happy #APRSThursday from White Bear Lake, MN [#APRSThursday] 2023-02-23 13:55:01 UTC K3JRZ-5:Happy #APRSThursday from K3JRZ in Delaware! [#APRSThursday] 2023-02-23 13:59:22 UTC N3VT-5:Happy #aprsthursday from Blacksburg VA de Tom N3VT via IOS [#APRSThursday] 2023-02-23 14:03:51 UTC M7DXA-7:From RugbyATs [#APRSThursday] 2023-02-23 14:06:02 UTC KG7KHL-9:VIA RF [#APRSThursday] 2023-02-23 14:11:54 UTC M7DXA-7:happy #aprsthursday from Rugby, England [#APRSThursday] 2023-02-23 14:14:51 UTC K3JRZ:K3JRZ via RF = Happy #APRSThursday! [#APRSThursday] 2023-02-23 14:19:03 UTC N4WGM:FM18XS MARYLAND [#APRSThursday] 2023-02-23 14:20:20 UTC KC1NKO-7:checkin [#APRSThursday] 2023-02-23 14:29:36 UTC YO8SDE-4:Hello from Romania via APRS_IS [#APRSThursday] 2023-02-23 14:32:55 UTC N4WGM-7:FM18XS Maryland [#APRSThursday] 2023-02-23 14:39:07 UTC CT7AQH-1:73 from Portugal. [#APRSThursday] 2023-02-23 14:39:34 UTC KJ4ERJ:In the Sunny South! [#APRSThursday] 2023-02-23 14:40:16 UTC KP4JPB:#aprsthursday 73 [#APRSThursday] 2023-02-23 14:49:49 UTC KK7IQG-1:Happy Aprsthursday 73s [#APRSThursday] 2023-02-23 14:53:44 UTC KM6MCI-7:hello all 73 KM6MCI [#APRSThursday] 2023-02-23 14:55:36 UTC DF6PA-6:Going QRT for today. 73 Stephan [#APRSThursday] 2023-02-23 14:59:08 UTC KC5BIL-7:hello from hollywood ca usa [#APRSThursday] 2023-02-23 15:02:47 UTC K4TXN-7:have a great '#aprsthursday [#APRSThursday] 2023-02-23 15:03:57 UTC AI3KS-5:Happy Thursday from York PA FM19 [#APRSThursday] 2023-02-23 15:04:43 UTC N1BAM-7:Happy Thursday from CT, USA 73 N1BAM [#APRSThursday] 2023-02-23 15:04:52 UTC K4SBC:yet another APRS check-in. A yaac from YAAC [#APRSThursday] 2023-02-23 15:21:16 UTC KD9UYS-7:Happy #APRSThursday from APRS.fi [#APRSThursday] 2023-02-23 15:24:12 UTC G8TNU-7:Happy #APRSTHURSDAY 73 de G8TNU [#APRSThursday] 2023-02-23 15:25:58 UTC KD5JSY-1:Happy thursday and hello from TX [#APRSThursday] 2023-02-23 15:26:34 UTC W4IIA:#APRSThursday from FM17 73 w4iia [#APRSThursday] 2023-02-23 15:29:04 UTC KC1OCY-5:Good morning from New Orleans! via APRSIS [#APRSThursday] 2023-02-23 15:33:23 UTC HK6T-7:happy #APRSTHURSDAY Kissimmee FL 73 HK6T/W4 [#APRSThursday] 2023-02-23 15:34:28 UTC VE1NPS-5:GREETINGS FROM YHZ FN84DP. [#APRSThursday] 2023-02-23 15:38:29 UTC N5DGC:#aprsthursday N5DGC [#APRSThursday] 2023-02-23 15:42:21 UTC VA7SHG-9:Happy APRS Thursday, Chilliwack BC CN99 w/aprsdroid [#APRSThursday] 2023-02-23 15:43:16 UTC KJ7OWD-9:hello from the Bluegrass state! 73 [#APRSThursday] 2023-02-23 15:44:34 UTC 9W2BAF-1:happy #APRSTHURSDAY 73 9w2baf [#APRSThursday] 2023-02-23 15:45:14 UTC W6DVI-9:greetings from Los Angeles 73 to all de W6DVI [#APRSThursday] 2023-02-23 15:46:47 UTC WB2OSZ-10:Did you know that APRS comments and messages can contain+ [#APRSThursday] 2023-02-23 15:47:07 UTC KC8OWL:CHK IN VIA 40M JS8CALL [#APRSThursday] 2023-02-23 15:47:43 UTC 9W2ATR-10:hello from Perlis [#APRSThursday] 2023-02-23 15:48:22 UTC KD0TLS-7:Snow day in Minneapolis [#APRSThursday] 2023-02-23 15:49:30 UTC WB2OSZ-10:Messages can contain UTF-8. アマチュア+ [#APRSThursday] 2023-02-23 15:49:30 UTC WB2OSZ-10:無線 [#APRSThursday] 2023-02-23 15:49:32 UTC WB2OSZ-10:Messages can contain UTF-8. アマチュア+ [#APRSThursday] 2023-02-23 15:49:32 UTC WB2OSZ-10:無線 [#APRSThursday] 2023-02-23 15:49:32 UTC WB2OSZ-10:Messages can contain UTF-8. ????????????????????? [#APRSThursday] 2023-02-23 15:49:34 UTC WB2OSZ-10:Messages can contain UTF-8. アマチュア+ [#APRSThursday] 2023-02-23 15:49:36 UTC WB2OSZ-10:無線 [#APRSThursday] 2023-02-23 15:49:39 UTC WB2OSZ-10:Messages can contain UTF-8. アマチュア+ [#APRSThursday] 2023-02-23 15:49:40 UTC WB2OSZ-10:無線 [#APRSThursday] 2023-02-23 15:49:41 UTC WB2OSZ-10:Messages can contain UTF-8. ????????????????????? [#APRSThursday] 2023-02-23 15:51:46 UTC KQ4JDJ:Happy #APRSThursday [#APRSThursday] 2023-02-23 15:55:10 UTC AE6LJ:Hello from snowed-in, frozen California. [#APRSThursday] 2023-02-23 16:01:05 UTC KC7JPC-9:73 kc7jpc [#APRSThursday] 2023-02-23 16:03:32 UTC KJ7NUX:It's snowing for #APRSTHURSDAY! Good day from CN84! [#APRSThursday] 2023-02-23 16:12:29 UTC W1FRD-7:#APRSTHURDAY73 W1FRD Fairfield, California [#APRSThursday] 2023-02-23 16:12:46 UTC HK6L-2:73 HK6L Colombia [#APRSThursday] 2023-02-23 16:14:53 UTC WS4P:Hello all worldwide via APRS! [#APRSThursday] 2023-02-23 16:15:37 UTC KP4CA-9:HAPPY APRSTHURSDAY [#APRSThursday] 2023-02-23 16:20:55 UTC CT1ERY:hello #APRSTHURSDAY 73 from Portugal YAESU FTM400 via RF [#APRSThursday] 2023-02-23 16:22:54 UTC K0CSN-5:happy #APRSThursday [#APRSThursday] 2023-02-23 16:29:07 UTC KD5NJR-7:howdy de scott in em26 via rf [#APRSThursday] 2023-02-23 16:31:52 UTC WH6OMG-7:HAPPY THURSDAY [#APRSThursday] 2023-02-23 16:32:03 UTC TA3AZV-7:#aprsthursday 73 from Turkiye [#APRSThursday] 2023-02-23 16:33:18 UTC KR8U-5:yes power back on tree mostly cleaned up [#APRSThursday] 2023-02-23 16:33:27 UTC N3JF-9:Live, from SoCal, it's #APRSThursday! [#APRSThursday] 2023-02-23 16:47:34 UTC SP8KSR:#APRSTHURSDAY 73 de SP8KSR [#APRSThursday] 2023-02-23 16:48:30 UTC KC8OWL-7:making thursday & 1200 baud great! #aprsthursday [#APRSThursday] 2023-02-23 16:56:22 UTC SP8KSR:#APRSTHURSDAY de SP8KSR [#APRSThursday] 2023-02-23 17:04:59 UTC TA3HRJ-5:#aprsthursday 73 [#APRSThursday] 2023-02-23 17:05:40 UTC KE4RCO-7:#aprsthursday from NC [#APRSThursday] 2023-02-23 17:12:19 UTC KI5HBA-7:happy #aprsthursday y'all! [#APRSThursday] 2023-02-23 17:14:59 UTC KK7KEK-7:0 degrees f APRSthursday 73! kk7kek [#APRSThursday] 2023-02-23 17:25:27 UTC KB7SVP:Maranatha! [#APRSThursday] 2023-02-23 17:26:58 UTC TG5ALY-1:checking #aprsTH via ISS [#APRSThursday] 2023-02-23 17:36:19 UTC TG5ALY-14:LIST [#APRSThursday] 2023-02-23 17:36:35 UTC TG5ALY-14:LAST [#APRSThursday] 2023-02-23 17:40:59 UTC EA2EYI-6:Happy aprs thursday [#APRSThursday] 2023-02-23 17:42:45 UTC K0FJ-12:Happy #APRSTHURSDAY from NW Kansas de K0FJ [#APRSThursday] 2023-02-23 17:56:40 UTC WA4MT-9:Greetings from Waco Ga. Happy APRS Thursday to all. 73s. [#APRSThursday] 2023-02-23 17:56:58 UTC AA8VG-7:de aa8vg [#APRSThursday] 2023-02-23 17:57:10 UTC F4EGX-7:hello its pizza time here. 73 [#APRSThursday] 2023-02-23 17:57:23 UTC VE1DAD:Hi DE VE1DAD 73's [#APRSThursday] 2023-02-23 18:02:13 UTC OE3TWH-7:happy #aprsthursday! 73 de Wolfgang [#APRSThursday] 2023-02-23 18:02:45 UTC KM6CQ-7:#APRSTHURSDAY de Dan Washoe Valley NV Sent from my FT5 [#APRSThursday] 2023-02-23 18:03:59 UTC OE6PLD:happy #aprsthursday [#APRSThursday] 2023-02-23 18:09:25 UTC NP4JN-7:np4jn 73 rf via kp4dog packet network puerto rico. [#APRSThursday] 2023-02-23 18:12:05 UTC W9DNE:My first check-in from APRSdroid. [#APRSThursday] 2023-02-23 18:19:48 UTC F4EGX-7:someone have tested APRS via JS8CALL ? It's working ? [#APRSThursday] 2023-02-23 18:23:59 UTC K7XYG-9:K7XYG checking in with Facebook messenger via ChatGPT AiBot [#APRSThursday] 2023-02-23 18:36:25 UTC N4EJM-3:#APRSTHURSDAY Follow n4ejm on Twitter, IG & Mastodon. 73 [#APRSThursday] 2023-02-23 18:40:07 UTC SM2YUW-5:Greetings from Kiruna, Sweden via Android. 73 de SM2YUW. [#APRSThursday] 2023-02-23 18:42:16 UTC F8ARO-10:Bonjour de France [#APRSThursday] 2023-02-23 18:43:49 UTC ES4RM:HI ALL! 73 de ES4RM [#APRSThursday] 2023-02-23 18:44:33 UTC SM2YUW:Greetings de Sweden! 73 de SM2YUW via FTM-300 [#APRSThursday] 2023-02-23 18:54:57 UTC 9H5TB:Greetings from Malta [#APRSThursday] 2023-02-23 19:01:19 UTC DV5CEL-9:HAPPY #APRSTHURSDAY!QTH MONTEVIDEO, UY. MM. 73 [#APRSThursday] 2023-02-23 19:02:13 UTC KO4DBP-5:Happy #APRSThursday [#APRSThursday] 2023-02-23 19:02:44 UTC KO4AWH-7:happy thursday [#APRSThursday] 2023-02-23 19:03:44 UTC K3ROC-4:Clanging & Banging 50 watts for this #APRSThursday [#APRSThursday] 2023-02-23 19:06:16 UTC W2WAT-7:W2WAT NJ APRS Sea level ham [#APRSThursday] 2023-02-23 19:13:21 UTC HJ5JAD-7:happy #APRSTHURSDAY 73 HJ5jAD Caicedonia Colombia [#APRSThursday] 2023-02-23 19:17:34 UTC EI5IN-5:hello from Keith in Ireland 73! [#APRSThursday] 2023-02-23 19:21:45 UTC KD9MER-1:Happy APRS day DE KD9MER [#APRSThursday] 2023-02-23 19:24:34 UTC OH7LZB-5:Finland checking in! [#APRSThursday] 2023-02-23 19:32:54 UTC KH6OWL-9:aloha APRS Thursday 73 KH6owl [#APRSThursday] 2023-02-23 19:37:13 UTC TI2GBB-8:hi from Costa Rica [#APRSThursday] 2023-02-23 19:38:13 UTC KB7UVC:Greetings from Belfair WA [#APRSThursday] 2023-02-23 19:46:13 UTC KI7KUI-7:Making 1200 baud cool again! Happy #aprsthursday. 73 [#APRSThursday] 2023-02-23 19:48:48 UTC VE1PS-9:GD FRM CYHZ [#APRSThursday] 2023-02-23 19:49:22 UTC M0NPQ-9:Happy Thursday ,73 from JO02UO [#APRSThursday] 2023-02-23 19:49:36 UTC VA7TEV:happy thursday! [#APRSThursday] 2023-02-23 19:50:18 UTC DL7EDU-7:Greetings from Berlin :) [#APRSThursday] 2023-02-23 19:50:45 UTC KC8OWL-7:if you are aFB user search aprsthursday and join the group [#APRSThursday] 2023-02-23 19:51:56 UTC W9RWB-1:W9RWB to #APRSThursday Hello from SatGate W9RWB-1 [#APRSThursday] 2023-02-23 19:52:43 UTC WA4VGZ-9:#APRSTHURSDAY Grid EM66 73 all [#APRSThursday] 2023-02-23 19:53:03 UTC N9KO-1:Hello from NE Illinois en61ax. ITM from Gitmo Nation [#APRSThursday] 2023-02-23 19:56:12 UTC N1BAM-7:73 all [#APRSThursday] 2023-02-23 20:04:00 UTC WP3OF-9:#aprsthursday from Puerto Rico [#APRSThursday] 2023-02-23 20:08:04 UTC N7WDZ-7:Gene in Vegas Hope is not a plan #aprsthursday [#APRSThursday] 2023-02-23 20:08:05 UTC KG6MWI-9:Checking into net [#APRSThursday] 2023-02-23 20:09:54 UTC KE4BML-7:happy #APRSTHURSDAY 73 de ke4bml [#APRSThursday] 2023-02-23 20:12:49 UTC CT1FGS-10:Happy #aprsthursday from Portugal. 73 de CT1FGS [#APRSThursday] 2023-02-23 20:16:30 UTC WD0LFN-9:- aprs and python: tinyurl.com/39jj3hex [#APRSThursday] 2023-02-23 20:19:40 UTC KG7AV-4:PING [#APRSThursday] 2023-02-23 20:24:17 UTC KP4KYG-7:#APRSTHURSDAY KP4KYG PUERTO RICO 73 [#APRSThursday] 2023-02-23 20:24:54 UTC KO4CWF-9:hello from SC [#APRSThursday] 2023-02-23 20:29:25 UTC AB1PH-7:AB1PH DFon Walpole MA via APRS-IS [#APRSThursday] 2023-02-23 20:30:30 UTC KN4PIJ-9:hello from I-4 [#APRSThursday] 2023-02-23 20:40:17 UTC YT2DT:Hollow from Krusevac, Serbia [#APRSThursday] 2023-02-23 20:43:37 UTC N7EEL-7:73 from EWA [#APRSThursday] 2023-02-23 20:44:38 UTC R2BBS-9:welcome rr3aac 10m Moscow [#APRSThursday] 2023-02-23 20:47:00 UTC N1COW-9:Greetings from New Hampshire [#APRSThursday] 2023-02-23 20:50:54 UTC VE3OZW-3:Add me to the list hello to everyone [#APRSThursday] 2023-02-23 20:53:48 UTC N1COW-9:Greetings from New Hampshire [#APRSThursday] 2023-02-23 20:54:35 UTC VA7BWX-9:Happy Thursday to the APRS weekly net participants [#APRSThursday] 2023-02-23 20:59:32 UTC NG7N-7:Better late than never! GA from chilly Seattle. [#APRSThursday] 2023-02-23 21:05:07 UTC KC1SJK-1:Happy Thursday from Boston [#APRSThursday] 2023-02-23 21:05:09 UTC OM8GRS-7:happy #APRSTHURSDAY 73! OM8GRS [#APRSThursday] 2023-02-23 21:09:35 UTC KN4JQB-7:Howdy! [#APRSThursday] 2023-02-23 21:17:56 UTC VA7APZ-9:happy #APRSTHURSDAY 73 from north vancouver canada [#APRSThursday] 2023-02-23 21:23:01 UTC VA7OTC:fm Victoria [#APRSThursday] 2023-02-23 21:32:14 UTC KD9SPR:#APRSTHURSDAY FROM 20M JS8CALL [#APRSThursday] 2023-02-23 21:34:17 UTC K7XYG-9:K7XYG:Online solitaire champ, burrito enjoyer,love machine [#APRSThursday] 2023-02-23 21:36:30 UTC KD2UTC:Hello from Matawan NJ [#APRSThursday] 2023-02-23 21:40:53 UTC KC1RIS-7:happy #APRSTHURSDAY 73 kc1ris [#APRSThursday] 2023-02-23 21:41:49 UTC W3TXG-7:Greetings from Pittsburgh, PA USA 73' from W3TXG [#APRSThursday] 2023-02-23 21:46:09 UTC DJ6KR-7:1st try [#APRSThursday] 2023-02-23 21:46:19 UTC N8MOR:Happy aprsthursday de N8MOR [#APRSThursday] 2023-02-23 21:46:44 UTC W5CAE:APRS [#APRSThursday] 2023-02-23 21:56:25 UTC LU6EOW-1:greetings from argentina through brandmeister [#APRSThursday] 2023-02-23 21:59:15 UTC KG5DWM-7:Happy Thursday from Conroe TX! kg5dwm [#APRSThursday] 2023-02-23 22:00:08 UTC KC1MMC-1:Check in! [#APRSThursday] 2023-02-23 22:01:00 UTC K8JTT-7:#APRSThursday 73 K8JTT Brownstown,MI [#APRSThursday] 2023-02-23 22:06:12 UTC KB2UUL-1:Portable Raleigh, NC [#APRSThursday] 2023-02-23 22:07:08 UTC AA8L-7:hi de pete 73 all! [#APRSThursday] 2023-02-23 22:15:17 UTC AE4OK-7:woohoo finally made it [#APRSThursday] 2023-02-23 22:19:05 UTC KC0NAH-9:happy aprs thursday ! [#APRSThursday] 2023-02-23 22:24:10 UTC HK6RM-10:#aprsthursday, 73 [#APRSThursday] 2023-02-23 22:26:00 UTC HK4LRM-10:#aprsthursday, 73 [#APRSThursday] 2023-02-23 22:27:32 UTC HK4LRM-10:have a nice day #aprsthursday, 73 [#APRSThursday] 2023-02-23 22:28:49 UTC HK6ER-10:have a nice day #aprsthursday, 73 [#APRSThursday] 2023-02-23 22:32:27 UTC KC3QEH:Happy #APRSThursday from Elizabethtown PA 73 [#APRSThursday] 2023-02-23 22:37:52 UTC HP1COO-7:from Panama via 2m [#APRSThursday] 2023-02-23 22:39:55 UTC KB9TYC-9:hello from snowy Wisconsin 73 KB9TYC [#APRSThursday] 2023-02-23 22:53:09 UTC AE4OK-7:hmmm..msgs not returned [#APRSThursday] 2023-02-23 22:54:50 UTC KC3VBC-7:#aprsthursday from FN20jq (PA) 73 [#APRSThursday] 2023-02-23 22:58:10 UTC KD2UWR-7:aprsthursdqy mobile in VT [#APRSThursday] 2023-02-23 23:05:23 UTC VA7EKA-9:have an excellent day! from CN89. [#APRSThursday] 2023-02-23 23:08:09 UTC K5LUL-7:#APRSThursday [#APRSThursday] 2023-02-23 23:12:30 UTC KO4AXL-10:KO4AXL checking in via aprs-is Morganton NC usa [#APRSThursday] 2023-02-23 23:13:15 UTC N4VGW-7:73 From Virginia [#APRSThursday] 2023-02-23 23:13:19 UTC K0STK-5:Shoveled out from our #APRSTHURSDAY blizzard [#APRSThursday] 2023-02-23 23:22:17 UTC PP1AR-9:Hello from Brazil.GG99uo 73 de PP1AR [#APRSThursday] 2023-02-23 23:22:48 UTC KB8M-5:aprsdroid [#APRSThursday] 2023-02-23 23:26:47 UTC KF1D-4:CHECKING IN OVER DMR [#APRSThursday] 2023-02-23 23:29:37 UTC KB8IFX-9:HAPPY #APRS thursday 73 KB8IFX [#APRSThursday] 2023-02-23 23:29:40 UTC K2RNA-9:hello de K2RNA seattle! [#APRSThursday] 2023-02-23 23:32:13 UTC K2RNA-9:hello de K2RNA seattle! [#APRSThursday] 2023-02-23 23:37:19 UTC KD8OFT-5:Happy #aprsthursday [#APRSThursday] 2023-02-23 23:38:10 UTC N9NDF-3:happy #aprsthursday via RF [#APRSThursday] 2023-02-23 23:40:13 UTC KB5LNC-8:#APRSThursday. Fredericksburg VA [#APRSThursday] 2023-02-23 23:43:26 UTC K7OCR-9:#aprsthursday hello from southern utah [#APRSThursday] 2023-02-23 23:45:05 UTC KB8M-5:Good APRS Thursday! 73 from KB8M [#APRSThursday] 2023-02-23 23:47:25 UTC KM6MCH-7:DE KM6MCH ON 878UVII PLUS #APRSTHURSDAY DM04wa [#APRSThursday] 2023-02-23 23:52:07 UTC N2JLH-7:HELLO FROM TAMPA 73 N2JLH [#APRSThursday] 2023-02-23 23:54:59 UTC W8RJD-4:This is my first #Aprs Thursday! 73 de W8RJD! [#APRSThursday] 2023-02-24 00:01:42 UTC KK6FFP-9:hello from sin city [#APRSThursday] 2023-02-24 00:01:57 UTC N5TXZ-1:Exercising the network via #APRSTHURSDAY. 73! [#APRSThursday] 2023-02-24 00:03:47 UTC AB1PH-7:AB1PH Hell from Walpole MA! [#APRSThursday] 2023-02-24 00:09:17 UTC KO4IJH-9:73 de FM18 #APRSThursday [#APRSThursday] 2023-02-24 00:31:31 UTC N7UWX-14:#APRS Thursday [#APRSThursday] 2023-02-24 00:58:54 UTC KN6PRD-4:checking in iOS, happy #APRSTHURSDAY 73 DE KN6PRD [#APRSThursday] 2023-02-24 01:03:04 UTC WM6H-4:#APRSTHURSDAY using iOS APRS app [#APRSThursday] 2023-02-24 01:06:34 UTC KC8QDO:Greeting from KC8QDO located in Horse Cave Ky [#APRSThursday] 2023-02-24 01:21:04 UTC K7XYG-9:#APRSThursday proudly sponsored this week by Red Bull [#APRSThursday] 2023-02-24 01:33:30 UTC KV4S:Roll Tide! #APRSThursday [#APRSThursday] 2023-02-24 01:35:21 UTC KE2AEQ-7:Happy #APRSThursday from Brooklyn! [#APRSThursday] 2023-02-24 01:38:56 UTC J73GPG-9:happy #aprsthursday [#APRSThursday] 2023-02-24 02:07:20 UTC VE6RAW-10:from -30c Calgary Canada. #aprsthursday [#APRSThursday] 2023-02-24 02:10:13 UTC KN4JQB-9:checking in mobile [#APRSThursday] 2023-02-24 02:16:58 UTC KB2HSH:GREETINGS FROM BUFFALO [#APRSThursday] 2023-02-24 02:25:06 UTC WB0RUR-1:howdy [#APRSThursday] 2023-02-24 02:40:28 UTC KM7CRD-5:Greetings from NC WA. via droid [#APRSThursday] 2023-02-24 02:42:23 UTC KJ6PYV:HAPPY THURSDAY [#APRSThursday] 2023-02-24 02:51:15 UTC HK6L-7:happy #APRSTHURSDAY 73 HK6L [#APRSThursday] 2023-02-24 03:27:56 UTC KM6QPV-3:Hello from Rancho Cucamonga, CA [#APRSThursday] 2023-02-24 04:17:02 UTC KN6OVN-7:hi all at #aprsthursday [#APRSThursday] 2023-02-24 04:25:47 UTC KF0CLZ-7:happy #aprsthursday from snowy colorado 73 de KF0CLZ [#APRSThursday] 2023-02-24 07:47:07 UTC KN4JQB-7:Hello! [#APRSThursday] 2023-03-01 19:35:14 UTC KN6NAF-9:#aprsthursday 73 from Apple Valley California [#APRSThursday] 2023-03-01 21:02:47 UTC K7XYG-9:Am I caller number 9? Im trying to win the Katy Perry tix! [#APRSThursday] 2023-03-01 22:18:48 UTC DY8CMM-5:happy aprs day 73 mabuhay [#APRSThursday] 2023-03-01 22:56:21 UTC W5JAK-7:Happy #APRSTHURSDAY from Denver Colorado USA [#APRSThursday] 2023-03-01 23:14:00 UTC N8CNZ-5:Hello from Dayton Ohio [#APRSThursday] 2023-03-01 23:40:29 UTC K7XYG-7:"Jamming critical infrastructure since April 2022" 73 K7XYG [#APRSThursday] 2023-03-01 23:58:43 UTC TG5ALY-14:Check-in from Guatemala [#APRSThursday] 2023-03-02 00:00:40 UTC KB2HSH:Happy APRS Thursday from Buffalo NY USA [#APRSThursday] 2023-03-02 00:00:47 UTC TG5ALY-14:Happy #APRSTHURSDAY [#APRSThursday] 2023-03-02 00:02:33 UTC TG5ALY-14:Check-in from Guatemala [#APRSThursday] 2023-03-02 00:03:08 UTC KB8IFX-9:HAPPY #APRS thursday 73 KB8IFX [#APRSThursday] 2023-03-02 00:03:09 UTC DV8ML-5:happy #APRSTHURSDAY 73 dv8ml [#APRSThursday] 2023-03-02 00:06:59 UTC K4CIH-7:HAPPY #APRSTHURSDAY! 73 K4CIH [#APRSThursday] 2023-03-02 00:07:30 UTC K0STK-5:Happy #APRSTHURSDAY from FL16cc94 [#APRSThursday] 2023-03-02 00:09:03 UTC KC8OWL-7:lets see all those new mobilinkd tnc4s. #aprsthursday! [#APRSThursday] 2023-03-02 00:11:53 UTC 9W8AKN-10:de 9W8AKN [#APRSThursday] 2023-03-02 00:18:47 UTC NF7B-9:Hello from Southern Utah, USA [#APRSThursday] 2023-03-02 00:22:43 UTC AA8NN:hello from en81kk [#APRSThursday] 2023-03-02 00:23:25 UTC KN4BQX-1:greetings from northern Virginia. 73, KN4BQX [#APRSThursday] 2023-03-02 00:24:30 UTC W2WAT-7:W2WAT NJ APRS Sea level ham 73 [#APRSThursday] 2023-03-02 00:29:52 UTC KB3HWM-10:Happy #APRSThursday all de Dave KB3HWM in MD [#APRSThursday] 2023-03-02 00:30:58 UTC N6SGT-11:making 1200 baud cool again [#APRSThursday] 2023-03-02 00:41:18 UTC KE2ACY-2:happy APRS Thursday from NY! 73 [#APRSThursday] 2023-03-02 00:46:54 UTC KJ5IK-9:Greetings from KJ5IK currently in Albuquerque, NM [#APRSThursday] 2023-03-02 00:47:44 UTC W5CAE:APRS [#APRSThursday] 2023-03-02 00:51:25 UTC VE6BR-9:Happy #APRSThursday! My first time checking in. 73 [#APRSThursday] 2023-03-02 00:51:40 UTC K0FJ-12:Happy #APRSTHURSDAY From NW Kansas de K0FJ [#APRSThursday] 2023-03-02 00:57:05 UTC KC3QEH:Happy #APRSThursday from Elizabethtown, PA [#APRSThursday] 2023-03-02 00:59:48 UTC N7ZEF-3:N7ZEF howdy from Chilly Wyoming [#APRSThursday] 2023-03-02 01:06:22 UTC KR4Q-5:Hello, all. Happy #APRSTHURSDAY from Florida's Space Coast [#APRSThursday] 2023-03-02 01:07:33 UTC KB3KBR-1:happy #aprsthursday!! [#APRSThursday] 2023-03-02 01:21:32 UTC K7XYG-7:pouring rain here in Phoenix #aprsthursday FT3d De K7XYG [#APRSThursday] 2023-03-02 01:22:43 UTC VR2WQY-9:Happy APRS Thursday this is VR2WQY from Hong Kong Android [#APRSThursday] 2023-03-02 01:33:15 UTC K5BDL-7:de K5BDL [#APRSThursday] 2023-03-02 01:38:02 UTC KG7FDC-9:kg7fdc checking in [#APRSThursday] 2023-03-02 01:48:26 UTC WA7SKG:GREETINGS FROM DALLAS OREGON [#APRSThursday] 2023-03-02 01:48:36 UTC GW0TQM-7:#aprsthursday greetings frm Nth Wales op Carl [#APRSThursday] 2023-03-02 01:52:26 UTC KD7KLA:A great day for hiking. Happy APRS Thursday. [#APRSThursday] 2023-03-02 02:02:34 UTC NN4H-5:happy #APRSTHURSDAY de NN4H EM76 Kentucky [#APRSThursday] 2023-03-02 02:10:53 UTC KJ4OAP-9:hello from swVA! 48 F here! [#APRSThursday] 2023-03-02 02:13:01 UTC AE4WX-10:Happy #APRSThursday! Be safe in the ArkLaTex 73 de AE4WX [#APRSThursday] 2023-03-02 02:19:09 UTC W3TXG-7:w3txg is on the air and ready [#APRSThursday] 2023-03-02 02:21:47 UTC N4EJM:RF(HF-40M) FROM JS8CALL SE NC [#APRSThursday] 2023-03-02 02:26:07 UTC KE8QFP-7:73 from Ohio [#APRSThursday] 2023-03-02 02:27:02 UTC K7XYG-9:#aprsthursday is sponsored by "NightStalker"only on Netflix [#APRSThursday] 2023-03-02 02:27:11 UTC VE7DCF-7:Greetings from Chilliwack CN99ac 73. [#APRSThursday] 2023-03-02 02:27:21 UTC ZL2ATH-7:Happy #APRSThursday [#APRSThursday] 2023-03-02 02:32:15 UTC K5LUL-7:73 de Space City Texas [#APRSThursday] 2023-03-02 02:49:07 UTC PA0RNH-9:hi everyone PA0RNH 73 [#APRSThursday] 2023-03-02 02:57:58 UTC 9W2FYM-5:check in for #aprsthursday net de 9W2FYM from West Malaysia [#APRSThursday] 2023-03-02 03:08:04 UTC W9RWB-1:W9RWB to #APRSThursday Hello from SatGate W9RWB-1 [#APRSThursday] 2023-03-02 03:09:11 UTC W8RJD-4:Happy #APRSThursday Let's get the party started! [#APRSThursday] 2023-03-02 03:12:49 UTC N4EJM-6:#aprsthursday via DMR [#APRSThursday] 2023-03-02 03:24:22 UTC KF0GLK-7:happy aprs day [#APRSThursday] 2023-03-02 03:29:34 UTC 9W2EUM-5:happy APRSTHURDAY i am form west malaysia [#APRSThursday] 2023-03-02 03:39:37 UTC DU2XXR-9:GM happy #APRSThursday. Checkins are also logged by APRSPH. [#APRSThursday] 2023-03-02 04:36:23 UTC KN6UZL-9:new rig who dis? aprsthursday! [#APRSThursday] 2023-03-02 04:37:52 UTC N4DJC-7:from Jerry in SC [#APRSThursday] 2023-03-02 04:39:59 UTC KF1D:CHECKING IN OVER 80M JS8CALL 9JW [#APRSThursday] 2023-03-02 04:40:23 UTC KM4FZA-1:happy #APRSTHURSDAY 73 KM4FZA [#APRSThursday] 2023-03-02 05:10:06 UTC KJ7WGM-7:73 To all you hams on the gram! [#APRSThursday] 2023-03-02 05:16:04 UTC 9W2BAF-1:happy #APRSTHURSDAY 73 9w2bafcq [#APRSThursday] 2023-03-02 05:33:54 UTC N6QP-7:check in [#APRSThursday] 2023-03-02 05:34:12 UTC TA3E-5:73 [#APRSThursday] 2023-03-02 05:35:33 UTC KK7AZD-5:happy #APRSTHURSDAY 73 kk7azd [#APRSThursday] 2023-03-02 05:42:17 UTC WZ0C-3:Happy APRS Thursday. 73 WZ0C [#APRSThursday] 2023-03-02 05:44:00 UTC VA6GAC-9:Happy APRSThursday from Calgary Alberta Canada [#APRSThursday] 2023-03-02 05:46:36 UTC DW6XJO:happy APRSTHURSDAY 73 [#APRSThursday] 2023-03-02 05:47:48 UTC VA6GAC-9:I hope everyone is having a good day! [#APRSThursday] 2023-03-02 06:11:24 UTC SM6JVU:Greetings from sweden westcoastYAESU FTM 300 Anders via rf [#APRSThursday] 2023-03-02 06:20:25 UTC SM6JVU-15:GREETINGS FR SWEDEN W COAST JO57 TCPIP ANDERS [#APRSThursday] 2023-03-02 06:37:28 UTC N9KO-1:Hello from NE Illinois ne61ax 73 de N9KO [#APRSThursday] 2023-03-02 06:39:33 UTC KB9HGI-13:CHECKIN [#APRSThursday] 2023-03-02 06:52:16 UTC SM4URM-2:greetings from sweden [#APRSThursday] 2023-03-02 06:52:19 UTC TA3AUW-5:Türkiye 73 [#APRSThursday] 2023-03-02 07:02:12 UTC CT7AQH-1:Hello friends.Checkimg in from Portugal.73 [#APRSThursday] 2023-03-02 07:03:12 UTC HB9EYZ-2:Greetings from foggy JN37VL, -2.7C. QSL? [#APRSThursday] 2023-03-02 07:07:24 UTC KB9HGI-13:greetings de QUINCY IL USA [#APRSThursday] 2023-03-02 07:12:29 UTC OM8GRS-7:happy #APRSTHURSDAY 73! OM8GRS [#APRSThursday] 2023-03-02 07:30:35 UTC EI8HEB-5:happyaprsthursday de sean ei8heb tipperary ireland [#APRSThursday] 2023-03-02 07:39:42 UTC TA3HRJ-5:#aprsthursday 73 [#APRSThursday] 2023-03-02 07:51:04 UTC KI4ASK-15:- Joe in Atlanta [#APRSThursday] 2023-03-02 08:02:28 UTC KN4JQB-7:Howdy! TGIT [#APRSThursday] 2023-03-02 08:08:17 UTC SQ6CYS-7:happy #APRSThursday de SQ6CYS from JO80xl, over DMR [#APRSThursday] 2023-03-02 08:16:17 UTC TB3HBA-5:Turkiye 73 [#APRSThursday] 2023-03-02 08:50:46 UTC 9W2XRI-5:#HappyAprsThursday [#APRSThursday] 2023-03-02 08:53:25 UTC ES4RM:73 de ES4RM [#APRSThursday] 2023-03-02 08:55:30 UTC TA3AZV-7:#APRSThursday 73 from Turkey [#APRSThursday] 2023-03-02 08:56:59 UTC LY3PH-8:HAPPY #APRSTHURSDAY 73 LY3PH [#APRSThursday] 2023-03-02 09:01:20 UTC M0PQA-7:Happy #APRSTHURSDAY everyone. 73 from London, UK de m0pqa [#APRSThursday] 2023-03-02 09:06:28 UTC AB7RT-7:#APRSTHURSDAY RF in Hawaii de AB7RT [#APRSThursday] 2023-03-02 09:16:49 UTC SA6AUU-10:happy #aprsthursday from Sweden 73 [#APRSThursday] 2023-03-02 09:25:41 UTC OE8SQK-7:Happy Thursday! 73 OE8SQK [#APRSThursday] 2023-03-02 09:28:04 UTC 9W2XDD-1:hello happy APRSTHUDAY de 9W2XDD OJ03QD over RF 73 [#APRSThursday] 2023-03-02 09:53:48 UTC CT1ERY:#APRSTHURSDAY from Portugal #YAESUGANG FTM400 via RF 73 [#APRSThursday] 2023-03-02 09:54:25 UTC KC8UOK-7:#aprsthursday [#APRSThursday] 2023-03-02 10:04:11 UTC M0NPQ-9:Happy Thursday radio friends ! 73 [#APRSThursday] 2023-03-02 10:05:42 UTC M1AQX-7:Thursday is APRS day [#APRSThursday] 2023-03-02 10:20:12 UTC EI8HEB-5:happyaprsThursday de ei8heb [#APRSThursday] 2023-03-02 10:21:04 UTC M1AQX-7:RUGBY Thurday is APRS Day [#APRSThursday] 2023-03-02 10:25:26 UTC F4FXL:Hi all! Checking in from France via RF JN38TT [#APRSThursday] 2023-03-02 10:28:51 UTC M0IJS-7:Hi from Sitges [#APRSThursday] 2023-03-02 10:39:06 UTC 9W2GDB:Happy #aprsthursday everyone [#APRSThursday] 2023-03-02 10:45:19 UTC KP3T-9:aprsthursday KP3T VIA RF [#APRSThursday] 2023-03-02 10:54:06 UTC KE8TES-1:North Central Ohio USA checking in #APRSThursday [#APRSThursday] 2023-03-02 11:17:38 UTC WM6H-4:#APRSTHURSDAY using iOS APRS app [#APRSThursday] 2023-03-02 11:19:30 UTC KP4CA-9:HAPPY APRSTHURSDAY [#APRSThursday] 2023-03-02 11:23:04 UTC DC1OZ-7:happy #APRSTHURSDAY 73 Pavel, BW, DE [#APRSThursday] 2023-03-02 11:24:51 UTC N1COW-9:Greetings from New Hampshire [#APRSThursday] 2023-03-02 11:29:09 UTC K7XYG-7:good morning from Phoenix K7XYG #APRSThursday #yaesugang [#APRSThursday] 2023-03-02 11:32:00 UTC CT1END-2:#APRSTHURSDAY Good morning to all, 73 CT1END [#APRSThursday] 2023-03-02 11:32:33 UTC CT1END-2:#APRSTHURSDAY 73 from Portugal, CT1END [#APRSThursday] 2023-03-02 11:38:19 UTC G8DLX-7:rugby atCQ hotg RugbyATS [#APRSThursday] 2023-03-02 11:39:02 UTC CS7AYO-5:Hello friends.Happy #APRSThursday.73 from Portugal [#APRSThursday] 2023-03-02 11:40:30 UTC G8DLX-7:rugby ats [#APRSThursday] 2023-03-02 11:41:31 UTC G8DLX-7:rugby atCQ hotg RugbyATS [#APRSThursday] 2023-03-02 11:41:33 UTC G8DLX-7:rugby ats [#APRSThursday] 2023-03-02 11:41:34 UTC G8DLX-7:rugby atCQ hotg RugbyATS [#APRSThursday] 2023-03-02 11:41:38 UTC G8DLX-7:rugby ats [#APRSThursday] 2023-03-02 11:42:37 UTC G8DLX-7:rugby atCQ hotg RugbyATS [#APRSThursday] 2023-03-02 11:42:39 UTC G8DLX-7:rugby ats [#APRSThursday] 2023-03-02 11:45:17 UTC KD2PSC-9:Happy #APRSThursday follow me on twitter @KD2PSC [#APRSThursday] 2023-03-02 11:45:17 UTC G8DLX-7:rugby atCQ hotg RugbyATS [#APRSThursday] 2023-03-02 11:45:17 UTC G8DLX-7:rugby ats [#APRSThursday] 2023-03-02 11:45:17 UTC G8DLX-7:rugby atCQ hotg RugbyATS [#APRSThursday] 2023-03-02 11:45:18 UTC G8DLX-7:rugby ats [#APRSThursday] 2023-03-02 12:02:24 UTC GW7ODP-10:Hello from Swansea UK #aprsThursday 73 de Mike GW7ODP [#APRSThursday] 2023-03-02 12:06:20 UTC KB3KBR-6:happy #aprsthursday!! [#APRSThursday] 2023-03-02 12:07:49 UTC KC8OWL-7:good morning fellow aprs'ers! 73 kc8owl las vegas, nv usa [#APRSThursday] 2023-03-02 12:41:02 UTC WC2F-7:tlh fl 73 de wc2f [#APRSThursday] 2023-03-02 12:41:17 UTC M0ZKK-7:Hello from France where i am workinging Offshore #aprs [#APRSThursday] 2023-03-02 12:51:53 UTC N4WGM-7:FM18XS Maryland [#APRSThursday] 2023-03-02 12:53:55 UTC K3JRZ:Happy #APRSThursday de K3JRZ in Delaware! [#APRSThursday] 2023-03-02 12:58:13 UTC GI7ULG-10:happyaprsthursday de sean gi7ulg belfast [#APRSThursday] 2023-03-02 13:08:35 UTC KO4QYZ-7:just checking in [#APRSThursday] 2023-03-02 13:09:33 UTC OE6PLD:happy #apsrthursday [#APRSThursday] 2023-03-02 13:14:56 UTC KB3BVW-9:checkin [#APRSThursday] 2023-03-02 13:15:14 UTC KW2DIA-7:73 de KW2DIA NYC FN30 Yaesu FT5D via RF [#APRSThursday] 2023-03-02 13:18:27 UTC KC1OCY-9:Good morning from a rainy Boston FN42 via RF [#APRSThursday] 2023-03-02 13:28:53 UTC KB8VUC-10:#APRSThursday 73 DE KB8VUC EN72er [#APRSThursday] 2023-03-02 13:29:44 UTC N1COW-9:Happy APRSThursday [#APRSThursday] 2023-03-02 13:36:51 UTC K7XYG-9:K7XYG FTM200 MOBILE/RF 73 de ARIZONA keep it psychodelic [#APRSThursday] 2023-03-02 13:36:59 UTC K7XYG-9:K7XYG FTM200 MOBILE/RF 73 de AR$GPRMC,133658.00,A,3337.5914+ [#APRSThursday] 2023-03-02 13:36:59 UTC K7XYG-9:2,N,11226.02865,W,0.191,,020323,,,A*61 [#APRSThursday] 2023-03-02 13:37:05 UTC K7XYG-9:K7XYG FTM200 MOBILE/RF 73 de AR$GPRMC,133658.00,A,3337.5914+ [#APRSThursday] 2023-03-02 13:37:07 UTC K7XYG-9:2,N,11226.02865,W,0.191,,020323,,,A*61 [#APRSThursday] 2023-03-02 13:38:34 UTC K7XYG-9:K7XYG FTM200 MOBILE/RF 73 de ARIZONA keep it psychodelic [#APRSThursday] 2023-03-02 13:40:23 UTC KI5SKW-7:happy aprs thursday 73s to all .-ki5skw [#APRSThursday] 2023-03-02 13:45:43 UTC NC6J-7:happy aprs thursday [#APRSThursday] 2023-03-02 13:45:44 UTC KA7HOS-7:1st #APRSTHURSDAY checkin 73 from UT KA7HOS [#APRSThursday] 2023-03-02 13:49:50 UTC WB2OSZ-10:Happy APRS Thursday. アマチュア無ç+ [#APRSThursday] 2023-03-02 13:49:51 UTC WB2OSZ-10:·š [#APRSThursday] 2023-03-02 13:49:55 UTC WB2OSZ-10:Happy APRS Thursday. ????????????????????? [#APRSThursday] 2023-03-02 13:51:30 UTC N5GAH-9:have a great APRSthursday [#APRSThursday] 2023-03-02 13:51:43 UTC KM6MCI-7:#happyaprsthursday 73 KM6MCI [#APRSThursday] 2023-03-02 13:56:25 UTC KO4WIL:hello from TN, testing Mobilinked tnc4 today! [#APRSThursday] 2023-03-02 13:57:33 UTC N3VT-5:Happy #aprsthursday from Blacksburg VA de Tom N3VT via IOS [#APRSThursday] 2023-03-02 13:58:08 UTC AA4JM:likes running direwolf under systemd [#APRSThursday] 2023-03-02 13:59:36 UTC KR8U-9:#APRSThursday SW MI 73 [#APRSThursday] 2023-03-02 14:01:18 UTC KM6CQ-7:de Dan Washoe Valley NV HPY Thursday Radio FT5D [#APRSThursday] 2023-03-02 14:07:54 UTC KK7IQG-1:Happy Aprsthursday 73s! [#APRSThursday] 2023-03-02 14:10:03 UTC TI3IES-9:73 from Costa Rica via DMR [#APRSThursday] 2023-03-02 14:15:14 UTC KE4LPD-7:Howdy from Tx 73 de ke4lpd [#APRSThursday] 2023-03-02 14:16:37 UTC K9KJ-7:Is it partytime yet? .#BigTimDXer [#APRSThursday] 2023-03-02 14:26:07 UTC XE1ALV-7:73 de XE1ALVQro MX [#APRSThursday] 2023-03-02 14:26:21 UTC LZ2ISI-1:aprsthursday [#APRSThursday] 2023-03-02 14:26:31 UTC VE7AJK-7:checking in from Canada [#APRSThursday] 2023-03-02 14:28:52 UTC KJ4ERJ:Bulding HOTG Map [#APRSThursday] 2023-03-02 14:30:19 UTC KM6TWI-5:"work sucks heh heh heh" beavis voice 73 #APRSThursday [#APRSThursday] 2023-03-02 14:32:36 UTC KD2GFA-7:happy #APRSTHURSDAY 73 kd2gfa [#APRSThursday] 2023-03-02 14:34:25 UTC KD9SPR-7:73 from indiana [#APRSThursday] 2023-03-02 14:35:05 UTC KJ4ERJ:In the Sunny South! [#APRSThursday] 2023-03-02 14:37:46 UTC KO4UXZ:#APRSTHURSDAY TRY FROM JS8CALL [#APRSThursday] 2023-03-02 14:42:13 UTC KC2OBI-14:rf mobile in new jersey [#APRSThursday] 2023-03-02 14:43:04 UTC VE6RAW-10:hello from Calgary Canada. #aprsthursday [#APRSThursday] 2023-03-02 14:58:14 UTC KC8OWL-7:k2gog or ne2z are you out there [#APRSThursday] 2023-03-02 14:59:14 UTC N0ZJT-1:Happy Thursday [#APRSThursday] 2023-03-02 14:59:31 UTC N5DGC:#aprsthursday N5DGC [#APRSThursday] 2023-03-02 15:00:50 UTC 9W2FAS-5:happy day today de 9w2fas west malaysia it. [#APRSThursday] 2023-03-02 15:02:02 UTC KC5BIL-7:DE KC5BIL in Los Angeles CA USA [#APRSThursday] 2023-03-02 15:04:13 UTC ES4RM:73 de ES4RM from Estonia [#APRSThursday] 2023-03-02 15:06:46 UTC NP4JN-7:np4jn 73 rf via kp4dog packet network puerto rico. [#APRSThursday] 2023-03-02 15:08:25 UTC VE1PS-9:FRM CYHZ [#APRSThursday] 2023-03-02 15:12:02 UTC ES4RM-1:TEST A878 [#APRSThursday] 2023-03-02 15:14:16 UTC N0WAI-7:hello from chicago [#APRSThursday] 2023-03-02 15:14:18 UTC VE1NPS-5:GOOD DAY FROM PORT OF HALIFAX - CAHAL [#APRSThursday] 2023-03-02 15:17:07 UTC IW0FKO:#aprsthursday goodmorning everyone from Rome Italy [#APRSThursday] 2023-03-02 15:18:05 UTC N2EDX-9:Greetings from Daytona Beach Florida 82dF sunshine [#APRSThursday] 2023-03-02 15:19:33 UTC N8JLK-3:Happy #APRSthursday via RF! N8JLK [#APRSThursday] 2023-03-02 15:20:36 UTC KC8QDO:#happyThursdayAprs from Mammoth Cave National Park. [#APRSThursday] 2023-03-02 15:30:26 UTC KE4RCO-1:#aprsthursday from NC [#APRSThursday] 2023-03-02 15:39:58 UTC KG5DWM-7:Happy Thursday from Conroe TX! kg5dwm [#APRSThursday] 2023-03-02 15:45:31 UTC OE3TWH-7:#aprsthursday 73 de Wolfgang [#APRSThursday] 2023-03-02 15:51:01 UTC KQ4JDJ:de KQ4JDJ in Durham NC. Happy #APRSThursday [#APRSThursday] 2023-03-02 15:55:05 UTC KB8M:Thanks for APRS check-ins! 73 from KB8m via APRSIS32. [#APRSThursday] 2023-03-02 15:56:22 UTC AD9BU-9:#APRSTHURSDAY New call who dis? Lol formerly KD9TKG [#APRSThursday] 2023-03-02 15:58:45 UTC AB1PH-7:AB1PH Don Walpole MA via APRS-IS [#APRSThursday] 2023-03-02 16:01:15 UTC N7SIX-10:Mabuhay! Hello hams! #APRSThursday 73 [#APRSThursday] 2023-03-02 16:31:08 UTC WS4P:Happy APRS Thursday y'all from SC! [#APRSThursday] 2023-03-02 16:34:10 UTC KD4ADC-1:KD4ADC EM74 helping make 1200 baud cool again. [#APRSThursday] 2023-03-02 16:34:58 UTC WD0LFN-9:#aprsthursday [#APRSThursday] 2023-03-02 16:36:02 UTC PU1EPM-7:fron Vitoria ES Brasil [#APRSThursday] 2023-03-02 16:37:07 UTC VE2PAU:Hello to all ... test from Quebec. 73 [#APRSThursday] 2023-03-02 16:49:59 UTC AE6LJ:Hello all. Ready to read the mail now. [#APRSThursday] 2023-03-02 16:50:11 UTC K0AKV-9:happy aprs thursday 73 k0akv [#APRSThursday] 2023-03-02 16:50:28 UTC NA5X-9:happy #APRSTHURSDAY [#APRSThursday] 2023-03-02 16:52:30 UTC AK9RT-10:Happy Thursday from AK9RT/p in Phoenix AZ [#APRSThursday] 2023-03-02 16:53:20 UTC N0ODV-10:hello #aprsthursday and 73! [#APRSThursday] 2023-03-02 16:53:25 UTC W4IIA:#APRSThursday from FM17 73 w4iia [#APRSThursday] 2023-03-02 16:56:02 UTC HK6T-7:happy #APRSTHURSDAY Kissimmee FL 73 HK6T/W4 [#APRSThursday] 2023-03-02 16:56:49 UTC N4LRY:Happy Thursday, Everyone! 73 N4LRY Raleigh NC [#APRSThursday] 2023-03-02 16:59:08 UTC IZ1UQG:best 73's from Italy [#APRSThursday] 2023-03-02 17:00:33 UTC N5TXZ-1:Exercising & Testing the APRS net for #APRSTHURSDAY 73! [#APRSThursday] 2023-03-02 17:09:04 UTC 9H5TB:Greetings from Malta**APRSThurs*** [#APRSThursday] 2023-03-02 17:12:24 UTC KG5TAE-9:happy #APRSthursday! [#APRSThursday] 2023-03-02 17:23:01 UTC N7UWX-14:THURSDAY HAPPENS! [#APRSThursday] 2023-03-02 17:23:15 UTC DL7EDU-7:Greetings from Berlin :) [#APRSThursday] 2023-03-02 17:23:31 UTC VE1DAD:hello from Nova Scotia Canada DE VE1DAD [#APRSThursday] 2023-03-02 17:26:56 UTC W0RFP-7:73 W0RFP [#APRSThursday] 2023-03-02 17:32:40 UTC N6HRO:#aprsthursday de KN6OON at N6HRO [#APRSThursday] 2023-03-02 17:32:42 UTC K5KVN-1:Hi From Arkansas #APRSThursday [#APRSThursday] 2023-03-02 17:33:25 UTC KB7UVC:Greetings from Herb in Belfair WA USA [#APRSThursday] 2023-03-02 17:33:27 UTC KO4AXL-7:KO4AXL checking in via RF em95 [#APRSThursday] 2023-03-02 17:35:08 UTC KN4PAH-9:73s from Todd in Bedford VA [#APRSThursday] 2023-03-02 17:35:34 UTC N3JF-9:Live, from SoCal, it's #APRSThursday! [#APRSThursday] 2023-03-02 17:39:42 UTC KC8OWL-7:making thursday great all around the globe.#aprsthursday [#APRSThursday] 2023-03-02 17:43:54 UTC KE7VIN-10:Checking in to #APRSTHURSDAY from Chandler, AZ. de KE7VIN [#APRSThursday] 2023-03-02 17:45:15 UTC EA2EYI-7:Happy #APRSthursday from IN82 73s [#APRSThursday] 2023-03-02 17:46:52 UTC VA7BWX-9:Happy Thursday to the APRS weekly net participants [#APRSThursday] 2023-03-02 17:50:15 UTC AC5JM-1:HELLO FROM AC5JM IN NORTHEAST OKLAHOMA. NO TRAFFIC. [#APRSThursday] 2023-03-02 17:53:12 UTC K3ROC-4:K5KVN-1 last time, Hello Neighbor [#APRSThursday] 2023-03-02 17:55:48 UTC W8TVR:73s de W8TVR [#APRSThursday] 2023-03-02 17:56:30 UTC K4SBC:Happy #APRSThursday! Monitoring ysf73583 [#APRSThursday] 2023-03-02 17:57:16 UTC KD2ZIX-5:checkin in with fellow hams from the grams! 73 de KD2ZIX [#APRSThursday] 2023-03-02 18:02:07 UTC WA4MT-9:happy APRS Thursday from wa4mt Waco ga. [#APRSThursday] 2023-03-02 18:04:01 UTC EI5IN-5:from Keith in Ireland 73! [#APRSThursday] 2023-03-02 18:05:21 UTC KK7GAB-7:Happy Thursday 73 [#APRSThursday] 2023-03-02 18:07:09 UTC KO4BOD-5:#aprsthursday sup homies keep it real KO4BOD 73s [#APRSThursday] 2023-03-02 18:08:51 UTC KO4BOD-5:Orlando, FL KO4BOD aprs.fi on iPhone #aprsthursday 73 [#APRSThursday] 2023-03-02 18:10:41 UTC KF0COL-9:happy friday eve [#APRSThursday] 2023-03-02 18:13:39 UTC KC7MDT:happy aprs thurs from slc,ut 73 [#APRSThursday] 2023-03-02 18:20:57 UTC LU6EOW-1:go aprs thursday! [#APRSThursday] 2023-03-02 18:25:24 UTC WH6CMO-4:happy #APRSTHURSDAY 73 WH6CMO [#APRSThursday] 2023-03-02 18:31:15 UTC KJ7WGM-7:Ok, have a good aprs thursday! [#APRSThursday] 2023-03-02 18:33:27 UTC VA7TEV:happy thursday! [#APRSThursday] 2023-03-02 18:43:41 UTC XE2AD-8:hi from mexico de David [#APRSThursday] 2023-03-02 18:52:01 UTC KM6TRZ-9:On the road for business. Checking in from HI 73 Don KM6TRZ [#APRSThursday] 2023-03-02 18:52:28 UTC N1RNJ-2:happy #APRSTHURSDAY 73 N1RNJ [#APRSThursday] 2023-03-02 18:52:33 UTC N5BGZ-15:greetings from Wylie, tx. [#APRSThursday] 2023-03-02 18:54:49 UTC 2E0VCU-7:#APRSTHURSDAY 73 de 2E0VCU [#APRSThursday] 2023-03-02 18:57:54 UTC SM6UNC-1:Happy APRSTHURSDAY via RF TMD710 [#APRSThursday] 2023-03-02 18:58:52 UTC K3ROC-4:Live from Hillbilly Hell for #APRSThursday. Let's Go!!!! [#APRSThursday] 2023-03-02 19:00:34 UTC PD4JD:check DWC @dares.nl, a compleet emcomm package. Happy+ [#APRSThursday] 2023-03-02 19:03:29 UTC VE1CWJ-7:Happy #APRSTHURSDAY ! 73 de VE1CWJ [#APRSThursday] 2023-03-02 19:05:48 UTC F4EGX-7:hello everybody, very good #APRSThursday 73 from STRASBOURG [#APRSThursday] 2023-03-02 19:11:26 UTC KM6MCH-7:DE KM6MCH TESTING NEW MOBILINKD TNC4 ON #APRSTHURSDAY [#APRSThursday] 2023-03-02 19:12:24 UTC N9NDF:#aprsthursday means almost friday [#APRSThursday] 2023-03-02 19:15:26 UTC K4APR-3:Good afternoon! #APRSthursday [#APRSThursday] 2023-03-02 19:18:19 UTC KI5MFF-9:#aprsthursday Hams On The Gram! : [#APRSThursday] 2023-03-02 19:30:25 UTC KK7KEK-7:APRSthursday check in from missoula 73! kk7kek [#APRSThursday] 2023-03-02 19:36:33 UTC KD0JNN-10:Greetings to everyone from a beautiful spring like day MO [#APRSThursday] 2023-03-02 19:41:42 UTC VE3TSV-9:Happy aprsthursday greetings all from ve3tsv [#APRSThursday] 2023-03-02 19:42:25 UTC F8ARO-10:Hi from France Thionville [#APRSThursday] 2023-03-02 19:55:25 UTC WB5YYQ-7:APRS Thursday Net 73 wb5yyq [#APRSThursday] 2023-03-02 19:59:07 UTC WA1OKB-5:#APRSThurday [#APRSThursday] 2023-03-02 20:00:23 UTC KG7KWF:gone exploring in az backcountry kg7kwf [#APRSThursday] 2023-03-02 20:02:42 UTC VE1RMJ-15:Hello from Rob in Oxford NS FN85br via APRSdroid 73 [#APRSThursday] 2023-03-02 20:03:23 UTC KD9BBB:Happy #APRSTHURSDAY from Chicago 73 de KD9BBB [#APRSThursday] 2023-03-02 20:05:03 UTC VE1PS-9:GOOD EVENING [#APRSThursday] 2023-03-02 20:05:42 UTC VA7SHG-9:Rejoing with QTH.app, still using TNC3 [#APRSThursday] 2023-03-02 20:09:06 UTC HK1E-5:happy #APRSTHURSDAY HK1E [#APRSThursday] 2023-03-02 20:09:51 UTC K9EZ-7:de K9EZ at the beaches of North Carolina [#APRSThursday] 2023-03-02 20:11:51 UTC WG4USA-1:happy #APRSTHURSDAY [#APRSThursday] 2023-03-02 20:14:13 UTC OK1PMP-11:hello #aprsthusday OK1PMP [#APRSThursday] 2023-03-02 20:18:59 UTC OK1PMP-11:#aprsthusday OK1PMP [#APRSThursday] 2023-03-02 20:19:59 UTC OK1PMP-11:hello #aprsthusday OK1PMP [#APRSThursday] 2023-03-02 20:20:02 UTC OK1PMP-11:#aprsthusday OK1PMP [#APRSThursday] 2023-03-02 20:21:05 UTC OK1PMP-11:hello #aprsthusday OK1PMP [#APRSThursday] 2023-03-02 20:21:08 UTC OK1PMP-11:#aprsthusday OK1PMP [#APRSThursday] 2023-03-02 20:25:34 UTC CT1FGS-10:happy Happy #APRSTHURSDAY from Portugal. 73 de CT1FGS [#APRSThursday] 2023-03-02 20:28:28 UTC OK1PMP-11:hello aprsthusday OK1PMP [#APRSThursday] 2023-03-02 20:29:49 UTC IZ0YAY-7:73 luigi [#APRSThursday] 2023-03-02 20:29:59 UTC KD0NRC-9:73 de @4x0nn BattleBus Mobile Olathe KS [#APRSThursday] 2023-03-02 20:32:08 UTC KI7KUI-7:Happy #aprsthursday Hello and 73 from Western WA [#APRSThursday] 2023-03-02 20:33:12 UTC N2RAC-10:additional check-in from APRS-IS. 73 to all. [#APRSThursday] 2023-03-02 20:33:32 UTC K7XYG-9:DUI-NET 15 18-March-2023 20:00 UTC ysf 73583/dmr 23444 [#APRSThursday] 2023-03-02 20:37:29 UTC N7EEL-9:checkin [#APRSThursday] 2023-03-02 20:38:05 UTC TI2GBB-8:hi from Costa Rica [#APRSThursday] 2023-03-02 20:39:15 UTC W6DVI-9:greetings from Los Angeles 73 to all de W6DVI [#APRSThursday] 2023-03-02 20:44:10 UTC KC1MMC-7:Happy Thursday! DE KC1MMC [#APRSThursday] 2023-03-02 20:44:32 UTC N4VGW-7:73 From a spring day in Virgina! [#APRSThursday] 2023-03-02 20:49:51 UTC VA7EKA-9:greetings from CN89! [#APRSThursday] 2023-03-02 20:50:52 UTC VA7EKA-9:have an excellent day! from CN89. [#APRSThursday] 2023-03-02 21:01:46 UTC KI5HBA-7:happy #aprsthursday y'all! [#APRSThursday] 2023-03-02 21:03:15 UTC KD9EJE-9:checking in from Northwest Indiana 73 KD9EJE [#APRSThursday] 2023-03-02 21:06:18 UTC AC9TR-2:#APRSTHURSDAY happy day de ac9tr [#APRSThursday] 2023-03-02 21:06:46 UTC KE0ASQ-7:checking in from OFallon MO! [#APRSThursday] 2023-03-02 21:12:46 UTC KC8OWL-7:if you use FB search & join the aprsthursday group [#APRSThursday] 2023-03-02 21:22:11 UTC WA4VGZ-9:#APRSTHURSDAY from Grid EM66 [#APRSThursday] 2023-03-02 21:40:09 UTC KM6MCH-7:DE KM6MCH MOBILINKD TNC4 ON #APRSTHURSDAY DM04wa [#APRSThursday] 2023-03-02 21:42:05 UTC KM7CRD-5:Hello from NC WA. Via droid [#APRSThursday] 2023-03-02 21:47:27 UTC KN4JQB-9:checking in mobile. 73! [#APRSThursday] 2023-03-02 21:47:30 UTC W0CBP-1:HELLO FROM SOUTH DAKOTA! [#APRSThursday] 2023-03-02 21:51:10 UTC WH6OMG-7:HAPPY THURSDAY [#APRSThursday] 2023-03-02 22:01:40 UTC TI2AZ-7:saludos [#APRSThursday] 2023-03-02 22:03:05 UTC W3TPL-9:Happy #APRSThursday from NJ [#APRSThursday] 2023-03-02 22:06:18 UTC VA7OTC-5:73 fm Victoria BC [#APRSThursday] 2023-03-02 22:10:14 UTC KC3DPC:FIRST CHECK-IN THANKS ES 73 DE KC3DPC [#APRSThursday] 2023-03-02 22:11:39 UTC K9KJ-7:woo hoo! #BigTimDXer [#APRSThursday] 2023-03-02 22:12:06 UTC N4SML:Happy #APRSTHURSDAY from VA [#APRSThursday] 2023-03-02 22:12:46 UTC TG5ALY-14:Happy APRSThursday from Guatemala [#APRSThursday] 2023-03-02 22:14:52 UTC N7WDZ-7:Gene in Vegas #aprsthursday Lets Go! [#APRSThursday] 2023-03-02 22:16:52 UTC TG5ALY-14:Greetings Michael Diturno [#APRSThursday] 2023-03-02 22:21:40 UTC N0KQX:(HF) #APRSTHURSDAY [#APRSThursday] 2023-03-02 22:26:30 UTC KC1NYJ:happy aprsthursday! 73 from NH! [#APRSThursday] 2023-03-02 22:27:23 UTC HK6RM-10:have a nice day #aprsthursday, 73 [#APRSThursday] 2023-03-02 22:27:57 UTC KO4HRU-15:Happy #APRSTHURSDAY 73s KO4HRU [#APRSThursday] 2023-03-02 22:28:21 UTC HK6ER-10:#aprsthursday, 73 [#APRSThursday] 2023-03-02 22:31:30 UTC KD9UQW-7:#APRSTHURSDAY check in 73 KD9UQW [#APRSThursday] 2023-03-02 22:31:39 UTC HK4LRM-10:day #aprsthursday, 73 [#APRSThursday] 2023-03-02 22:39:05 UTC K5AAR:#aprsthursday 73 de K5AAR in E TX [#APRSThursday] 2023-03-02 22:44:55 UTC SM2YUW-5:Greetings from Kiruna, Sweden via Android. 73 de SM2YUW. [#APRSThursday] 2023-03-02 22:52:04 UTC KD9UYS-7:I'm late to #APRSThursday! [#APRSThursday] 2023-03-02 22:55:42 UTC KD2YHI-7:KD2YHI checking in from NYC NY USA [#APRSThursday] 2023-03-02 23:01:35 UTC K8JTT-7:#APRSThursday Hello from Brownstown,MI de K8JTT [#APRSThursday] 2023-03-02 23:02:33 UTC KD2UWR-7:aprsthursdqy [#APRSThursday] 2023-03-02 23:07:12 UTC K4TXN-4:Howdy from Texas #aprsthursday [#APRSThursday] 2023-03-02 23:16:47 UTC NG7N-7:GA all! 73 from Seattle de Craig [#APRSThursday] 2023-03-02 23:20:35 UTC K7OCR-9:#aprsthursday hello from southern utah [#APRSThursday] 2023-03-02 23:26:39 UTC KF5THB-7:howdy from Fort Worth Texas! [#APRSThursday] 2023-03-02 23:26:41 UTC KN6GWQ-9:KN6GWQ Watsonville CA [#APRSThursday] 2023-03-02 23:27:27 UTC KN6QEV-7:first checkin to this net! 73! [#APRSThursday] 2023-03-02 23:40:12 UTC KE8RUH-10:happy APRS Thursday from Detroit [#APRSThursday] 2023-03-02 23:44:07 UTC KC5FM-9:Happy Banana Cream Pie Day! [#APRSThursday] 2023-03-02 23:52:28 UTC AI5HC-8:htx on ft3 [#APRSThursday] 2023-03-03 00:02:51 UTC KJ7GHF-7:#aprsthursday kj7ghf [#APRSThursday] 2023-03-03 00:10:12 UTC J69DS-5:greetings from sunny Saint Lucia [#APRSThursday] 2023-03-03 00:10:53 UTC NR4N-7:First time check in de NR4N [#APRSThursday] 2023-03-03 00:12:16 UTC W2RVF:Greetings from New Jersey! [#APRSThursday] 2023-03-03 00:12:20 UTC AC8QE-9:happy #APRSTHURSDAY 73 ac8qw [#APRSThursday] 2023-03-03 00:12:54 UTC J69DS-5:happy #aprsthursday to all [#APRSThursday] 2023-03-03 00:13:43 UTC J69DS-5:greetings from sunny Saint Lucia [#APRSThursday] 2023-03-03 00:14:25 UTC J69DS-5:happy #aprsthursday to all [#APRSThursday] 2023-03-03 00:17:43 UTC J69DS-5:greetings from sunny Saint Lucia [#APRSThursday] 2023-03-03 00:20:26 UTC J69DS-5:happy #aprsthursday to all [#APRSThursday] 2023-03-03 00:25:43 UTC J69DS-5:greetings from sunny Saint Lucia [#APRSThursday] 2023-03-03 00:27:38 UTC KD9MFZ-9:Happy Thursday. [#APRSThursday] 2023-03-03 00:28:27 UTC J69DS-5:happy #aprsthursday to all [#APRSThursday] 2023-03-03 00:43:17 UTC KK7PW-9:greetings from west seattle.keep well and safe. 73.de KK7PW [#APRSThursday] 2023-03-03 00:55:05 UTC TI3WTI-7:Happy APRS # ti3wti [#APRSThursday] 2023-03-03 01:22:04 UTC KD8OFT-5:Just another #aprsthursday in Ohio [#APRSThursday] 2023-03-03 01:23:12 UTC HK5JHY-9:happy #APRSTHURSDAY 73 HK5JHY CAICEDONIA COLOMBIA [#APRSThursday] 2023-03-03 01:24:56 UTC KD9PLJ-7:hello #APRSTHURSDAY 73 KD9PLJ [#APRSThursday] 2023-03-03 01:25:43 UTC K7XYG-9:#aprsthursday is sponsored by "NightStalker"only on Netflix [#APRSThursday] 2023-03-03 01:25:53 UTC K3JBX-10:happy #APRSTHURSDAY from FN20, 73 K3JBX [#APRSThursday] 2023-03-03 01:39:12 UTC HJ5JAD-7:happy #APRSTHURSDAY 73 HJ5jAD Caicedonia Colombia [#APRSThursday] 2023-03-03 01:41:48 UTC KH6OWL-9:aloha APRS Thursday 73 KH6owl [#APRSThursday] 2023-03-03 01:48:54 UTC KG7KHL-1:via APRS.fi iOS USA! [#APRSThursday] 2023-03-03 02:23:17 UTC VA7YGS-7:checkin [#APRSThursday] 2023-03-03 02:35:38 UTC HK6L-7:happy #APRSTHURSDAY 73 HK6L [#APRSThursday] 2023-03-03 03:15:18 UTC N9HXV-1:Happy #APRSTHURSDAY 73 N9HXV [#APRSThursday] 2023-03-03 03:21:59 UTC KC1IEN-7:hi from RI [#APRSThursday] 2023-03-03 03:35:52 UTC KE7NKR-7:#aprsthursday check in [#APRSThursday] 2023-03-03 04:03:45 UTC XE1ALV-7:73 de XE1ALV Qro MX [#APRSThursday] 2023-03-03 04:33:05 UTC KE0SMR-10:happy #APRSTHURSDAY 73 KE0SMR [#APRSThursday] 2023-03-03 04:38:25 UTC KN6OVN-7:hi all at #aprsthursday [#APRSThursday] 2023-03-08 21:53:03 UTC K7XYG-9:slap those big pepperoni beacons on that APRS pizza oh yeah [#APRSThursday] 2023-03-08 22:47:45 UTC K7JGC:hello from portland oregon [#APRSThursday] 2023-03-08 22:51:05 UTC 9W2FAS-5:happy day today de 9w2fas west malaysia it. [#APRSThursday] 2023-03-08 23:29:53 UTC 9W2FYM-5:check in for #aprsthursday net de 9W2FYM from West Malaysia [#APRSThursday] 2023-03-09 00:00:41 UTC TG5ALY-14:14°54.87' N 91°21.69' W EK44HV [#APRSThursday] 2023-03-09 00:00:43 UTC DY8CMM-5:happy aprs day to all 73 [#APRSThursday] 2023-03-09 00:01:28 UTC TG5ALY-14:#HappyAPRSTHURSDAY gang from Guatemala [#APRSThursday] 2023-03-09 00:02:31 UTC KJ5IK-9:Greetings from KJ5IK currently in Amarillo, TX [#APRSThursday] 2023-03-09 00:04:04 UTC WA7SKG:GREETINGS FROM DALLAS OREGON [#APRSThursday] 2023-03-09 00:04:42 UTC KE8QFP-7:73 from Ohio [#APRSThursday] 2023-03-09 00:07:22 UTC KC8OWL-7:beacon your pos. this week aftr chk-in 73 kc8owl. [#APRSThursday] 2023-03-09 00:09:35 UTC TG5ALY-14:Sent my position thanks Michael from TG5ALY [#APRSThursday] 2023-03-09 00:11:19 UTC WM6H-4:#APRSTHURSDAY I want to be on that map! [#APRSThursday] 2023-03-09 00:12:46 UTC TG5ALY-14:Happy APRSThursday Michael Diturno from TG5ALY [#APRSThursday] 2023-03-09 00:17:15 UTC TG5ALY-14:14°54.87' N 91°21.69' W EK44HV [#APRSThursday] 2023-03-09 00:19:34 UTC W9AUV-8:41.8479-88.36173 [#APRSThursday] 2023-03-09 00:23:06 UTC W9AUV-8:41.84759 -88.36172 [#APRSThursday] 2023-03-09 00:25:12 UTC KI5MFF-9:#aprsthursday 73 Hams On The Gram! [#APRSThursday] 2023-03-09 00:29:55 UTC VE6BR-9:Happy #APRSThursday, de Bruce in Okotoks,Alberta,Canada [#APRSThursday] 2023-03-09 00:32:34 UTC 9W8AKN-10:de 9W8AKN [#APRSThursday] 2023-03-09 00:32:37 UTC N4DJC-7:checking in from South Carolina [#APRSThursday] 2023-03-09 00:36:25 UTC W9RWB-1:W9RWB to #APRSThursday Hello from SatGate W9RWB-1 [#APRSThursday] 2023-03-09 00:37:17 UTC K0STK-9:We had fresh snow for #APRSTHURSDAY (EN16) [#APRSThursday] 2023-03-09 00:42:24 UTC W2RVF:happy #aprsthursday! [#APRSThursday] 2023-03-09 00:52:58 UTC DV8ML-5:happy #APRSTHURSDAY 73 dv8ml [#APRSThursday] 2023-03-09 00:53:36 UTC KD9MER-10:DE KD9MER Indiana Happy APRS Day 73 [#APRSThursday] 2023-03-09 00:54:40 UTC 9M2AUR-9:happy thursday net from malaysia de 9M2AUR 73 [#APRSThursday] 2023-03-09 00:56:07 UTC 9M2RAD-5:hppy #aprsthursday from Kuala Lumpur via aprs.my 73 [#APRSThursday] 2023-03-09 00:59:10 UTC KB8IFX-9:HAPPY #APRS thursday 73 KB8IFX [#APRSThursday] 2023-03-09 00:59:21 UTC N5XMT-1:APRS-Thursday Dave from Sedro-Woolley, Washington [#APRSThursday] 2023-03-09 01:02:26 UTC KA7HOS-7:happy Thursday 73 from SW Utah [#APRSThursday] 2023-03-09 01:02:48 UTC TI2BSH:Greetings from Cañas Guanacaste Costa Rica. EK70kk [#APRSThursday] 2023-03-09 01:03:58 UTC KJ7ZRZ-9:checking in de phoenix AZ [#APRSThursday] 2023-03-09 01:08:29 UTC 9M2RAD-5:stay healthy from Kuala Lumpur via aprs.my 73 [#APRSThursday] 2023-03-09 01:10:41 UTC KJ7WGM-7:Happy APRS Thursday! 73 and have a good one. [#APRSThursday] 2023-03-09 01:16:35 UTC KD7KLA:APRS is fun. [#APRSThursday] 2023-03-09 01:17:45 UTC 9M2CDX-7:hi from oj11 West Malaysia [#APRSThursday] 2023-03-09 01:20:03 UTC AE4WX-10:Happy #APRSThursday! 73 de AE4WX [#APRSThursday] 2023-03-09 01:24:59 UTC 9W2VCO-5:happy APRSTHURDAY net [#APRSThursday] 2023-03-09 01:26:40 UTC 4I8WOO-10:#happy APRSthursday to all 73 [#APRSThursday] 2023-03-09 01:27:11 UTC 9W2RUT-1:I'M BACK ON CQ_APRS_THURSDAY [#APRSThursday] 2023-03-09 01:30:30 UTC KC5AV-9:#APRSTHURSDAY from EM22tm de kc5av-9 [#APRSThursday] 2023-03-09 01:32:57 UTC KC1MMC-7:Its that time everyone! Happy APRS Thursday, de KC1MMC FN34 [#APRSThursday] 2023-03-09 01:35:31 UTC KE7VIN-10:#APRSTHURSDAY [#APRSThursday] 2023-03-09 01:37:38 UTC W9AUV-9:ftm-400 test [#APRSThursday] 2023-03-09 01:38:22 UTC K7OCR-9:#aprsthursday hello from southern utah [#APRSThursday] 2023-03-09 01:40:42 UTC DW6XJJ-9:check in 73 [#APRSThursday] 2023-03-09 01:41:18 UTC W2WAT-7:W2WAT NJ APRS Sea level ham 73 [#APRSThursday] 2023-03-09 01:45:19 UTC TI3IES-9:73 from Costa Rica via DMR [#APRSThursday] 2023-03-09 01:45:20 UTC KE0CSL-1:Check in from Nebraska! [#APRSThursday] 2023-03-09 01:46:31 UTC VE3OZW-3:check me in from Mildmay Ontario Canada [#APRSThursday] 2023-03-09 01:48:29 UTC G4WLC:73 de Forest Of Dean [#APRSThursday] 2023-03-09 01:49:53 UTC KB2HSH:Happy APRS Thursday de KB2HSH [#APRSThursday] 2023-03-09 01:53:15 UTC N6SGT-11:APRS Thursday de N6SGT [#APRSThursday] 2023-03-09 01:59:00 UTC KB5BDR-5:happy #aprsthursday 73 kb5bdr [#APRSThursday] 2023-03-09 02:07:04 UTC N6QP-7:check in get on the map [#APRSThursday] 2023-03-09 02:08:52 UTC NC6J-7:happy aprs thursday [#APRSThursday] 2023-03-09 02:18:44 UTC GRYLCP-12:AB1PH Don Walpole MA via RF [#APRSThursday] 2023-03-09 02:18:54 UTC KI5WMN-4:Happy APRS Net 73s de KI5WMN Laredo Tx USA [#APRSThursday] 2023-03-09 02:36:33 UTC W7MDN-7:am i being rcvd? [#APRSThursday] 2023-03-09 02:45:04 UTC 9W2GDB:Happy #aprsthursday everyone West Malaysia [#APRSThursday] 2023-03-09 02:52:42 UTC W7MDN-7:good evening PHX [#APRSThursday] 2023-03-09 02:58:21 UTC N0KQX-15:good day everyone [#APRSThursday] 2023-03-09 02:59:53 UTC 9W2ZFM-5:Happy #aprsthursday from Malaysia [#APRSThursday] 2023-03-09 03:00:54 UTC KD0NRC-9:73 de @4x0nn [#APRSThursday] 2023-03-09 03:03:11 UTC KF1D-3:HELLO, CHECKING IN, BRYAN KF1D [#APRSThursday] 2023-03-09 03:04:48 UTC VA3DZB:1st Time CHECKIN [#APRSThursday] 2023-03-09 03:05:37 UTC W3TXG-7:w3txg is on the air and ready for action! [#APRSThursday] 2023-03-09 03:09:38 UTC W9AUV-7:ft2 test [#APRSThursday] 2023-03-09 03:20:43 UTC DV8AYE-5:happy #APRSTHURSDAY to All. 73. Mabuhay to al [#APRSThursday] 2023-03-09 03:21:28 UTC DV8AYE-5:happy #APRSTHURSDAY to All. 73. Mabuhay to all. [#APRSThursday] 2023-03-09 03:21:31 UTC DV8AYE-5:happy #APRSTHURSDAY to All. 73. Mabuhay to al [#APRSThursday] 2023-03-09 03:21:32 UTC DV8AYE-5:happy #APRSTHURSDAY to All. 73. Mabuhay to all. [#APRSThursday] 2023-03-09 03:21:37 UTC DV8AYE-5:happy #APRSTHURSDAY to All. 73. Mabuhay to al [#APRSThursday] 2023-03-09 03:27:01 UTC KJ5IK-9:Checking in again, this time from Lubbock, TX. I get around [#APRSThursday] 2023-03-09 03:39:41 UTC VA3DZB:Checkine CHECKIN [#APRSThursday] 2023-03-09 03:45:42 UTC N5NDC-7:#APRSthursday 73 de N5NDC in East Texas [#APRSThursday] 2023-03-09 03:48:32 UTC KE8TTQ-5:happy #APRSThursday [#APRSThursday] 2023-03-09 03:49:02 UTC W7RKX-7:check in [#APRSThursday] 2023-03-09 03:50:40 UTC NN4H-5:happy #APRSTHURSDAY de NN4H EM76 Kentucky [#APRSThursday] 2023-03-09 03:55:25 UTC KE0ASQ-9:73 from O'Fallon MO! [#APRSThursday] 2023-03-09 03:56:27 UTC DW9JRA-7:Happy #APRSTHURSDAY. De DW9JRA from Davao Philippines [#APRSThursday] 2023-03-09 03:58:08 UTC NT7R-7:hi from Arizona DM24 de NT7R [#APRSThursday] 2023-03-09 04:00:06 UTC K0UC:DE K0UC MN/USA [#APRSThursday] 2023-03-09 04:00:24 UTC DU2XXR-9:Look forward to seeing u all on the map! 73 [#APRSThursday] 2023-03-09 04:32:45 UTC KD9SPR-7:#aprsthursday via iss [#APRSThursday] 2023-03-09 04:35:31 UTC KD9BBB:Happy #APRSTHURSDAY from Chicago 73 [#APRSThursday] 2023-03-09 04:37:01 UTC VA6GAC-9:happy aprsthursday Calgary canada [#APRSThursday] 2023-03-09 04:41:14 UTC KJ7STI-7:happy #aprsthursday from KJ7STI 73 [#APRSThursday] 2023-03-09 04:45:13 UTC KK7IQG-1:Happy Aprsthursday 73s! [#APRSThursday] 2023-03-09 04:49:14 UTC N7AWM-7:Hello from Washington State N7AWM [#APRSThursday] 2023-03-09 04:59:52 UTC N8JLK-6:Testin an IFTT routine [#APRSThursday] 2023-03-09 05:15:29 UTC GW7ODP-10:#APRSthursday Check-in from Swansea South Wales . 73 Mike [#APRSThursday] 2023-03-09 05:15:51 UTC DX1CC-1:check in Imus City Cavite PH, PK04LI 31dc 73 [#APRSThursday] 2023-03-09 05:16:18 UTC DW6XJO:joining APRSTHURDAY 73 [#APRSThursday] 2023-03-09 05:18:26 UTC DW1OTT-6:checkin in #aprsthursday 73 PK04LI [#APRSThursday] 2023-03-09 05:30:48 UTC KK7AZD-7:hello es 73 [#APRSThursday] 2023-03-09 05:36:01 UTC N7ZEF-3:N7ZEF (DN61KT) [#APRSThursday] 2023-03-09 05:37:30 UTC ES8BHR-5:happy #aprsthursday check-in via aprsdroid [#APRSThursday] 2023-03-09 06:01:08 UTC KN4JQB-7:Howdy! Readyfor the weekend! [#APRSThursday] 2023-03-09 06:02:59 UTC YO8RBY-6:hello world ! [#APRSThursday] 2023-03-09 06:06:32 UTC IW0FKO:#aprsthursday gm grom Italy via RF 144.800Mhz [#APRSThursday] 2023-03-09 06:16:05 UTC IW0FKO:Goodmorning everyone from Rome Italy! [#APRSThursday] 2023-03-09 06:17:35 UTC IK7PTX:have a nice #APRSTHURDAY de Ik7ptx [#APRSThursday] 2023-03-09 06:20:09 UTC IW0FKO:via secondary RF UHF QRG 432.500MHz 73's from Italy [#APRSThursday] 2023-03-09 06:26:42 UTC KB9HGI-13:happy aprs thurs [#APRSThursday] 2023-03-09 06:38:32 UTC TA3AUW-5:Türkiye 73 [#APRSThursday] 2023-03-09 06:43:24 UTC N8CNZ-5:Hello from Dayton Ohio [#APRSThursday] 2023-03-09 06:50:41 UTC N8CNZ-5:hi from dayton [#APRSThursday] 2023-03-09 06:52:26 UTC N8CNZ-5:hi from Dayton [#APRSThursday] 2023-03-09 06:53:17 UTC OM8GRS-7:happy #APRSTHURSDAY 73! OM8GRS [#APRSThursday] 2023-03-09 06:56:16 UTC ZL2ATH-7:Happy #APRSThursday [#APRSThursday] 2023-03-09 06:58:34 UTC N7SIX-10:Mabuhay! Hello hams! #APRSThursday 73 [#APRSThursday] 2023-03-09 07:31:01 UTC EI8HEB-5:hpyaprsthursday de sean ei8heb ireland [#APRSThursday] 2023-03-09 07:31:26 UTC 9W2BAF-1:happy #APRSTHURSDAY from West Malaysia de 9W2BAF [#APRSThursday] 2023-03-09 07:31:59 UTC GW0TQM-9:happy #aprsthursday QTH snowy Mold IO83ke [#APRSThursday] 2023-03-09 07:36:26 UTC TA3HRJ-5:#aprsthursday Happy International Women's Day! [#APRSThursday] 2023-03-09 07:44:23 UTC M0ZKK-7:CQ & Beacon sent 73s [#APRSThursday] 2023-03-09 07:57:04 UTC F4FXL:Hi all from France, JN38TT via RF :) [#APRSThursday] 2023-03-09 08:00:36 UTC KM6TRZ-9:Checking in from QTH. 73 [#APRSThursday] 2023-03-09 08:01:50 UTC SM0LVG-9:Greetings from snowy Stockholm / SM0LVG [#APRSThursday] 2023-03-09 08:02:02 UTC KO4DBP-5:Happy #APRSThurday [#APRSThursday] 2023-03-09 08:08:56 UTC CT7AQH-1:Miguel checking in from Lisbon. IM58mx 73 [#APRSThursday] 2023-03-09 08:23:11 UTC CT1END-2:#APRSTHURSDAY Hello from Portugal, 73 CT1END. [#APRSThursday] 2023-03-09 08:24:41 UTC DF6PA-6:Hello from Germany. Happy #aprsthursday [#APRSThursday] 2023-03-09 08:24:57 UTC AB7RT-7:#APRSTHURSDAY RF in Hawaii de AB7RT [#APRSThursday] 2023-03-09 08:36:19 UTC TB3HBA-5:Turkiye 73 [#APRSThursday] 2023-03-09 08:36:49 UTC M0IKV-7:de Rugby ATS [#APRSThursday] 2023-03-09 08:57:17 UTC 9W2EUM-5:happy APRSTHURDAY i am form west malaysia [#APRSThursday] 2023-03-09 09:01:04 UTC N8JLK-3:Another A#APRStgurday! greetings! N8JLK [#APRSThursday] 2023-03-09 09:04:29 UTC N8JLK-3:Greetings via new MbilinkD TNC4 via RF! N8JLK [#APRSThursday] 2023-03-09 09:05:20 UTC N8JLK-3:Greetings via new MobilinkD TNC4 via RF! N8JLK [#APRSThursday] 2023-03-09 09:07:29 UTC N8JLK-3:Running TNC on FT60R to my iGate. 73 [#APRSThursday] 2023-03-09 09:36:11 UTC KC0RYZ-1:few more days to go! James EN11 [#APRSThursday] 2023-03-09 09:40:32 UTC SM4XFJ-9:best 73s [#APRSThursday] 2023-03-09 09:42:06 UTC SM2YUW:Greetings de Sweden! 73 de SM2YUW via FTM-300 [#APRSThursday] 2023-03-09 09:44:03 UTC SQ6CYS-7:happy #APRSThursday [#APRSThursday] 2023-03-09 09:52:01 UTC SM6JVU:Greetings from sweden westcoastAnders via rf YAESU FTM 300 [#APRSThursday] 2023-03-09 09:52:09 UTC PD0SBH-7:Happy #APRSThursday 73! [#APRSThursday] 2023-03-09 09:58:46 UTC DL7EDU-7:Greetings from Berlin :) [#APRSThursday] 2023-03-09 10:08:30 UTC 9W2SGJ-10:CQ [#APRSThursday] 2023-03-09 10:13:58 UTC SM6JVU-15:GREETINGS FROM SWEDEN W COAST JO57XM ANDERS VIA RF [#APRSThursday] 2023-03-09 10:24:28 UTC YD0BCX-9:happy #aprsthursday from OI33kt 73 [#APRSThursday] 2023-03-09 10:29:17 UTC K8JTT-7:#APRSThursday Hello from Brownstown,MI de K8JTT [#APRSThursday] 2023-03-09 10:38:58 UTC YO3FVR-15:#APRSthursday Check-in, Best 73! [#APRSThursday] 2023-03-09 10:43:23 UTC KB2HSH:Good Morning from Buffalo NY [#APRSThursday] 2023-03-09 10:55:31 UTC WC3T-12:on #APRSthursday 73 fm WC3T on the iOS APRS.fi app [#APRSThursday] 2023-03-09 11:08:05 UTC KW2DIA-7:73 de KW2DIA NYC FN30at Yaesu FT5D via RF [#APRSThursday] 2023-03-09 11:21:58 UTC J73ESL-7:its already a hot day [#APRSThursday] 2023-03-09 11:25:01 UTC KF0KFL-1:Happy #APRSThursday from White Bear Lake, MN [#APRSThursday] 2023-03-09 11:31:37 UTC N1COW-9:Greetings from New Hampshire [#APRSThursday] 2023-03-09 11:34:26 UTC KB3KAV-7:gm everyone de kb3kav via rf 73 [#APRSThursday] 2023-03-09 11:34:53 UTC N2EDX-7:Greetings from Daytona Beach, Florida clear sky 67dF [#APRSThursday] 2023-03-09 11:37:24 UTC KD0TLS-7:Is 1200 baud cool yet? [#APRSThursday] 2023-03-09 11:37:51 UTC KP3T-9:happyaprsthursday KP3T Via RF [#APRSThursday] 2023-03-09 11:41:15 UTC SP2J-9:#aprsthursday finally back home after a month at sea [#APRSThursday] 2023-03-09 11:46:36 UTC 2E1TON:hi from salisbury uk 2e1ton [#APRSThursday] 2023-03-09 11:49:08 UTC 2E1TON:good morning from uk 2e1ton [#APRSThursday] 2023-03-09 11:49:26 UTC 2E1TON:hi from salisbury uk 2e1ton [#APRSThursday] 2023-03-09 11:51:11 UTC DC1OZ-7:#APRSTHURSDAY 73 Pavel, BW, DE [#APRSThursday] 2023-03-09 11:51:15 UTC OH10D-7:73 fo Finland! [#APRSThursday] 2023-03-09 11:51:32 UTC KD2PSC-9:#APRSThursday [#APRSThursday] 2023-03-09 11:51:33 UTC CS7AYO-5:Hello friends.Happy #APRSThursday.73 from Portugal [#APRSThursday] 2023-03-09 11:51:34 UTC KP4CA-9:HAPPY APRSTHURSDAY [#APRSThursday] 2023-03-09 11:52:50 UTC WP3OF-9:#aprsthursday from Puerto Rico [#APRSThursday] 2023-03-09 11:59:16 UTC K4IRV-7:#aprsthursday 73 from Wilmington NC [#APRSThursday] 2023-03-09 11:59:21 UTC W5CAE:APRS [#APRSThursday] 2023-03-09 12:09:16 UTC KC8OWL-7:good morning fellow aprs'ers. 73 kc8owl. [#APRSThursday] 2023-03-09 12:16:02 UTC SM4URM-2:greetings from sweden [#APRSThursday] 2023-03-09 12:16:25 UTC WG4USA-1:happy #APRSTHURSDAY [#APRSThursday] 2023-03-09 12:17:05 UTC MM0NBW-4:happy thursday [#APRSThursday] 2023-03-09 12:21:08 UTC KB3KAV-7:gm everyone de kb3kav xing in via rf 73 have a grt day [#APRSThursday] 2023-03-09 12:21:22 UTC 9W2XDD-1:hello happy APRSTHUDAY de 9W2XDD OJ03QD over RF 73 [#APRSThursday] 2023-03-09 12:21:43 UTC W8RID:Happy #APRSTHURSDAY from Bob in Twinsburg OH [#APRSThursday] 2023-03-09 12:22:17 UTC TG5ALY-14:morning KC8OWN de TG5ALY [#APRSThursday] 2023-03-09 12:32:07 UTC KD9UQW-7:#APRSTHURSDAY check in 73 KD9UQW [#APRSThursday] 2023-03-09 12:32:56 UTC K4ABX-9:happy aprs day from the everglades wait is that a gator? [#APRSThursday] 2023-03-09 12:33:06 UTC HK6PJA-7:#aprsthursday 73 [#APRSThursday] 2023-03-09 12:33:49 UTC HK6JCF-7:#aprsthursday 73 [#APRSThursday] 2023-03-09 12:34:51 UTC HK6DX-7:#aprsthursday 73 [#APRSThursday] 2023-03-09 12:35:59 UTC KI4ASK-15:- Joe in Atlanta [#APRSThursday] 2023-03-09 12:36:35 UTC HK6BRK-7:#aprsthursday 73 [#APRSThursday] 2023-03-09 12:36:37 UTC AB1PH-7:AB1PH Don Walpole MA via APRS-IS [#APRSThursday] 2023-03-09 12:37:57 UTC HK4D-7:#aprsthursday 73 [#APRSThursday] 2023-03-09 12:40:58 UTC VE1PS-10:GOOD DAY FRM CYHZ FN84DP [#APRSThursday] 2023-03-09 12:42:15 UTC KB3KAV-10:gm everyone fm kb3kav have a great day 73 [#APRSThursday] 2023-03-09 12:46:00 UTC HB9EYZ-2:Greetings from JN37VL in rainy Switzerland. QSL? [#APRSThursday] 2023-03-09 12:46:13 UTC TG5ALY-14:My position beacon [#APRSThursday] 2023-03-09 13:30:50 UTC N4WGM-7:FM18XS Maryland [#APRSThursday] 2023-03-09 13:31:24 UTC WC2F-7:tlh fl 73 de wc2f [#APRSThursday] 2023-03-09 13:33:06 UTC YD0BCX-9:#APRSThursday 73 [#APRSThursday] 2023-03-09 13:33:22 UTC 9W2UPI-9:Hi, have a good day. Best wishes, 73. [#APRSThursday] 2023-03-09 13:33:28 UTC KM6MCI-7:#happyaprsthursday 73 KM6MCI [#APRSThursday] 2023-03-09 13:35:33 UTC KG5EUX-2:73 FROM SEVEN POINTS, TX USA [#APRSThursday] 2023-03-09 13:41:06 UTC W0CBP-7:hello from Las Vegas! [#APRSThursday] 2023-03-09 13:42:24 UTC N1BAM-7:73 from Connecticut USA N1BAM [#APRSThursday] 2023-03-09 13:42:45 UTC NA5X-9:#APRSTHURSDAY [#APRSThursday] 2023-03-09 13:43:51 UTC NP4JN-9:de np4jn [#APRSThursday] 2023-03-09 13:44:53 UTC KG5DWM-7:Happy Thursday from Conroe TX! kg5dwm [#APRSThursday] 2023-03-09 13:44:55 UTC AC3JM-1:happy APRSThursday from FM19hh [#APRSThursday] 2023-03-09 13:46:30 UTC KR8U-9:#APRSThursday Hello fm SWMI [#APRSThursday] 2023-03-09 13:48:29 UTC LZ2ISI-10:#APRSThursday [#APRSThursday] 2023-03-09 13:51:01 UTC K4CIH-7:HAPPY #APRSTHURSDAY! 73 K4CIH [#APRSThursday] 2023-03-09 13:51:32 UTC SA6AUU-10:#aprsthursday Hi all! 73 from Sweden [#APRSThursday] 2023-03-09 13:52:11 UTC KB8M-5:Happy APRS THURSDAY! 73, de KB8M [#APRSThursday] 2023-03-09 13:52:33 UTC KG7OKO-8:Happy #APRSThursday 73 KG7OKO [#APRSThursday] 2023-03-09 13:54:26 UTC N9PMI-7:Happy APRSThursday From Louisville KY de N9PMI [#APRSThursday] 2023-03-09 13:57:10 UTC KG7KHL-9:VIA RF [#APRSThursday] 2023-03-09 13:58:44 UTC KF5THB-7:Shepherd Air Force Base [#APRSThursday] 2023-03-09 14:01:28 UTC K7TEJ-7:Greetings HOTG from Glendale AZ [#APRSThursday] 2023-03-09 14:05:32 UTC N4WGM-2:FM18XS MARYLAND [#APRSThursday] 2023-03-09 14:06:00 UTC AJ4VX-10:Happy #APRSTHURSDAY 73, AJ4VX [#APRSThursday] 2023-03-09 14:11:48 UTC K2TAV:hello [#APRSThursday] 2023-03-09 14:23:59 UTC KD0JNN-10:Hello from Missouri USA. Happy thursday [#APRSThursday] 2023-03-09 14:24:34 UTC N5DGC:#aprsthursday Albuquerque N5DGC [#APRSThursday] 2023-03-09 14:26:43 UTC W8TVR:de w8tvr [#APRSThursday] 2023-03-09 14:32:12 UTC KP4KYG-7:#APRSTHURSDAY KP4KYG PUERTO RICO 73 [#APRSThursday] 2023-03-09 14:34:45 UTC K7XYG-9:find me on----> Instagram @k7xyg_official [#APRSThursday] 2023-03-09 14:35:39 UTC G7EXZ-9:hi to all on the net 73 [#APRSThursday] 2023-03-09 14:39:16 UTC 9W2WDR-5:#APRSTHURSDAY HELLO WORLD [#APRSThursday] 2023-03-09 14:39:40 UTC VE7EPT:Hello from northern BC [#APRSThursday] 2023-03-09 14:40:56 UTC YO8SDE-4:Hello from Iasi, Romania. Let's see/test the possition+ [#APRSThursday] 2023-03-09 14:41:27 UTC IZ0ORT-14:73' everyone de IZ0ORT from Zagarolo (Roma) [#APRSThursday] 2023-03-09 14:42:01 UTC YD2UWF-4:fm OI52fg [#APRSThursday] 2023-03-09 14:43:36 UTC VA3TTC-12:VA3TTC-12 TESTING [#APRSThursday] 2023-03-09 14:44:14 UTC SM6VNO-7:Hi [#APRSThursday] 2023-03-09 14:44:59 UTC KM6CQ-4:Good morning all it's APRS THURSDAY. Dan Washoe Valley, NV [#APRSThursday] 2023-03-09 14:47:16 UTC VE7DCF-7:73 Everyone [#APRSThursday] 2023-03-09 14:47:38 UTC KI5IUM-9:good morning [#APRSThursday] 2023-03-09 14:52:02 UTC R2BBS-9:good day in moscow [#APRSThursday] 2023-03-09 14:52:09 UTC AK9RT-10:Happy Thursday from AK9RT I'm NW Indiana. 73 all [#APRSThursday] 2023-03-09 14:52:15 UTC DK8AP-7:73 from northern germany [#APRSThursday] 2023-03-09 14:59:48 UTC KE4LPD-7:Howdy from Tx 73 de ke4lpd [#APRSThursday] 2023-03-09 15:06:35 UTC XE2KK:73 desde Monclova Coahuila, Mexico [#APRSThursday] 2023-03-09 15:11:04 UTC N3VT-5:Happy #APRSThursday from sunny Blacksburg VA DE Tom [#APRSThursday] 2023-03-09 15:11:23 UTC KC1NBY-7:check in [#APRSThursday] 2023-03-09 15:12:13 UTC N0ZJT-1:Happy APRS Thursday from Iowa. [#APRSThursday] 2023-03-09 15:13:59 UTC W5FLY-4:chkin frm nw orlns (el49) [#APRSThursday] 2023-03-09 15:18:23 UTC KK7AZD-5:#happythursday try 2 check in 73 [#APRSThursday] 2023-03-09 15:18:39 UTC J73ESL-9:hello from do m [#APRSThursday] 2023-03-09 15:23:09 UTC AD9BU-9:#APRSTHURSDAY New call who dis? Lol formerly KD9TKG [#APRSThursday] 2023-03-09 15:23:45 UTC AD9BU-9:#APRSTHURSDAY greetings from EM59! [#APRSThursday] 2023-03-09 15:26:59 UTC KP4KYG-5:-#APRSTHURSDAY KP4KYG 73 RF Puerto Rico [#APRSThursday] 2023-03-09 15:27:49 UTC XE2RCS-1:Saltillo Coahuila, DL95mk ... 73 [#APRSThursday] 2023-03-09 15:38:16 UTC VA7SHG-9:Good Morning APRS Thursday crew. Here's my msg and a beacon [#APRSThursday] 2023-03-09 15:39:43 UTC W6DVI-9:greetings from Los Angeles 73 to all de W6DVI [#APRSThursday] 2023-03-09 15:39:56 UTC KD4ADC-1:KD4ADC EM74 helping make 1200 baud cool again. [#APRSThursday] 2023-03-09 15:40:15 UTC VA7SHG-9:Sent with APRSDroid and TNC4 from CN99ae [#APRSThursday] 2023-03-09 15:42:11 UTC KC5BIL-7:- KC5BIL in Los Angeles CA USA [#APRSThursday] 2023-03-09 15:43:14 UTC KF4BAE:My 1st #APRSThursday 73 KF4BAE [#APRSThursday] 2023-03-09 15:47:23 UTC VA7SHG-9:Rejoining with QTH.app on osx, 73 [#APRSThursday] 2023-03-09 15:52:51 UTC LU6EOW-3:Checking throug RF on VHF - Go APRS! [#APRSThursday] 2023-03-09 15:53:15 UTC AA6BD-8:happy thursday [#APRSThursday] 2023-03-09 15:54:28 UTC K5BDL-8:Hello de K5BDL. Check-in by RF [#APRSThursday] 2023-03-09 15:58:29 UTC 4F9INC-5:#APRSTHURSDAY HELLO WORLD, MABUHAY FROM PHILIPPINES [#APRSThursday] 2023-03-09 16:01:11 UTC HK6L-4:73 desde Colombia [#APRSThursday] 2023-03-09 16:10:48 UTC KM4LLN-7:73s from Grovetown, GA [#APRSThursday] 2023-03-09 16:15:01 UTC N1QDQ-1:hi from rhode island [#APRSThursday] 2023-03-09 16:23:04 UTC KC7JPC-9:73 from kc7jpc [#APRSThursday] 2023-03-09 16:31:42 UTC DW5AAZ-5:hello d e DW5AAZ QTH Cebu PH 73s [#APRSThursday] 2023-03-09 16:36:12 UTC AE6LJ:Is this APRSThursday really a thing? [#APRSThursday] 2023-03-09 16:40:57 UTC G8TNU-7:Happy #APRSTHURSDAY 73 de G8TNU [#APRSThursday] 2023-03-09 16:46:52 UTC WS4P:Howdy y'all from SC USA! [#APRSThursday] 2023-03-09 16:48:12 UTC KE6AFE-2:Rain coming..73 [#APRSThursday] 2023-03-09 16:50:01 UTC J69DS-9:check in from sunny Saint Lucia... [#APRSThursday] 2023-03-09 16:50:53 UTC W7TRS-7:73 from South Alabama [#APRSThursday] 2023-03-09 16:51:34 UTC WA1JAY:checking in to #APRSTHURSDAY from sunny Carthage NC. [#APRSThursday] 2023-03-09 16:51:55 UTC AE6LJ:Ck out K9YO-15 story on Scientificamerican.com [#APRSThursday] 2023-03-09 16:56:39 UTC VE2PAU:Happy APRSThursday to all...Bon JeudiAPRS a tous. 73 fron [#APRSThursday] 2023-03-09 17:01:17 UTC KF5PKZ-7:Hi [#APRSThursday] 2023-03-09 17:03:35 UTC N7UWX-14:Thursday Happens [#APRSThursday] 2023-03-09 17:05:45 UTC VA7FUQ-15:testing [#APRSThursday] 2023-03-09 17:06:34 UTC VA7FUQ-15:cheak in from Surrey bc [#APRSThursday] 2023-03-09 17:06:44 UTC KI5OJI-7:happy APRS hursday 73 kI5OJI [#APRSThursday] 2023-03-09 17:08:47 UTC J69DS-9:Wx in St Lucia sunny, 30 Celcius land a light breeze [#APRSThursday] 2023-03-09 17:12:44 UTC OH7LZB-4:Hyvää iltaa, good evening! [#APRSThursday] 2023-03-09 17:12:49 UTC WP4RQA:#APRSTHURSDAY 73. [#APRSThursday] 2023-03-09 17:14:23 UTC AE4TC-1:de AE4TC ftm400 thanks for the net & 73 [#APRSThursday] 2023-03-09 17:22:15 UTC N1QDQ-1:N1QDQ on RF and APRS-IS [#APRSThursday] 2023-03-09 17:22:24 UTC WD0LFN-9:- aprs and python: tinyurl.com/39jj3hex [#APRSThursday] 2023-03-09 17:23:17 UTC KJ5IK-9:Recheck putting Sweetwater, TX on the map as I pass through [#APRSThursday] 2023-03-09 17:25:01 UTC KB3LEL-9:Happy Thursday de KB3LEL [#APRSThursday] 2023-03-09 17:26:16 UTC N5TXZ-1:Exercising the net for #APRSTHURSDAY 3/09/2023 73! [#APRSThursday] 2023-03-09 17:26:25 UTC KJ6PYV:HAPPY THURSDAY [#APRSThursday] 2023-03-09 17:32:22 UTC W4IIA:#APRSThursday from FM17 73 w4iia [#APRSThursday] 2023-03-09 17:36:13 UTC N3JF-9:Live, from SoCal, it's #APRSThursday! [#APRSThursday] 2023-03-09 17:37:36 UTC WH6OMG-7:HAPPY THURSDAY [#APRSThursday] 2023-03-09 17:38:05 UTC ES4RM:hello from es4rm [#APRSThursday] 2023-03-09 17:47:11 UTC KE8TES-5:#APRSTHURSDAY [#APRSThursday] 2023-03-09 17:47:38 UTC KO4BOD-5:Orlando, FL KO4BOD aprs.fi/iPhone #aprsthursday 73 yeet [#APRSThursday] 2023-03-09 17:50:36 UTC K0CSN-1:Happy APRS Thursday! 73 [#APRSThursday] 2023-03-09 17:52:39 UTC KB7UVC:Greetings from Herb in Belfair WA USA [#APRSThursday] 2023-03-09 17:53:18 UTC K7RAP-1:my first checkin! [#APRSThursday] 2023-03-09 17:57:34 UTC W9DNE-7:Hello from WI! [#APRSThursday] 2023-03-09 18:00:27 UTC W1FRD-7:#APRSTHURDAY73 W1FRD Fairfield, California [#APRSThursday] 2023-03-09 18:09:44 UTC WH6EAO-4:Checking in via iOS, APRS.fi, TNC4, FT70d Aloha & 73 [#APRSThursday] 2023-03-09 18:11:00 UTC KD2ZIX-5:#beaconboyz in this #aprsthursday 73ing de KD2ZIX Jersey [#APRSThursday] 2023-03-09 18:19:34 UTC WA4MT-9:greetings from Waco Ga. USA. [#APRSThursday] 2023-03-09 18:19:36 UTC VA7TEV:happy thursday! [#APRSThursday] 2023-03-09 18:22:26 UTC 2E0VCU-7:#APRSTHURSDAY 73 de 2E0VCU [#APRSThursday] 2023-03-09 18:30:31 UTC J73GPG-5:it's a beautiful day in Dominica [#APRSThursday] 2023-03-09 18:34:54 UTC KB9TYC-2:HELLO FROM NW WISCONSIN! 73 KB9TYC [#APRSThursday] 2023-03-09 18:38:03 UTC KQ4BBC-9:cheers to APRS Thursday. From Huntersville, NC USA! [#APRSThursday] 2023-03-09 18:41:23 UTC KC8OWL-7:the #aprsthursday army is full force today! 73 kc8owl [#APRSThursday] 2023-03-09 18:41:32 UTC KW7IBE-5:Greetings [#APRSThursday] 2023-03-09 18:41:43 UTC WA4KWK:73 de west florida de wa4kwk [#APRSThursday] 2023-03-09 18:45:09 UTC KJ7NWK-7:#aprsthursday 73 KJ7NWK [#APRSThursday] 2023-03-09 18:55:36 UTC K7XYG-9:73 de Phoenix AZ find me on-> Instagram @k7xyg_official [#APRSThursday] 2023-03-09 18:57:19 UTC KM6MCH-7:DE KM6MCH MOBILINKD TNC4 ON #APRSTHURSDAY DM04wa [#APRSThursday] 2023-03-09 18:59:25 UTC IZ0YAY-7:73 luigi locator jn80lt [#APRSThursday] 2023-03-09 19:00:30 UTC IZ0YAY-7:73 luigi [#APRSThursday] 2023-03-09 19:00:33 UTC IZ0YAY-7:73 luigi locator jn80lt [#APRSThursday] 2023-03-09 19:00:44 UTC W4LCG-2:#APRSthursday [#APRSThursday] 2023-03-09 19:01:38 UTC IZ0YAY-7:73 luigi [#APRSThursday] 2023-03-09 19:01:42 UTC IZ0YAY-7:73 luigi locator jn80lt [#APRSThursday] 2023-03-09 19:02:38 UTC N3JF-3:Live and direct from SoCal, it's #APRSThursday [#APRSThursday] 2023-03-09 19:09:11 UTC VE3THI-7:1st checkin. Nice to meet everyone. 73 [#APRSThursday] 2023-03-09 19:10:31 UTC WH6CMO-4:#HAPPYAPRSTHURSDAY 73 WH6CMO [#APRSThursday] 2023-03-09 19:18:05 UTC KM6YHE-10:check in [#APRSThursday] 2023-03-09 19:23:59 UTC VE3THI:This is neat, just setup a digipeater/igate Go APRS! [#APRSThursday] 2023-03-09 19:28:45 UTC VE7AJK-7:checking in from Canada [#APRSThursday] 2023-03-09 19:36:27 UTC N4EJM-6:#aprsthursday via DMR [#APRSThursday] 2023-03-09 19:42:30 UTC N9NDF:happy #APRSThursday aka almost Friday [#APRSThursday] 2023-03-09 19:53:55 UTC KN6ZEO-7:happy #APRSThursday 73 kn6zeo [#APRSThursday] 2023-03-09 19:54:01 UTC K3ROC-9:Dodging thots and banging watts this #APRSThursday [#APRSThursday] 2023-03-09 19:55:16 UTC KJ5IK-9:Recheck putting Junction, TX on the map as I pass through [#APRSThursday] 2023-03-09 19:58:04 UTC KM7CRD-5:Hello from NC WA. Via droid [#APRSThursday] 2023-03-09 19:58:30 UTC KQ4JDJ:Happy #APRSThursday [#APRSThursday] 2023-03-09 20:03:08 UTC IU3RCC:happy #APRSTHURSDAY everybody! 73 de Luigi [#APRSThursday] 2023-03-09 20:12:33 UTC W2WAT-7:W2WAT NJ APRS Sea level ham [#APRSThursday] 2023-03-09 20:14:45 UTC N7EEL-9:checkin 73 from EWA [#APRSThursday] 2023-03-09 20:16:56 UTC AI3KS-5:Happy Thursday from York pa [#APRSThursday] 2023-03-09 20:19:11 UTC KC3VBC-7:#aprsthursday from FN20jq (PA) 73 [#APRSThursday] 2023-03-09 20:23:30 UTC SM6XTV:Hello,new on APRS Thursday.73 de SM6XTV Henrik. [#APRSThursday] 2023-03-09 20:24:27 UTC VK4MAX-9:Happy APRSThursday [#APRSThursday] 2023-03-09 20:32:49 UTC N7EEL-7:73 from EWA [#APRSThursday] 2023-03-09 20:41:13 UTC F4EGX-7:happy #APRSThrursday de F4EGX QTH STRASBOURG EAST France [#APRSThursday] 2023-03-09 20:45:25 UTC SM6UNC-1:Happy APRSTHURSDAY via RF TMD710 [#APRSThursday] 2023-03-09 20:50:51 UTC KC1SJK-1:happy thursday [#APRSThursday] 2023-03-09 20:57:58 UTC KN6GWQ-7:Watsonville CA APRS Thursday again! [#APRSThursday] 2023-03-09 20:58:05 UTC N4SML:Happy #APRSTHURSDAY from VA [#APRSThursday] 2023-03-09 21:01:47 UTC M0IJS-7:Rugby ATS [#APRSThursday] 2023-03-09 21:04:53 UTC K2EJT-1:happy #aprsthursday from upstate NY! 73 [#APRSThursday] 2023-03-09 21:08:47 UTC KD9EJE-9:hello and 73 to all from Northwest Indiana [#APRSThursday] 2023-03-09 21:18:28 UTC KH6OWL-9:aloha from HAWAII [#APRSThursday] 2023-03-09 21:18:40 UTC AB4WS-9:#aprsthursday [#APRSThursday] 2023-03-09 21:19:45 UTC N9KO-1:hello from NE Illinois en61ax [#APRSThursday] 2023-03-09 21:21:52 UTC KO4UXZ-9:#aprsthursday [#APRSThursday] 2023-03-09 21:27:21 UTC NG7N-7:D7-ing until the NiCAD runs out [#APRSThursday] 2023-03-09 21:31:59 UTC K2EJT-7:via rf this time [#APRSThursday] 2023-03-09 21:37:03 UTC CT1END-2:#APRSTHURSDAY [#APRSThursday] 2023-03-09 21:47:36 UTC KB3KBR-11:happy #aprsthursday! [#APRSThursday] 2023-03-09 21:48:32 UTC KD2UTC:Hello from Matawan NJ [#APRSThursday] 2023-03-09 22:01:59 UTC EI5IN-5:Hello from Keith in snowy Ireland [#APRSThursday] 2023-03-09 22:07:42 UTC KC1NYJ-7:#aprsthursday check in via ft60 and mobilinkd tnc4 73! [#APRSThursday] 2023-03-09 22:08:17 UTC K4APR-6:Happy #APRSThursday [#APRSThursday] 2023-03-09 22:09:15 UTC KE8PWC-7:aprs Thursday! [#APRSThursday] 2023-03-09 22:09:20 UTC PU1EPM-7:fron Vitoria ES Brasil [#APRSThursday] 2023-03-09 22:11:48 UTC EI5IN-7:73 from keith [#APRSThursday] 2023-03-09 22:16:22 UTC W8JES-6:Hello All From W8JES at EN81eb 73's [#APRSThursday] 2023-03-09 22:20:03 UTC KO4AWH-4:Happy Thursday! [#APRSThursday] 2023-03-09 22:21:30 UTC KN6UZL-7:hello from santa cruz california [#APRSThursday] 2023-03-09 22:21:47 UTC PP1AR-9:Hello from Brazil.GG99uo 73 de PP1AR [#APRSThursday] 2023-03-09 22:24:15 UTC KJ5IK-9:Recheck at destination San Antonio, TX. Thanks for the ride [#APRSThursday] 2023-03-09 22:26:02 UTC KN4BQX-1:Happy APRS Training Thursday from Northern VA. 73, KN4BQX [#APRSThursday] 2023-03-09 22:29:23 UTC KD9MFZ-9:Happy Thursday. [#APRSThursday] 2023-03-09 22:32:15 UTC AC9TR-4:#APRSTHURSDAY de AC9TR [#APRSThursday] 2023-03-09 22:37:07 UTC KC3QEH:It's #APRSThursday 73 around the net [#APRSThursday] 2023-03-09 22:42:56 UTC KD2UWR-7:aprsthursdqy [#APRSThursday] 2023-03-09 22:43:11 UTC HK6ER-10:have a nice day #aprsthursday, 73 [#APRSThursday] 2023-03-09 22:44:20 UTC WL7CLI:Hello from Iowa [#APRSThursday] 2023-03-09 22:45:06 UTC HK6RM-10:#aprsthursday, 73 [#APRSThursday] 2023-03-09 22:47:45 UTC KN4RXG-7:#APRSTHURSDAY KN4RXG using rf 73 [#APRSThursday] 2023-03-09 22:51:44 UTC KB5RZM-7:1st time w/ft5&aprs. Howdy Y'All 73's from KB5RZM in Texas [#APRSThursday] 2023-03-09 22:54:36 UTC WA4VGZ-9:#APRSTHURSDAY from Grid EM66 [#APRSThursday] 2023-03-09 22:57:39 UTC AE4OK-7:hpy aprs thu! frm ricmond, va [#APRSThursday] 2023-03-09 22:58:10 UTC KB3HWM-1:Happy #aprsthursday 73 de Dave in MD [#APRSThursday] 2023-03-09 23:01:36 UTC N7WDZ-7:Gene in Vegas #aprsthursday What a great hobby [#APRSThursday] 2023-03-09 23:04:06 UTC KG5TAE-10:happy #APRSthursday. Testing Mobilinkd TNC4. [#APRSThursday] 2023-03-09 23:06:06 UTC VE1CWJ:Happy #APRSTHURSDAY 73 de VE1CWJ! [#APRSThursday] 2023-03-09 23:11:07 UTC KO4HRU-15:Happy #APRSThursday from NC, USA [#APRSThursday] 2023-03-09 23:21:03 UTC VE1NEL-1:Happy #APRSTHURSDAY from NS CAN [#APRSThursday] 2023-03-09 23:22:42 UTC TA3E-5:73 ta3e [#APRSThursday] 2023-03-09 23:24:02 UTC TA3E-5:73 de TA3E [#APRSThursday] 2023-03-09 23:25:07 UTC TA3E-5:73 de ta3e [#APRSThursday] 2023-03-09 23:33:06 UTC W1DNS:#APRSThursday again! [#APRSThursday] 2023-03-09 23:33:50 UTC KR4Q-5:Happy #APRSTHURSDAY from Florida's Space Coast [#APRSThursday] 2023-03-09 23:38:40 UTC KE0ASQ-7:happy APRS Thursday!!! [#APRSThursday] 2023-03-09 23:49:07 UTC KL4OG-7:aprsthursday from the Las Vegas Strip! [#APRSThursday] 2023-03-09 23:53:42 UTC KY4TLS-9:Checking in Happy #APRSTHURSDAY 73 KY4TLS [#APRSThursday] 2023-03-09 23:53:51 UTC KE8PYM-9:hello from Detroit ke8pym [#APRSThursday] 2023-03-09 23:55:18 UTC VE6RAW-9:hello from tofino [#APRSThursday] 2023-03-10 00:05:55 UTC K7XYG-9:73 to the #APRSGang WORLDWIDE! de K7XYG Phoenix AZ [#APRSThursday] 2023-03-10 00:10:07 UTC KC8QDO:#HappyThursdayAPRS From KC8QDO Horse Cave Kentucky [#APRSThursday] 2023-03-10 00:11:01 UTC N4VGW-7:Happy Thursday From Virginia [#APRSThursday] 2023-03-10 00:37:10 UTC HK5JHY-9:happy #APRSTHURSDAY 73 HK5JHY CAICEDONIA COLOMBIA [#APRSThursday] 2023-03-10 00:38:05 UTC WA1OKB-5:#APRSThursday from Oakland Beach, Warwick, Rhode Island [#APRSThursday] 2023-03-10 00:39:14 UTC N9HXV-7:#aprsthursday 73 de n9hxv john [#APRSThursday] 2023-03-10 00:42:58 UTC K4CIH-7:HAPPY #APRSTHURSDAY!@W38+4CIH [#APRSThursday] 2023-03-10 00:43:55 UTC K4CIH-7:HAPPY #APRSTHURSDAY! 73 K4CIH [#APRSThursday] 2023-03-10 00:44:03 UTC KN6QEV-7:73 from rowland heights,Ca [#APRSThursday] 2023-03-10 00:44:23 UTC HJ5JAD-7:happy #APRSTHURSDAY 73 HJ5jAD Caicedonia Colombia [#APRSThursday] 2023-03-10 01:57:31 UTC KD8OFT-5:Happy #APRSThursday and 73s from Columbus Ohio [#APRSThursday] 2023-03-10 02:09:18 UTC AE6LJ:Cool story: K9YO-15 by scientificamerican.com [#APRSThursday] 2023-03-10 03:05:30 UTC KC1IEN-7:hi from RI [#APRSThursday] 2023-03-10 03:07:30 UTC KE0SMR-10:happy #APRSTHURSDAY 73 KE0SMR [#APRSThursday] 2023-03-10 03:07:36 UTC KB3KBR-1:happy #aprsthursday!! [#APRSThursday] 2023-03-10 03:10:40 UTC KC1IEN-7:hello from RI [#APRSThursday] 2023-03-10 03:38:19 UTC KN6TYR:73 from Santa Cruz [#APRSThursday] 2023-03-10 04:10:21 UTC K3HIL-12:Helo from PA [#APRSThursday] 2023-03-10 04:54:50 UTC KM6QPV-3:Hi from Socal [#APRSThursday] 2023-03-10 05:14:05 UTC KN6OVN-7:hi all at #aprsthursday [#APRSThursday] 2023-03-10 05:35:13 UTC KN6OVN-7:#aprsthursday [#APRSThursday] 2023-03-10 05:58:28 UTC KM4FZA-1:happy #APRSTHURSDAY 73 KM4FZA [#APRSThursday] 2023-03-15 17:17:17 UTC KV4S-2:Roll Tide from Chelsea, AL! http://KV4S.radio [#APRSThursday] 2023-03-15 17:17:45 UTC K4LEN-9:Hello from Nashville TN [#APRSThursday] 2023-03-15 17:40:14 UTC NB9D-9:www.qrz.com/db/nb9d [#APRSThursday] 2023-03-15 18:04:52 UTC NB9D-9:please visit www.qrz.com/db/NB9D [#APRSThursday] 2023-03-15 18:04:58 UTC K8HAX-9:happy #APRSTHURSDAY 73 K8HAX [#APRSThursday] 2023-03-15 18:22:14 UTC N3CH-6:happy aprs day [#APRSThursday] 2023-03-15 18:24:53 UTC W1KGK-10:Great Presentation on Facebook today [#APRSThursday] 2023-03-15 19:03:43 UTC KI5MFF-7:Check-in from MT. 73! [#APRSThursday] 2023-03-15 19:31:45 UTC K7XYG-9:#APRSThursday Est 4-14-2022 IG-->>@k7xyg_official [#APRSThursday] 2023-03-15 21:29:40 UTC KF5THB-7:Shepherd Air Force Base [#APRSThursday] 2023-03-15 21:34:56 UTC K8JTT-7:Hello from Brownstown,MI de K8JTT [#APRSThursday] 2023-03-15 21:36:28 UTC KC1IIO-7:#APRSThursday [#APRSThursday] 2023-03-15 21:47:33 UTC KM6YHE-10:checking in! [#APRSThursday] 2023-03-15 21:48:27 UTC KO4OBR-9:happy #APRSthursday! My first check in [#APRSThursday] 2023-03-15 21:56:07 UTC KO4DBP-5:Happy #APRSThursday Thanks Ham Radio 2.0 for the interview! [#APRSThursday] 2023-03-15 21:57:59 UTC NB9D-9:www.youtube.com/@NB9D [#APRSThursday] 2023-03-15 21:59:57 UTC DV8AYE-5:happy #APRSTHURSDAY to All. 73. Mabuhay. [#APRSThursday] 2023-03-15 22:02:14 UTC K7XYG-7:#APRSThursday ***since 4/2022*** 73 de K7XYG Phoenix [#APRSThursday] 2023-03-15 22:07:52 UTC K4JBH:hello from va 73 K4JBH [#APRSThursday] 2023-03-15 22:24:20 UTC KM6URE-10:Hello from Ben Lomond California [#APRSThursday] 2023-03-15 22:35:17 UTC K7XYG-7:FT3d->FTM7250 w/Diamond X30+Microsat WX3in1 RF K7XYG 73 [#APRSThursday] 2023-03-15 22:48:28 UTC DV8ML-5:happy #APRSTHURSDAY 73 dv8ml [#APRSThursday] 2023-03-15 23:00:15 UTC KC5AV-2:happy #aprsthursday de kc5av EM22tm [#APRSThursday] 2023-03-15 23:01:40 UTC AE4WX-10:Happy #APRSThursday! Sent via RF 2m 73 de AE4WX [#APRSThursday] 2023-03-15 23:19:03 UTC K2EJT-1:happy #aprsthursday from upstate NY! 73 [#APRSThursday] 2023-03-15 23:21:53 UTC 9W2FAS-5:happy day today Thursday de 9w2fas west malaysia .. [#APRSThursday] 2023-03-15 23:39:29 UTC KC8OWL-15:TESTING FROM APRSISCE [#APRSThursday] 2023-03-15 23:42:05 UTC KC8OWL-7:test from ft5 [#APRSThursday] 2023-03-15 23:42:19 UTC KN6NAF-9:hello from apple valley ca #aprsthursday [#APRSThursday] 2023-03-15 23:54:49 UTC K7XYG-9:#APRSThursday is sponsored this week by Silicon Valley Bank [#APRSThursday] 2023-03-15 23:56:22 UTC KC8OWL-7:lets reach 400 checkins this week! aprsthursday army! [#APRSThursday] 2023-03-15 23:59:29 UTC N8JE:Greetings from Springfield, Oh EM89cx 73, Jim N8JE [#APRSThursday] 2023-03-16 00:02:03 UTC VE7CGN:Hello from Mayne Island, BC [#APRSThursday] 2023-03-16 00:02:05 UTC KD9SMG:First time caller [#APRSThursday] 2023-03-16 00:02:07 UTC KN6GWQ-1:Hello from Watsonville CA 🍓 [#APRSThursday] 2023-03-16 00:02:08 UTC KN6GWQ-1:Hello from Watsonville CA ???? [#APRSThursday] 2023-03-16 00:02:08 UTC KN6GWQ-1:Hello from Watsonville CA 🍓 [#APRSThursday] 2023-03-16 00:02:16 UTC KN6GWQ-1:Hello from Watsonville CA ???? [#APRSThursday] 2023-03-16 00:02:25 UTC KN6GWQ-1:Hello from Watsonville CA 🍓 [#APRSThursday] 2023-03-16 00:02:26 UTC KN6GWQ-1:Hello from Watsonville CA ???? [#APRSThursday] 2023-03-16 00:04:29 UTC WM6H-4:#APRSTHURSDAY using iOS APRS app [#APRSThursday] 2023-03-16 00:05:27 UTC N1PQE-7:happy net from SoCal 73 N1PQE [#APRSThursday] 2023-03-16 00:06:28 UTC K6RKY-7:TGIT! Hiya from central coast [#APRSThursday] 2023-03-16 00:07:05 UTC KI5WMN-4:Greetings APRSers! 73's from KI5WMN Laredo Tx on iPhone [#APRSThursday] 2023-03-16 00:07:25 UTC KQ4JDJ:Happy #APRSThursday de KQ4JDJ [#APRSThursday] 2023-03-16 00:07:46 UTC AB1PH-7:AB1PH Don Walpole MA via AprS-IS [#APRSThursday] 2023-03-16 00:08:43 UTC N6SGT-11:APRS Thursday de N6SGT NoCalif [#APRSThursday] 2023-03-16 00:11:50 UTC W8JES-13:Yes it's Happy Thursday 73 [#APRSThursday] 2023-03-16 00:14:21 UTC KE8QFP-7:73 from Ohio [#APRSThursday] 2023-03-16 00:17:15 UTC DV5CEL-9:HAPPY #APRSTHURSDAY!QTH MONTEVIDEO, UY. MM. 73 [#APRSThursday] 2023-03-16 00:18:40 UTC N4DJC-7:APRS Thursday from South Carolina [#APRSThursday] 2023-03-16 00:20:13 UTC TG5ALY-14:Happy #APRSTHURSDAY from Guatemala [#APRSThursday] 2023-03-16 00:20:21 UTC N3JF-3:Live and direct from SoCal, it's #APRSThursday! [#APRSThursday] 2023-03-16 00:20:55 UTC TG5ALY-14:My position [#APRSThursday] 2023-03-16 00:23:27 UTC N7ZJL-7:hello from OR [#APRSThursday] 2023-03-16 00:23:52 UTC TG5ALY-14:My position 145815N/912520W [#APRSThursday] 2023-03-16 00:24:27 UTC TG5ALY-14:My position [#APRSThursday] 2023-03-16 00:27:04 UTC N4EJM-6:Follow N4EJM on Twitter, IG & Mastodon. (via DMR) 73 [#APRSThursday] 2023-03-16 00:31:46 UTC N5NDC-7:#APRSthursday 73 de N5NDC in East Texas [#APRSThursday] 2023-03-16 00:35:36 UTC KD5PCK-5:happy Thursday. [#APRSThursday] 2023-03-16 00:36:08 UTC KM6GUO-7:california [#APRSThursday] 2023-03-16 00:37:35 UTC 9W2XVM-5:: Happy #aprsthursday and have a nice day [#APRSThursday] 2023-03-16 00:37:58 UTC K4CIH-7:HAPPY #APRSTHURSDAY! 73 K4CIH [#APRSThursday] 2023-03-16 00:39:54 UTC KM6GUO-7:greeting [#APRSThursday] 2023-03-16 00:40:04 UTC VE6BR-9:Happy #APRSThursday from Okotoks,Alberta,Canada 73 [#APRSThursday] 2023-03-16 00:40:17 UTC W9AUV-8:EN51tu [#APRSThursday] 2023-03-16 00:44:54 UTC VA6GAC-9:#aprsthursday Happy Day! From Calgary AB CAN [#APRSThursday] 2023-03-16 00:45:03 UTC DW6XJJ-9:check in 73 [#APRSThursday] 2023-03-16 00:45:10 UTC DW9JRA-7:Happy #APRSTHURSDAY. De DW9JRA from Davao Philippines [#APRSThursday] 2023-03-16 00:45:53 UTC W2WAT-7:W2WAT NJ APRS Sea level ham 73 [#APRSThursday] 2023-03-16 00:48:01 UTC KY4TA-7:Happy #APRSTHURSDAY FM07 [#APRSThursday] 2023-03-16 00:52:00 UTC N3ZLL:Hello World #APRSTHURSDAY 73 N3ZLL [#APRSThursday] 2023-03-16 00:53:10 UTC N3JF-9:Live! [#APRSThursday] 2023-03-16 00:56:55 UTC GW0TQM-9:73 de Carl IO83 th-d74e #aprsthursday [#APRSThursday] 2023-03-16 01:03:42 UTC NC4EB-6:happy #APRS Thursday from NC4EB [#APRSThursday] 2023-03-16 01:04:15 UTC N2MAK-9:My 1st #APRSTHURSDAY 73 N2MAK [#APRSThursday] 2023-03-16 01:11:56 UTC AE6LJ:WAIT don't start APRSThurs w/o me! [#APRSThursday] 2023-03-16 01:11:58 UTC 9W2FYM-5:check in for #aprsthursday net de 9W2FYM from West Malaysia [#APRSThursday] 2023-03-16 01:13:52 UTC AE8C-5:Happy #APRSThursday [#APRSThursday] 2023-03-16 01:16:03 UTC W3TXG-7:lets go 400!Greetings from Pittsburgh, PA USA [#APRSThursday] 2023-03-16 01:20:14 UTC NC6J-7:happy aprs thursday [#APRSThursday] 2023-03-16 01:28:30 UTC K4LEN-1:Hello from Lawrenceburg, TN [#APRSThursday] 2023-03-16 01:29:50 UTC PU1EPM-7:happy by Paulo from Vitoria ES Brazil [#APRSThursday] 2023-03-16 01:38:35 UTC W7DTH-9:happy #APRSTHURSDAY 73 W7DTH [#APRSThursday] 2023-03-16 01:40:46 UTC K2MBL-10:testing [#APRSThursday] 2023-03-16 01:46:19 UTC KI5HBA-10:happy #aprs Thursday 73 KI5HBA [#APRSThursday] 2023-03-16 02:02:16 UTC VA7ALG-10:excited to find APRSThursday, 73 all Andrea VA7ALG [#APRSThursday] 2023-03-16 02:02:35 UTC W9RWB-1:W9RWB to #APRSThursday Hello from SatGate W9RWB-1 [#APRSThursday] 2023-03-16 02:04:39 UTC 9W2EUM-5:happy APRSTHURDAY i am form west malaysia [#APRSThursday] 2023-03-16 02:05:26 UTC KB8IFX-9:HAPPY #APRS thursday 73 KB8IFX [#APRSThursday] 2023-03-16 02:06:32 UTC KD9MFZ-9:happy Thursday from Madison WI [#APRSThursday] 2023-03-16 02:07:11 UTC KB8IFX-9:HAPPY #APRS thursday 73 KB8IF [#APRSThursday] 2023-03-16 02:07:12 UTC KB8IFX-9:HAPPY #APRS thursday 73 KB8IFX [#APRSThursday] 2023-03-16 02:07:17 UTC KB8IFX-9:HAPPY #APRS thursday 73 KB8IF [#APRSThursday] 2023-03-16 02:07:22 UTC KB8IFX-9:HAPPY #APRS thursday 73 KB8IFX [#APRSThursday] 2023-03-16 02:07:23 UTC KB8IFX-9:HAPPY #APRS thursday 73 KB8IF [#APRSThursday] 2023-03-16 02:07:43 UTC KB8IFX-9:HAPPY #APRS thursday 73 KB8IFX [#APRSThursday] 2023-03-16 02:18:51 UTC KN6UZL-9:Happy APRST! de KN6UZL [#APRSThursday] 2023-03-16 02:20:42 UTC KA7RLV-9:Washington State [#APRSThursday] 2023-03-16 02:21:48 UTC K5BDL-7:#aprsthursday check in via APRSDroid [#APRSThursday] 2023-03-16 02:31:48 UTC N6QP-7:check in get to 400 [#APRSThursday] 2023-03-16 02:31:54 UTC N6QP-7:get to 400 [#APRSThursday] 2023-03-16 02:31:54 UTC N6QP-7:check in get to 400 [#APRSThursday] 2023-03-16 02:31:58 UTC N6QP-7:get to 400 [#APRSThursday] 2023-03-16 02:35:04 UTC N6BF:73 N6BF [#APRSThursday] 2023-03-16 02:35:13 UTC KW4QY:first time to check in to #APRSTHURSDAY kw4qy [#APRSThursday] 2023-03-16 02:42:09 UTC N6UNH:Happy #APRSThursday 73 N6UNH [#APRSThursday] 2023-03-16 02:46:06 UTC KJ7STI-7:happy #aprsthursday from UTAH KJ7STI 73 [#APRSThursday] 2023-03-16 02:48:23 UTC N7PN-7:Testing portable APRS station. [#APRSThursday] 2023-03-16 02:50:41 UTC KG7JWN-7:happy #aprsthursday! [#APRSThursday] 2023-03-16 02:51:07 UTC HP1CDW-2:Geetings from Panama [#APRSThursday] 2023-03-16 02:52:05 UTC HP1CDW-2:saludos desde Panama de Henry [#APRSThursday] 2023-03-16 02:53:10 UTC TG5ALY-14:It was great #aprsthurday on Youtube congrats friends. [#APRSThursday] 2023-03-16 02:53:55 UTC N6UNH:Hello from SoCal DM13jw [#APRSThursday] 2023-03-16 02:56:19 UTC KD7KLA:Hello fm Rainer WA. [#APRSThursday] 2023-03-16 03:00:26 UTC HP1CDW-2:My grid FJ09ga [#APRSThursday] 2023-03-16 03:02:31 UTC HP1CDW-2:WiresX Room 43112 Panama HUB [#APRSThursday] 2023-03-16 03:09:06 UTC KA7HOS-7:happy #APRSthursday 73 from UT [#APRSThursday] 2023-03-16 03:15:09 UTC NN4H-5:happy #APRSTHURSDAY de NN4H Larry EM76 Kentucky [#APRSThursday] 2023-03-16 03:20:51 UTC WV8T-5:WV8T iOS checking [#APRSThursday] 2023-03-16 03:23:11 UTC WV8T-7:hello from wv [#APRSThursday] 2023-03-16 03:26:11 UTC ZL2ATH-7:Happy #APRSThursday [#APRSThursday] 2023-03-16 03:27:52 UTC AE4OK-7:Greetings from Rich in Ricmond, VA TH-D74A [#APRSThursday] 2023-03-16 03:30:14 UTC KN6YTB-9:happy #APRSTHURSDAY 73 KN6YTB [#APRSThursday] 2023-03-16 03:36:58 UTC TI3IES-9:73 from Costa Rica [#APRSThursday] 2023-03-16 03:37:55 UTC KK7AZD-5:happy #APRSTHURSDAY 73 [#APRSThursday] 2023-03-16 03:39:03 UTC VA7YGS-7:checkin [#APRSThursday] 2023-03-16 03:44:56 UTC N7ZEF-3:N7ZEF (DN61KT) [#APRSThursday] 2023-03-16 03:45:33 UTC KC5BIL-7:happy APRS Thursday DE KC5BIL in LA CA USA [#APRSThursday] 2023-03-16 03:46:18 UTC HP1CDW-1:happy #aprsthursday [#APRSThursday] 2023-03-16 03:51:36 UTC VA7YGS:sent from an app on my iphone. 73 [#APRSThursday] 2023-03-16 03:53:52 UTC HP1CDW-1:wiresx room 43112 [#APRSThursday] 2023-03-16 03:57:37 UTC KJ4ERJ:Remembering to check in! [#APRSThursday] 2023-03-16 04:13:11 UTC N7MCB-7:Hello #APRSTHURSDAY 73 N7MCB [#APRSThursday] 2023-03-16 04:13:24 UTC AB7RT-7:#APRSTHURSDAY RF in Hawaii de AB7RT [#APRSThursday] 2023-03-16 04:14:26 UTC KJ7CJY-1:kj7cjy [#APRSThursday] 2023-03-16 04:17:14 UTC ZL1LAC-5:can I get a hoooooooyeah 73 de ZL1LAC [#APRSThursday] 2023-03-16 04:20:14 UTC KJ7CJY-1:utah [#APRSThursday] 2023-03-16 04:38:25 UTC 4G9KKZ-5:hello from the Philippines, #aprsthursday [#APRSThursday] 2023-03-16 04:39:48 UTC W7MDN-7:#400 aprsthursday [#APRSThursday] 2023-03-16 04:42:39 UTC KL4OG-8:#aprsthursday on the road HT [#APRSThursday] 2023-03-16 04:47:06 UTC KE0SMR-10:happy #APRSTHURSDAY 73 KE0SMR [#APRSThursday] 2023-03-16 04:53:51 UTC KB3KBR-6:HAPPY #APRSTHURSDAY!! [#APRSThursday] 2023-03-16 05:16:09 UTC KB9HGI-13:check in de QUINCY IL USA [#APRSThursday] 2023-03-16 05:37:16 UTC K6JAL-9:CHECKIN FROM SANTA CRUZ CALIFORNIA [#APRSThursday] 2023-03-16 05:42:48 UTC OM8GRS-7:happy #APRSTHURSDAY 73! #OM8GRS [#APRSThursday] 2023-03-16 05:48:50 UTC HK6RM-10:have a nice day #aprsthursday, 73 [#APRSThursday] 2023-03-16 05:50:32 UTC HK6ER-10:#aprsthursday, 73 [#APRSThursday] 2023-03-16 05:50:59 UTC DX1CC-1:check in #aprsthursday 73 Imus City Cavite PH 33dc [#APRSThursday] 2023-03-16 06:30:35 UTC IK7PTX:greetings from Monopoli [#APRSThursday] 2023-03-16 06:37:24 UTC DW6XJO:CHECKING IN FOR APRSTHURSDAY 73 [#APRSThursday] 2023-03-16 06:59:30 UTC 9W2BAF-1:happy #APRSTHURSDAY from West Malaysia de 9W2BAF [#APRSThursday] 2023-03-16 07:06:28 UTC F4FXL:Hi all from JN38TT via RF ! [#APRSThursday] 2023-03-16 07:09:23 UTC HB3XVA-5:#APRSTHURSDAY Hi from Switzerland [#APRSThursday] 2023-03-16 07:10:29 UTC 9W2GDB:Happy #aprsthursday from West Malaysia de 9W2GDB [#APRSThursday] 2023-03-16 07:19:04 UTC TA3AUW-5:Türkiye 73 [#APRSThursday] 2023-03-16 07:23:28 UTC TA3HRJ-5:#aprsthursday [#APRSThursday] 2023-03-16 07:23:45 UTC EI8HEB-5:happyaprsthursday de sean ei8heb ireland [#APRSThursday] 2023-03-16 07:31:27 UTC EI8HEB-5:hpyaprsthursday de sean EI8HEB- IRELAND [#APRSThursday] 2023-03-16 07:44:06 UTC SP5ATP-7:#APRSTHURSDAY 73 de SP5ATP [#APRSThursday] 2023-03-16 08:13:40 UTC HB9EYZ-2:Greetings from sunny but cold JN37VL in NW Switzerland.+ [#APRSThursday] 2023-03-16 08:15:07 UTC N7SIX-10:Mabuhay! Hello hams, happy #APRSThursday! 73 [#APRSThursday] 2023-03-16 08:41:53 UTC GI7ULG-10:happyaprsthursday de sean gi7ulg belfast [#APRSThursday] 2023-03-16 08:45:09 UTC DU2XXR-9:Sending from RF. logging ur msgs at aprsph.net 73 [#APRSThursday] 2023-03-16 09:30:58 UTC YO3FVR:#APRSthursday Check-in from KN34ak, Bucharest. 73! [#APRSThursday] 2023-03-16 09:54:00 UTC KW2DIA-7:73 de KW2DIA NYC FN30at Yaesu FT5D via RF [#APRSThursday] 2023-03-16 09:56:39 UTC 4F9INC-5:#APRSTHURSDAY HELLO EVERYONE.MANUEL FORM PHILIPPINES. [#APRSThursday] 2023-03-16 10:32:06 UTC N8JLK-3:Happy #APRSthursday via RF. N8JLK [#APRSThursday] 2023-03-16 10:32:15 UTC KG7ETR-12:Happy APRS Thursday [#APRSThursday] 2023-03-16 10:32:32 UTC LZ2ISI-10:#APRSThursday [#APRSThursday] 2023-03-16 10:32:50 UTC M0ZKK-7:CQ de offshore Matt 73s [#APRSThursday] 2023-03-16 10:33:43 UTC N8JLK-3:Any1 want help me test my WinLink setup N8JLK@winlink.org [#APRSThursday] 2023-03-16 10:34:43 UTC LY3PH:Happy #APRSThursday from Lithuania! 73 de LY3PH [#APRSThursday] 2023-03-16 10:38:02 UTC YD0BCX-9:happy #aprsthursday from jakarta 73 de YD0BCX [#APRSThursday] 2023-03-16 10:40:26 UTC K4ABX-7:FloridaMan here HamsonthegramAPRSThursday TG23444 YSF73583 [#APRSThursday] 2023-03-16 10:41:27 UTC KL4Z-1:aprs thursday [#APRSThursday] 2023-03-16 10:43:00 UTC N9KO-1:Hello from Elk Grove Village IL en61ax [#APRSThursday] 2023-03-16 10:47:16 UTC N8JLK-3:Greetings from Cleveland, Ohio. N8JLK. [#APRSThursday] 2023-03-16 10:49:09 UTC KD2PSC-9:Happy #APRSThursday follow me on twitter @KD2PSC 73 frm WNY [#APRSThursday] 2023-03-16 10:50:47 UTC N8JLK-3:Another #APRSthursday. There is also #WinLinkwedmesday :) [#APRSThursday] 2023-03-16 10:53:09 UTC N8JLK-3:Lots of #APRSthursday folks on! :-). [#APRSThursday] 2023-03-16 10:53:39 UTC M0NPQ-9:#APRSthursday [#APRSThursday] 2023-03-16 10:57:26 UTC IZ0YAY-7:73 luigi locator jn80lt [#APRSThursday] 2023-03-16 11:11:49 UTC DY8CMM-5:happy aprs day to fellow hams mabuhay and 73 [#APRSThursday] 2023-03-16 11:18:27 UTC KP3T-9:aprsthursday KP3T VIA RF [#APRSThursday] 2023-03-16 11:18:40 UTC SM6JVU-15:GREETINGS FR SWEDEN [#APRSThursday] 2023-03-16 11:21:33 UTC KO4WIL:Hello from TN [#APRSThursday] 2023-03-16 11:23:00 UTC K2EJT-7:via rf this time [#APRSThursday] 2023-03-16 11:23:25 UTC N9PMI-7:happy aprs thursday from Louisville KY [#APRSThursday] 2023-03-16 11:26:28 UTC KC9CHE-9:thanks for letting me check in. i am using a ftm-400. [#APRSThursday] 2023-03-16 11:28:24 UTC KB3KAV-10:gm fm Hunlock Creek Pa everyone have a grt day 73 [#APRSThursday] 2023-03-16 11:30:14 UTC LU2APR-7:happy #APRSTHURSDAY 73 LU2APR [#APRSThursday] 2023-03-16 11:32:24 UTC W5CAE:#APRSthursday [#APRSThursday] 2023-03-16 11:33:17 UTC W0JWT:Good morning from Lees Summit, MO [#APRSThursday] 2023-03-16 11:33:38 UTC GRYLCP-12:AB1PH Don Walpole MA via RF only [#APRSThursday] 2023-03-16 11:34:05 UTC SM4URM-2:greetings from sweden [#APRSThursday] 2023-03-16 11:35:06 UTC DW6XJJ-9:check in gd day to all. [#APRSThursday] 2023-03-16 11:35:11 UTC W9NED-10:#APRSTHURSDAY EM68 W9NED [#APRSThursday] 2023-03-16 11:36:26 UTC WP3OF-9:#aprsthursday from Puerto Rico [#APRSThursday] 2023-03-16 11:40:06 UTC KC8OWL-15:GOOD MORNING #APRSTHURSDAY ARMY [#APRSThursday] 2023-03-16 11:44:46 UTC KG5TAE-10:happy #APRSthursday from Texas! [#APRSThursday] 2023-03-16 11:45:26 UTC W0RFP-7:#APRS THUR 73 W0RFP [#APRSThursday] 2023-03-16 11:46:54 UTC KD9MER-1:DE KD9MER Indiana Happy APRS Thursday [#APRSThursday] 2023-03-16 11:48:13 UTC KE4BML-7:Happy #APRSTHURSDAY de WNC [#APRSThursday] 2023-03-16 11:56:17 UTC KD8GIJ-5:happy #APRSTHURSDAY 73 de KD8GIJ [#APRSThursday] 2023-03-16 11:58:20 UTC W8RID:#aprsthursday Twinsburg Ohio Bob W8RID [#APRSThursday] 2023-03-16 11:58:38 UTC KO4WCR-7:hello from virginia beach! [#APRSThursday] 2023-03-16 11:59:25 UTC K3JRZ:HAPPY #APRSThursday de K3JRZ in Delaware! [#APRSThursday] 2023-03-16 11:59:36 UTC KC8OWL-7:happy #aprsthursday from kc8owl las vegas, nv usa [#APRSThursday] 2023-03-16 11:59:49 UTC KE5TAY-15:my first APRS message! KE5TAY [#APRSThursday] 2023-03-16 12:00:08 UTC DL7EDU-7:Greetings from Berlin :) [#APRSThursday] 2023-03-16 12:02:59 UTC W1MRC-7:aprs day w1mrc [#APRSThursday] 2023-03-16 12:05:05 UTC KO4WCR-7:tag! you're it! from VA [#APRSThursday] 2023-03-16 12:05:20 UTC WC2F-7:tlh fl 73 de wc2f [#APRSThursday] 2023-03-16 12:06:11 UTC KO4WCR-7:hello from virginia beach! [#APRSThursday] 2023-03-16 12:09:12 UTC N7JRR-9:pota k-1999 [#APRSThursday] 2023-03-16 12:10:05 UTC 9W2XDD-1:hello happy APRSTHUDAY de 9W2XDD OJ03QD over RF 73 [#APRSThursday] 2023-03-16 12:16:17 UTC KD0TLS-7:Hope we can reach 400 today [#APRSThursday] 2023-03-16 12:16:54 UTC HB9EYZ-2:Greetings from blue sky area JN37VL in NW Switzerland. QSL? [#APRSThursday] 2023-03-16 12:17:54 UTC M1CDP-7:hello de m1cdp [#APRSThursday] 2023-03-16 12:18:16 UTC KB8VUC-10:#APRSThursday Cool hams use 1200 Baud. 73 DE KB8VUC [#APRSThursday] 2023-03-16 12:20:31 UTC VE3OZW-3:good morning from ON Canada aprsthursday [#APRSThursday] 2023-03-16 12:21:23 UTC KC1OCY-9:happy APRSTHURSDAY from Boston FN42 via RF [#APRSThursday] 2023-03-16 12:22:18 UTC KJ5IK-9:Checking in from Canyon Lake, TX. Have a great day! [#APRSThursday] 2023-03-16 12:23:44 UTC DB1NTO-7:Hello everyone from PicoAPRS :-) [#APRSThursday] 2023-03-16 12:25:14 UTC KA2DDO:greetings from Pennsylvania [#APRSThursday] 2023-03-16 12:29:04 UTC G4WLC:73 de Forest of Dean [#APRSThursday] 2023-03-16 12:37:10 UTC AI3KS-5:Happy Thursday from York PA FM19 [#APRSThursday] 2023-03-16 12:37:32 UTC KE8VU:FROM KE8VU [#APRSThursday] 2023-03-16 12:42:33 UTC KI4ASK-15:- Joe in Atlanta [#APRSThursday] 2023-03-16 12:42:40 UTC W2MEB-7:happy #APRSTHURSDAY 73 W2MEB [#APRSThursday] 2023-03-16 12:43:52 UTC MI7DJT-9:Hi to all from Ireland. MI7DJT [#APRSThursday] 2023-03-16 12:48:30 UTC KC3QOF-9:Just happy to be here [#APRSThursday] 2023-03-16 12:48:57 UTC W1TG-1:GM FRM TOM HAMPTON BEACH-SEACOAST NEW HAMPSHIRE [#APRSThursday] 2023-03-16 12:52:14 UTC K4JSY-9:Jeremy from Virginia Beach,VA [#APRSThursday] 2023-03-16 12:52:56 UTC KF5JRV-15:de KF5JRV-15 [#APRSThursday] 2023-03-16 12:53:32 UTC KM6MCI-7:#happyaprsthursday 73 KM6MCI [#APRSThursday] 2023-03-16 12:53:41 UTC N4WGM-7:FM18XS Maryland [#APRSThursday] 2023-03-16 12:55:27 UTC W2MEB-1:happy #APRSTHURSDAY 73 W2MEB [#APRSThursday] 2023-03-16 12:56:03 UTC KG5EUX-2:#APRSTHURSDAY 73 from Seven Points, Texas EM12VH [#APRSThursday] 2023-03-16 12:56:25 UTC 2E1GLQ-7:de James [#APRSThursday] 2023-03-16 12:58:50 UTC KC2OBI-14:Mobile rf in NJ [#APRSThursday] 2023-03-16 12:59:27 UTC KP4KYG-7:#APRSTHURSDAY KP4KYG PUERTO RICO 73 [#APRSThursday] 2023-03-16 13:01:56 UTC K5AAR:#aprsthursday 73 de K5AAR in E Texas [#APRSThursday] 2023-03-16 13:02:18 UTC 9M2RAD-5:hppy #aprsthursday via aprs.my 73 [#APRSThursday] 2023-03-16 13:02:54 UTC WP4RQA:FROM PUERTO RICO #APRSTHURSDAY 73. [#APRSThursday] 2023-03-16 13:03:13 UTC KG7KHL-9:VIA RF [#APRSThursday] 2023-03-16 13:07:54 UTC WA4KWK:thursday de wa4kwk [#APRSThursday] 2023-03-16 13:09:16 UTC KC3VBC-7:#aprsthursday from FN20jq (PA) via RF 73 [#APRSThursday] 2023-03-16 13:09:27 UTC N1DJS-7:jeff here [#APRSThursday] 2023-03-16 13:09:59 UTC K7XYG-9:did We break it? [#APRSThursday] 2023-03-16 13:12:15 UTC K5LUL-7:howdy from Space City Texas [#APRSThursday] 2023-03-16 13:12:39 UTC KE8PYM-9:let's do this! Ke8pym [#APRSThursday] 2023-03-16 13:15:27 UTC N0WAI-7:hello from chicago [#APRSThursday] 2023-03-16 13:15:33 UTC OE6PLD:happy #aprsthursday [#APRSThursday] 2023-03-16 13:15:46 UTC VR2WQY-9:Happy APRS Thursday this is VR2WQY from Hong Kong Android [#APRSThursday] 2023-03-16 13:16:01 UTC N7JRR:DE N7JRR VIA JS8CALL [#APRSThursday] 2023-03-16 13:18:05 UTC KC3QIU-7:Happy APRS Thursday! [#APRSThursday] 2023-03-16 13:18:46 UTC KC1JMH:HELLO FROM MAINE [#APRSThursday] 2023-03-16 13:25:17 UTC KO4PZX:happy #APRS Thursday 73 KO4PZX [#APRSThursday] 2023-03-16 13:27:41 UTC YD0BCX-9:aprsthursday from OI33kt 73 [#APRSThursday] 2023-03-16 13:27:54 UTC W7TRS-7:73 from South Alabama [#APRSThursday] 2023-03-16 13:28:55 UTC KD9BBB:Happy #APRSTHURSDAY from Chicago 73 [#APRSThursday] 2023-03-16 13:29:37 UTC N3VT-5:Good Morning World. Happy #APRSThursday [#APRSThursday] 2023-03-16 13:31:05 UTC ES2ADF-9:happy #APRSTHURSDAY 73 ES2ADF [#APRSThursday] 2023-03-16 13:32:10 UTC KB3BVW-9:checkin [#APRSThursday] 2023-03-16 13:32:48 UTC VA6PLC-7:Happy #aprsthursday from southern Alberta [#APRSThursday] 2023-03-16 13:33:03 UTC KA2CZU-2:#aprsthursday fm29 [#APRSThursday] 2023-03-16 13:35:06 UTC KK0TT-3:4 ft. of snow in my yard! [#APRSThursday] 2023-03-16 13:37:37 UTC KV4S-2:happy #APRSThursday from Chelsea, AL [#APRSThursday] 2023-03-16 13:38:39 UTC KJ5IK-9:Greetings from Canyon Lake, TX. Have a great day! [#APRSThursday] 2023-03-16 13:40:01 UTC K7XYG-9:73 de ARIZONA K7XYG #yaesugang FTM200 MOBILE/RF [#APRSThursday] 2023-03-16 13:40:26 UTC KS0JD:1st time checkin trying to get into packet radio [#APRSThursday] 2023-03-16 13:46:34 UTC KM6TWI-5:work sucks happy #APRSThursday [#APRSThursday] 2023-03-16 13:50:47 UTC W8RJD-7:Happy #APRS Thursday! 73 de W8RJD! Have a great day! [#APRSThursday] 2023-03-16 13:51:06 UTC AC3JM-1:another happy APRSThursday de FM19hh [#APRSThursday] 2023-03-16 13:52:31 UTC KK7IQG-1:Happy Aprsthursday 73s! [#APRSThursday] 2023-03-16 13:55:29 UTC NT7R-10:check in from lake havasu city az 73 [#APRSThursday] 2023-03-16 13:55:32 UTC KQ4AET-9:hello [#APRSThursday] 2023-03-16 13:57:14 UTC W8RJD-7:Happy #APRSThursday! 73 de W8RJD! Have a great day! [#APRSThursday] 2023-03-16 13:59:32 UTC YO8RBY-6:hello world ! [#APRSThursday] 2023-03-16 14:00:12 UTC KD9UYS-10:Happy #APRSThursday! [#APRSThursday] 2023-03-16 14:01:39 UTC KD2OIE-2:73 From Lexington Kentucky [#APRSThursday] 2023-03-16 14:02:51 UTC KD9UYS-10:Happy #APRSThursday! Here's to 400! [#APRSThursday] 2023-03-16 14:08:01 UTC VE2PAU-9:73 TO ALL [#APRSThursday] 2023-03-16 14:08:32 UTC W7MDN-7:#400 aprs thursday. [#APRSThursday] 2023-03-16 14:11:12 UTC KC8QDO:#HappyThursdayAPRS From KC8QDO, in Horse Cave Kentucky. [#APRSThursday] 2023-03-16 14:12:38 UTC KC3DPC-9:#APRSThursday 73! [#APRSThursday] 2023-03-16 14:16:41 UTC SM6JVU:Greetings from sweden westcoast jo57xm Anders via rf [#APRSThursday] 2023-03-16 14:18:00 UTC IU3RCC-7:#APRSTHURSDAY 73 IU3RCC [#APRSThursday] 2023-03-16 14:20:44 UTC KB8M-5:#aprsthursday via aprsdroid [#APRSThursday] 2023-03-16 14:27:40 UTC KD4ADC-1:Hello #APRSthursday from KD4ADC EM74 via RF. [#APRSThursday] 2023-03-16 14:31:39 UTC KM4AZW-9:Greetings from VA! [#APRSThursday] 2023-03-16 14:32:07 UTC W2RVF-10:Happy #APRSThursday! [#APRSThursday] 2023-03-16 14:37:08 UTC N2JOV:hello from flemington nj usa [#APRSThursday] 2023-03-16 14:38:58 UTC 9W8AKN-10:de 9W8AKN [#APRSThursday] 2023-03-16 14:42:35 UTC KM4LLN-7:Greetings from Grovetown, GA! [#APRSThursday] 2023-03-16 14:44:09 UTC SP8LPL-7:Gretings front Puławy, Poland [#APRSThursday] 2023-03-16 14:47:09 UTC KP4CA-9:HAPPY APRSTHURSDAY [#APRSThursday] 2023-03-16 14:53:30 UTC K3HIL-12:Happy APRS Thursday from Pennsylvania! [#APRSThursday] 2023-03-16 14:54:40 UTC HP1COO-9:73s de Alejandro [#APRSThursday] 2023-03-16 14:56:11 UTC HK6L-4:73 desde Colombia [#APRSThursday] 2023-03-16 14:57:24 UTC KC1MMC-7:Happy #APRSThursday! de KC1MMC [#APRSThursday] 2023-03-16 14:58:00 UTC KN6SRN:happy #APRSTHURSDAY 73 kn6srn [#APRSThursday] 2023-03-16 14:58:27 UTC K7TEJ-7:Greetings HOTG from Glendale AZ [#APRSThursday] 2023-03-16 15:02:00 UTC KC7JPC-9:73 from SPOKANE WA [#APRSThursday] 2023-03-16 15:02:50 UTC AB1PH-7:AB1PH Don Walpole MA via APRS-IS [#APRSThursday] 2023-03-16 15:20:17 UTC K7RAP-1:Hello from Longview Washington! [#APRSThursday] 2023-03-16 15:29:47 UTC AE6LJ:Let's do this thing! [#APRSThursday] 2023-03-16 15:30:26 UTC KQ4JDJ:de fl [#APRSThursday] 2023-03-16 15:35:54 UTC K4HNH-7:Let's go Hikin' n' Hammin' [#APRSThursday] 2023-03-16 15:36:02 UTC KE6AFE-2:73 de Cap. Santa Cruz CA CM86 [#APRSThursday] 2023-03-16 15:36:12 UTC KD9EJE-9:hello and 73 [#APRSThursday] 2023-03-16 15:36:32 UTC VE1PS-10:GOOD FRM CYHZ [#APRSThursday] 2023-03-16 15:38:04 UTC NF8I-5:Happy #APRSThursday! Hope everyone is having a great week [#APRSThursday] 2023-03-16 15:40:37 UTC SA6OPT-1:Happy #APRSThursday! 73 SA6OPT [#APRSThursday] 2023-03-16 15:43:27 UTC KJ7OZF-8:#APRSTHURSDAY 73 KJ7OZF [#APRSThursday] 2023-03-16 15:44:02 UTC KD5FMU-7:hamradiolife.org KD5FMU [#APRSThursday] 2023-03-16 15:44:04 UTC KG5DWM-7:Happy Thursday from Huntsville TX kg5dwm [#APRSThursday] 2023-03-16 15:46:02 UTC KL0T:happy aprs thursday [#APRSThursday] 2023-03-16 15:47:22 UTC KL0T-1:happy aprs thursday [#APRSThursday] 2023-03-16 15:47:33 UTC KM6TRZ-9:Greetings from Ladera Ranch CA 73 Don KM6TRZ [#APRSThursday] 2023-03-16 15:47:46 UTC KL0T-2:happy aprs thursday [#APRSThursday] 2023-03-16 15:48:06 UTC KL0T-3:happy aprs thursday [#APRSThursday] 2023-03-16 15:48:40 UTC KL0T-7:happy #aprsthursday [#APRSThursday] 2023-03-16 15:49:01 UTC KL0T-8:happy #aprsthursday [#APRSThursday] 2023-03-16 15:50:32 UTC KL0T-11:happy #aprsthursday [#APRSThursday] 2023-03-16 15:51:19 UTC WA7SKG:GREETINGS FROM DALLAS OREGON [#APRSThursday] 2023-03-16 15:51:31 UTC KL0T-12:happy #aprsthursday [#APRSThursday] 2023-03-16 15:52:06 UTC KL0T:happy #aprsthursday [#APRSThursday] 2023-03-16 15:52:28 UTC KL0T-1:happy #aprsthursday [#APRSThursday] 2023-03-16 15:52:52 UTC KL0T-2:happy #aprsthursday [#APRSThursday] 2023-03-16 15:53:08 UTC KL0T-3:happy #aprsthursday [#APRSThursday] 2023-03-16 15:56:03 UTC K4TXN-7:howdy from huntsvill tx [#APRSThursday] 2023-03-16 15:56:22 UTC K7GPS-14:greetings from Montana/Dave [#APRSThursday] 2023-03-16 16:02:10 UTC W1FRD-7:#APRSTHURDAY73 W1FRD Fairfield, California [#APRSThursday] 2023-03-16 16:05:33 UTC TI2AZ-7:pura vida 73 [#APRSThursday] 2023-03-16 16:08:21 UTC KO4WCR-5:Tag, you're it! #APRSthursday from Virginia Beach [#APRSThursday] 2023-03-16 16:08:57 UTC N6JWT-9:This is Jeff, n6jwt, checking in. 73 [#APRSThursday] 2023-03-16 16:09:57 UTC SA6OPT-1:Hej Anders, ser du detta msg?/Peter [#APRSThursday] 2023-03-16 16:11:11 UTC K1SPS:checking in 73 [#APRSThursday] 2023-03-16 16:12:31 UTC KV5M:Greetings from Huntsville TX 73 KV5M [#APRSThursday] 2023-03-16 16:13:26 UTC 9H5TB:Greetings to all on APRS [#APRSThursday] 2023-03-16 16:14:55 UTC DW5AAZ-5:hi d e DW5AAZ Arnold qth Borongan Eastern Samar PH 73 TNX [#APRSThursday] 2023-03-16 16:16:07 UTC VA7SHG-9:Happy APRS Thursday from CN99 (TNC4 Aprsdroid) [#APRSThursday] 2023-03-16 16:16:09 UTC K6RKY-7:here again [#APRSThursday] 2023-03-16 16:21:26 UTC NA5X-9:happy #APRSTHURSDAY [#APRSThursday] 2023-03-16 16:22:26 UTC YT2DT-2:73 from Krusevac, Serbia. [#APRSThursday] 2023-03-16 16:23:42 UTC YT2DT-2:Making 1200 baud cool again! [#APRSThursday] 2023-03-16 16:24:12 UTC K7JGC-5:hello from Portland [#APRSThursday] 2023-03-16 16:25:46 UTC KI5MFF-7:Updated checkin from Idaho Falls [#APRSThursday] 2023-03-16 16:26:42 UTC DF6PA-6:73 from Mainz, Germany Hope all are well [#APRSThursday] 2023-03-16 16:27:16 UTC KN6TYR-7:73 from kn6tyr in Santa Cruz [#APRSThursday] 2023-03-16 16:28:23 UTC KE7VIN-10:Checking in to #APRSTHURSDAY from Chandler AZ [#APRSThursday] 2023-03-16 16:28:29 UTC VE1NPS-10:HAPPY THURSDAY FROM FN84dp. [#APRSThursday] 2023-03-16 16:29:17 UTC KP4UZ-7:have a wonderful thursday! 73 kp4uz [#APRSThursday] 2023-03-16 16:29:57 UTC VE1NPS-10:- BALLOON OP VIA http://aprs.fi/VE7NFR-1 [#APRSThursday] 2023-03-16 16:30:30 UTC W9DNE-7:Hello from WI! [#APRSThursday] 2023-03-16 16:35:44 UTC KN4RXG-5:#APRSTHURSDAY KN4RXG using aprs droid [#APRSThursday] 2023-03-16 16:40:19 UTC VE3THI-7:Happy Thursday! [#APRSThursday] 2023-03-16 16:40:58 UTC AC9TR-4:#APRSThursday de AC9TR [#APRSThursday] 2023-03-16 16:42:12 UTC SP2J-9:enjoy #aprsthursday 73 fm Poland [#APRSThursday] 2023-03-16 16:44:29 UTC WG4USA-1:happy #aprsthursday [#APRSThursday] 2023-03-16 16:44:52 UTC VU2TGG-10:hi [#APRSThursday] 2023-03-16 16:46:07 UTC KJ7WVV:HELLO AND TESTING [#APRSThursday] 2023-03-16 16:47:22 UTC KP3A-7:KP3A [#APRSThursday] 2023-03-16 16:48:44 UTC KG5EIU-15:hello from em13 [#APRSThursday] 2023-03-16 16:48:59 UTC KE8RHW-7:happy #APRSTHURSDAY 73 KE8RHW [#APRSThursday] 2023-03-16 16:52:37 UTC VE7LRV:73 from vancouver island [#APRSThursday] 2023-03-16 16:53:50 UTC F8ARO-6:Hello from Fort de Guentrange [#APRSThursday] 2023-03-16 16:56:11 UTC KJ7GHF-7:#aprsthursday kj7ghf [#APRSThursday] 2023-03-16 16:59:02 UTC KI5PDO-9:hello from Louisiana [#APRSThursday] 2023-03-16 16:59:53 UTC KB7UVC:Greetings from Herb in Belfair WA USA [#APRSThursday] 2023-03-16 17:01:26 UTC N2NED-9:happy Thursday [#APRSThursday] 2023-03-16 17:04:26 UTC WA4MT-9:greetings from Waco Ga. USA. APRS rules - World Wide.!! [#APRSThursday] 2023-03-16 17:08:38 UTC KO4L-10:Wx is great in SC today [#APRSThursday] 2023-03-16 17:10:17 UTC KCQDO-3:#APRS HAPPYTHURSDAY [#APRSThursday] 2023-03-16 17:12:33 UTC WS4P:Howdy from [#APRSThursday] 2023-03-16 17:16:41 UTC K0AKV-9:happy aprs thursday! [#APRSThursday] 2023-03-16 17:17:07 UTC WD0LFN-9:- aprs and python: tinyurl.com/39jj3hex [#APRSThursday] 2023-03-16 17:19:39 UTC K3ROC-9:Dodging thots and banging watts. Let's go boys. [#APRSThursday] 2023-03-16 17:21:00 UTC K3ROC-9:to 400!!!! #APRSTHursday [#APRSThursday] 2023-03-16 17:23:45 UTC KB3HWM-1:#aprsthursday 73 from MD [#APRSThursday] 2023-03-16 17:24:38 UTC VE6RAW-9:hello from parksville [#APRSThursday] 2023-03-16 17:32:16 UTC W3DDS-7:test de Mike [#APRSThursday] 2023-03-16 17:36:07 UTC W0CBP-7:hello from Las Vegas! [#APRSThursday] 2023-03-16 17:41:33 UTC W3DDS-7:good afternon de mike [#APRSThursday] 2023-03-16 17:42:38 UTC N1BAM-7:Happy Thursday from CT, USA [#APRSThursday] 2023-03-16 17:46:03 UTC 2E0VCU-7:#APRSTHURSDAY 73 de 2E0VCU [#APRSThursday] 2023-03-16 17:48:16 UTC KJ7NWK-7:happy new year #aprsthursday 73 KJ7NWK [#APRSThursday] 2023-03-16 17:48:50 UTC LU6EOW-3:checking from Buenos Aires - Argentina [#APRSThursday] 2023-03-16 17:49:38 UTC NP4JN-8:Hello from Puerto Rico NP4JN KP4DOG Network RF. [#APRSThursday] 2023-03-16 17:56:11 UTC OH7LZB-4:Hyvää iltaa, good evening! [#APRSThursday] 2023-03-16 18:01:36 UTC KF0LTY-9:checking in from the road #aprsthursday 73 Kf0lty [#APRSThursday] 2023-03-16 18:03:31 UTC KM6CQ-7:Ham it up [#APRSThursday] 2023-03-16 18:07:27 UTC VA7TEV:happy thursday from sunny Vanouver [#APRSThursday] 2023-03-16 18:09:21 UTC WA2NAN:regards [#APRSThursday] 2023-03-16 18:15:22 UTC AB4WS-9:happy #APRSthursday [#APRSThursday] 2023-03-16 18:19:39 UTC KM7CRD-5:Greeting from NC WA. Via droid [#APRSThursday] 2023-03-16 18:19:54 UTC K0CSN-5:good #aprsthursday to test some of my aprs automation [#APRSThursday] 2023-03-16 18:20:50 UTC N8JLK-3:Greetings from Ohio! [#APRSThursday] 2023-03-16 18:22:33 UTC KE0CSL-9:snowing in nebraska [#APRSThursday] 2023-03-16 18:24:40 UTC N8CNZ-5:"It is APRS Thursday" [#APRSThursday] 2023-03-16 18:26:12 UTC W9PEM-5:Hello, World! and Happy #APRSThursday from SE Wisconsin [#APRSThursday] 2023-03-16 18:28:53 UTC N7UWX-14:#aprs Thursday from DN41cr. Utah [#APRSThursday] 2023-03-16 18:33:29 UTC VE7AJK-1:73 from Vancouver Island [#APRSThursday] 2023-03-16 18:36:21 UTC ES4RM:hello from es4rm [#APRSThursday] 2023-03-16 18:37:12 UTC WH6EAO-4:Checking in via iOS, APRS.fi, TNC4, FT817ND Aloha & 73 [#APRSThursday] 2023-03-16 18:38:08 UTC KO4DNR-6:happy aprs thursday [#APRSThursday] 2023-03-16 18:40:45 UTC N3PKJ:HAPPY #ARPSTHURDAYS [#APRSThursday] 2023-03-16 18:41:08 UTC N8JLK-3:Anytone 878UV2 [#APRSThursday] 2023-03-16 18:42:44 UTC AE5ME-10:Happy APRS Thursday! [#APRSThursday] 2023-03-16 18:44:11 UTC K0FJ-12:Snowy and cold from NW KS de K0FJ 73 [#APRSThursday] 2023-03-16 18:51:20 UTC XE1GBS-10:happy #APRSTHURSDAY DAY! 73 XE1GBS [#APRSThursday] 2023-03-16 18:51:27 UTC N1QDQ-7:happy aprs thurs [#APRSThursday] 2023-03-16 18:52:05 UTC DO2YRM-10:From West Germany Reinke N01 73! [#APRSThursday] 2023-03-16 18:55:05 UTC PA0RNH-9:check in for #aprsthursday net de PA0RNH from Netherlands [#APRSThursday] 2023-03-16 18:57:46 UTC KD4CHW-7:happy friday eve! [#APRSThursday] 2023-03-16 18:59:12 UTC KC3MLI-7:#aprsthursday [#APRSThursday] 2023-03-16 19:00:34 UTC W0ZZK-7:Hello .#APRSTHURSDAY 73 w0zzk [#APRSThursday] 2023-03-16 19:00:59 UTC KQ4CNO-7:Good afternoon from Florida [#APRSThursday] 2023-03-16 19:02:01 UTC K7XYG-9:DUI-NET 15 18 MAR 2023 2000utc YSF 73583 DMR 23444 1/2 [#APRSThursday] 2023-03-16 19:03:35 UTC HK6T-7:happy #APRSTHURSDAY Kissimmee FL 73 HK6T/W4 [#APRSThursday] 2023-03-16 19:08:44 UTC K7XYG-9:net control K7XYG-mind altering substances welcome 73 2/2 [#APRSThursday] 2023-03-16 19:14:41 UTC WA2NAN:echolink wa2nan-r adirondack mtns. [#APRSThursday] 2023-03-16 19:17:14 UTC W5TP-7:First check in [#APRSThursday] 2023-03-16 19:22:42 UTC K8JTT-5:#APRSThursday Hello from Brownstown, MI 73 de K8JTT [#APRSThursday] 2023-03-16 19:23:03 UTC N8JLK-3:6m APRS on 50.620 from KG-UV7D to Yaesu 8900 [#APRSThursday] 2023-03-16 19:27:14 UTC W6DVI-9:greetings from Los Angeles 73 to all de W6DVI [#APRSThursday] 2023-03-16 19:37:13 UTC W4LCG-2:#aprsthursday [#APRSThursday] 2023-03-16 19:39:11 UTC WH6CMO-4:happy #APRSTHURSDAY 73 WH6CMO Honolulu, Hawaii [#APRSThursday] 2023-03-16 19:39:41 UTC N3ORJ:HAPPY APRS THURSDAY 73 de N3ORJ [#APRSThursday] 2023-03-16 19:40:41 UTC WH6OMG-7:HAPPY THURSDAY [#APRSThursday] 2023-03-16 19:43:33 UTC N7EEL-9:checkin 73 from EWA [#APRSThursday] 2023-03-16 19:51:52 UTC VA7BWX-9:Happy Thursday to the APRS weekly net participants [#APRSThursday] 2023-03-16 19:55:04 UTC KC5AV-9:#aprsthursday 73 de kc5av-9 [#APRSThursday] 2023-03-16 19:57:30 UTC KM6ZPO:From Mark Sant a Ana CA [#APRSThursday] 2023-03-16 19:58:09 UTC KC8OWL-7:making 1200 baud cool again. #aprsthursday [#APRSThursday] 2023-03-16 19:59:26 UTC KC8OWL-15:DONT FORGET TO SEND A POSITION BEACON IF YOU CAN [#APRSThursday] 2023-03-16 20:04:33 UTC ZL2RCL-10:happy #APRSTHURSDAY de ZL2RCL [#APRSThursday] 2023-03-16 20:09:55 UTC KG7KWF:gone exploring in az backcountry kg7kwf [#APRSThursday] 2023-03-16 20:10:53 UTC TI2GBB-8:hi from Costa Rica [#APRSThursday] 2023-03-16 20:11:29 UTC N4UCM:Check in from NW Wisconsin [#APRSThursday] 2023-03-16 20:13:35 UTC DC1OZ-5:#APRSTHURSDAY 73 de Pavel [#APRSThursday] 2023-03-16 20:13:49 UTC KE7WRX-13:hi ya everybody [#APRSThursday] 2023-03-16 20:15:26 UTC VA3DZB:Checkine CHECKIN [#APRSThursday] 2023-03-16 20:16:54 UTC VE1NEL-9:Happy #APRSTHURSDAY from Nova Scotia 73 [#APRSThursday] 2023-03-16 20:19:28 UTC KJ4NWQ-6:Happy APRS Thursday 73 KJ4NWQ [#APRSThursday] 2023-03-16 20:21:01 UTC N9NDF-5:happy almost weekend via APRS.fi [#APRSThursday] 2023-03-16 20:25:10 UTC TI2BSH:GREETINGS FROM EJ79wv. 73 [#APRSThursday] 2023-03-16 20:27:02 UTC VE7DCF-10:Hello Everyone. Happy APRS Thursday. 73 [#APRSThursday] 2023-03-16 20:27:30 UTC YO8SDE-4:Hello from Iasi, Romania [#APRSThursday] 2023-03-16 20:34:39 UTC 2E1TON:good afternoon from uk 2e1ton [#APRSThursday] 2023-03-16 20:39:01 UTC N4SML-9:Happy #APRSTHURSDAY from VA [#APRSThursday] 2023-03-16 20:41:18 UTC N0KQX-15:good day everyone [#APRSThursday] 2023-03-16 20:46:00 UTC KI5QPX-7:from Las Cruces, NM KI5QPX [#APRSThursday] 2023-03-16 20:46:07 UTC KE8TES-5:#APRSTHURSDAY [#APRSThursday] 2023-03-16 20:48:03 UTC KC1RIS-7:happy #APRSTHURSDAY 73 kc1ris [#APRSThursday] 2023-03-16 20:50:49 UTC SM4XFJ-9:Best 73s. Gn! [#APRSThursday] 2023-03-16 20:51:30 UTC KG5EUX-2:U [#APRSThursday] 2023-03-16 20:59:35 UTC NG7N-12:one check in closer to 300 - 73 from Seattle 1200/RF [#APRSThursday] 2023-03-16 20:59:38 UTC TI3WTI-7:pura vida [#APRSThursday] 2023-03-16 20:59:41 UTC SM6UNC-1:Happy APRSTHURSDAY via RF TMD710 [#APRSThursday] 2023-03-16 20:59:43 UTC ES8BHR-5:aprsthursday check in [#APRSThursday] 2023-03-16 21:01:08 UTC N7JRR-7:Last call [#APRSThursday] 2023-03-16 21:03:04 UTC KH6OWL-9:aloha from oahu [#APRSThursday] 2023-03-16 21:05:26 UTC MM0OES-4:de M0OES am I doing this right?. [#APRSThursday] 2023-03-16 21:06:21 UTC KM6MCH-7:DE KM6MCH ON MOBILINKD TNC4 DM04wa ON #APRSTHURSDAY [#APRSThursday] 2023-03-16 21:08:37 UTC R2BBS-9:have a nice weekend, MOSCOW RUSSIA [#APRSThursday] 2023-03-16 21:08:40 UTC KD2UTC:Making APRS great in Matawan NJ [#APRSThursday] 2023-03-16 21:10:37 UTC N4WIL-9:#aprsthursday de n4wil [#APRSThursday] 2023-03-16 21:11:19 UTC KO4HRU-15:Happy #APRSThursday from NC, USA [#APRSThursday] 2023-03-16 21:13:06 UTC W6MSU-5:73 de W6MSU CM98 QRU [#APRSThursday] 2023-03-16 21:19:16 UTC K2ZA-9:Happy #APRS Thursday 73 de K2ZA [#APRSThursday] 2023-03-16 21:24:36 UTC AB0OO-7:hello from sunny California [#APRSThursday] 2023-03-16 21:25:18 UTC KJ7WGM-7:OK, im out for the day. 73! [#APRSThursday] 2023-03-16 21:32:23 UTC W3DDS-7:good day de mike [#APRSThursday] 2023-03-16 21:33:05 UTC KE0ASQ-2:happy APRSThursday from my TH-225A and RPi1/Direwolf! igate [#APRSThursday] 2023-03-16 21:33:08 UTC KF1D-3:CHECKING IN, BRYAN [#APRSThursday] 2023-03-16 21:34:19 UTC VE1RMJ-15:Rob de Oxford NS on APRSDroid [#APRSThursday] 2023-03-16 21:34:27 UTC MM0OES-7:can I ask what rejÊ means as a reply? De M0OES #NewGuy [#APRSThursday] 2023-03-16 21:34:42 UTC N9HXV-1:#aprsthursday 73 from John N9HXV EN61 Indiana [#APRSThursday] 2023-03-16 21:36:40 UTC KY4TLS-9:Have a happy APRS Thursday 73 KY4TLS [#APRSThursday] 2023-03-16 21:36:55 UTC KY4TLS-9:Have a happy APS Thusday 73 KY4TLS [#APRSThursday] 2023-03-16 21:40:18 UTC KY4TLS-9:Have a happy APRS Thursday 73 KY4TLS [#APRSThursday] 2023-03-16 21:42:02 UTC KI5LEG-7:howdy [#APRSThursday] 2023-03-16 21:43:47 UTC KC1SPC-7:first time [#APRSThursday] 2023-03-16 21:44:49 UTC KC3JUG-7:KC3JUG checking in [#APRSThursday] 2023-03-16 21:51:41 UTC W3DDS-7:good eve de mike [#APRSThursday] 2023-03-16 21:52:20 UTC XE1MYO-7:happy #APRSTHURSDAY73 xe1myo [#APRSThursday] 2023-03-16 21:52:27 UTC KN4PIJ-5:Let's go Hawkeyes!!!! [#APRSThursday] 2023-03-16 21:54:19 UTC W3DDS-7:good day de mike [#APRSThursday] 2023-03-16 21:55:50 UTC VE3RXH-9:Checkin de VE3RXH with Anytone 878II+ [#APRSThursday] 2023-03-16 22:04:24 UTC KD8OFT:Warming up the airwaves on #APRSThursday in Columbus OH [#APRSThursday] 2023-03-16 22:09:47 UTC KK7CMF-7:CHECKING IN 73 [#APRSThursday] 2023-03-16 22:10:50 UTC WA4VGZ-9:#APRSTHURSDAY from Grid EM66 [#APRSThursday] 2023-03-16 22:11:48 UTC KN6KFR-10:first time check in [#APRSThursday] 2023-03-16 22:13:54 UTC AI5HC-8:hunt,TX [#APRSThursday] 2023-03-16 22:17:02 UTC KI5FQQ-9:Hello privet [#APRSThursday] 2023-03-16 22:17:14 UTC NB9D-9:please subscribe http://www.qrz.com/@NB9D [#APRSThursday] 2023-03-16 22:17:52 UTC NB9D-9:please subscribe http://www.youtube.com/@NB9D [#APRSThursday] 2023-03-16 22:17:55 UTC N5TEV-1:Greetings from central FL [#APRSThursday] 2023-03-16 22:20:51 UTC KL4OG-8:#aprsthursday from Tonopa NV [#APRSThursday] 2023-03-16 22:23:04 UTC N4VGW-9:73's from Bedford,Virginia [#APRSThursday] 2023-03-16 22:23:49 UTC KD4HSO-9:#APRSTHURSDAY 73 KD4HSO [#APRSThursday] 2023-03-16 22:25:39 UTC HK4FZ-10:buenas tardes #aprsthursday, 73 [#APRSThursday] 2023-03-16 22:25:47 UTC XE1ALV-7:XE1ALV San Miguel Allende Gto [#APRSThursday] 2023-03-16 22:27:22 UTC N5TXZ-1:Exercising the net for #APRSThursday 03/16/2023, 73! [#APRSThursday] 2023-03-16 22:28:18 UTC HK4D-7:#aprsthursday 73 [#APRSThursday] 2023-03-16 22:33:09 UTC W5SLG-7:hello from Abilene TX W5SLG [#APRSThursday] 2023-03-16 22:33:48 UTC KC5FM-9:HAPPY St Patrick's Award 73 [#APRSThursday] 2023-03-16 22:36:06 UTC VA7DDU-7:Happy #aprsthursday 73 from Vancouver Island! [#APRSThursday] 2023-03-16 22:36:54 UTC AA4JM:happy aprs-day! [#APRSThursday] 2023-03-16 22:39:01 UTC 4I1FSY-7:good eve al l stn on APRS thur net 73 [#APRSThursday] 2023-03-16 23:30:32 UTC N3JES:#aprsthursday [#APRSThursday] 2023-03-16 23:30:45 UTC HK6DX-7:#aprsthursday 73 [#APRSThursday] 2023-03-16 23:31:50 UTC KE2ALU-9:#APRSTHUrsday hope this works hello from new jersey [#APRSThursday] 2023-03-16 23:32:51 UTC N7UGA-7:hello! [#APRSThursday] 2023-03-16 23:36:24 UTC W1KCA-10:w1kca aprs thursday [#APRSThursday] 2023-03-16 23:37:39 UTC K7MCW-7:First time checking in! 73, K7MCW [#APRSThursday] 2023-03-16 23:40:02 UTC HK6PJA-7:#aprsthursday 73 [#APRSThursday] 2023-03-16 23:41:34 UTC KN6NCG-4:Aptos, CA bids all howdy [#APRSThursday] 2023-03-16 23:52:52 UTC ND9DW-9:hello from greenville, wi [#APRSThursday] 2023-03-16 23:54:00 UTC KD2YHI-7:KD2YHI Checking in from NJ USA [#APRSThursday] 2023-03-16 23:56:21 UTC ND9DW-9:hello from greenville wi [#APRSThursday] 2023-03-17 00:01:52 UTC W5SAB:#APRSThursday 73 [#APRSThursday] 2023-03-17 00:13:05 UTC W3JSC-5:Happy #APRS Thursday! [#APRSThursday] 2023-03-17 00:28:24 UTC KB5RZM-8:HOWDY #APRSTHURSDAY de: BLAKE,KB5RZM HOWDY FROM TEXAS [#APRSThursday] 2023-03-17 00:33:21 UTC NP4JN-7:np4jn 73 rf via kp4dog packet network puerto rico. [#APRSThursday] 2023-03-17 00:38:25 UTC KC1JFN-5:APRSTHURSDAY 73 from West Haven CT [#APRSThursday] 2023-03-17 00:41:45 UTC KB8JIU:Another #ARPSTHURSDAY has arrived 73, KB8JIU [#APRSThursday] 2023-03-17 00:47:36 UTC HK5JHY-9:happy #APRSTHURSDAY 73 HK5JHY CAICEDONIA COLOMBIA [#APRSThursday] 2023-03-17 00:53:45 UTC HJ5JAD-7:happy #APRSTHURSDAY 73 HJ5jAD Caicedonia Colombia [#APRSThursday] 2023-03-17 00:57:15 UTC K4PC-9:73 DE K4PC [#APRSThursday] 2023-03-17 00:59:35 UTC KB4YTM:Richard in Lexington TN [#APRSThursday] 2023-03-17 01:19:39 UTC KN6OVN-7:#aprsthursday [#APRSThursday] 2023-03-17 01:49:28 UTC KN6OVN-7:hi all at #aprsthursday [#APRSThursday] 2023-03-17 01:51:12 UTC KN6OVN-7:hi all at #aprsthursday [#APRSThursday] 2023-03-17 01:55:47 UTC N4ALV-10:Hapyy APRS Thursday! 73 [#APRSThursday]